New Era Pinstripe Bowl 2012: 5 WVU Starters Better Than Syracuse Counterparts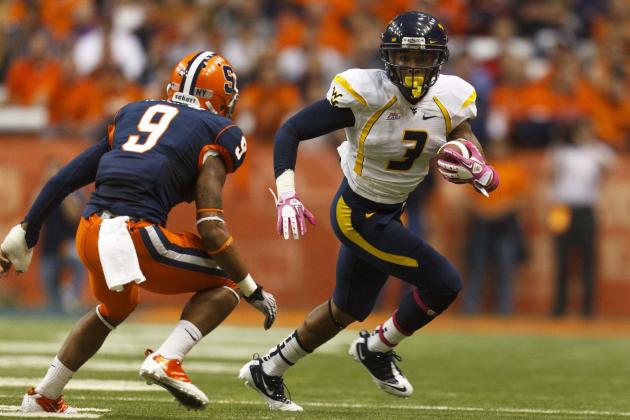 Jason O. Watson-USA TODAY Sports

In the heart of the Bronx, West Virginia and Syracuse—two notable Big East Conference defectors—will square off for the New Era Pinstripe Bowl title.
On paper, both teams are similar offensively, led by experienced, senior quarterbacks who will go down among the best ever to play the position at their respective schools.
Both of those signal-callers also have talented go-to receivers who can catch well and know how to hit the ground running.
Defensively, the two squads have been gouged at times, but each team also has its individual playmakers.
Let's check out a few places where WVU may hold an advantage over the Orange in New York.
Begin Slideshow

»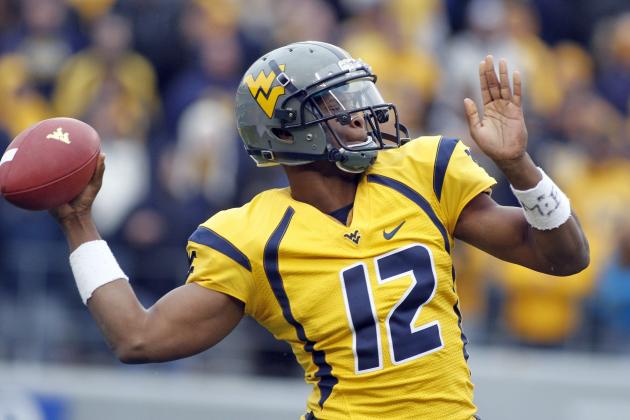 Justin K. Aller/Getty Images

Ryan Nassib may be the biggest component of this Syracuse team, but there's little argument that Geno Smith is a better overall quarterback.
Smith is one of the premier quarterbacks in college football and has eclipsed 4,000 yards passing in each of the last two seasons.
This year, he has tallied 4,004 yards, 40 passing touchdowns and only six interceptions.
His QB rating of 164.6 comes in at No. 7 in the nation and is 20 points better than Nassib's rating of 144.6.
Nassib is a good quarterback and the strength of this Syracuse team—but Smith is simply better.
Justin K. Aller/Getty Images

Alec Lemon for Syracuse is one of the more talented and underrated receivers in the country. However, Stedman Bailey was a finalist for the Biletnikoff Award and is an All-American talent on the outside.
He leads the nation (by far) with 23 receiving touchdowns to go with 1,501 yards.
Lemon isn't bad himself with 1,063 yards and seven receiving touchdowns, but just as Nassib isn't quite as talented as Smith, Lemon just isn't quite as talented as Bailey.
Bailey is West Virginia's career leader in receiving touchdowns with 39—16 more than the previous record holder, Cedric Thomas.
All due respect to Lemon, but it's tough to compete with a guy who was nearly named the nation's best receiver.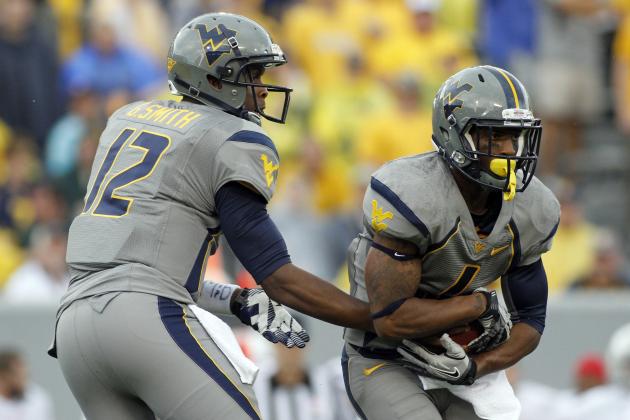 Justin K. Aller/Getty Images

Syracuse has no one like Tavon Austin.
To be fair, neither does any other team in the country. The only possible exception being Kent State's Dri Archer—but even he cannot touch Austin, statistically or otherwise.
WVU's No. 1 is the only player in the nation with more than 1,000 receiving and 500 rushing yards. In fact, he's the only player to top 1,000 receiving and 200 rushing. On the season, he has 1,266 yards receiving and 598 yards rushing.
He's also one of just two players in the nation with a receiving, rushing, punt return and kick return touchdown.
The Baltimore native is one of just three players to average more than 200 all-purpose yards per game, while no Syracuse player has averaged over 100.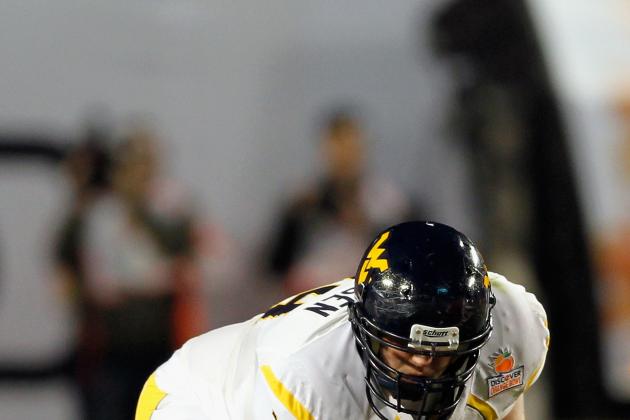 Streeter Lecka/Getty Images

West Virginia has been a bit up and down on its offensive line this season.
However, the Mountaineers came together up front as the season went on, and they were always anchored by senior center Joe Madsen.
Madsen was named second team All-Big 12 Conference for his efforts.
He is key, not only in run blocking for Shawne Alston, Andrew Buie and company, but in protecting Geno Smith as well.
Not only that, but he is one of the verbal leaders on and off the field for WVU.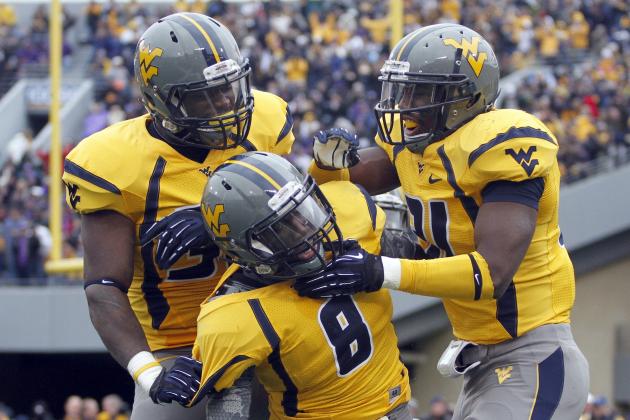 Justin K. Aller/Getty Images

Syracuse has a great safety in Shamarko Thomas, who was named second team All-Big East. However, since there are two safety spots, Karl Joseph receives a nod for WVU.
The Orange senior and the Mountaineer freshman are very similar players.
Joseph is 5'10" 197 pounds, and Thomas is 5'10" 206 pounds. Both use those frames to fly around the field, make plays and deliver huge hits.
Thomas led Syracuse with 84 tackles, including three for a loss and a sack. He also had a fumble recovery, three forced fumbles and a pair of interceptions.
Joseph had two interceptions, three forced fumbles and a fumble recovery of his own. The WVU freshman did have a slight tackling edge, notching 95 tackles, seven for a loss and a sack.
It's eerie just how similar these two players have been this season. They've both been arguably the most consistent defenders on their respective teams and will look to continue that at Yankee Stadium.