Pinstripe Bowl 2012: West Virginia vs. Syracuse TV Info, Predictions and More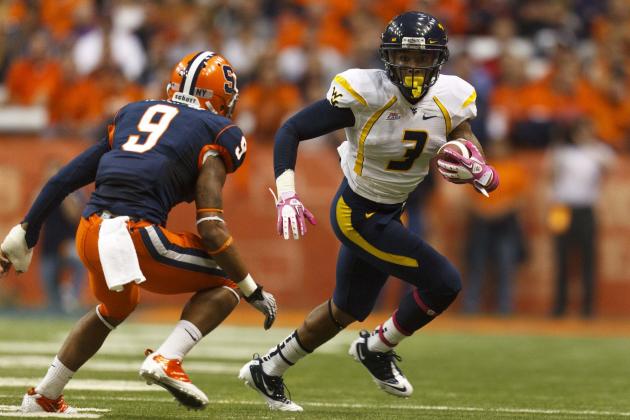 Jason O. Watson-USA TODAY Sports

Old Big East Conference rivals West Virginia and Syracuse will be matched up in rather unlikely circumstances in the New Era Pinstripe bowl on Dec. 29.
The two Big East deserters sit at 7-5, with WVU already in its new league and the Orange on their way out before the start of the 2013 season.
It is a disappointing outcome for West Virginia, which was once ranked in the Top 5 with BCS aspirations. The team's offensive leaders Geno Smith and Tavon Austin were both expected to be in New York at season's end—but for the Heisman Trophy presentation, not the Pinstripe Bowl.
Nonetheless, WVU will take on a Syracuse team that has looked excellent at times, challenging USC and defeating SEC foe Missouri. However, the Orange have also fallen to Big Ten Conference opponents Northwestern and Minnesota and finished with a share of the Big East title, but on the wrong end of the tiebreaker at the top.
Now, these two familiar foes will square off in their season finale at Yankee Stadium in the Bronx:
h/t to Peter Davis for pointing out my mistake on Syracuse's Big East standing
Begin Slideshow

»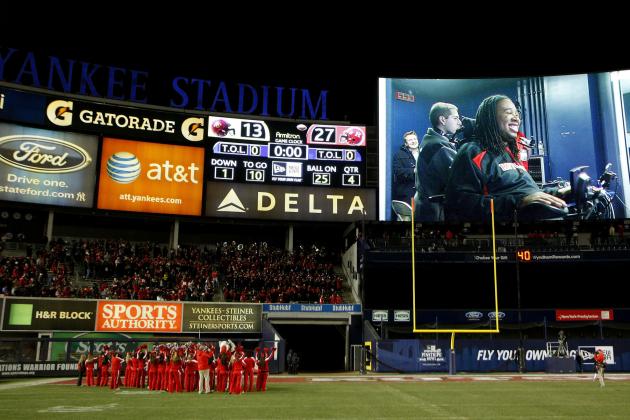 Jeff Zelevansky/Getty Images

Big East Conference vs. Big 12 Conference
Syracuse Orange vs. West Virginia Mountaineers
Where: Yankee Stadium | Bronx, New York
When: Saturday, Dec. 29 | 3:15 p.m. EST
TV: ESPN

Radio: ESPN Radio
Live Stream: ESPN 3

Betting Line: Not Yet Open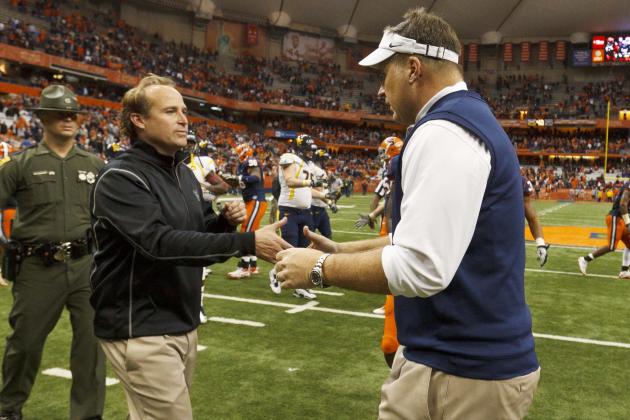 Jason O. Watson-USA TODAY Sports

A lot more will be on the line in this game than the Pinstripe Bowl title.
West Virginia and Syracuse are long-time rivals dating back to the World War II era. The two teams have played every season since 1955, and that streak was expected to end this season with WVU's move to the Big 12 Conference.
However, the battle for the Schwartzwalder Trophy will continue for at least another year, now that the two teams have been matched up in the Pinstripe Bowl.
Syracuse leads the all-time series 32-27, even despite eight-straight victories by the Mountaineers in the 2000s.
The Orange are currently on a two-game winning streak in the series, as WVU will look to exact some revenge from the consecutive Syracuse upsets.
Finally, this will also be a battle of two Big East Conference deserters.
West Virginia left the conference last season and Syracuse is slated to leave on July 1, 2013, making this their final representation of the Big East on the gridiron.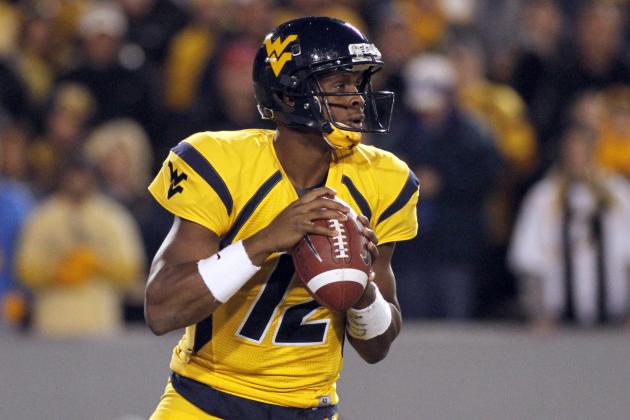 Justin K. Aller/Getty Images

Offense
QB: Geno Smith, 12 (Sr.)
Paul Millard, 14 (r-Fr.)
WR (X): Stedman Bailey, 3 (r-Jr.)
Ryan Nehlen, 80 (r-Sr.)
IR (H): Connor Arlia, 83 (So.)
Dante Campbell, 15 (r-Fr.)
LT: Quinton Spain, 67 (r-So.)
Nick Kindler, 79 (r-Jr.)
LG: Josh Jenkins, 77 (r-Sr.)
Pat Eger, 76 (r-Jr.)
C: Joe Madsen, 74 (r-Sr.)
John Bassler, 60 (r-Sr.)
RG: Jeff Braun, 57 (r-Sr.)
Pat Eger, 76 (r-Jr.)
RT: Curtis Feigt, 62 (r-Jr.)
Nick Kindler, 79 (r-Jr.)
IR (Y): Tavon Austin, 1 (Sr.)
Jordan Thompson, 10 (Fr.)
WR (Z): J.D. Woods, 81 (r-Sr.)
Devonte Robinson, 85 (Fr.)
RB (A): Cody Clay, 88 (r-Fr.)
Ryan Clarke, 32 (r-Sr.)
Donovan Miles, 30 (r-Sr.)
RB (B): Andrew Buie, 13 (So.)
Dustin Garrison, 29 (So.)
Shawne Alston, 20 (Sr.)
Defense (3-4)
DT: Jorge Wright, 99 (r-Sr.)
Korey Harris, 96 (Fr.)
NT: Shaq Rowell, 90 (Jr.)
Christian Brown, 95 (Fr.)
DE: Will Clarke, 98 (r-Jr.)
Kyle Rose, 93 (r-Fr.)
BUCK: Josh Francis, 4 (Sr.)
Garrett Hope, 41 (Fr.)
STAR: Terence Garvin, 28 (Sr.)
Wes Tonkery, 37 (r-So.)
WILL: Jared Barber, 33 (So.)
Doug Rigg, 47 (Jr.)
SAM: Isaiah Bruce, 31 (r-Fr.)
Shaq Petteway, 36 (So.)
FCB: Ishmael Banks, 34 (r-So.)
Brodrick Jenkins, 23 (r-Jr.)
FS: Karl Joseph, 8 (Fr.)
K.J. Dillon, 9 (Fr.)
BS: Cecil Level, 24 (r-Sr.)
Darwin Cook, 25 (r-Jr.)
BCB: Terrell Chestnut, 16 (r-Fr.)
Pat Miller, 6 (Sr.)
Nana Kyeremeh, 7 (Fr.)
Special Teams
K: Tyler Bitancurt, 40 (r-Sr.)
Corey Smith, 44 (r-Sr.)
P: Corey Smith, 44 (r-Sr.)
Michael Molinari, 48 (r-So.)
KO: Corey Smith, 44 (r-Sr.)
Tyler Bitancurt, 40 (r-Sr.)
LS: John DePalma, 87 (Fr.)
Jerry Cooper, 86 (r-So.)
H: Michael Molinari, 48 (r-So.)
PR: Tavon Austin, 1 (Sr.)
Jordan Thompson, 10 (Fr.)
KR: Tavon Austin, 1 (Sr.)
Stedman Bailey, 3 (r-Jr.)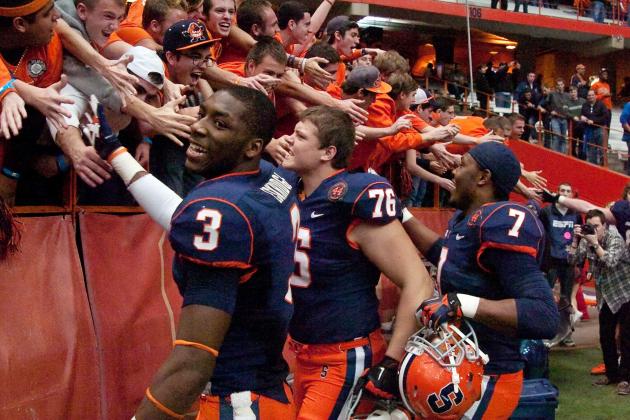 Mark Konezny-US PRESSWIRE

Offense
WR (X): Alec Lemon, 15 (Sr.)
Christopher Clark, 36 (Jr.)
LT: Justin Pugh, 67 (Sr.)
Andrew Phillips, 62 (Sr.)
LG: Zack Chibane, 75 (r-Sr.)
Nick Robinson, 68 (So.)
C: Macky MacPherson, 59 (Jr.)
Jason Emerich, 78 (Fr.)
RG: Rob Trudo, 55 (So.)
Ivan Foy, 72 (So.)
RT: Sean Hickey, 60 (Jr.)
Lou Alexander, 77 (Sr.)
TE (Y): Beckett Wales, 85 (Jr.)
David Stevens, 86 (r-Sr.)
WR (Z): Marcus Sales, 5 (r-Sr.)
Jarrod West, 88 (Jr.)
QB: Ryan Nassib, 12 (r-Sr.)
Charley Loeb, 17 (Sr.)
H: Jerome Smith, 45 (Jr.)
Prince-Tyson Gulley, 23 (Jr.)
F: Clay Cleveland, 31 (Jr.)
Carl Cutler, 48 (r-Sr.)
Defense
DE: Markus Pierce-Brewster, 10 (Jr.)
Micah Robinson, 93 (Jr.)
NT: Jay Bromley, 96 (Jr.)
Eric Crume, 52 (So.)
DT: Deon Goggins, 13 (r-Sr.)
Zian Jones, 99 (Jr.)
DE: Brandon Sharpe, 91 (Sr.)
Robert Welsh, 94 (Jr.)
SLB: Marquis Spruill, 11 (Jr.)
Dom Anene, 39 (Sr.)
MLB: Siriki Diabate, 18 (Sr.)
Dan Vaughan, 33 (r-Sr.)
WLB: Dyshawn Davis, 35 (So.)
Cameron Lynch, 38 (So.)
CB (H): Keon Lyn, 8 (Jr.)
Brandon reddish, 4 (So.)
Julian Whigham, 20 (Fr.)
SS: Shamarko Thomas, 21 (Sr.)
Ritchy Desir, 6 (So.)
FS: Jeremi Wilkes, 28 (Jr.)
Durell Eskridge, 3 (So.)
CB: Ri'Shard Anderson, 9 (Sr.)
Wayne Morgan, 2 (Fr.)
Special Teams
KO: Ryan Norton, 49 (Fr.)
Riley Dixon, 92 (So.)
FG: Ross Krautman, 37 (Jr.)
Ryan Norton, 49 (Fr.)
P: Jonathan Fisher, 46 (So.)
Riley Dixon, 92 (So.)
KR: Jeremiah Kobena, 25 (So.)
Wayne Morgan, 2 (Fr.)
PR: Ritchy Desir, 6 (So.)
Steven Rene, 30 (Jr.)
LS: Sam Rodgers, 47 (So.)
Eric Morris, 61 (Sr.)
SS: Sam Rodgers, 47 (So.)
Eric Morris, 61 (Sr.)
Charles LeClaire-US PRESSWIRE

Tavon Austin will be the best player on the field on Dec. 29.
He's one of the most talented players in the nation and can do just about anything with the ball in his hands.
With nearly 1,300 receiving yards, 600 rushing yards and 900 return yards, he's undoubtedly the most versatile and electric player in college football.
He holds the WVU career records for receptions with 284, receiving yards with 3,383 and is second in receiving touchdowns with 29.
Earlier this season, he had one of the best individual performances in NCAA history against an elite Oklahoma defense, in which he posted 572 all-purpose yards in a single game.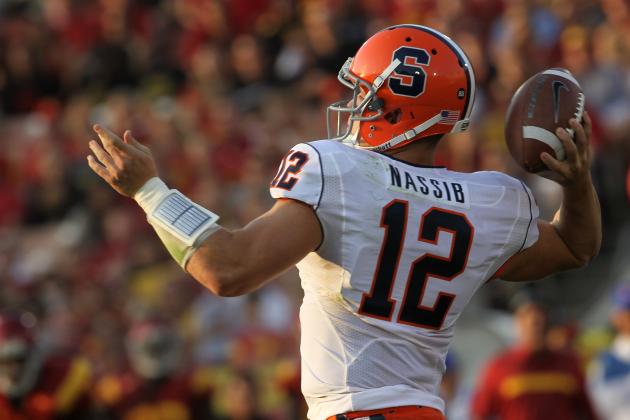 Stephen Dunn/Getty Images

There is no question about who is the leader of this Syracuse team.
Quarterback Ryan Nassib has amassed more than 9,000 yards passing in his career, including 3,619 yards this season.
He has also tossed 24 touchdowns to just nine interceptions this year.
On the year, he has eclipsed 300 yards in six games and he'll have a great chance to do that against West Virginia.
The Mountaineers have been one of the worst teams in the nation against the pass in 2012.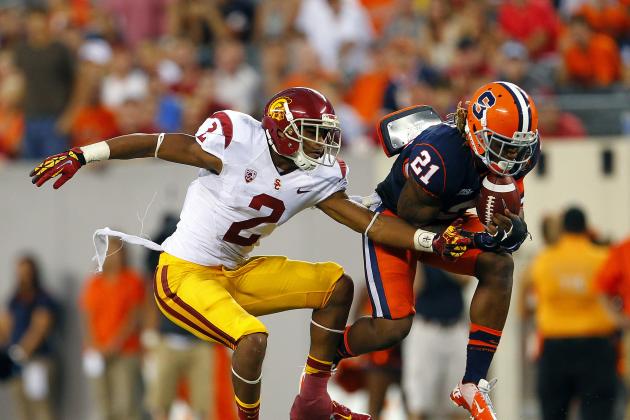 Rich Schultz/Getty Images

Syracuse Secondary vs. West Virginia Passing Attack
West Virginia boasts the No. 6 passing offense in the nation, averaging 340 yards pre game. Quarterback Geno Smith and his two elite targets Tavon Austin and Stedman Bailey will be pitted against a solid Syracuse secondary led by Shamarko Thomas and Keon Lyn.
Thomas has tallied a team-high 84 tackles, along with two interceptions and three forced fumbles. Lyn is a high school teammate of Smith and Bailey and will be determined to shut them down. He has a team-high three interceptions and seven pass breakups this season. You can bet the trash-talk has already started between these old Miramar High School buddies leading up to this game.
West Virginia Secondary vs. Syracuse Passing Attack
Ryan Nassib and Syracuse have averaged more than 300 yards per game through the air in 2012 and will take on a WVU passing defense that has allowed more than 325 yards per game on average this season.
Last year, Nassib carved up this secondary, finishing 24-for-32 for 229 yards and four touchdowns. You can bet the Mountaineer defensive backs will be looking to make up for that and a season's worth of poor performances in the Bronx. However, Nassib will be determined to put up some gaudy numbers in his swan song as a fifth-year senior.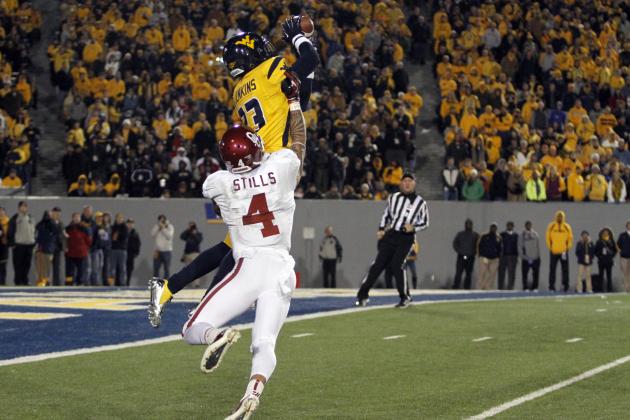 Justin K. Aller/Getty Images

West Virginia will win if it can make plays in the secondary.
Last season, Nassib found his tight end Nick Provo for three touchdowns and Syracuse pulled off a decisive upset of the Mountaineers.
This year, WVU will have to slow Nassib and the Orange air attack.
The Mountaineers have been strong against the run, but will still have to keep an eye on 1,000-yard rusher Jerome Smith, as well.
Offensively, the Mountaineers shouldn't have too much problem at finding success, but that will start on the ground. Shawne Alston should be healthy, which will give the WVU ground game a big boost.
Establishing the run will open up the pass and take pressure off Smith.
It will be up to Smith and Alston to ensure that WVU finishes drives with touchdowns rather than field goals or turnovers.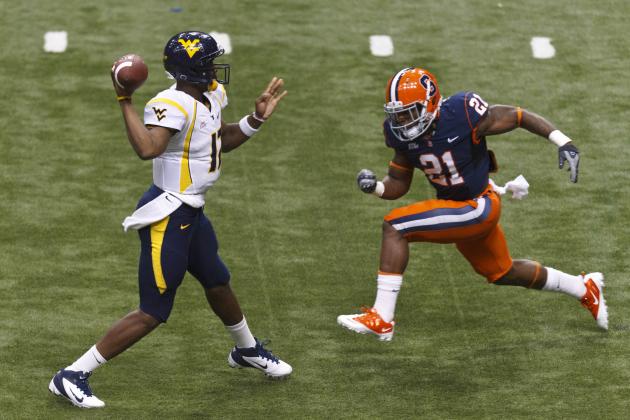 Jason O. Watson-USA TODAY Sports

Syracuse will win if it can disrupt the offensive rhythm of West Virginia.
The Orange first must stop the WVU running game and generate pressure on Geno Smith. If the Cuse can consistently put Smith and the WVU offense in difficult third-down situations, the tide could turn in favor of the Orange.
Offensively, Nassib will need to have a big day against the WVU secondary.
Mostly, he'll need to avoid turnovers. Seven of Nassib's nine interceptions this season have come in Syracuse's five losses.
The West Virginia defense thrives on turnovers, but struggles to stop cautious offensive opponents.
If Nassib hands the ball back to the WVU offense one too many times, the Orange will be in big trouble.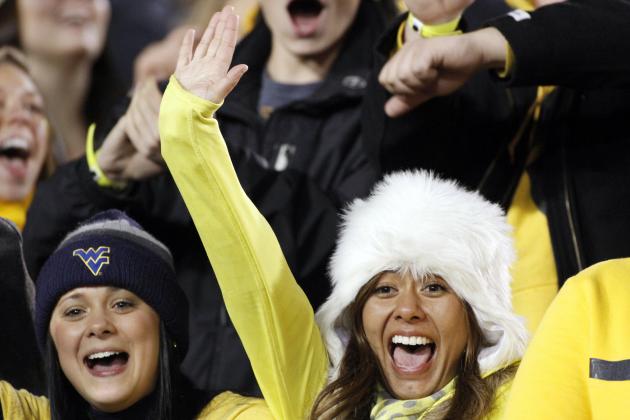 Justin K. Aller/Getty Images

West Virginia's offense will be just too much for Syracuse to handle.
Tavon Austin, Geno Smith, Shawne Alston—and possibly junior Stedman Bailey—will all be playing their last game in gold and blue and will each be out to have a huge day.
Each an extremely talented player in their own way, they all with have success in New York.
Ryan Nassib will have a great day throwing to Alec Lemon, Marcus Sales and others for Syracuse, but won't quite be able to keep up.
It'll certainly be a high-scoring affair, but the WVU defense will come up with a couple of key stops late in the game to steal a victory.
Prediction: West Virginia 48, Syracuse 38