Tottenham Hotspur: Villas-Boas' Potential Moves in January Transfer Window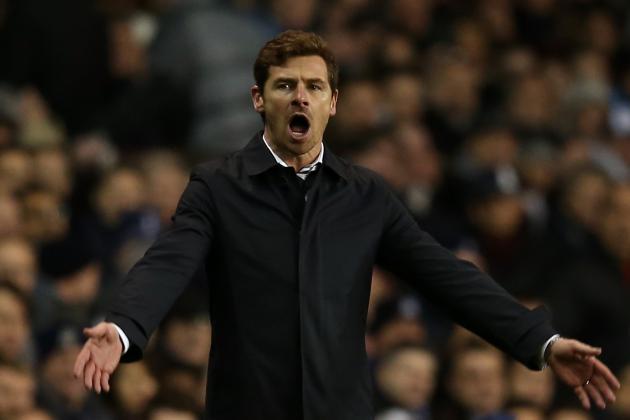 Julian Finney/Getty Images
How busy a January does Andre Villas-Boas have in store?
Over the past few seasons, Tottenham Hotspur have done the majority of their transfer business in the summer market.
The January transfer window has mostly seen players go the other way, with unwanted players shipped out or younger prospects sent on loan for further experience.
Bringing new faces into a squad at this time of year is undoubtedly a tricky prospect. With most clubs similarly keen to enhance their squad, there are only so many gems available.
Even then, luring star players away in the middle of the season can hinge on several factors—league position, whether they are cup tied or not, available funds, etc.
For Tottenham, the biggest January signing over the last few years was that of Steven Pienaar from Everton, a move that ultimately did not work out.
Mostly the club has brought in experienced campaigners on short term deals—Eidur Gudjohnsen, Louis Saha and Ryan Nelsen—whose contributions were minimal at best.
The last two seasons saw Spurs struggle to push on and fulfill their ambitions after winter. While it was not down solely to their failure to improve their squad, that certainly had an effect.
As Andre Villas-Boas prepares for his first January at White Hart Lane, what is potentially on the horizon in regards to his spending?
Have a look at my predictions, then have your say: Who do you think the Tottenham manager should (and maybe will) go after? And do you think anybody within the squad should be moved on as we head into 2013?
Begin Slideshow

»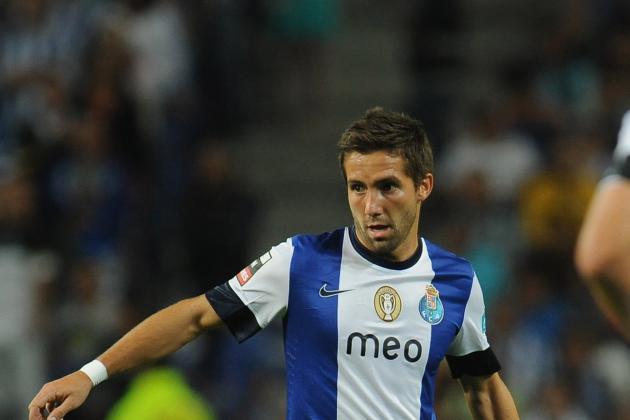 Valerio Pennicino/Getty Images
Porto's Joao Moutinho.
Tottenham narrowly missed out on signing Porto midfielder Joao Moutinho in August. They should, and likely will, go after him again.
Villas-Boas went to see his former club play Paris Saint-Germain last week.
In quotes in the Daily Mirror newspaper, the Portuguese said he had gone to watch Porto play last season too when they were in Manchester, and that he enjoyed the opportunity to meet with old friends.
This may well be the case, but with Spurs' recent interest in Moutinho, you have to assume that Villas-Boas had dual motives.
Tottenham's midfield is in a pretty healthy state, but many supporters believe that the Portugal international could improve it further and reintroduce the passing elements that were lost with Luka Modric's departure.
Despite Jermain Defoe playing well and Emmanuel Adebayor still being a top player (albeit not yet matching his form of last season), Tottenham could do with another striker in their ranks.
This writer explored the prospects of a move for one of Fernando Llorente, Demba Ba or Loic Remy a few weeks ago, and they remain relatively realistic targets.
There are likely to be several more names bandied about in the coming weeks. Whether or not there is any truth to the links is just the luck of the draw at this time of year.
If Villas-Boas does go for another forward, he would do well to sign one of the quality he already has at his disposal, someone who could either ably deputize or really improve his team.
Truly good strikers come at a premium, and top-level clubs will be loathe to let theirs go, even if presented with a good offer.
There are other areas Tottenham could probably do with reinforcing (left-back, maybe another winger), but you expect Villas-Boas may stick with what he's got there for now.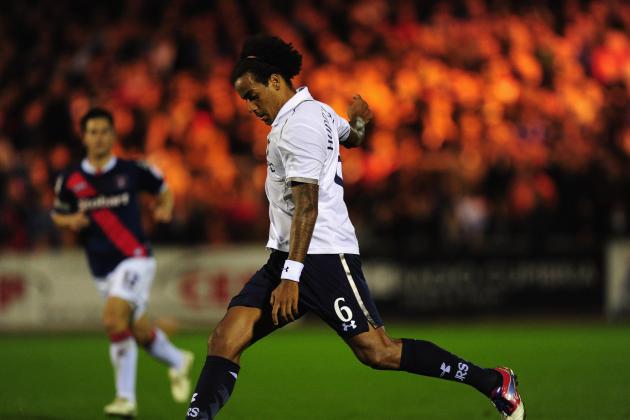 Stu Forster/Getty Images
Tom Huddlestone
Should Moutinho be signed in January, you have to think that Tom Huddlestone's days at Tottenham might be numbered.
Huddlestone almost moved to Stoke City in August, but that deal fell through and he has since featured fairly regularly under Villas-Boas.
While his passing range is still there, the 25-year-old has not offered much else since his return from a long injury layoff to suggest that he has improved to the extent that was once hoped of him.
Considering Huddlestone has been injured so long, it is not surprising. Those problems have robbed him of a couple of years when he may well have pushed on.
Perhaps he is still capable of doing so, but having already fallen behind Sandro and Moussa Dembele as Villas-Boas' preferred central midfielders, the signing of Moutinho would definitely require a move elsewhere.
Michael Dawson also nearly moved in August to Queens Park Rangers.
QPR, now managed by Harry Redknapp, have been linked with him again, as have Sunderland.
While Villas-Boas may have had reservations in the summer, Dawson's recent spell in the first team must surely have convinced him of the longtime Spur's value, especially when the defense has looked so suspect when he has not been playing.
Dawson is one of the few players from the fringes of the first team who might be capable of bringing in some money, so he is certainly one to watch.
Elsewhere David Bentley, whose loan spell in Russia with FC Rostov has not been a big success, will likely depart on loan again.
Villas-Boas will likely want to keep some of the younger players who have been in and around the first team this season, especially if the club progresses in three competitions.
Still, others such as Kevin Stewart and Ryan Mason will likely get a chance to further their experience elsewhere on loan.
Of particular interest will be some of the even younger crop—Shaquille Coulthirst and Alex Pritchard to name a couple—who have impressed in youth competition this season.
They may be kept to compete further at youth level (notably the NextGen Series), but Spurs may decide it is time for them to try their luck on loan elsewhere ahead of a move into the first-team rotation next season.