Tottenham Transfers: 3 Strikers for Spurs to Look at in January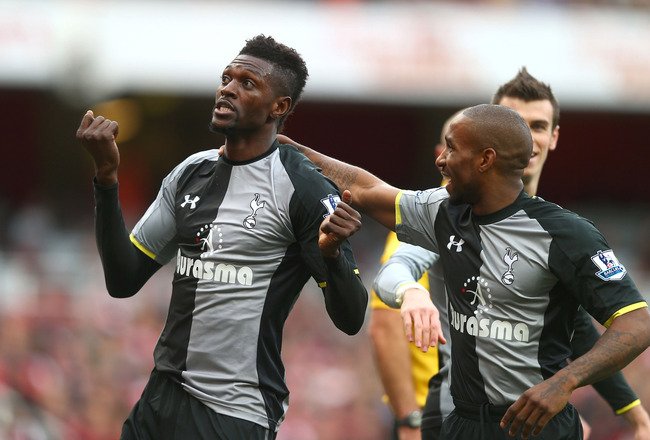 Will any other forwards be joining Emmanuel Adebayor and Jermain Defoe in January?
Clive Rose/Getty Images
The midway point of the Premier League season is approaching, and along with the demands of the festive fixture list, clubs throughout England will be preparing themselves for the stresses of the January transfer window.
Tottenham Hotspur invested quite heavily in their squad over the summer, but you wouldn't bet against Andre Villas-Boas requesting the club's hierarchy release further funds for him to spend on an extra player or two.
Joao Moutinho may once again be on his former manager's shopping list, having been pursued so fervently in the closing days of the previous window.
One other area that Villas-Boas might deem in need of attention is his strikeforce.
Spurs' regular use of the 4-2-3-1 formation, along with the good form of Jermain Defoe, has meant a lack of depth at the position has not yet been a major issue.
Defoe has scored ten times this season, and while Emmanuel Adebayor has (for a number of reasons) not found his feet again yet, there have been goals contributed from elsewhere on the team.
The hope will be that the likes of Gareth Bale and Clint Dempsey find the net with increasing frequency, but even so, Spurs might feel the need to strengthen upfront.
The following three players are strikers the North London club have at one point or another been linked with, which although not a guarantee of interest, does correlate with a realistic expectation of the kind of player Spurs might be able to attract.
Over the next three pages the reasons for them being potential Tottenham targets are examined, as are the arguments why these deals might not happen.
Are they players suitable for Villas-Boas' side? Or should the Portuguese look elsewhere if he wants to bring in another forward?
Loic Remy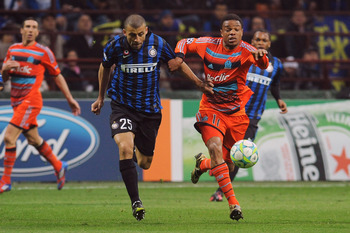 Valerio Pennicino/Getty Images
Loic Remy seems to have been linked with every Premier League club with European ambitions at one point or another.
That theme was maintained on Tuesday, with a small snippet in The Sun newspaper suggesting Tottenham, Liverpool and Newcastle United were all interested in the Frenchman.
Though injury problems have played some part, Remy has not been Marseille's preferred starter upfront in 2012/13, starting just once in addition to making a further eight substitute appearances in Ligue 1.
It seems likely that the 25-year-old will be on the market come January. Will this be the time Spurs make their long-reported interest concrete?
If he can be bought on the (relative) cheap, Remy is indeed someone Spurs might look to sign.
The French international's goalscoring record in his home country is solid without being spectacular, but he undoubtedly has considerable finishing ability as well as the sort of strength and speed that could translate quite well to the Premier League.
Talent-wise, Remy is capable of fitting in nicely at White Hart Lane, but whether his personality is suited to the club is unclear.
The Premier League would be a step up for him, but with no guarantee of a starting place (unless Defoe or Adebayor suffer a medium to long-term injury), waiting his turn on the substitute's bench or making cameo appearances might not appeal.
The kind of striker Spurs would be looking for in January is someone who could make an immediate impact as well as deliver beyond that point (so not another Louis Saha).
Remy might be a risk worth taking.
Fernando Llorente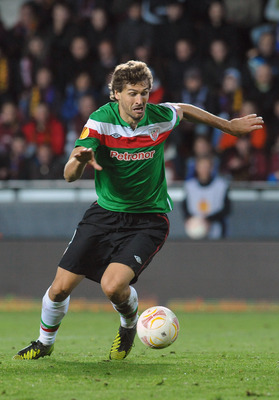 EuroFootball/Getty Images
Fernando Llorente is another striker who has consistently been linked with a move to England in recent years.
At 6'5", the Athletic Bilbao forward is the kind of presence most have deemed would be at home in the more physical Premier League, with the Spanish technique and goalscoring knack to ensure he would excel.
That kind of assessment can only really be tested by being put into action, but just how close Llorente even is to leaving Bilbao remains a mystery.
His departure seemed to be on the cards when he refused to sign a new contract this past summer, and though a move did not materialize then, he has been mooted as a possible target for several clubs since then (Arsenal being one of the latest, according to the Daily Express newspaper).
The latest quotes coming out of that story and others suggest that Llorente is happy to stay (he started his first La Liga game of the season this past weekend), but come January it might be a whole other story (though there is a strong likelihood he could remain at Bilbao until summer 2013 before moving).
Would Tottenham stand a realistic chance of signing the Spaniard in January? Possibly.
If he does become available, Spurs would be foolish not to register their interest.
Llorente offers something different upfront to what they already have, and you would have to hope Villas-Boas would instruct his players to utilize him in a way that does not automatically imply lumping the ball forward from deep (as too often was the case with Peter Crouch).
Having been at Bilbao virtually his whole career, Llorente might decide that if he was to move on it would have to be to a club where success is more of a guarantee than at Spurs.
Juventus have been among Europe's bigger clubs to have also been linked with him in recent months.
Depending on whether the situation in the Basque country deteriorates any further though, if no other club does come in for Llorente, a move to White Hart Lane might be an attractive proposition.
Demba Ba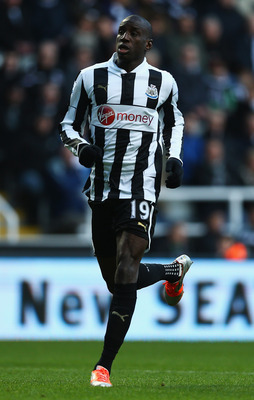 Matthew Lewis/Getty Images
Demba Ba represents the kind of striker within their own league whom Tottenham might feasibly be interested in.
They were linked with him at various points last season (the Daily Mail regarding them as favorites for his signature back in May) and know firsthand of his ability, having been on the receiving end of a superb curling effort in the opening day loss to Newcastle.
The Senegal international has struck eight times already this season to add to the 16 goals he netted last time around.
Proven Premier League credentials are appealing, as you would expect Ba wouldn't need too much time to settle (if any), and he is undoubtedly of a similar quality level to the strikers already in the Spurs squad.
It all combines to make him a player Villas-Boas would do well to consider as a potential addition in this department, but they are also the reasons why Newcastle would be loathe to let him go.
The relationship between Ba, his club, and manager Alan Pardew, has not been an entirely happy one since the arrival of Papiss Cisse last January.
Even if Ba looked to force a move (if he was tempted), it seems unlikely Newcastle would contemplate letting go a player who is so crucial to their health this season (a feeling that will have been strengthened further by their recent troubles).
Spurs have not been shy about going after players from fellow Premier League clubs in the past though, and if they feel Ba is someone who could really improve them, do not be surprised if they made a move.
Keep Reading

Tottenham Hotspur: Like this team?