Boston Red Sox Rumors: 10 Reasons Anibal Sanchez Is a Great Fit in Boston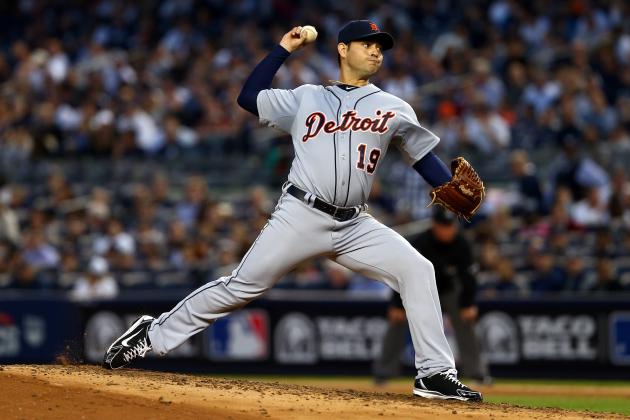 Alex Trautwig/Getty Images
Anibal Sanchez is the best available starting pitcher on the free-agent market.
Now that the Red Sox have added a starting first baseman, two starting outfielders, a back-up catcher and several relievers this offseason, it's time for them to add a starting pitcher.
The Red Sox need to add not just a pitcher at the back end of the rotation, like Ryan Dempster, nor one who will cost almost $150 million, like Zack Greinke, but a starting pitcher who's pitched well in both the American and National Leagues, on the big stage, and will be near the top of the rotation.
That is, Anibal Sanchez.
The 28-year-old finished with a 9-13 regular season record, but posted a 3.86 ERA, 1.27 WHIP and .265 BAA with the Miami Marlins and Detroit Tigers.
However, his best stats came in the 2012 postseason with the Tigers.
Former GM and current ESPN analyst Jim Bowden ranks Sanchez as the No. 1 available starting pitcher in free agency after the Greinke signing.
And, just last week, CBS Sports baseball writer Jon Heyman tweeted that the Red Sox have shown interest in the best available starting pitcher.
Now that the Red Sox have already signed one of the best free agent options this offseason in Mike Napoli, it's time for them to sign arguably the best available free agent: Anibal Sanchez.
Here are 10 reasons why Sanchez would be a great fit and a great signing by Boston.
Begin Slideshow

»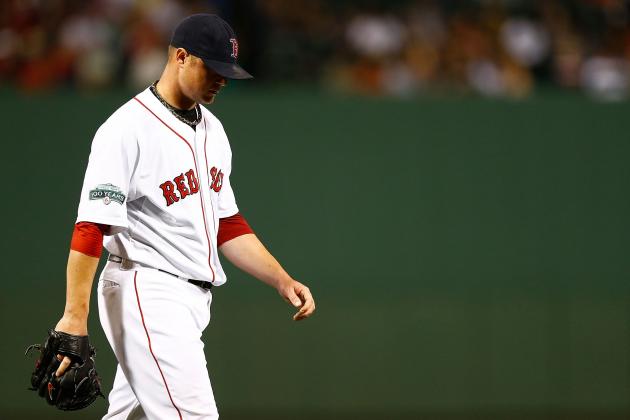 Jared Wickerham/Getty Images
Jon Lester and the Red Sox rotation struggled in 2012.
The Red Sox starting pitching ranked near the bottom of the league is several major categories: 23rd in wins (48), 27th in ERA (5.19), 25th in WHIP (1.42), last in shutouts (4), 26th in BAA (.272) and 23rd in innings pitched (928.1).
On top of those terrible numbers, the Red Sox staff also ranked near the top of the league in several other major categories: 6th in losses (72), first in earned runs (535), fourth in walks (336) and fourth in home runs allowed (135).
Clearly, the team needs to address its issue with starting pitching.
The rotation will improve if Jon Lester, Clay Buchholz and Felix Doubront bounce back from a disappointing 2012 season, and if John Lackey can remain healthy and eventually return to old form.
Still, the Red Sox need to sign a free agent to fill out the five-man rotation.
And Ben Cherington needs to add not just any starting pitcher, but one who can pitch in the top half of the rotation.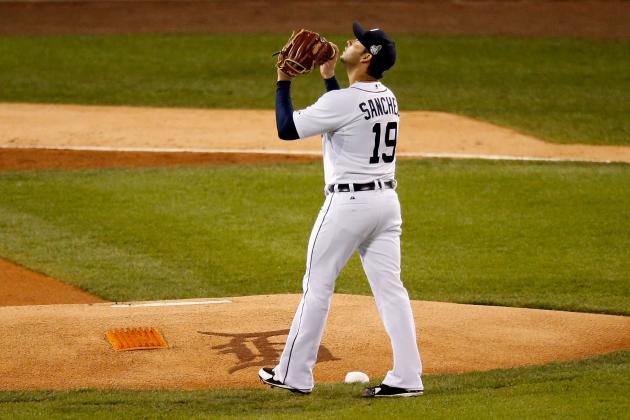 Leon Halip/Getty Images
Anibal Sanchez's statistics aren't far off Zack Greinke's over the last three seasons.
Anibal Sanchez would likely be placed behind Lester and Buchholz in the rotation, but he has the stats to be a pitcher in the top half of the rotation for many teams.
The 32-year-old's WAR ranked 22nd in the league last year. He shared a WAR of 3.8 with Matt Cain, Matt Harrison and former teammate Josh Johnson, according to Fan Graphs. His WAR was better than that of Jered Weaver, C.J. Wilson and every Red Sox starting pitcher in 2012.
Since 2010, Sanchez has a 3.69 ERA, 1.30 WHIP and 8.1 K/9, while averaging almost 196 innings per season.
The right-handed pitcher only has a 30-34 record over the last three seasons, but for the last two seasons he's regularly been ranked near the bottom of the league in run support. In 2012, his 3.74 RS was 12th lowest, and in 2011, his 3.34 RS was seventh lowest in the league.
Sanchez also has a good pitching repertoire. His fastball reaches 95-96 mph and has an average speed of 91.5. According to Fan Graphs, the average velocity of his fastball ranks 44th in the league, just behind Cliff Lee and C.J. Wilson.
He also has one of the better changeups in the league, complemented by a slider and an occasional curveball, cutter or sinker.
Given his recent success, Sanchez can be a No. 1 pitcher for several teams, and SI.com even writes that he's not far off from Zack Greinke, considering he's younger and has posted a better WAR and ERA over the last three seasons than the expensive new Dodgers ace.
With the Red Sox, Sanchez can be one of the best No. 3 pitchers in the league.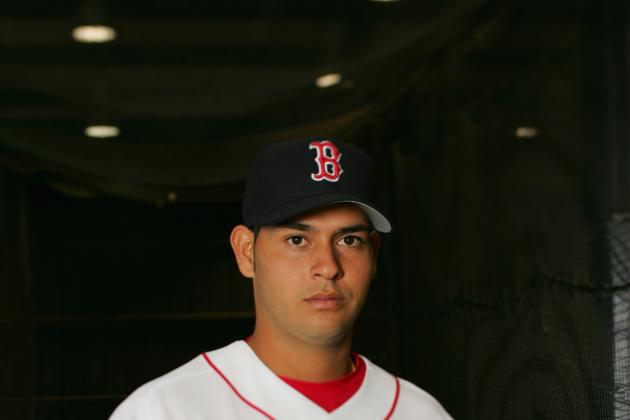 Ezra Shaw/Getty Images
Anibal Sanchez was once a top prospect in the Red Sox farm system.
Anibal Sanchez was recruited by Ben Cherington and signed with the Red Sox in 2001.
The Venezuelan was ranked the No. 5 prospect for the Red Sox after 2004, according to Baseball America, posting a 3-4 record, 1.77 ERA and 0.94 WHIP with the Lowell Spinners.
The following season, the then 21-year-old posted a 3.45 ERA and 1.20 WHIP in AA with the Portland Sea Dogs.
Months after the 2005 season, he was traded to the Marlins in a deal which brought over Josh Beckett and Mike Lowell.
Entering the 2006 season, Sanchez ranked as the best pitching prospect in the Southern League, and he even pitched 18 games with the Florida (now Miami) Marlins. In his rookie season, the then 22-year-old posted an incredible 10-3 record, 2.83 ERA, 1.19 WHIP and .217 BAA.
He and Hanley Ramirez were the centerpieces of the trade to bring over two eventual 2009 playoff heroes.
This offseason, the Red Sox should bring back their once highly-touted prospect.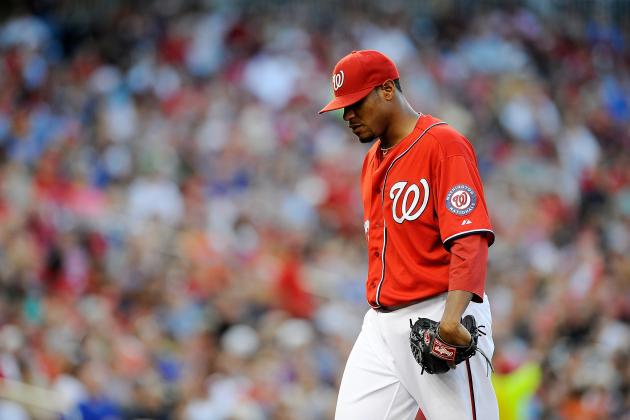 Patrick McDermott/Getty Images
Edwin Jackson has finished a full season with an ERA under 4.00 only twice in his career.
Both Sanchez and Edwin Jackson have been healthy over the last three years, but only one of the two has been consistent.
While Sanchez has a 3.69 ERA over the last three seasons, Edwin Jackson has had an ERA below 4.00 at season's end only twice in his 10-year career.
The 29-year-old Jackson has a career record of 70-71 with a 4.40 ERA, 1.44 WHIP and .271 BAA. And his stats from last season weren't flashy either.
In 31 starts in 2012, Jackson posted a 10-11 record with a 4.03 ERA, 1.22 WHIP, .243 BAA, 168 strikeouts and 23 homers allowed with the Nationals.
Their numbers from last season are pretty similar, but while Sanchez thrived in the postseason, Jackson did not.
In the 2012 NLDS, the German-born pitcher went 0-1 in his only start, allowing eight hits, four earned runs, one walk and a homer over just 5.0 innings. He also allowed one hit, one run and two walks in his one relief appearance.
Jackson is a young pitcher, looking for a long-term deal, but Sanchez is the better long-term option worth the higher price.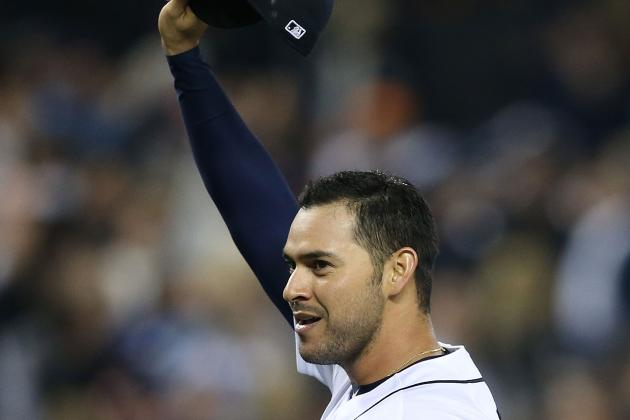 Leon Halip/Getty Images
Signing Anibal Sanchez would cost the Red Sox less than $100 million—a $50 million savings compared to signing Zack Greinke.
As mentioned earlier, Anibal Sanchez's stats over the last three years aren't far off from Zack Greinke's. Sanchez is younger and has posted a better ERA and WAR during that span than the new Dodgers ace.
The two are very comparable as pitchers, but what really separates them are the contracts they will sign this offseason (as long as Sanchez doesn't increase his asking price).
While Greinke recently signed a six-year, $147 million deal with the Dodgers, Sanchez is reportedly looking for a six-year, $90 million deal—a huge estimated difference of $57 million, or almost $10 million per season.
With that cost savings, the Red Sox could even add another starter to the mix to build depth. The rotation was plagued with injuries and underachieved last season. A sixth pitcher would add insurance in case Lester, Buchholz or Doubront go on the disabled list, or if Lackey underperforms again.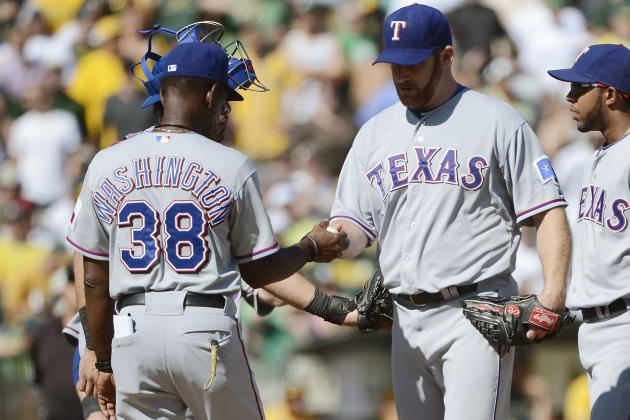 Thearon W. Henderson/Getty Images
Ryan Dempster did not pitch well against teams with .500 or better records in 2012.
It's a good thing that Ryan Dempster did not accept the two-year deal from the Red Sox. If he had, then Anibal Sanchez would not even be in this discussion.
Dempster started the season strong with the Cubs, posting a 5-5 record with an impressive 2.25 ERA. But after his trade to the Rangers, he had a 7-3 record with a disappointing 5.09 ERA. When a pitcher is backed by a loaded offense like the Rangers have, it's hard for him to have a losing record.
However, the 35-year-old struggled against the better teams.
The longtime National League pitcher was 9-2 with a 1.98 ERA against teams with losing records, and he was 3-6 with a 4.65 ERA against teams with .500 or better records last season.
In his last start of the season against the Athletics, with the AL West division on the line, Dempster allowed six hits, five runs and a walk over just 3.0 innings.
If Dempster is better against worse teams and not successful against the better teams, think about how he'll pitch in the AL East, regularly facing the Yankees, Orioles, Rays and now-revamped Blue Jays.
Sanchez did get crushed by the Yankees, Rays and Athletics in the regular season. But in the playoffs, he stepped it up on the big stage against the Yankees and Athletics.
Sanchez is a better and younger option than Dempster, who can pitch near the front of the rotation.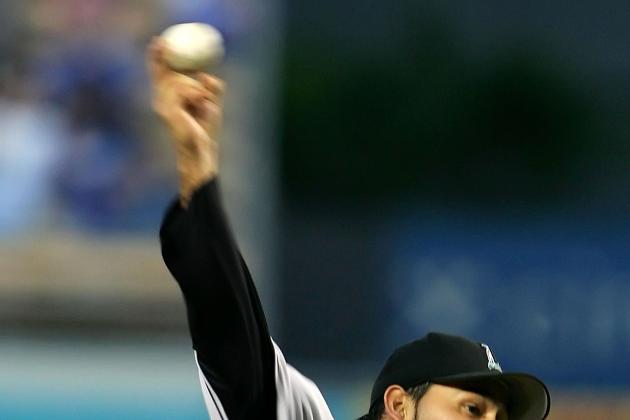 Lisa Blumenfeld/Getty Images
Anibal Sanchez even threw a no-hitter in his rookie season with the Marlins in 2006.
Anibal Sanchez only pitched in the American League for a few months, but he made the most of his time and helped lead his team to the World Series.
In 12 regular season starts with the Tigers, Sanchez posted a 4-6 record, 3.74 ERA, 1.29 WHIP and .275 BAA. But in all fairness to his 4-6 record (and 9-13 overall), he had a run support of just 3.74, which was 12th lowest in the league.
Speaking of run support, in Sanchez's three postseason starts last season, he received a total of three runs of run support. He received three in one game and zero in two games.
Over his three starts, the Tigers pitcher posted a 1.77 ERA and 0.98 WHIP with 18 strikeouts over 20.1 innings. In his ALDS start, he allowed five hits, two runs and two walks over 6.1 innings in a loss against the Athletics. In his ALCS start, he allowed three hits, zero runs and three walks over 7.0 innings in a win against the Yankees in Yankee Stadium. And, in his lone World Series start, he allowed six hits, two runs and one walk over 7.0 innings in a loss against the Giants.
Sanchez had a 1-2 record, but he got run support in just one of the three starts.
From 2006 to 2012 with the Marlins, Sanchez posted a 3.75 ERA. Not once in his last four seasons with Miami did he post an ERA over 4.00.
Sanchez has pitched well in both the AL and NL, unlike the next pitcher and potential signing.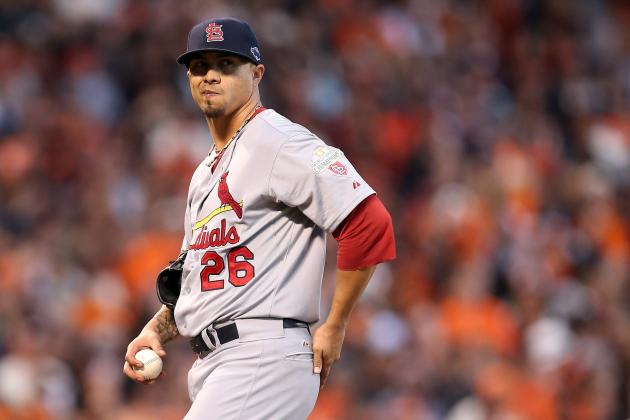 Christian Petersen/Getty Images
Prior to 2011, Kyle Lohse finished with a sub-4.00 ERA only once (2008).
Kyle Lohse picked the right time to have a career year. He was in his mid-thirties and in the final year of his contract.
The Cardinals pitcher posted career-best numbers in wins (16), losses (3), ERA (2.86), WHIP (1.09), BAA (.239) and strikeouts (143) in 2012. The 34-year-old is also coming off a breakout year in 2011, when he posted a 14-8 record with a 3.39 ERA, 1.17 WHIP and .249 BAA.
However, only once in the previous 10 years did Lohse have a season with a sub-4.00 ERA (3.78 in 2008).
And prior to 2011 and his two-year hot streak, he had a career record of 88-98 with an ERA of 4.79.
Lohse pitched well in a weaker-hitting NL Central and has never pitched well as an AL starter. In six seasons with the Twins from 2001 to 2006, his lowest ERA was 4.23 and his highest ERA was 7.07.
Those numbers are from more than six years ago, but the Red Sox should reconsider giving an expensive three-year deal to a pitcher who's 34 years old and had only one good season prior to 2011.
The Red Sox should dish out $15+ million a year to Sanchez, not Lohse.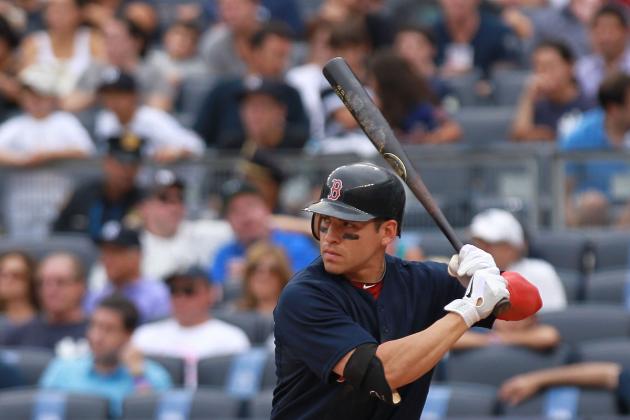 Nick Laham/Getty Images
Signing Anibal Sanchez could temporarily put to rest the rumors of trading Jacoby Ellsbury.
Signing Anibal Sanchez would likely put to rest rumors of trading Jacoby Ellsbury to the Phillies for Cliff Lee.
The signing wouldn't mean Ellsbury is off the block, but it does increase the chances that he's not swapped for a starting pitcher and will be in center field for the Red Sox in 2013.
Ellsbury could have a similar year to his 2011 season, when he was the MVP runner-up, hitting .321 and slugging .552 with 46 doubles, 32 home runs, 105 runs batted in and 39 stolen bases. On top of that, he won both the Gold Glove Award and the Silver Slugger Award that season.
The Red Sox need their star center fielder healthy and determined for a huge season to be successful.
Ellsbury may be gone after, or during, the 2013 season, but bringing in Sanchez will take off the pressure to trade the center fielder for a starting pitcher.
Hopefully, Ellsbury can have another career year in a Red Sox uniform before potentially being shipped out.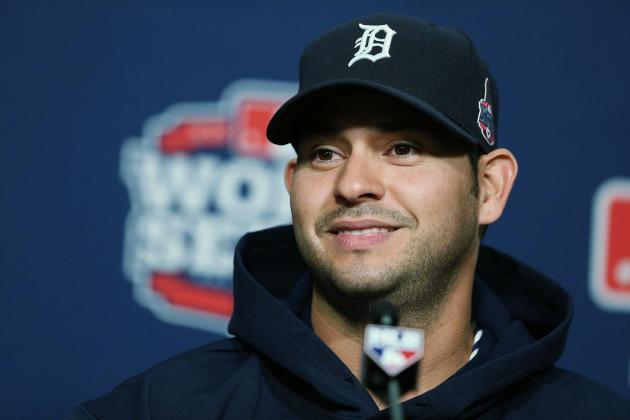 Leon Halip/Getty Images
Hopefully Anibal Sanchez will be wearing a Red Sox hat in his next press conference and for the next six seasons.
It would be hypocritical for the Red Sox to unload all their spending money this offseason on one player, after dumping Adrian Gonzalez and Carl Crawford.
But Anibal Sanchez would cost less than $100 million.
It would be hypocritical for the Red Sox to sign Greinke and Hamilton to monster contracts worth approximately $25 million a year.
But Sanchez would cost approximately $15 million a year.
A starting pitcher is the last position Ben Cherington has not acquired this offseason, and he has the money to get Sanchez, the best available starting pitcher.
If the Red Sox don't bring in Sanchez, Lackey will likely remain the highest-paid pitcher on the team for the next two seasons.
If the Red Sox do sign Sanchez, they'll get a player who was as consistent as Greinke over the last three seasons, who pitched very well in the 2012 postseason, including a gem in Yankee Stadium, and who is just 28 years old.
Instead of overpaying for Kyle Lohse, Edwin Jackson or Ryan Dempster, or having to trade Ellsbury or prospects for other starting pitchers, the Red Sox should sign Sanchez.
Anibal Sanchez would fill the last (and biggest) hole in the roster and should be the last major free agent signing by the Red Sox this offseason.