Top 10 Free Agent Signings the Red Sox Should Consider This Offseason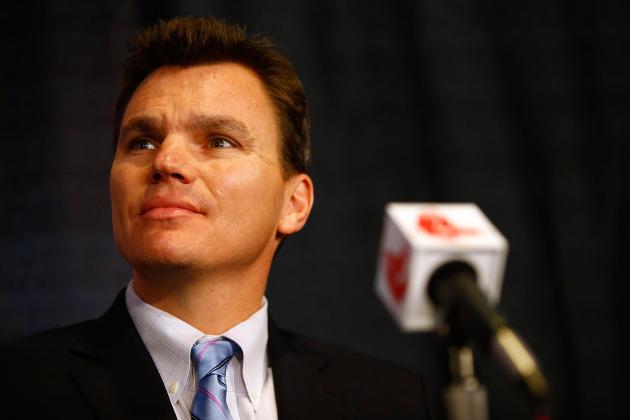 Jared Wickerham/Getty Images
GM Ben Cherington and the Red Sox have serious spending money this off-season.
The Red Sox enter the offseason with much needed help in the starting rotation and with open positions at first base, left field and maybe even right field.
Adrian Gonzalez, Carl Crawford and Josh Beckett were traded to the Dodgers, Cody Ross and Daisuke Matsuzaka are free agents, and John Lackey and Franklin Morales are questionable starting pitchers.
Following the blockbuster trade with the Dodgers that dumped several hundred million dollars in salary, GM Ben Cherington has enough spending money this offseason to fill all those positional voids by looking at players in free agency.
The Red Sox GM even has the money to sign the most expensive free agents this offseason, Josh Hamilton and Zack Greinke, but there are eight other valuable free agents who can contribute for the Red Sox in 2013 and beyond for a much lesser cost.
Here are my top 10 free agent signings the Red Sox should consider this offseason, based on their value, costs and recent success.
Begin Slideshow

»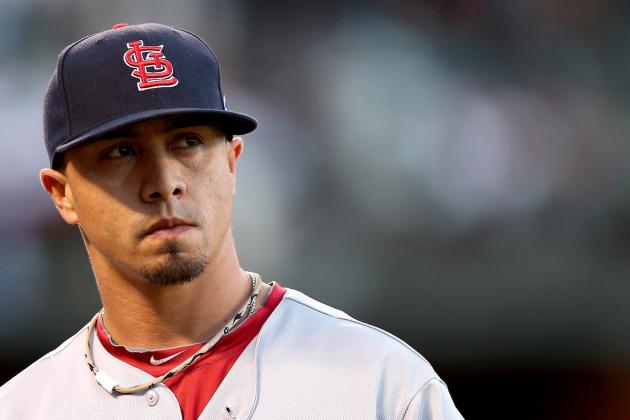 Christian Petersen/Getty Images
Kyle Lohse shows disappointment after struggling in lone World Series start.
Kyle Lohse posted career best numbers in wins (16), losses (3), ERA (2.86), WHIP (1.09), BAA (.239) and strikeouts (143) for the St. Louis Cardinals in 2012. The 34-year-old is also coming off a breakout year in 2011, when he posted a 14-8 record with a 3.39 ERA, 1.17 WHIP and .249 BAA.
The Cardinal was also solid in the 2012 postseason, until Game 7 of the NLCS. In his first three postseason starts, the right-hander allowed just four runs over 18.1 innings, good for a 1.96 ERA. Then, in Game 7 of the NLCS, Lohse was rocked, allowing five runs, six hits and a walk over just 2.0 innings.
Lohse has been very good in the last two seasons pitching for the Cardinals, but only once in the previous 10 years did he have a season with a sub-4.00 ERA (3.78 in 2008). Prior to 2011, Lohse had a career record of 88-98 with a career ERA of 4.79. He picked the right time to rectify his career and put up career numbers, before getting a new contract at 34 years old.
Lohse pitched well in a weaker hitting NL Central and has never pitched well as an AL starter. Now is not the time for the Red Sox to take a chance with the 34-year-old for three expensive years and test him in the better hitting league.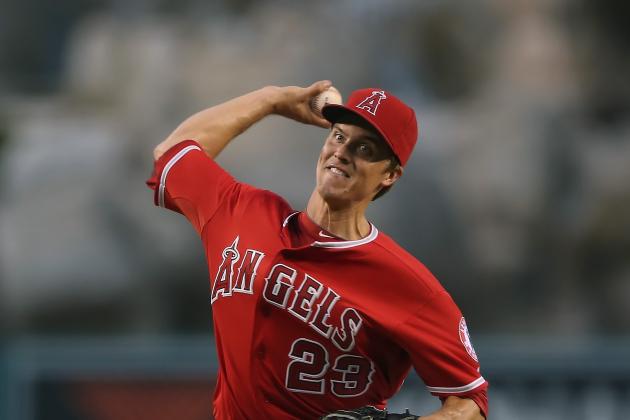 Jeff Gross/Getty Images
Zack Greinke throws a gem against the Red Sox on August 30.
Zack Greinke is the best available starting pitcher in free agency this offseason. Greinke is a 2009 Cy Young winner, only 28 years old, and is still in the prime of his career.
In 2012, Greinke had a 15-5 record, 3.48 ERA, 1.20 WHIP and 200 strikeouts over 212.1 innings. As an Angel for the second half of the season, he had a 6-2 record with a 3.53 ERA, including a solid August 30 victory against Boston, in which he allowed five hits, two runs and one walk with seven strikeouts over 7.0 innings. Following the victory, Greinke finished the season and month of September with a 3-0 record, 2.11 ERA, 0.96 WHIP and .209 BAA.
The former sixth-overall pick has lived up to his expectations. Since 2007, Greinke has proved to be one of the most consistent pitchers in the game. Only once did he have an ERA over 4.00, but only once did he have an ERA under 3.00 during that span. In 2009, the ex-Royal posted an incredible 2.16 ERA when he won the Cy Young.
Greinke has proved that he can pitch very well in both the American and National League, but how well can he pitch in a high-pressure, media-frenzy market like Boston? Greinke has medical issues battling anxiety and depression, which would not bode well regularly pitching in a hostile environment like Fenway Park and regularly facing the aggressive Boston media.
It would be hypocritical for Cherington to dump hundreds of millions of dollars in salary before the season to then spend well more than $100 million on one player right away.
There are still cheaper available options that can still provide big wins for the Red Sox in 2013 and beyond.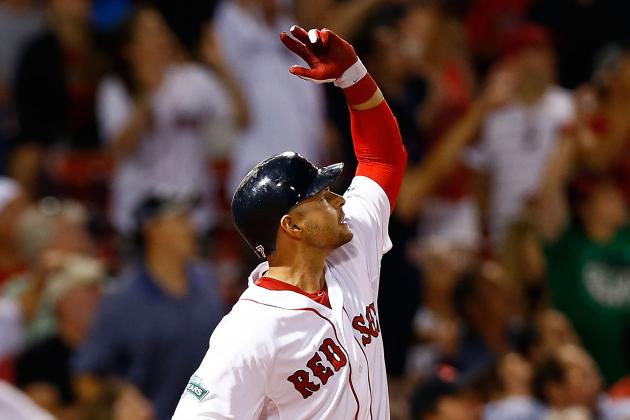 Jared Wickerham/Getty Images
Cody Ross flips bat after walk-off home run on July 19.
Cody Ross was arguably the Red Sox's best offseason acquisition last year, signing for just one year, $3 million.
The 31-year-old hit .267 and slugged .481 with 34 doubles, 22 HRs and 81 RBIs in 2012. On top of that, Ross crushed the ball at Fenway, batting .298 and slugging .565 with 25 doubles, 13 HRs and 49 RBIs in just 66 games. He also hit a memorable walk-off home run on July 19 against the White Sox.
Unfortunately, Ross is looking for approximately a three year, $25 million contract, according to Buster Olney. The free agent outfielder certainly deserved to be paid more than he was in 2012, but his current asking price and the amount of years desired are very unrealistic.
Ross wasn't even ranked in Keith Law's Top 50 free agents. Unless Ross signs for a cheaper two year deal, the Red Sox should look at other free agent outfielders who can provide more power and get on base more.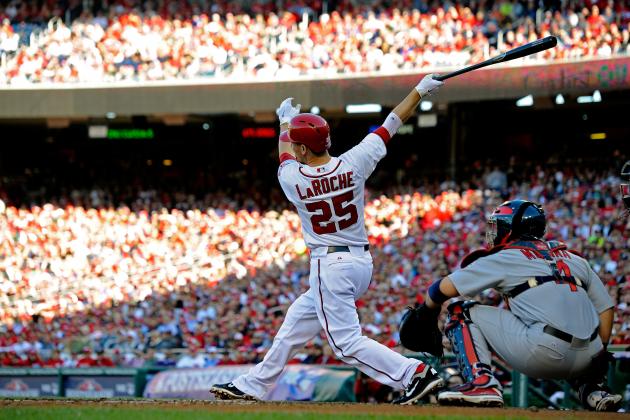 Patrick McDermott/Getty Images
Adam LaRoche hit just .176 in the NLDS against the Cardinals.
The soon-to-be 33-year-old did not help his case in this year's postseason. Adam LaRoche went just 3-for-17 (.176 AVG) with two solo home runs in five games in the NLDS against the Cardinals. But aside from the playoff slump, the Nationals first baseman had arguably the best season of his career in 2012.
This past regular season, LaRoche hit .271 with 35 doubles, 33 HRs and 100 RBIs over 154 games, which is an incredible improvement from hitting .172 with four doubles, three HRs and 15 RBIs in 43 games in 2011 with the Nationals. The first baseman also earned his first career Gold Glove in 2012.
However, LaRoche struggled in this year's postseason, batting just .176 with two solo homers in the NLCS.
LaRoche actually had a brief, ineffective stint in the AL playing with the Red Sox. In six games with Boston in 2009, the lefty first baseman hit .263 with two doubles, one HR and three RBIs in 19 at bats. On top of that, LaRoche has hit poorly over his career at Fenway Park, batting .148 and slugging .296 over 15 games.
Given LaRoche's impressive, breakout 2012 season, he is deserving of a short-term, expensive contract. Excluding his 2011 season, he's also averaged about 36 doubles, 26 HRs and 89 RBIs per season since 2005.
LaRoche has been solid, but he will likely be overpaid elsewhere. There are other higher risk, more AL experienced first baseman at a cheaper, short-term price.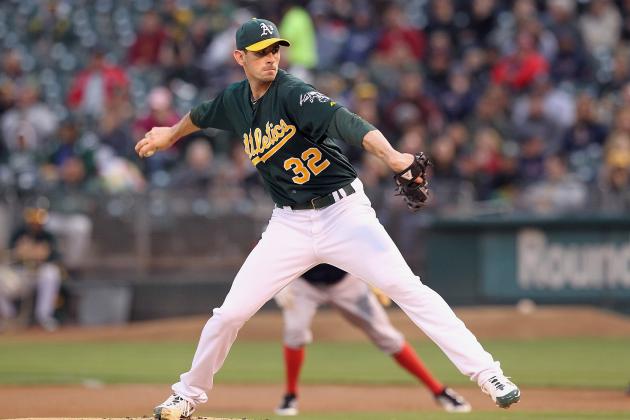 Tony Medina/Getty Images
Brandon McCarthy posted a 2-0 record against Boston this season.
Brandon McCarthy is one of the riskiest and most under-the-radar great pitchers in the league, because he's never pitched a full season in the majors as a starter.
In 2012, McCarthy had an 8-6 record with a 3.24 ERA and 1.25 WHIP over just 111.0 innings. He was placed on the Disabled List twice last season.
Prior to his DL stint from June to August, the right-hander had a 6-3 record with a 2.54 ERA. In four starts versus AL East teams–Boston twice, Baltimore and Tampa Bay once—McCarthy was perfect with a 4-0 record, 2.33 ERA and 1.11 WHIP.
When healthy, McCarthy is one of the best, most underrated pitchers in the AL, but he's never been healthy as a full-time starting pitcher in his career. McCarthy made 25 starts and pitched 170.2 innings last year, and from 2008-2010 he made a total of just 22 starts and missed all of the 2010 season.
The soon-to-be free agent made around $4 million in the 2012 season. If the Red Sox offered him a more expensive, one year deal, he could be one of the team's great steals for 2013.
McCarthy is a big gamble for his recent injuries, but he has incredible upside and can shut down any lineup when healthy.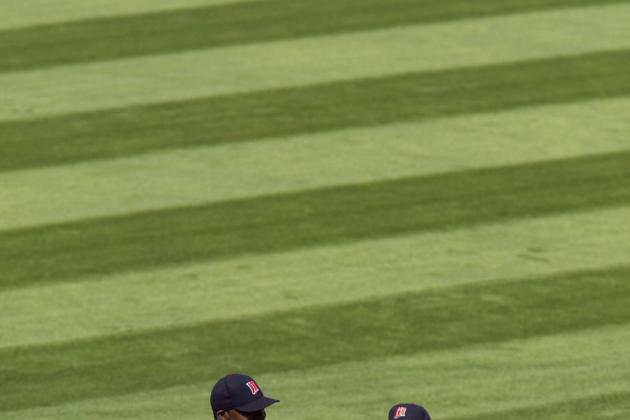 Stephen Dunn/Getty Images
Could we see Torii Hunter and David Ortiz as teammates again?
As good as Torii Hunter has been in his career, the nine-time Gold Glove winner has never played in a World Series. Hunter would be a great asset for Boston, but at this point in his caree, he may choose to play for a team with the best chance of getting to the World Series over a team with the biggest offer.
In 2012, the Angels outfielder hit for a career high .313 average with 16 HRs and 92 RBIs in his contract year. Hunter also had an incredible September, hitting .346 with five doubles, four HRs and 26 RBIs.
Two Red Sox players can actually influence Hunter's offseason decision, including his long-time pal and former teammate, David Ortiz, and his recent workout partner, Will Middlebrooks.
In an interview with WEEI, Ortiz said, "Torii would be huge," and "a good fit" with the Red Sox. According to WEEI, Ortiz has already tried to lure the free agent outfielder to sign with Boston.
Middlebrooks works out with Hunter, according to ESPN Boston, at an Athletes Performance Institute facility in Frisco, Texas, and said the nine-time Gold Glove winner is "an unbelievable athlete." The third baseman also added that Torii won't be the best player on the team, but he'd be a great teammate, clubhouse guy and leader.
Hunter is in his late thirties and will only require a short-term deal. If he hits close to as well as he did in 2012, he'll be a major steal who can also mentor Ryan Kalish and other young Red Sox outfielders.
Side note: Look for the Yankees to sign Hunter if the Red Sox don't.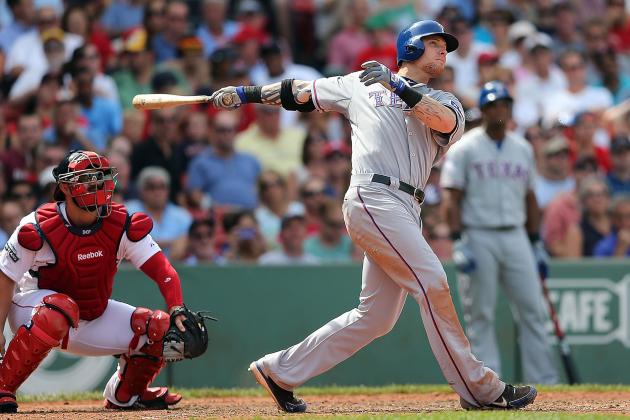 Jim Rogash/Getty Images
Josh Hamilton watches a long ball he hits at Fenway Park in 2012.
Josh Hamilton has been one of the best hitters in the league since his resurgence in 2008. In his 2010 MVP season, the lefty hit .359 and slugged .633 with 32 HRs and 100 RBIs. This past season, he hit .285 and slugged .577 while crushing 43 HRs and 128 RBIs.
With the loss of Adrian Gonzalez's big bat and Carl Crawford's presence in left field, the Red Sox need a lefty with power and another player to cover the grass in front of the Green Monster.
In the first two months of baseball, Hamilton hit .368 with 21 HRs and 57 RBIs over just 47 games. He was on pace to contest with Miguel Cabrera for the Triple Crown, and he was on pace to break the single season HR record (73) and RBI record (191). After May, the 31-year-old hit just .245 with 22 HRs and 71 RBIs.
The outfielder also folded in the final series and game of the season this past year. Against Oakland in the final series, Hamilton was just 2-for-13 with a double, an RBI and six strikeouts. In the final game of the season, which was the Wild Card game versus Baltimore, Hamilton went 0-for-4 with two Ks.
It's not the first time the star outfielder has choked in big games for the Rangers. In the 2011 World Series, Hamilton was just 7-for-29 (.241 AVG) with two doubles, one HR (his only HR of the entire playoffs) and six RBIs (three of them came off his lone HR of the playoffs). In the 2010 World Series, he was just 2-for-20 (.100 AVG) with one HR and one RBI, including a strike out looking in the bottom of the ninth in the final game to Giants' closer Brian Wilson.
Hamilton still has some big years ahead of him. If healthy, he could win another MVP. But given his recent streakiness and injuries, it'll be very risky for any team, including the Rangers, to sign him for more than three years.
The Red Sox have the money to sign him, but again, it would be hypocritical to dump salary with the Dodgers trade, and then pay another player $20+ million per year.
However, it'll be hard for Cherington to ignore Hamilton's recent success at Fenway Park, crushing two homers and 11 RBIs with a .545 AVG in five games in Boston last season.
Unless Hamilton's willing to sign for a three-year, $75 million deal, the Red Sox should pass on the best free agent hitter in this class.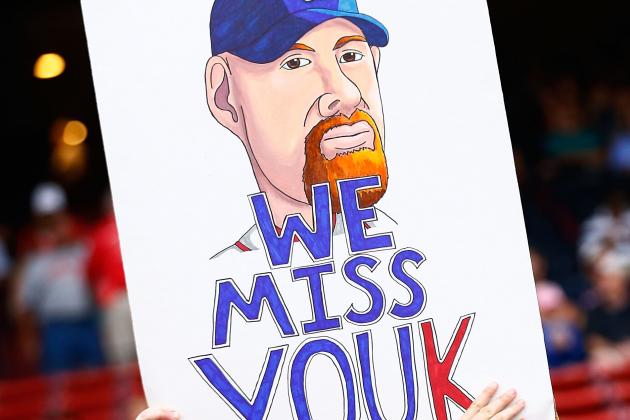 Jared Wickerham/Getty Images
Many Red Sox fans still miss their former, corner infielder.
In 2012, Kevin Youkilis hit just .233 with four HRs and 14 RBIs in 42 games in Boston, and he hit .236 with 15 HRs and 46 RBIs in 80 games in Chicago. Chicago thought his $13million price tag was too expensive, so they let Youk enter free agency.
So, why bring back a player who hit so bad with Boston and Chicago in 2012 and well-below average in 2011? Well, his enemy Bobby Valentine is no longer the Red Sox manager, and Youk will have to take a shorter and less expensive contract after back-to-back mediocre seasons.
But really, they weren't so mediocre.
Youkilis still put up some good numbers when healthy in 2011. Prior to the 2011 all star break, the third baseman had a .285 AVG, .399 OBP and .512 SLG % with 26 doubles, 13 HRs and 63 RBIs over 83 games.
And rather than playing third base, a demanding infield position where Will Middlebrooks will be at 2013, Youkilis will play first base, where he's played most of the games in his career.
In 608 career games at first base, Youk has a .298 AVG, .396 OBP and .499 SLG %, while in 442 career games at third base, Youk had a .266 AVG, .369 OBP and .469 SLG %. Last season, in 26 games at first base, he had a .313 AVG, .421 OBP and .563 SLG%. He may have been mediocre at third base, but he certainly hit well at first base.
For a cheaper, short term price with an incredible upside, Youkilis is a risky, but great free agent first baseman the Red Sox should take a chance with and sign this offseason...
Unless it's the next free agent first baseman.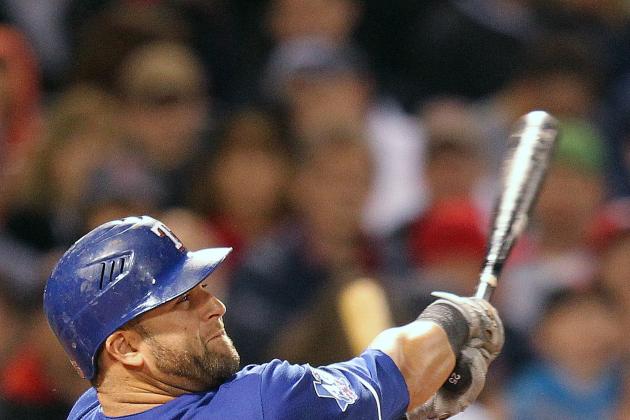 Jim Rogash/Getty Images
Mike Napoli crushes a home run at Fenway Park back in April.
Catcher and first baseman Mike Napoli is the youngest, most solid free agent first baseman this offseason. Following a great 2011 season and entering his contract season, everyone expected Napoli to put up great numbers again in 2012.
However, he didn't.
After posting a .320 AVG, .414 OBP and .631 SLG% with 25 doubles, 30 HRs and 75 RBIs over 113 games as a full-time catcher in 2011, Napoli struggled in 2012, posting a .227 AVG, .343 OBP, .469 SLG % with nine doubles, 24 HRs and 56 RBIs over 108 games.
In the 2011 World Series, against the Cardinals, Napoli did hit .350 (7-for-20) with six walks, one double, two HRs and 10 RBIs with the Rangers.
He also hit .293 and slugged .780 with six HRs and 15 RBIs this past September, but Napoli went just 0-for-10 in the final three games amidst the Rangers' collapse.
However, like Josh Hamilton, Napoli has a history of crushing the ball at Fenway Park. Last season, he hit .462 and slugged 1.231 with three HRs and eight RBIs in three games in Boston, and he has a career .306 AVG and .710 SLG% with seven HRs and 17 RBIs in 19 games at Fenway Park.
Napoli is a great asset for being a great hitting catcher, but by allowing him to play a less grueling position at first base, he can play more games and focus more on hitting.
Napoli has a great track record of dominating Fenway Park and the Red Sox in recent years. If he can be signed for only three years and about $10 million a year, Napoli would be a great addition with incredible upside at first base.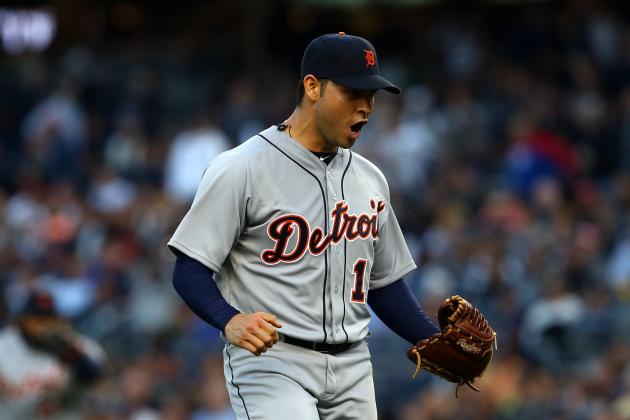 Alex Trautwig/Getty Images
Anibal Sanchez threw a seven-inning gem at Yankee Stadium in the 2012 ALCS.
The Red Sox starting pitching posted 72 losses, a 5.19 ERA and 1.42 WHIP in 2012. Only the Twins and Indians starters had more losses and a higher ERA in the American League last season.
The starting rotation needs serious help with Jon Lester, Clay Buchholz and Felix Doubront struggling in 2012, Beckett and Dice-K no longer on the team, and John Lackey so far being a major free agent bust.
Anibal Sanchez is the free agent starting pitcher to help revive the starting rotation.
Sanchez this year proved that he can pitch well in both the American and National League. He's posted a below-4.00 ERA each of the last three and a half seasons with the struggling Marlins. In the second half of season with the Tigers this year, he posted a 3.74 ERA.
More importantly, his best success came in the 2012 playoffs.
In three starts this postseason, Sanchez had a 1-2 record, but he was backed by only three total runs of run support. Over the three starts, he allowed just four runs, 14 hits and six walks, while striking out 18 over 20.1 innings; good for a 1.77 ERA and a 0.98 WHIP.
In his first postseason start, in Game 3 of the ALDS, the Tigers pitcher allowed five hits, two runs, two walks and one HR over 6.1 innings in a loss against the A's. In Game 2 of the ALCS in New York, the 28-year-old threw a gem, allowing just three hits, three walks and no runs while striking out seven batters over 7.0 innings in a win against the Yankees. In his lone World Series start, Sanchez allowed six hits, two runs and one walk, while striking out eight over 7.0 innings.
Sanchez's fastball touches 95-96, he's walking fewer batters, and he does not allow many home runs. He's also proved that he can pitch well on the biggest stage this postseason— at Yankee Stadium in the ALCS and in the World Series.
Sanchez does not have the track record and a Cy Young Award like Greinke does, but he will cost at least $5 million less per year and comes with three years less of a commitment.
Cherington recruited the Venezuelan in 2001 to sign with Boston, but the former Red Sox minor leaguer was also involved with the trade that sent him and Hanley Ramirez to the Marlins for Mike Lowell and Josh Beckett in 2005.
Given his much lower asking price than Greinke's and his recent, big-game success, Anibal Sanchez is the No.1 free agent for the Red Sox to sign this offseason.