5 Facets of Anthony Davis' Game the New Orleans Hornets Need the Most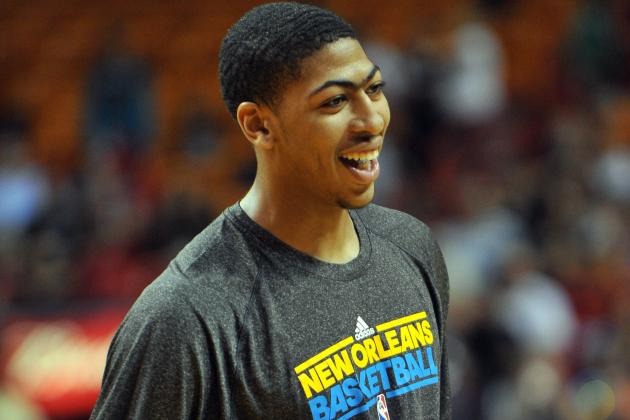 USA TODAY Sports

The New Orleans Hornets are in desperate need of the return of No. 1 overall pick Anthony Davis and the variables that he brings to the table. Davis has missed 11 games so far thanks to a stress reaction in his ankle. There isn't an exact date on his return, but head coach Monty Williams (via NOLA.com's John Reid) told the media after the team's Dec. 8 loss to Miami that he expects Davis back "sometime next week".
Davis has played in just six of the Hornets' 18 games this season. Earlier in the year, he was forced to sit out two games after being on the receiving end of an accidental Austin Rivers elbow to the head that left the big man with a concussion.
When he's been on the court, however, Davis has proven to be the goods. He's averaging 16 points a game and leads the team in rebounds (8.3 a night) and blocked shots (2.2 per game). He's scored at least 20 points in three of his six starts, including a 22-point performance in his NBA debut against San Antonio.
Without Davis and franchise guard Eric Gordon, the Hornets have struggled mightily on both ends of the court. They are 5-13 on the season (as of Dec. 9) and have lost their last three games. Their next game comes on Dec. 11 against the equally inept Washington Wizards (2-15 this season).
Whether he comes back against Washington or later on in the week, Davis' return will give the team a boost in several areas.
Here's a look at the several aspects of Davis' game that the Hornets desperately need the most.
Begin Slideshow

»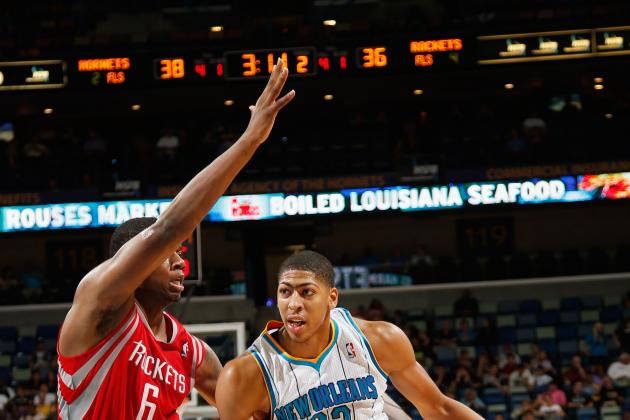 Chris Graythen/Getty Images

One of the most underrated aspects of Anthony Davis' game is his superb ability to handle the basketball.
For a guy his size, Davis can beat defenders off the dribble like a guard. The Hornets don't have a plethora of offensive weapons to begin with, but they are especially lacking players who can create their own shot.
Davis is still a bit raw offensively, but there have been plenty of moments when he has provided points by taking the ball along the perimeter and driving to the hoop. With Eric Gordon out, this type of asset is especially crucial to what the Hornets want to do on offense.
Ryan Anderson is a talented scorer, but his offense mainly comes on the perimeter or posting up in the paint. You're not going to see any highlight reels where Anderson is crossing someone over or using a quick first step to get to the basket.
The list of big men who can handle the ball like Davis is small. He's Lamar Odom-esque when it comes to dribbling a basketball, and having a forward with that kind of uncanny ability is something a talent-deficient team like New Orleans desperately needs on the court.
Davis will get the lion's share of his points on dunks and baby hooks in the post, but it's his rare ability to create plays off the dribble that makes him so special to this team.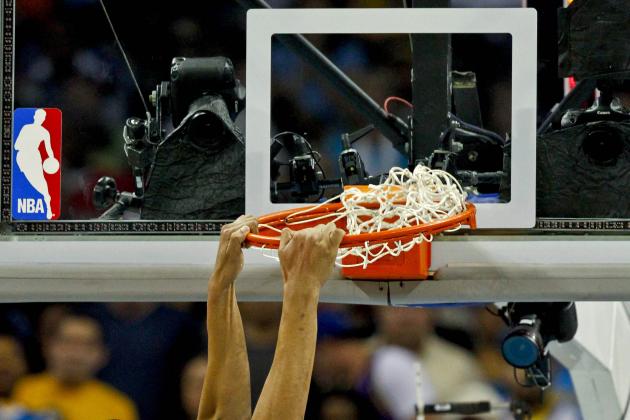 Derick E. Hingle-USA TODAY Sports

The Hornets haven't had a big man with the kind of athleticism that Anthony Davis possesses since Tyson Chandler was catching lobs from Chris Paul.
Davis' athletic ability is the talent that is most obvious to the human eye. Whether he's throwing down a dunk or swatting a shot into the third row, Davis grabs your attention the second he's off of his feet.
You might be noticing a recurring theme here, but the absence of Davis and Eric Gordon leaves New Orleans lacking in the athleticism department as well. Centers Robin Lopez and Jason Smith are both lead-footed big men who excel with their back to the basket. Neither will ever be mistaken as the second coming of Alonzo Mourning.
Even the smaller guys on the roster aren't very skilled in attacking the basket. Guards Roger Mason Jr. and Austin Rivers are more comfortable shooting the basketball. The same goes for leading scorer Ryan Anderson. Forward Xavier Henry has the ability to be a quality slasher, but he isn't as aggressive going to the hoop as he should be.
The only real finisher the team has on the roster right now is small forward Al-Farouq Aminu, and he hasn't been able to get off the bench much these past two games. Even Aminu doesn't have the spring in his step that Davis has.
The Hornets need Davis fetching alley-oop passes in transition. They need him hustling to the hoop to contest shots. They need him jumping over defenders to grab rebounds. More importantly, the fans need it.
Davis puts butts in seats. Without him, who are the New Orleans faithful going to pay to see? Greivis Vasquez? Unlikely.
Davis energizes the crowd with his athleticism, and the kind of hops that "The Unibrow" possesses allows New Orleans to do so many things on both ends of the court.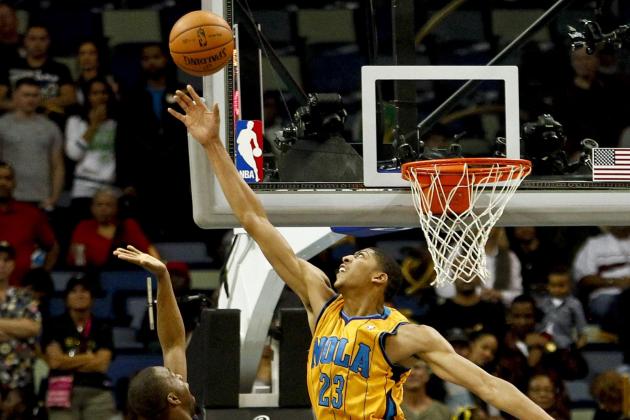 Derick E. Hingle-USA TODAY Sports

This was the most obvious attribute Davis was going to bring to the Hornets when the team drafted him.
Davis blocked shots at a record pace in his lone season at Kentucky. Davis averaged 4.7 blocks per game as a freshman with the Wildcats. He set the record for most blocks in a single season with 186.
From the minute Davis became a New Orleans Hornet, the team was going to be better defensively. With him out, the defense just hasn't been the same. Sure, Robin Lopez is averaging a little over two blocks per game, but the team doesn't have much beyond him.
Jason Smith is a decent defender. Al-Farouq Aminu has the ability to be great defensively, but he has fallen out of the starting lineup as of late. As for Ryan Anderson, the next time he plays defense will be the first time he plays defense.
The Hornets are 20th in the NBA in points allowed. They give up an average of just under 99 points per game. Opponents are shooting 46 percent from the field against New Orleans, which is good for 24th in the NBA. They are dead last in opposing three-point percentage at a little over 41 percent. Their opponents' adjusted field-goal percentage is nearly 53 percent, which is second-to-last in the league.
Here's another fun Davis stat, courtesy of 82games.com: When Davis is on the court, the Hornets are minus-38 in net points (a formula that determines a player's performance on the court as opposed to when he's on the bench by subtracting points allowed from points produced). When Davis is off the court, New Orleans is minus-82. Granted, we're dealing with a small sample size, but that's a big difference.
Davis' return may not turn New Orleans into basketball's version of the 2000 Baltimore Ravens, but it certainly gives them a boost defensively. With him and Lopez together, they have two big men who can protect the rim. With Davis out, Lopez is left to fend for himself.
The team needs Davis' 7'4" wingspan on the court making opponents think twice about coming into the paint.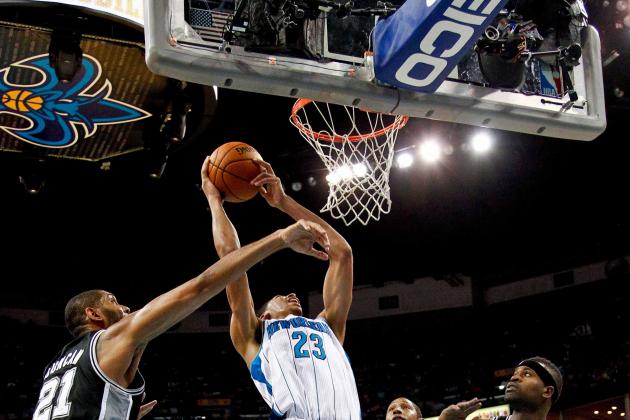 Derick E. Hingle-USA TODAY Sports

Beyond being an elite shot blocker, Davis was also an excellent rebounder in college. He averaged a little over 10 rebounds per game at Kentucky.
So far, his ability to crash the boards and grab rebounds has transitioned well from college to the pros.
While Davis hasn't had the kind of eye-popping rebounding performance that Memphis Grizzlies forward Zach Randolph had on Dec. 4 against Phoenix (22 rebounds), the rookie is still grabbing boards at a solid clip. Davis leads the team with 8.6 rebounds per game.
With Davis out, the Hornets don't have many guys who can nab them second-chance points. Ryan Anderson is right behind Davis with 7.5 rebounds a game. However, Anderson spends quite a bit of time on the perimeter and isn't the factor in the paint that Davis is.
Center Robin Lopez was a good rebounder in college, but he's averaging just 5.5 rebounds per game in his first season in New Orleans. Lopez will benefit from Davis' return, as it will mean another presence in the post that opponents have to account for.
The Hornets really miss Davis on the offensive glass as well. He averages 3.3 offensive rebounds per game, which is a better average than well-respected rebounders like Utah's Paul Millsap and Golden State's David Lee. Conversely, Lopez and Anderson average a little over two offensive rebounds per game.
New Orleans needs Davis on the court, hustling after loose balls, cleaning the glass and keeping possessions alive with his freakish frame. Anderson is too valuable on offense to be relied upon to dominate the boards as well. As for Lopez, the rebounding numbers will get better, but probably not until Davis returns.
The Hornets are 28th in rebounding, averaging just under 40 boards per game. Their rebounding per game differential between them and their opponents is minus-1.4. That number can easily go back into the black once "The Unibrow" returns.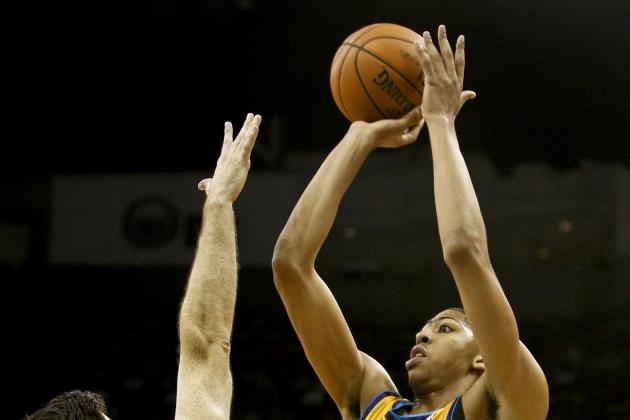 Derick E. Hingle-USA TODAY Sports

This is the area where Anthony Davis and Eric Gordon are the most sorely missed.
Davis and Gordon represent the Hornets' two best players. They are also two of the three best offensive weapons on the roster, alongside Ryan Anderson.
The Hornets weren't great offensively with just Gordon out, but they managed to survive better than many expected. With Gordon AND Davis out, the team doesn't have many weapons beyond Anderson.
Anderson leads the team in scoring at 18.4 points per game. Davis is right behind him at 16 points a game. Greivis Vasquez and Robin Lopez are third and fourth at 12.4 and 11.9 a game, respectively.
After those four, there isn't another Hornet averaging double-digits in scoring. With Davis out, that puts the number of prominent scorers on the roster at three. That is probably why the team is 26th in scoring, averaging just 92.6 points per game.
The team was going to struggle to put up points in Gordon's absence. They were fortunate that Davis' learning curve on the offensive end wasn't as steep as initially expected, and that led to them having a scoring option in the post.
With Davis out, there isn't really a Plan B. Anderson has become more comfortable scoring in the paint, but with Gordon out, the reigning Most Improved Player also represents the team's best outside threat. Lopez is having a career year offensively, but he's not skilled enough to be a reliable option inside. No team game-plans to stop Robin Lopez in the post.
Because Davis is so talented and can do so many things, he represents someone opponents have to at least be mindful of on the offensive end. Since he's still very raw offensively, Davis is at his best in the paint taking the easy shots.
However, Davis does have surprising range on his jump shot for a big man. While he doesn't venture out there often, Davis is hitting 43 percent of his shots from between 16-23 feet (stats via Hoopdata.com). According to NBA.com's Advanced Stats, the rookie is also shooting 31 percent from mid-range.
Those aren't astonishing numbers by any means, but it does show that Davis can be a factor outside of the paint if he continues to work on his jumper. Davis' growing versatility as a scorer gives the Hornets more options on offense, especially when paired with a solid inside-outside forward like Anderson.
Davis needs to return to take some of the scoring load off of Anderson and to give a spark to a Hornets team that seems unable to stop teams from scoring as well as put up points themselves.