The 12 Most Telling Stats of the 2012 NASCAR Sprint Cup Season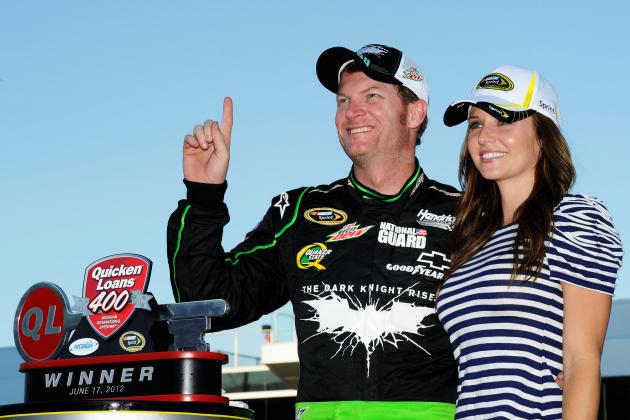 John Harrelson/Getty Images

Statistics are basically defined as a collection and analysis of masses of numerical data. Sometimes, they are enough to make one yawn, but collectively, they can be game-changing.
The 2012 NASCAR Sprint Cup season was filled with statistics that concluded with the crowning of a series champion Brad Keselowski.
Each race is a compilation of statistics, teams set up their race cars based on statistics, driver accomplishments are measured by statistics and many other activities within the sport involve statistics as well.
The season had some special statistics that shaped the season and were meaningful to the sport for the effort or event they represented.
This slideshow will highlight 12 occurrences that, for a variety of reasons, had a statistical impact on this past NASCAR Sprint Cup season.
Begin Slideshow

»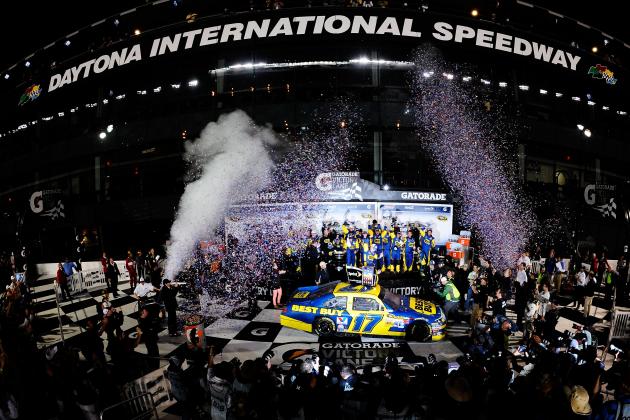 Jared C. Tilton/Getty Images

The "Great American Race" that kicked off the NASCAR Sprint Cup season was one that will forever be remembered as one of the most dramatic Daytona 500s in the history of the sport.
The most obvious statistical significance is that this was the first time it was run not only at night, but televised on a Monday night during prime-time viewing.
Inclement weather caused the delay.
There were many dramatic moments in the Daytona 500, but Juan Pablo Montoya crashing into a jet dryer under caution and causing an inferno that scorched the track was a NASCAR first.
Another first was Brad Keselowski using his cell phone to upload photos during the red flag conditions, which resulted in him gaining several hundred thousand fans on Twitter.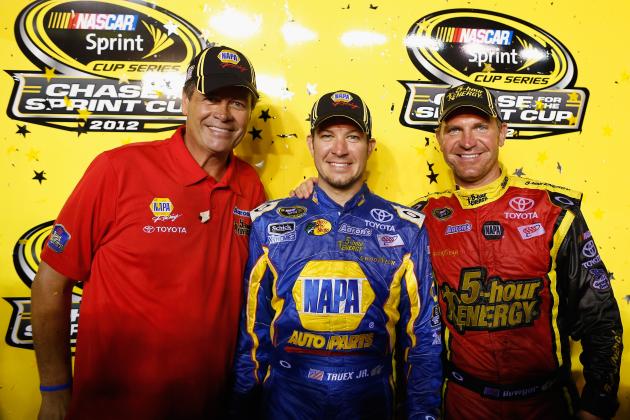 Chris Graythen/Getty Images

Michael Waltrip Racing struggled after its formation in 2007. It was difficult for Waltrip to be a contender with his teams, who raced Toyota Camrys in the NASCAR Sprint Cup Series.
By the offseason in 2011, Waltrip had vowed to make the changes at MWR that would lead him to being a top-tier Cup operation.
His partnership with Rob Kauffman enabled him to go big with his plans. He made major changes with his Toyota alignment, personnel and drivers.
The 2012 season saw Waltrip with strong statistics, getting both of his drivers—Clint Bowyer and Martin Truex Jr.—into the Chase, with Bowyer finishing second in points and Truex 11th in the standings.
His third team consisted of Mark Martin, Brian Vickers and Waltrip driving on a part-time basis. All three drivers had some very impressive performances.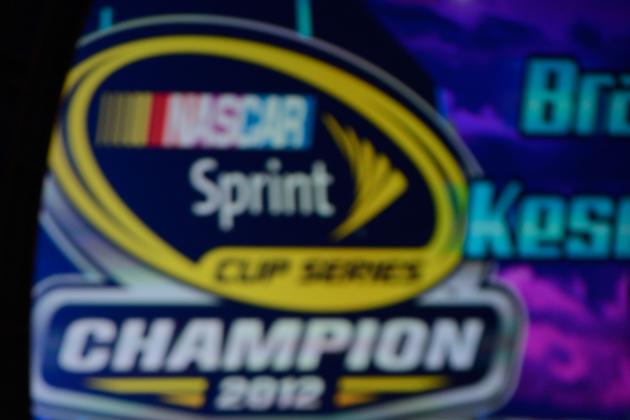 Jeff Bottari/Getty Images

Brad Keselowski, 28, won his first NASCAR Sprint Cup title and brought the first series championship to his boss Roger Penske.
Keselowski joined an elite group of drivers who have won a Cup title in only their third full-time year. The other two drivers are Dale Earnhardt and Jeff Gordon.
The driver is also an innovator with social media. His Twitter skills have created a major following of fans that hopefully will expand the younger demographics NASCAR is seeking.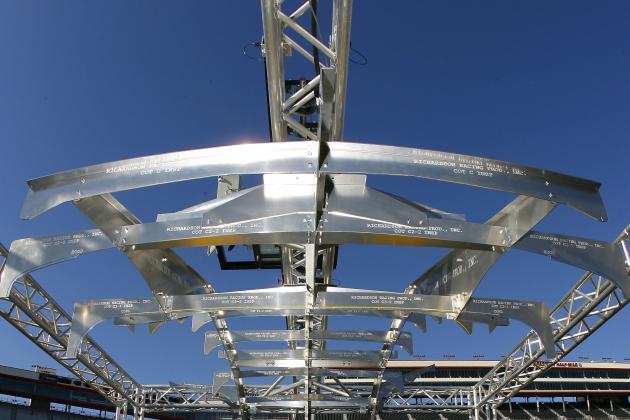 Rusty Jarrett/Getty Images

In 2007, the fifth generation of NASCAR Sprint Cup cars was unveiled for testing at Bristol Motor Speedway.
There is little doubt the car was safer for the drivers, but it was much maligned because of the way it raced and the generic look among the manufacturers that failed to relate to showroom cars.
Known as the "Car of Tomorrow," the COT became the "Car of Today" for the six seasons it was raced in NASCAR's top series.
The 2012 season was the final run for the COT. In 2013, we shall see the G6 (sixth generation) race car in the Cup series.
The new model will be less aero-dependent and allow for tighter, more competitive racing that hopefully will translate to a better show for the fans.
The Chevrolet SS, Ford Fusion and Toyota Camrys will also look much more like models that fans would see at their local dealerships.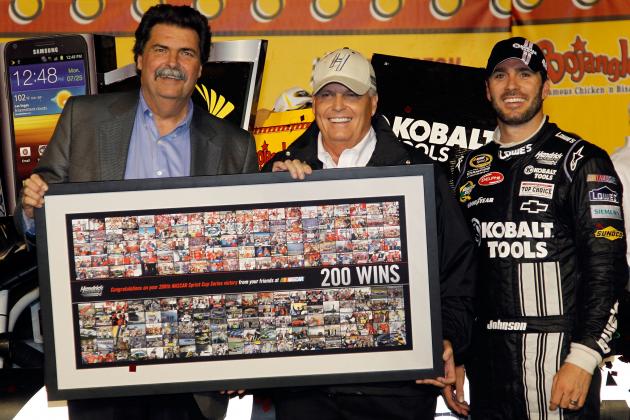 Todd Warshaw/Getty Images

Hendrick Motorsports showed its domination in the NASCAR Sprint Cup Series when Jimmie Johnson garnered the organization's 200th Cup win at Darlington in May.
It was a major milestone for the organization, which had all four of its drivers—Johnson, Jeff Gordon, Kasey Kahne and Dale Earnhardt Jr.—in the 2012 Chase.
Since that race, Hendrick Motorsports has continued to see its drivers in Victory Lane. The total Cup wins for HMS now stands at 209.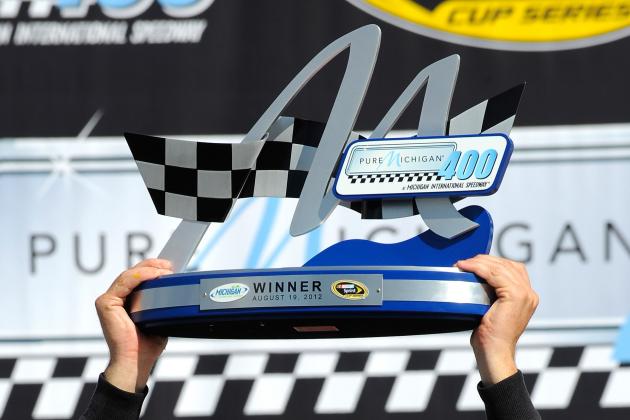 Jared C. Tilton/Getty Images

Greg Biffle, driver of the No. 16 3M Ford for Roush Fenway Racing, led the point standings for 14 of the 26-week preseason schedule.
Biffle won two races, had 12 top-five finishes and 21 top-10 finishes during the 2012 season. He ended the season fifth in the point standings.
Biffle showed that, with the guidance of his crew chief Matt Puccia, he was a force to be reckoned with this season—this after the trials and tribulations he faced in 2011 before Greg Erwin was replaced by Puccia.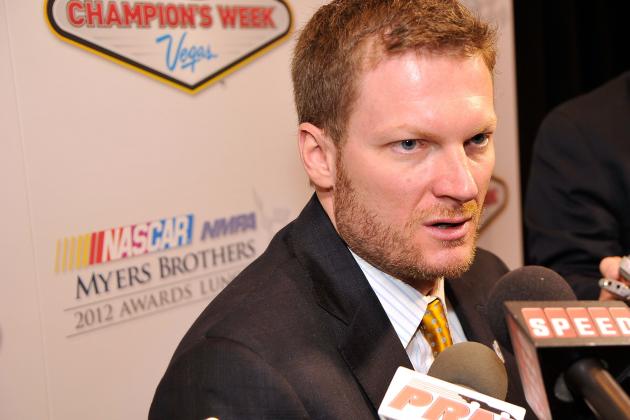 Jeff Bottari/Getty Images

Statistics were important to Dale Earnhardt Jr. in 2012. His 143-race winless streak was broken at the sight of his last win: Michigan. It was his 19th career win in Cup racing.
Earnhardt was also voted NASCAR's Most Popular Driver for the 10th consecutive year, which tied Bill Elliott's record.
He remains the leader of Junior Nation, which is very good for NASCAR.
The driver of the No. 88 for Hendrick Motorsports made the Chase and was atop the point standings briefly.
Despite being in the Chase, though, Junior sought medical treatment for two concussions suffered in racing incidents within a six-week period. He sat out two races and ended the season 12th in points.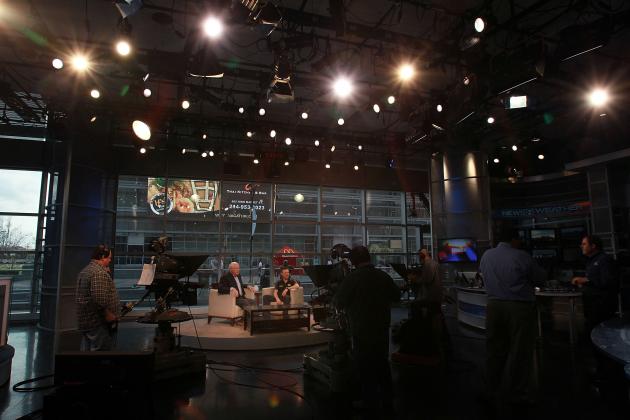 Ronald Martinez/Getty Images

Television coverage is vital to NASCAR, but the commercials can sometimes overpower the racing.
Fans find the constant commercial interruptions annoying, especially when it happens during an incident on the track that must be replayed and explained by commentators.
Overall television ratings and viewership statistics were down from 2011. There were a few exceptions, though, including Daytona in July, the Bristol night race and the first Chase race at Chicago.
One surprising statistic is that the finale at Homestead in 2011 had a 4.6 rating with 6.799 million viewers, while the Homestead race in 2012 brought in a 3.5 rating with 3.445 million viewers.
Meanwhile, the race at Martinsville—a fan favorite—had a 2011 rating of 3.6 and viewership of 4.923 million. But the 2012 race only brought in a 2.8 rating, with viewership at 3.617 million.
And the Chase for the Sprint Cup dropped to a record-low level with a 2.7 average rating (a drop of 13 percent) and 4.2 million in viewership (a 12 percent drop).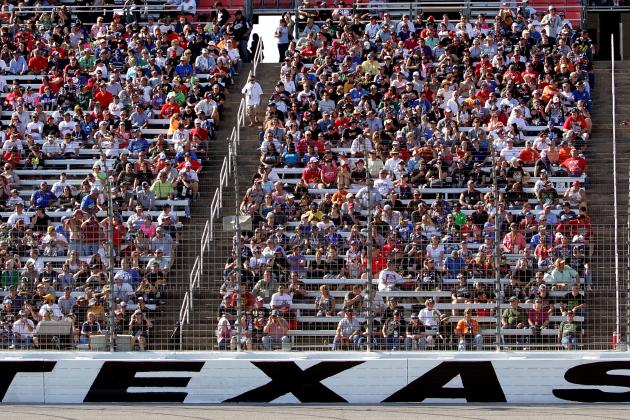 Jerry Markland/Getty Images

Attendance at NASCAR racing venues was obviously down from the days when tracks were expanding the seating capacity to contain all the fans.
In all three top series of NASCAR, vacant seats were an obvious problem. Some tracks covered massive areas in the grandstands with banners of advertisement in hopes it would not be so obvious.
Even one of the most exciting tracks on the schedule, Bristol Motor Speedway, had obvious expanses of vacant seats in the coliseum, which holds nearly 160,000 people.
The Bristol spring race had attendance of 102,000, but attendance for the night race improved to 145,000.
The economy, fuel costs, unemployment and price gouging by hotels continue to be the apparent causes of the drop in attendance levels, but it really appears that fan interest has dropped as well.
NASCAR has the new sixth generation race car that is supposed to make for more exciting racing in 2013, along with the brand identity being implemented. Social media will also play a big part in getting fans involved with the sport. And NASCAR.com is now under the control of NASCAR with plans for making the site more interactive.
Those at the helm of the sport are certainly well aware of the issues relating to fan interest. Hopefully we will see changes in the upcoming season that will start raising the statistics for attendance, viewership and ratings.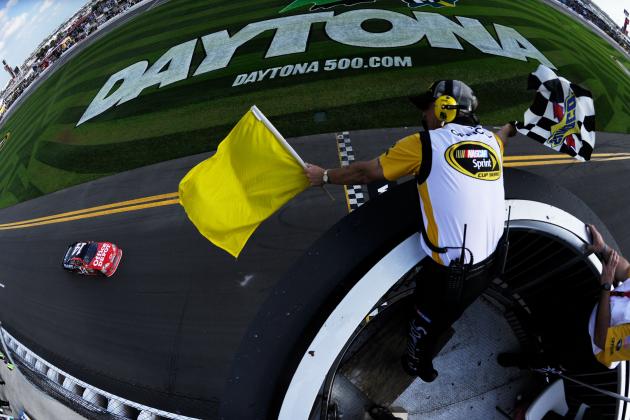 Chris Graythen/Getty Images

Green-flag laps seemed to be unusually high in 2012, which sometimes causes viewers to tune out the race and check back in for the final 50 laps, when the action usually happens.
The fact is, statistics show that caution laps were down this season, with a total of 216 in 2012, compared to 278 in 2011, 265 in 2010 and 305 in 2009.
The 2012 season only recorded 1,529,952 miles under caution, as opposed to the 1,813,507 miles in 2011.
With the change in NASCAR's point system, each position becomes much more valuable. During many races, it's obvious that some drivers, those who may be Chase candidates, drive in protective mode.
Taking chances becomes a risk-versus-reward deal, and sometimes, it is just safer to lag behind, out of harm's way, if a driver can't be at the front of the field. Pit stops become the place to gain advantage.
The COT, which will no longer be raced in 2013, also made it more difficult for drivers to maneuver the cars the way they would like because of the aero dependence of the car. The result was less passing.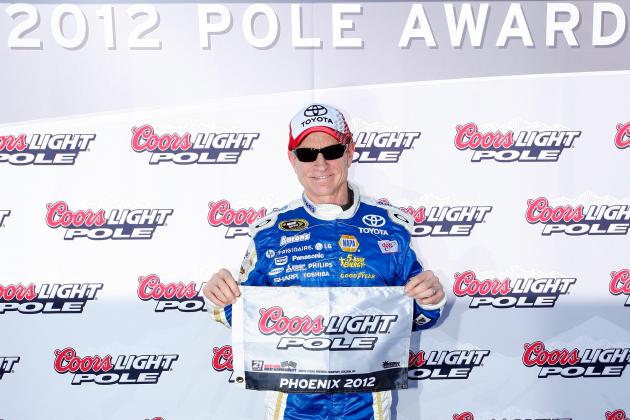 Tyler Barrick/Getty Images

This past season saw three drivers win the Coors Light Pole award four times each in the NASCAR Sprint Cup Series.
Two of the drivers, Kasey Kahne and Jimmie Johnson, race full seasons for Hendrick Motorsports.
Mark Martin was the third driver with four poles this past season. He drove the No. 55 Toyota for Michael Waltrip Racing on a part-time schedule.
Martin will be 54 in January, but when it comes to driving a race car, he has yet to slow down. Though he didn't win a race, he finished in the top 10 at 10 different races, with four finishes being third or better.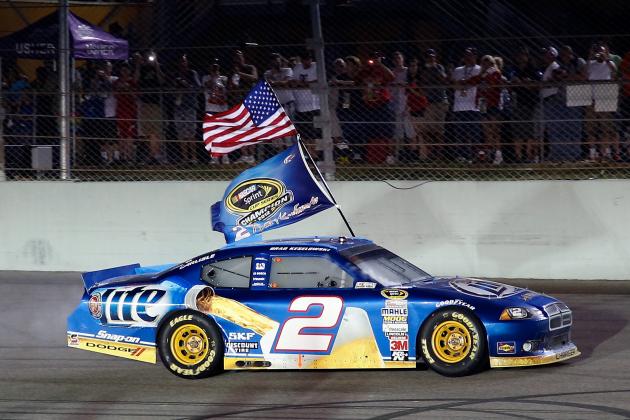 Chris Graythen/Getty Images

The 2012 season of NASCAR Sprint Cup racing saw the bar raised regarding the level of competition. It became more and more difficult for some drivers to even win one race, while others won several.
A total of 15 different drivers won races during the season. Ryan Newman, Kyle Busch, Joey Logano, Dale Earnhardt Jr., Marcos Ambrose and Kevin Harvick each won a single race.
Brad Keselowski, Denny Hamlin and Jimmie Johnson scored five wins each, while Matt Kenseth, Tony Stewart and Clint Bowyer each had three wins. And Greg Biffle, Kasey Kahne and Jeff Gordon had two wins each.