NASCAR: What Were the 10 Most Memorable Races of 2012?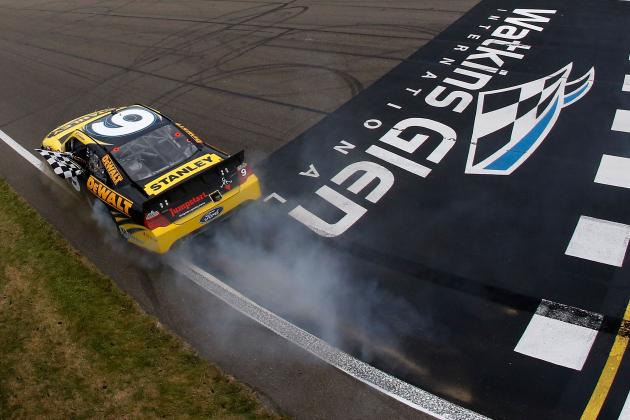 Jared Wickerham/Getty Images
Did the most memorable race of the 2012 season really take place on a road course?
Picking the 10 most memorable races of the 2012 NASCAR season is a difficult task, because many of the races picked are subjective. In other words, one fan's most memorable race is another fan's least memorable race.

But, after going over the schedule several times and picking out some of the biggest highlights, we feel confident that we got most of the best of the best.

Our criteria for choosing the following races was based on a number of things, and not just who won the race. There was also action both on and off the track, key wrecks and surprising outcomes considered.

And, while it may sound strange, some of the worst races actually wound up being some of the best due to how the outcome played out.

Of course, our 10 most memorable may not necessarily be your 10 best. So if you feel another race should be on the list, let's hear your thoughts and why in the comments section.

Now, let's take a stroll down Memory Lane and recall the 10 Most Memorable Races of the 2012 Season (in no particular order):


Follow me on Twitter @JerryBonkowski
Begin Slideshow

»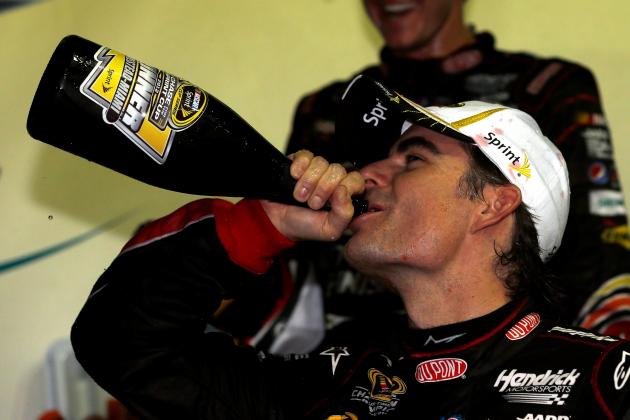 Chris Trotman/Getty Images
Jeff Gordon showed he still had it to win the 87th race of his career.
We'll start with the last race of the season first. Coming into the race, we had two distinctive storylines. One, the battle for the Sprint Cup championship between Jimmie Johnson and Brad Keselowski.

Keselowski came into the race with a 20-point lead, but you can never count out Johnson. Unfortunately, two unusual things befell Johnson in short order during the race which ultimately cost him a chance at his sixth career Cup championship.
First, there was a costly and rare lug-nut penalty on pit road. Second, a few laps later, the normally rock-solid drive train in his No. 48 Chevy let loose, ending not only his day, but also his championship hopes.

The second key storyline coming into Homestead was what fallout or potential payback would there be in light of the Jeff Gordon-Clint Bowyer bash, crash and smash episode the week before at Phoenix.

Even with Gordon being penalized $100,000 and suffering the loss of driver points, there was no payback from Bowyer for what happened in Phoenix. In fact, Gordon and Bowyer put on one of the best race finishes of the season without any angst, drama or trying to wreck each other.

While the race finish didn't quite overshadow Keselowski's championship, it certainly gave race fans both in attendance and watching on TV memories of two races within a race that won't be forgotten for a long time.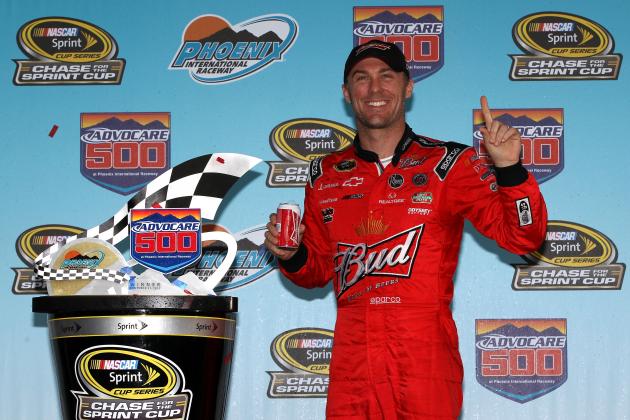 Tyler Barrick/Getty Images

To many people, the race that preceded Homestead was nothing short of an abomination. First, Jeff Gordon intentionally waited and then wrecked Clint Bowyer, effectively ending any remaining mathematical chances of Bowyer still having a shot at the Sprint Cup championship.

As it turned out, Bowyer ultimately ended up second in the Chase behind Brad Keselowski, and an argument can be made that had it not been for Gordon's actions, Bowyer may have had an outside shot to steal the title away at Homestead. We'll never know, of course.

Then there was the horrible brawl on pit road between Gordon's and Bowyer's pit crews after the wreck, followed by Bowyer climbing out of his wrecked car and running practically half the infield to try and physically confront Gordon (which never happened).

Let's also not forget the huge last lap wreck caused by spilled oil that made the front stretch coming to the checkered flag at PIR look as slick as a hockey rink—especially with Danica Patrick bearing the brunt of several cars as she tried to limp her battered car to the garage on the apron of the track.

Oh yes, and let's not forget earlier in the race when Jimmie Johnson, trailing Brad Keselowski by roughly a dozen spots on the race track at the time, pushed his car so hard in an attempt to catch up that he drove right into the wall, crippling his race car.

While the reason for the wreck was a blown tire, there's no question that if Johnson hadn't of been racing his car that hard and so much on the edge, who knows, maybe the tire wouldn't have blown out, and he may have eventually regained several of the spots that he was in arrears of Keselowski at the time of the blow out incident.

But what made this one of the most memorable was how Kevin Harvick avoided all the on-track carnage and, like he did three times the season before, earned a last-lap come from behind win that was nothing short of vintage Harvick at one of his most successful tracks.

Unfortunately, Harvick's celebration was overshadowed by both the Gordon-Bowyer incident, as well as Patrick being bounced around like a pinball.
Still, Harvick finally broke through to earn his first and only win of the 2012 Sprint Cup season. He saw an opening and advantage, took it and was rewarded with the checkered flag and winner's check. Good job indeed, Mr. Harvick.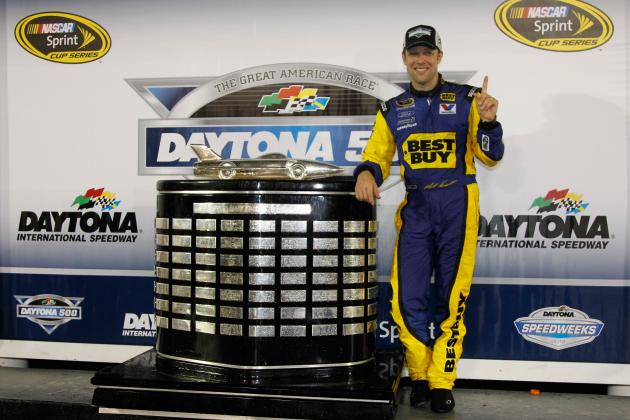 Todd Warshaw/Getty Images

The 2012 edition of the Daytona 500 was one of the most memorable since probably the 1979 race which helped put NASCAR on the national map.

First, Sunday's scheduled race was postponed by rain until Monday morning, and then pushed back further to Monday afternoon.

Finally, Monday evening, the race got underway. For the first time in Daytona 500 history, the race was run in prime-time in front of a huge national audience who was rewarded with not only a great finish for winner Matt Kenseth, but a number of other key sidelight stories.

Without question, the most notable sidelight was Juan Pablo Montoya exiting pit road and then plowing right into a track jet dryer that was attempting to sop up seeping moisture still remaining on the racing surface.
Montoya's wreck set off a spectacular explosion and fire which made virtually every news show in the world that night. Fortunately, neither Montoya nor the driver of the jet dryer were injured.

Then, while it took well over an hour to clean up the aftermath, as well as make repairs to the racing surface and track wall, Brad Keselowski took the use of social media to new heights, tweeting photos and text comments from his cell phone while parked under red flag, race stoppage conditions.

Keselowski picked up more than 100,000 new Twitter followers as a result, obviously helped by Fox Sports' continual referencing of Keselowski's actions.

It was definitely a race for the record books and memory banks.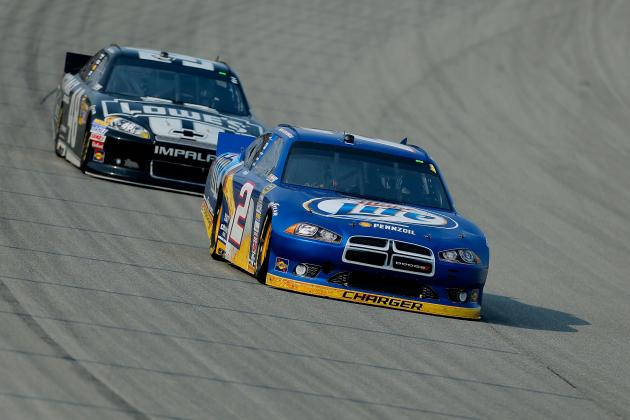 Justin Edmonds/Getty Images
The big move that helped win the Chase opener at Chicagoland for Brad Keselowski and start him on his way to the Sprint Cup championship.
If we've said it once, we've said it a million times already: The 2012 Chase for the Sprint Cup got off to a most memorable start not just because Brad Keselowski won it, but more so because of how he won it.

Who can forget the way Keselowski broke long-standing unwritten NASCAR tradition and policy by exiting pit road earlier than normal and abruptly pulled in front of Jimmie Johnson, shaking him up and causing him to slam on the brakes to avoid a wreck.

Johnson even told crew chief Chad Knaus to ask NASCAR officials about the legality of Keselowski's move (it was legal) and then seemed so rattled that he never was able to mount any kind of comeback in the closing laps.

It was just the first of several episodes where Keselowski would get into Johnson's head during the Chase, making him perhaps the first driver since Johnson's five-year championship run to effectively sidetrack him.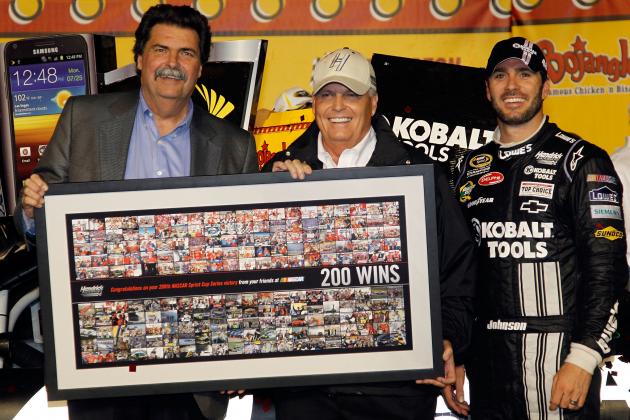 Todd Warshaw/Getty Images
Rick Hendrick (center) and friends following his 200th career Sprint Cup win as a team owner.
Jimmie Johnson owes his racing career not only to teammate Jeff Gordon, who is co-owner of Johnson's No. 48 race car, but also especially to team owner Rick Hendrick. For if it hadn't have been for Hendrick, Johnson would never have won five championships and never become the driver that he has become.

So in a way, it was quite fitting to see Johnson earn the fabled 200th Cup win for Hendrick at Darlington back in early May. Hendrick had come close to that milestone several times both in the latter part of the 2011 campaign, as well as the beginning of the 2012 season.

But, Johnson finally took it upon himself to give "Mr. H" one of the greatest gifts a driver can give an owner—one of the most memorable wins in a career that has been built on memorable moments, finishes and championships.

Next up: Three-hundred career Cup wins. Something tells me that Johnson may still be around to accomplish that feat for Hendrick as well.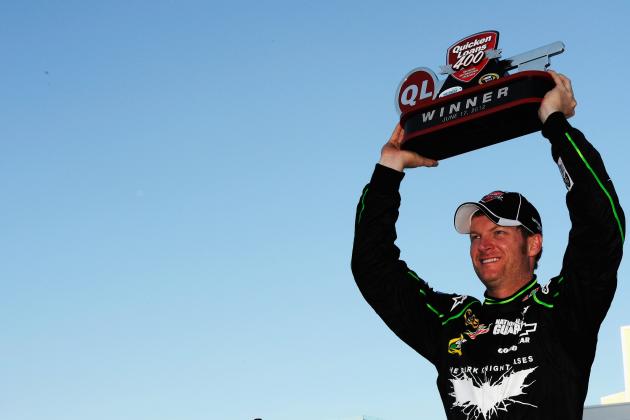 John Harrelson/Getty Images

This one may not have been a classic race by any stretch, but it's one of the most memorable because of one simple fact: Junior wins! Junior wins!

That's right, after a number of close calls last season and early in 2012, Dale Earnhardt Jr. finally broke through and ended the longest winless streak (143 starts) of his Sprint Cup career in the spring race at Michigan International Speedway.

The race as a whole was nothing much out of the ordinary, other than to see the No. 88 Chevrolet finally drive into victory lane for the first time in a long time—since 2008, for those of you keeping score at home.

And in an ironic twist, Earnhardt snapped his longest winless streak at the same track he earned his last previous win—snapping what had been the longest winless streak of his race then, as well (76 starts without a win).

Who says history can't repeat itself. In fact, we've seen it once. Let's all meet back at Michigan International Speedway in, say...2016, when Junior wins his next race.

Just kidding, y'all!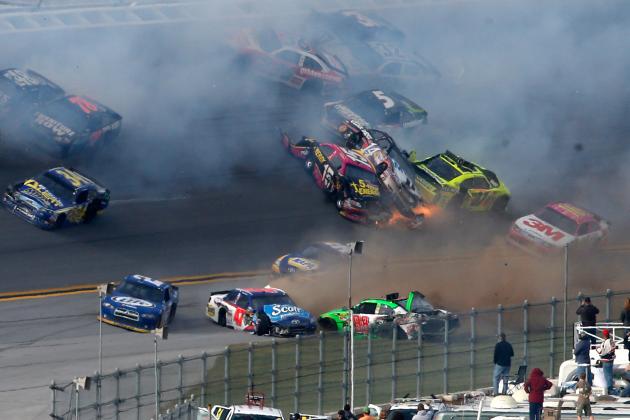 Chris Graythen/Getty Images
And you think you have it bad on the freeway.
This wasn't exactly a race to write home about in the whole big scheme of things. Actually, it was one of the more mundane races of the season until the last lap.

First, the good news: Matt Kenseth was in the right place at the right time, dodging and ducking a number of spinning race cars. We must give a great deal of credit to Mike Calinoff, Kenseth's spotter, for getting him to the finish line unscathed.

But, it was how Kenseth weaved and bobbed like a boxer which was preceded by the bigger story of the race. Tony Stewart was in the lead and looking for a win. Unfortunately for Stewart, Michael Waltrip and Casey Mears had another idea. Waltrip and Mears had moved up through the pack and definitely had the fastest tandem at that point in the race.

Stewart, in one of the "duh" moves of his career, thought it wise to come down on Waltrip and Mears in an attempt to block. Unfortunately, Waltrip and Mears had nowhere to go and plowed into the left rear of Stewart's car, triggering a massive wreck that gave new meaning to the infamous phrase "Big One" at Talladega.

They're still trying to figure out how many cars were involved in the wreck, but it's safe to say more than half the field was directly or indirectly affected by Stewart's wrong move at the wrong time.

To his credit, Stewart manned up and apologized after the race, but the damage was done—no pun intended.

And what's more, damaged race cars weren't the only after effect of Stewart's move. Dale Earnhardt Jr. ultimately wound up suffering a concussion in the same big wreck, forcing him to miss the next two races—the first time he has missed a Cup start in his career after it became known that it was the second concussion Earnhardt had suffered in less than two months.

He also suffered a severe knock to the head in a wreck during a tire test at Kansas in late August. Earnhardt didn't tell anyone about that one, but when he rang his bell again at Talladega, he had no choice but to come forth and tell the whole truth.

If there's one good thing about Earnhardt's situation, it's that NASCAR borrowed some foresight from the NFL and adopted new and more stringent concussion guidelines, and they will likely further refine them going forward.

If the NFL can worry about two players colliding together at, say...20 mph, surely NASCAR needs to be concerned about drivers who run into impenetrable walls or each other at 200 mph, right?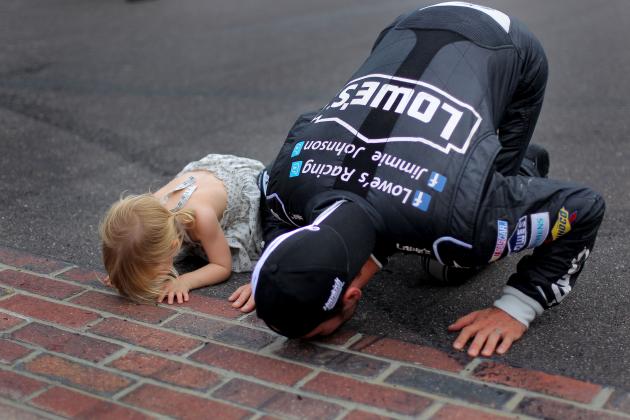 Justin Edmonds/Getty Images
Like father, like daughter.
While several previous Brickyard 400's have been snoozers, this one was actually a decent show. First, Jimmie Johnson dominated en route to his fourth win at the fabled Brickyard.

Second, this race had to have one of the longest race titles in NASCAR history: "Crown Royal Presents the Curtis Shaver 400 at the Brickyard." Try to fit that in a newspaper headline.

Can't we all just make it simple and keep it as the Brickyard 400, which is what the race began as?

Getting back to the race, Johnson raced a prototypical Johnson-style race. He got out front early and stayed there.

But perhaps more than anything, it was this particular race that proved not only that Johnson was indeed back after some early season struggles, but also that he was likely back to the form that led him to five straight Cup championships from 2006-2010.

As it turned out, Johnson either led or stayed close throughout most of the Chase, until the fateful episodes first at Phoenix in the second-to-last Chase event, followed by Homestead, where his hopes for Cup title No. 6 fell apart just like the drivetrain in his race car.
Jeff Zelevansky/Getty Images
A win fit for a King and an Australian prince.
Purists will scoff, but many observers considered this year's race at the serpentine Watkins Glen road course as the most memorable and best event of the entire 36-race Sprint Cup season.

The most memorable race on a road course, not a Daytona, 1.5-miler or even a short track like Bristol?

Yep, there's a strong case to be made for it.

The last-lap dash was the deciding factor and had virtually everyone at The Glen on their feet. As if there hadn't been enough side-by-side and close racing throughout, the last few laps were a combination of a free-for-all and luck personified.

Kyle Busch had the lead when the white flag fell, but his race car got loose and ultimately was punted by Brad Keselowski, who briefly assumed the lead. But then came Marcos Ambrose with a full head of steam, fully intent on earning his second consecutive win at The Glen.

Even though there was a great deal of oil on the racing surface after Bobby Labonte's engine imploded, NASCAR kept the green flag out.

As a result, Keselowski and Ambrose had one of the best last-lap duels we've seen in a long time before Ambrose was able to grab the lead in the final few corners and held on to take the checkered flag.

This was one of those races where, if you were watching it, you stopped breathing and held your breath until the final outcome materialized—it was that exciting.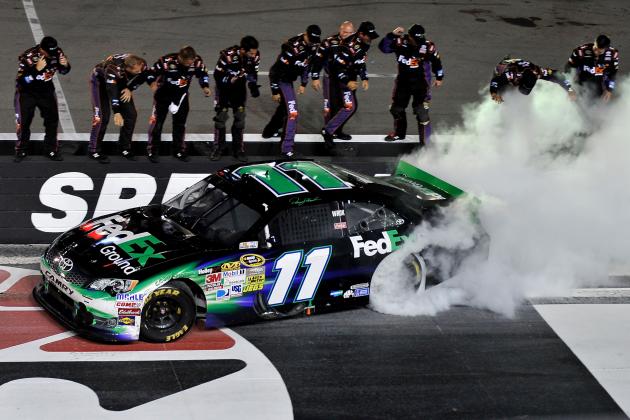 Pool/Getty Images

Last but not least, we have the summer night race at Bristol. Held just a couple of races before the final Chase qualifier at Richmond, the Bristol race has become somewhat of a divining rod to determine who will or won't make the resulting Chase.

While racing at Bristol, the fastest half-mile bull ring in the world, is always special, this one had even more going for it than usual.

For after the spring race in March, track owner Bruton Smith gave fans—well, at least a minority of fans—what they wanted by reconfiguring the track to make it more racy by bringing back the bottom groove.

What Smith tried to do was bring back some of the "old" Bristol—the rough, hard surface that was in place before the track underwent a reconfiguration and resurfacing back in 2007.

For the most part, Smith accomplished what he set out to achieve—well, almost. Sure, the racing was better in theory, but there was still a lot of follow-the-leader type racing in this event as well—much like the racing that took place in "new" Bristol.

So, the overall gain of the "new, new" Bristol was marginal to fair.

Speaking of fair, and to be that way, the race was fairly decent. There was even some heated action when Tony Stewart got out of his wrecked race car near the end of the race and threw his helmet in anger at the man who wrecked him, the normally mild-mannered Matt Kenseth.

Stewart's southpaw toss hit its target, but let's put it this way—throwing things apparently has never been Stewart's forte.

Oh yes, and let's not forget that Denny Hamlin ultimately wound up winning the race, and then went on to take the checkered flag again the following week at Atlanta.