Shogun Rua and 10 Former Champions Who Could Earn Another Shot at Gold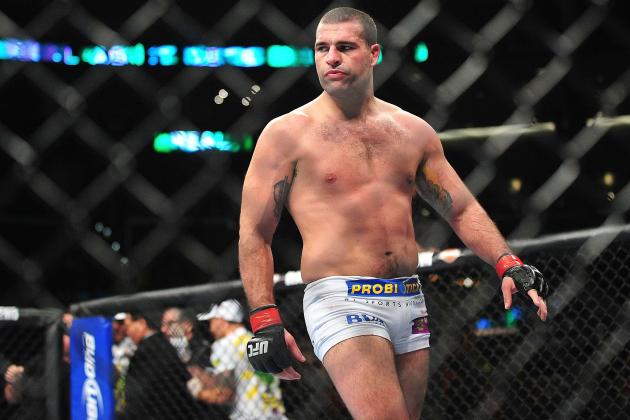 Gary A. Vasquez-USA TODAY Sports

When a fighter loses his title, the hardest thing for the fighter is to regain the title. Saturday night at UFC on Fox 5, former UFC light heavyweight champion Mauricio "Shogun" Rua faces off with Alexander Gustafsson in the co-main event.
UFC president Dana White said at the UFC on Fox press conference that the winner of this fight will get the next shot at the light heavyweight title currently held by Jon Jones (h/t mmafighting.com). Rua lost his title to Jones in March of 2011 and has won two of his last three fights heading into Saturday night.
What other former champions could earn another crack at getting a title shot? Let's take a look
Begin Slideshow

»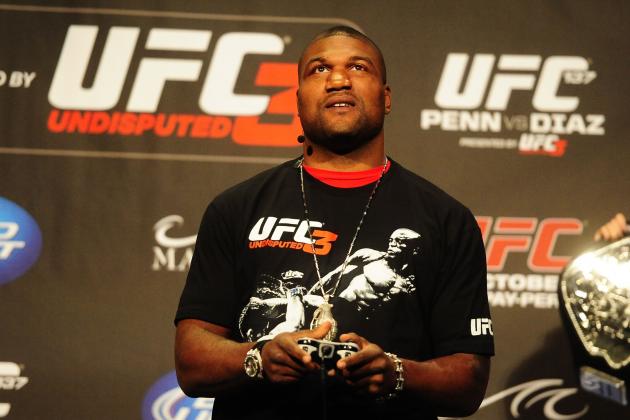 Mark J. Rebilas-USA TODAY Sports

People as soon they see this, they think, "Not a chance." Quinton Jackson is a former UFC light heavyweight champion having defeated Chuck Liddell at UFC 71 to win the belt. Rampage had another crack at the belt but lost to Jon Jones at UFC 135 last September.
Jackson lost to Ryan Bader at UFC 144 and has one more fight on his contract. The former champion will be facing Glover Teixeira at UFC on Fox 6 in January. Rampage says he's leaving the organization after this fight.
A lot of people feel like he won't leave the organization. If he beats Teixeira and re-signs with the UFC, the former champion could make another run at the belt.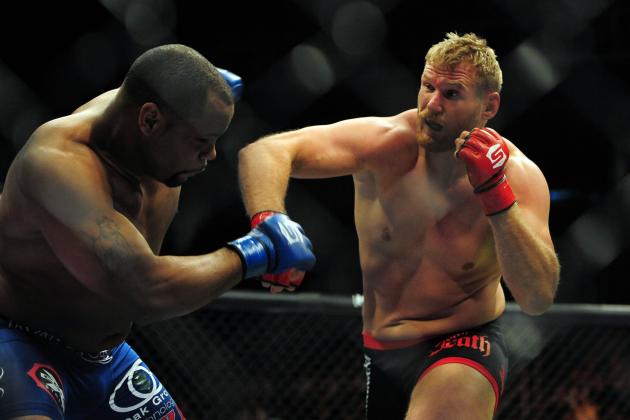 Kyle Terada-USA TODAY Sports
Barnett to the right
Josh Barnett is a guy that a lot of fans would like to see in the UFC once Strikeforce likely closes its doors at their January 12 event.
Barnett, who won the UFC heavyweight championship from Randy Couture at UFC 36, was later stripped of the title after testing positive for banned substances.
"The Warmaster" has always been among the top 10 heavyweights in the world and is 8-1 in his last nine fights. His only loss was to Daniel Cormier, who many people consider to be a top-five heavyweight. If Barnett goes to the UFC, he will be put in big fights, with a chance of regaining the title.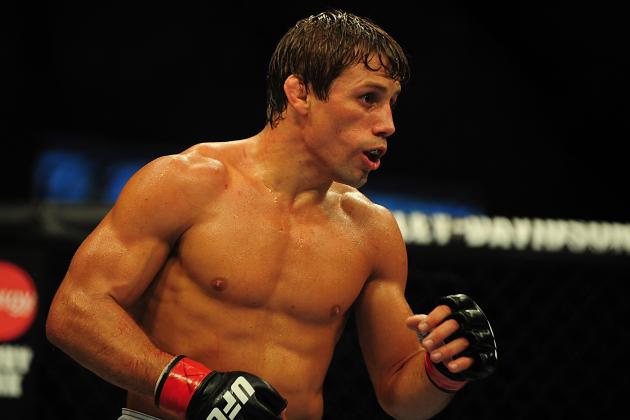 Anne-Marie Sorvin-USA TODAY Sports

Urijah Faber gets people boiling anytime his name gets referenced in terms of getting title shots. A lot of fans showed disdain for the fact he was going to get another shot at UFC bantamweight champion Dominick Cruz. The champion ended up suffering a torn ACL in training and had to bow out of the fight.
The UFC then put Renan Barao with Faber for an interim title at UFC 149 in July. Barao emerged victorious by unanimous decision.
"The California Kid" squares off with Ivan Menjivar at UFC 157 on February 23. With the bantamweight still relatively thin, a couple victories will put the former WEC featherweight champion back in line for a title shot.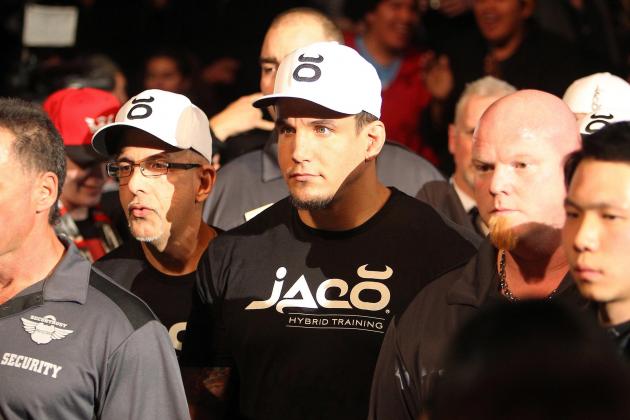 Tom Szczerbowski-USA TODAY Sports

Frank Mir is another guy who people are going to think doesn't deserve to be on this list. Mir is a former two-time UFC heavyweight champion winning his first title over Tim Sylvia at 48 in 2004. Then he went on to defeat Antonio Rodrigo Nogueira at UFC 92 for the interim title.
Mir won three fights in a row and received a title shot against heavyweight champion Junior dos Santos. The champion knocked out Mir in the second round.
Mir was supposed to face Daniel Cormier last month, but ended up suffering a knee injury. A return hasn't been set for Mir, but if he strings a couple wins in a row a title shot will be looming.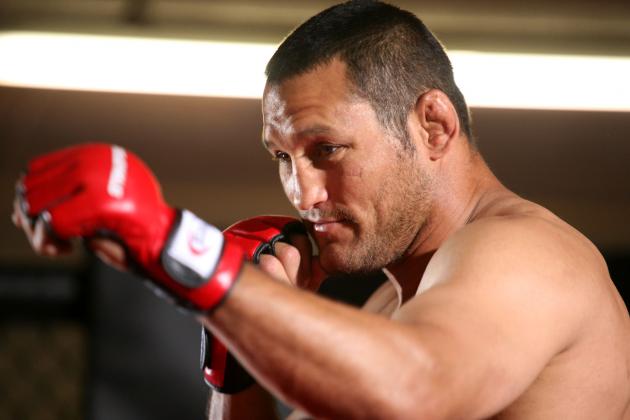 Valerie Macon/Getty Images

Dan Henderson right now could be the UFC light heavyweight champion. The former Pride and Strikeforce champion was scheduled to face UFC light heavyweight champion Jon Jones at UFC 151, but Henderson suffered a knee injury in training. The card ended up getting cancelled and Jones went on to face Vitor Belfort at UFC 152 in September.
People thought after that fight, Henderson would get the next shot at Jones. Instead, the UFC went a different route and chose Chael Sonnen to face Jones.
Henderson now will face off with Lyoto Machida at UFC 157. How far is Henderson from a title shot? Not too far away.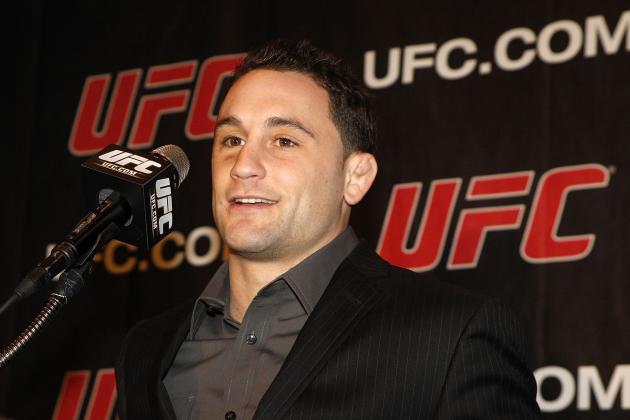 Michael Cohen/Getty Images

Why is Frankie Edgar on this list when he is facing featherweight champion Jose Aldo at UFC 156 in February? That is because if he loses to Aldo, a return to lightweight is always is possible.
The former lightweight champion lost two close fights to current lightweight champion Benson Henderson this year. If Edgar does lose to Aldo, he can jump right back to the lightweight division. Being a former champion and taking rematches when he didn't have too, Edgar would be one or two fights away from a title shot.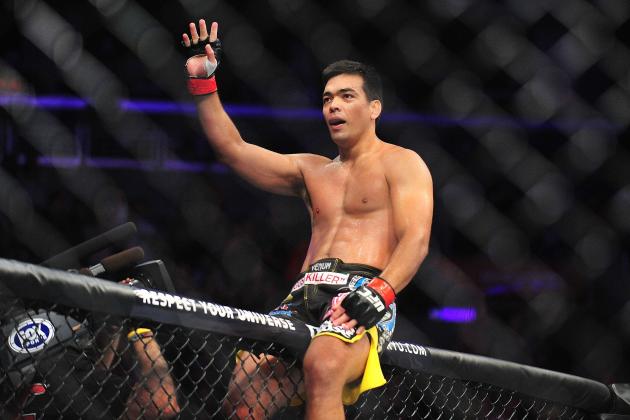 Gary A. Vasquez-USA TODAY Sports

Lyoto Machida can make a case that at the very least he should have competed for the UFC light heavyweight championship this year. After UFC 151 was cancelled, Machida was offered the fight against Jon Jones at UFC 152. Machida, though, turned down the fight, due to him feeling he didn't have enough time to prepare for Jones.
Now the former UFC light heavyweight champion will square off against Dan Henderson at UFC 157 in February. If Machida wins, he should be at the very worst one fight away from challenging for the title.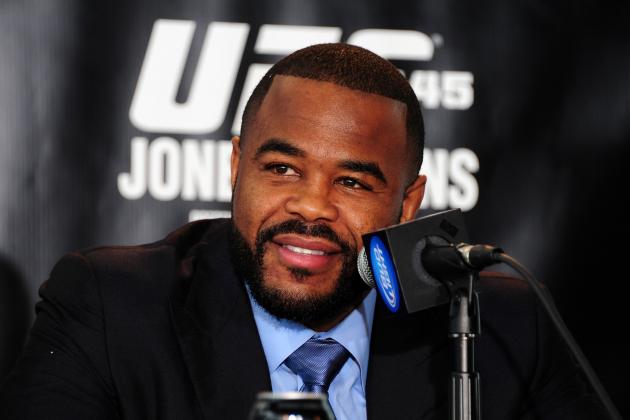 Scott Cunningham/Getty Images

When your last fight was for a title, it usually takes a little longer to get back into title contention. For Rashad Evans, it could come sooner than later. The former UFC light heavyweight champion lost to current champion Jon Jones by unanimous decision at UFC 145 in April. It was quite arguably Jones' toughest test since he became champion as that was the first fight to go all five rounds.
Due to that and the fact that Evans has been a big draw at the box office, the chance to get another title shot can happen sooner rather than later.
Evans' path to another title begins when he squares off with Antonio Rogerio Nogueira at UFC 156 in February.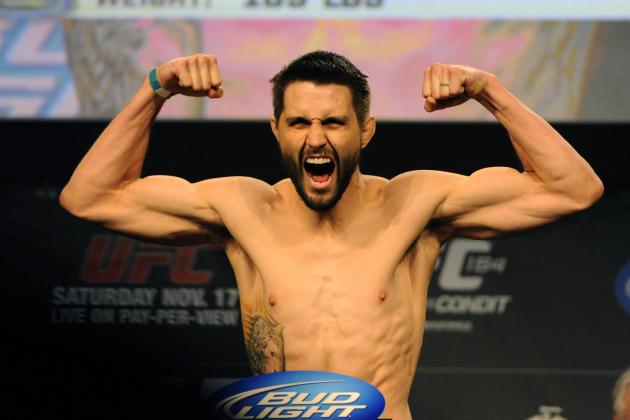 Eric Bolte-USA TODAY Sports

This is the same case of Rashad Evans, but with a little bit of a harder road back to get another shot at the title. The former WEC and interim UFC welterweight champion lost to Georges St-Pierre by unanimous decision in a unification bout last month at UFC 154.
The road will be a little longer due to the fact that the welterweight division is the second-deepest division in the UFC. It will take at minimum two wins for Condit to get another crack at the belt, but more than likely three fights. That depends on what happens in future title fights, but the future looks bright for "The Natural Born Killer."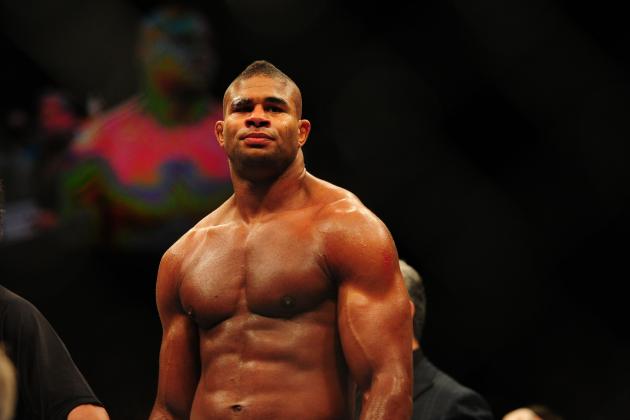 Mark J. Rebilas-USA TODAY Sports

Out of all the fighters on this list, it seems this fighter has the easiest path to a title shot. The question is, though, will he get there? Alistair Overeem defeated Brock Lesnar last December at UFC 141 by first-round TKO. Overeem was then scheduled to face Junior dos Santos for the UFC heavyweight championship at UFC 146 in May.
The former Strikeforce heavyweight champion was suspended for nine months by the Nevada State Athletic Commission. The suspension happened after a urine sample Overeem provided on March 27 following a press conference to announce UFC 146 came back with a 14-to-1 ratio of epitestosterone to testosterone, far above the 4-to-1 level allowed by the Nevada Commission.
Overeem's suspension is up on December 27, and the UFC has already announced that he will be fighting Antonio "Bigfoot" Silva at UFC 156 in February. That fight is pending if Overeem can get licensed in Nevada. If Overeem gets his license and defeats Silva, then Overeem should be next in line to face the winner of Dos Santos and Cain Velasquez at UFC 155 later this month.