Minnesota Twins: 7 Takeaways from the Ben Revere to Philadelphia Phillies Trade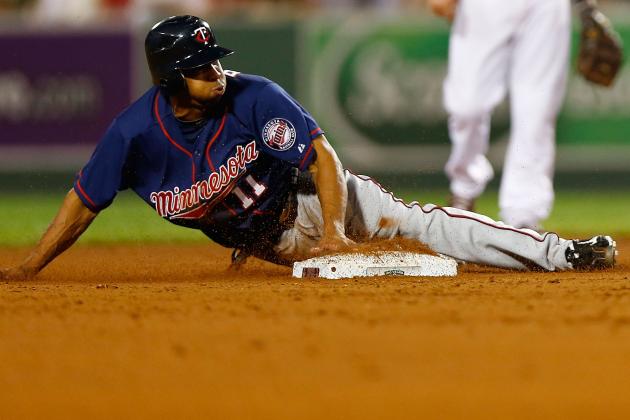 Jared Wickerham/Getty Images

The Minnesota Twins have traded center fielder Ben Revere to the Philadelphia Phillies for starting righty Vance Worley and right-handed prospect Trevor May (per MLB.com).
Before the trade, Twins fans had penciled Revere in the center field spot following the trade that sent Denard Span to the Washington Nationals for right-handed flamethrower Alex Meyer.
As it stands right now, Minnesota is down two table-setting center fielders, but has a pitcher that can play next season and two blue-chip prospects in the farm system.
In short, it is focused on pitching and building for the future.
The following is a look at the implications from that trade.
Begin Slideshow

»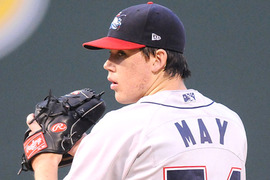 http://www.phightingon.com/wp-content/uploads/2011/11/xpl6qlRd.jpg
In April, Baseball America's Ben Badler wrote, "Trevor May is Philadelphia's best prospect, and so far, he's pitched like it for Double-A Reading."
He said that May possesses a lively 90-95 fastball with two secondary pitches that can be swing-and-miss offerings.
At 6'5", 215 lbs., the 23-year-old is not as large as Meyer, but the acquisition of both pitchers indicates that GM Terry Ryan is looking to add guys with large bodies that will strike opposing batters out. This varies from an earlier Twins philosophy that produced ground ball pitchers like Kevin Slowey or Brian Duensing.
There is some question about how long it will take May to get to the majors, however.
He was 10-13 with a 4.87 ERA in 28 Double-A starts last season. This means that, like Meyer, he probably won't have a chance to crack the rotation until 2014 at the earliest.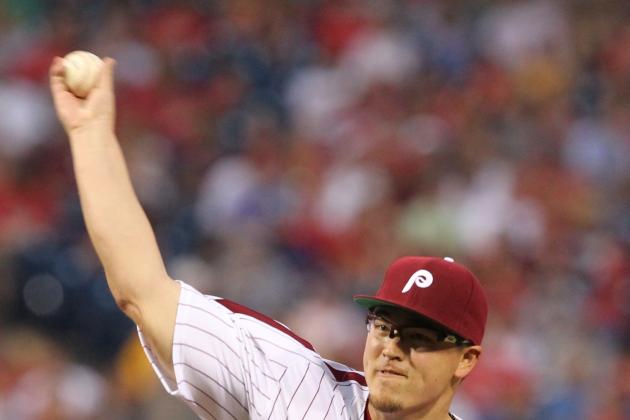 Hunter Martin/Getty Images

In August of last year, Vance Worley had surgery to remove bone chips from his elbow.
This means there are serious questions about whether Worley, who is projected to join Scott Diamond in the rotation next season, is healthy enough to be a long-term solution for the Twins.
Fortunately, he's only 25, and despite having a bit of a down year last season (6-9, 4.20 ERA), Worley went 11-3 with a 3.01 ERA and 119 strikeouts in 131 innings in 2011. That year, he finished third in the NL Rookie of the Year race.
Twins fans will remember that Joe Nathan had bone chips removed in 2009, and the 38-year-old Texas Ranger is doing just fine right now.
In short: If he gets injured, Minnesota looks kinda stupid. If he is healthy, the Twins obtained a young pitcher with incredible upside that could be a staple in the rotation for years to come.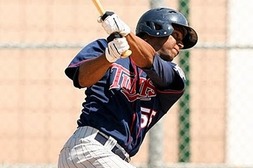 http://cdn.bleacherreport.net/images_root/slides/photos/000/802/704/AaronHicks4_display_image.jpg?1300765124
Minnesota has a bit of a predicament in the field right now.
Having a strong team with no center fielder is kind of like having a car with no brakes: Sure, you can get by…as long as you never have to stop. Similarly, a team can get by without a center fielder…as long as its pitchers don't give up fly balls.
My guess is the Twins use Darin Mastroianni as a place holder until Aaron Hicks, who was drafted in the first round of the 2008 draft, is ready to play at the major league level.
Hicks ended last season in Double-A ball.
Mastroianni was a savvy pickup last season. Despite only playing in a single game for the Toronto Blue Jays, he proved he could cover a lot of ground and make a spectacular catch if he had to.
The problem is that he isn't a great hitter.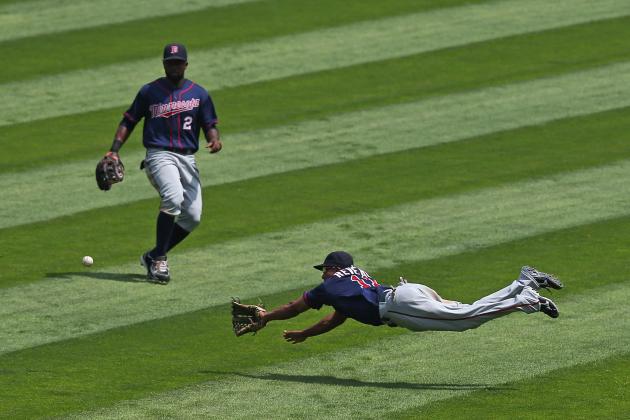 Jonathan Daniel/Getty Images

The table setters last season were, of course, Span and Revere.
This season, it looks like the Twins will probably start with Mastroianni leading off and Jamey Carroll in the two-hole.
Unless Mastroianni has significantly improved in the offseason, he's not a permanent solution, and Carroll, 38, is aging and on his way out the door.
There was no promise that Revere was going to be a dynamite leadoff man, but he still fared better than Mastroianni.
My guess is that the team is hoping that Hicks eventually locks that spot down.
As for the No. 2 spot, as I mentioned in my Span slideshow, I believe that Brian Dozier could step into that role if he sees improvement in the offseason.
It is a pipe dream, but Dozier has a season under his belt and showed a little power year.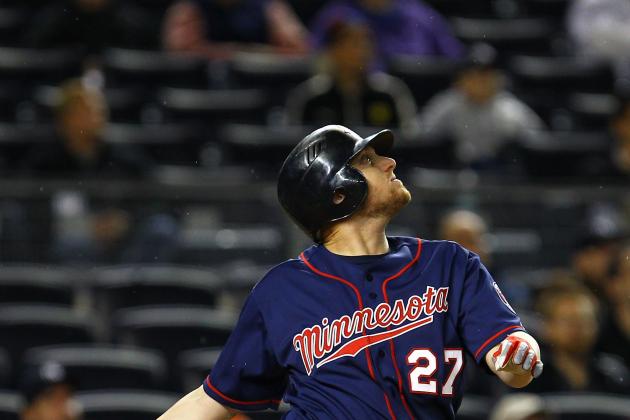 Al Bello/Getty Images

As I said in my Span slideshow, the best bet right now is Chris Parmelee.
The Southern Californian provides a strong bat in the lineup, can platoon with Joe Mauer and Justin Morneau at first and can handle multiple starts at right.
When he's at first, the team can use Trevor Plouffe at right and Carroll at third.
The only difference now is that without Revere, Mastroianni will not be an option at right unless Hicks is a lot more ready than we think or Ryan acquires a center fielder.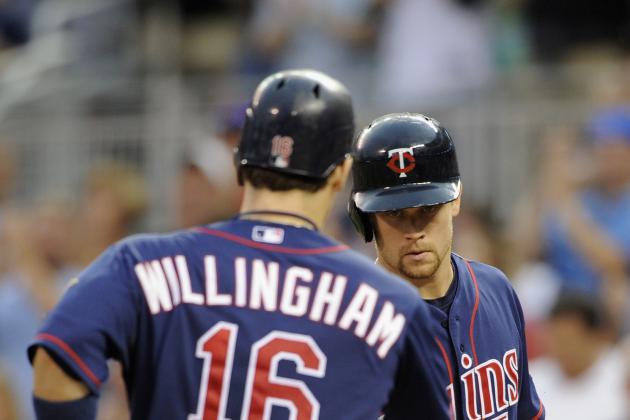 Hannah Foslien/Getty Images

Don't be surprised if the Twins aren't done wheeling and dealing just yet. While nobody in the front office will acknowledge it, this team has essentially mortgaged 2013 in hopes of putting a quality product on the field in 2014 and 2015.
Justin Morneau and Josh Willingham are two likely candidates to be placed on the trading block.
While it would be hard for many fans to see Morneau go, both Mauer and Parmelee can handle first base, and Ryan Doumit is a serviceable backup at catcher if the Minnesota puts Mauer at first and Parmelee at right.
It also would be hard to see Willingham get dealt, given that he hit 35 home runs last season, but his value has never been higher. He's a year into a club friendly three-year, $21 million deal, and at 33 years old, he's coming to the end of his career.
Willingham is less likely to go, as it would be hard to replace him in left, but at this point, Minnesota is building for the future anyway.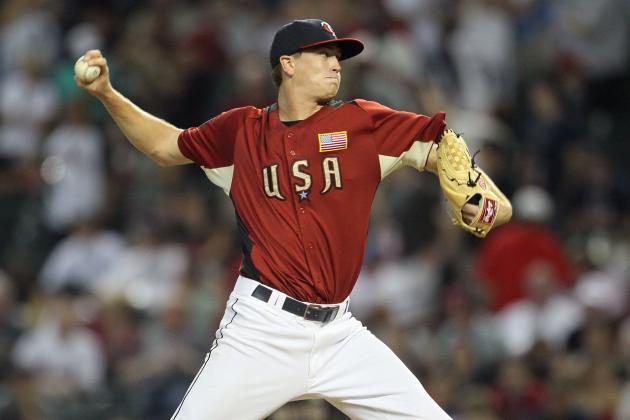 Jeff Gross/Getty Images

For starters, the team still could use a defensively sound third baseman. That would allow Plouffe to move to right and put Parmelee at first should Morneau be traded.
It also needs three players to fill the rotation this year.
Having said that, should everything work out as planned, its future pitching staff doesn't look too shabby. A rotation of Alex Meyer, Trevor May, Kyle Gibson, Vance Worley and Scott Diamond doesn't pressure Gibson or Diamond to be an ace, and there is always the possibility that a guy like Cole De Vries or Sam Deduno could step in if one of those guys get injured.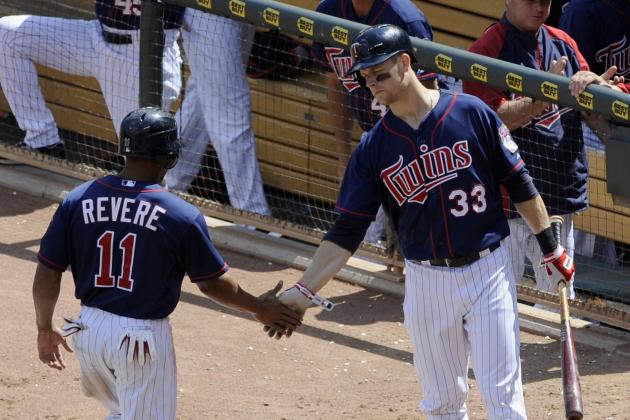 Hannah Foslien/Getty Images

The bottom line is that you can't win in baseball without pitching.
The Twins learned that the hard way last year.
Next season will be a bit of a honeymoon, as season ticket holders will probably renew in order to get priority to the All-Star Game, and while you never want to let an entire season go down the drain, this team can still hit, and hell, Oakland and Baltimore made the playoffs last year, right?
Anything can happen.
What Minnesota is making sure of is that it will field a competitive team from 2014 onward.
After all, we just built it a park, and nobody wants it to empty out like the new digs in Pittsburgh, Milwaukee or—gasp—Miami.
Tom Schreier covers the Twins for Bleacher Report and writes a weekly column for TheFanManifesto.com.