San Francisco 49ers: Beating Miami's Strengths Key to Reclaiming Dominant Status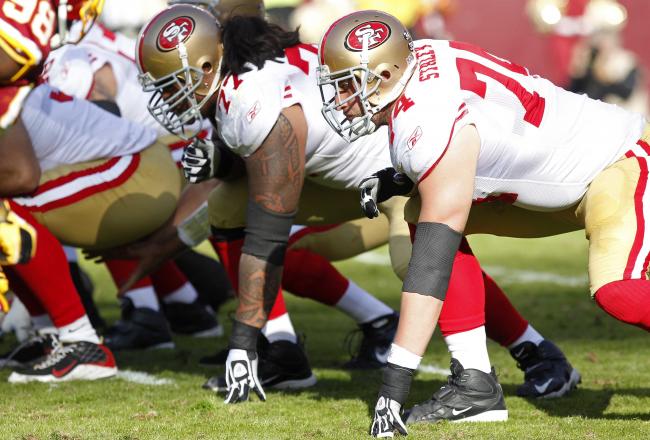 It all starts up front with Staley and Iupati.
Geoff Burke-USA TODAY Sports
The San Francisco 49ers will reclaim their rightful Super Bowl-contending status against the Miami Dolphins in one way, and one way only:
Be the biggest bully on the block.
The Rams front seven outmuscled the 49ers offensive line last Sunday en route to a Week 13 victory. Now Miami bring its own formidable 4-3 defensive front to San Francisco.
The 49ers must win this in-game matchup if they're serious about their tough guy mentality and 2012 postseason prospects.
One of the predominant strengths on the 49ers that often goes unnoticed outside the relative NFL fraternity, is their contingent manning the offensive trenches. It is a massive, yet thoroughly athletic group that regularly pushes its opponents around in run blocking on the gridiron playground.
And that just didn't happen last week, especially with the purported best of the bunch.
For the Dolphins, their NFL chops derive primarily from their shutdown capabilities against the opponent's run game. A No. 8 ranking in the league lends credence to that strength.
So, in a battle of strength versus strength, the 49ers O-line must assert its former dominance by gaining consistent leverage in the run game against the fearsome right side of Miami's line.
It all begins with left tackle Joe Staley and left guard Mike Iupati versus Cameron Wake and Paul Soliai, the defensive end and tackle for the Dolphins, respectively.
Wake, one of the NFL's most dominant defensive ends, and Soliai, a pure run-stuffer in his own right, head the Dolphins' stifling unit.
Staley and Iupati, meanwhile, lead the blocking contingent in front of the 49ers' No. 2 ranked rushing attack.
Fortunately, these two can tap into some recently developed deep-seated anger while doing so.
Iupati produced his worst overall performance of the season last week. Some of it involved pass protection, but much of it entailed poor run blocking for Frank Gore after having success in the early goings.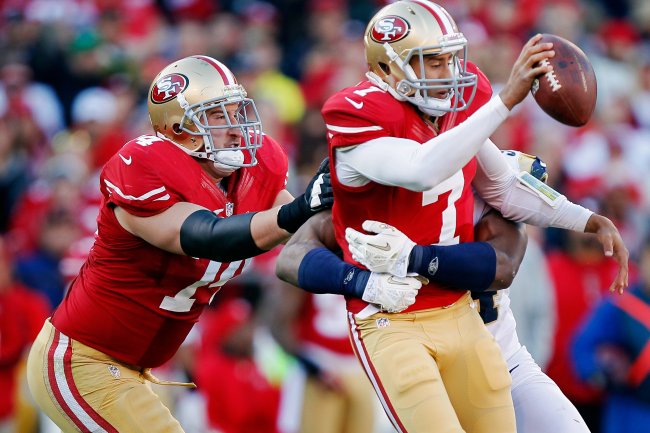 Brian Bahr/Getty Images
Apart from giving up leverage in all blocking assignments to the Rams' Eugene Sims, Staley, for his efforts, will use sensational media reports of him causing a divided locker room as motivation.
(To be sure, this is by no means an affront to any particular media outlet.)
With those factors in the background, it's time for them to vent, assert, maul and, most importantly, beat the best of what the Dolphins have to offer.
They must help Gore establish the run early by sealing off Wake and Soliai, while also getting to the second level against run-stuffing linebackers Kevin Burnett and Karlos Dansby.
Accomplishing this will enable the 49ers' essential winning component to thrive, while also neutralizing the Dolphins' seventh-ranked pass rush led by Wake, Randy Starks and Koa Misi.
The physical, mental and winning edge will indeed go to San Francisco if Staley, Iupati, Alex Boone and rest of the offensive front take the upper hand in the trenches.
In a nutshell, that entails Gore early, a Brandon Jacobs battering ram late and maybe, just maybe, a little bit of LaMichael James' dynamism sprinkled in the middle.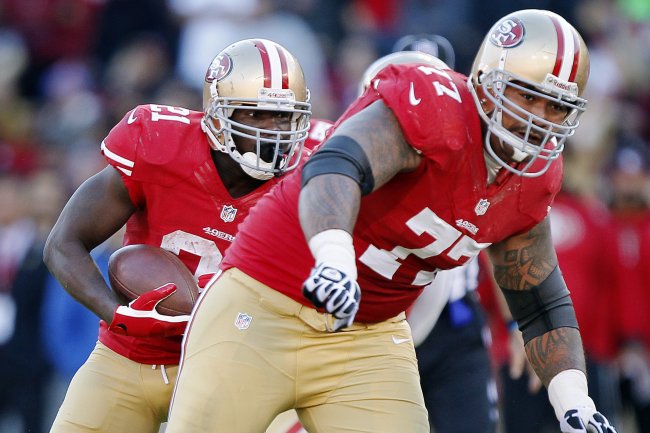 Brian Bahr/Getty Images
(Seems prudent to get that going before tough consecutive road matchups, no?)
Finally, a steady 49ers rushing attack will bring the Dolphins' premier safeties Reshad Jones and Chris Clemons in the box and out of coverage where they consistently dominate.
Colin Kaepernick can then exploit Miami's 12-touchdown surrendering corners with play-action and downfield passes.
A certain Randy Moss has been known to be on the receiving end of said passes once or twice in his day.
Phew.
Let's all now take a collective breath and appreciate the domino effect of winning the battles where the gridiron war begins on offense.
(Aldon and Justin Smith will receive their due credit for winning in the trenches later on.)
Win up front, win in the middle, win over top.
All leading to a win in the standings and status reclamation for the 49ers.
Follow me on Twitter @jlevitt16
This article is
What is the duplicate article?
Why is this article offensive?
Where is this article plagiarized from?
Why is this article poorly edited?

San Francisco 49ers: Like this team?