A Blueprint for Rebuilding the Orlando Magic in 3 Seasons or Less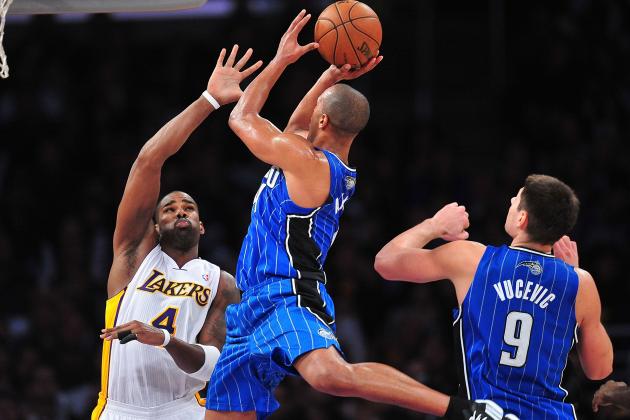 Gary A. Vasquez-USA TODAY Sports
Arron Afflalo
The Orlando Magic have played much better than the NBA community anticipated, but there is no denying that this franchise has a serious need for both a rebuilding movement and a true identity. Sure, this organization nearly has the same record (7-10) as former franchise cornerstone Dwight Howard's new team, the Los Angeles Lakers, but this early era success does not indicate that this squad is on the rise.
In fact, many of the team's main contributors, including Jameer Nelson, J.J. Redick, Arron Afflalo and Glen Davis, are far from prospects and are currently in the primes of their respective careers. There is only one direction from the peak, and that is down.
Plus, I wouldn't consider any of the Orlando Magic's promising young talents anywhere close to All-Star capable. That's not to say that I don't foresee them possessing value in the future, but instead look for Moe Harkless, Nikola Vučević, Andrew Nicholson, DeQuan Jones and Kyle O'Quinn to develop into solid bench contributors/fringe starters.
The Magic's competitiveness each and every night is something to be admired, but this franchise is far from completing the job of building a contender.
Begin Slideshow

»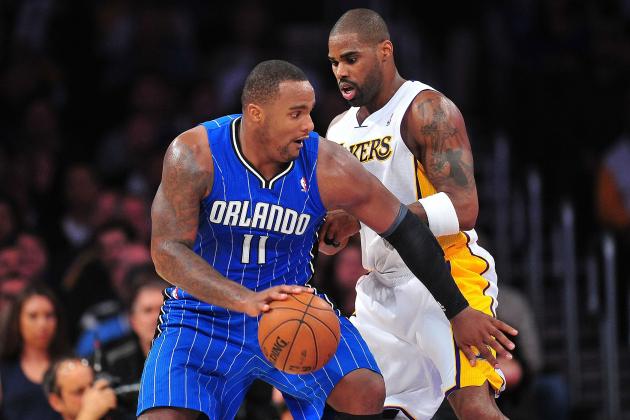 Gary A. Vasquez-USA TODAY Sports
Glen Davis
The first step to rebuilding the franchise is to eliminate all unnecessary, hefty deals that are taking a toll on the team's cap flexibility. While this is certainly easier said than done, Orlando should try pairing these contracts with young talent.
The contracts of Hedo Türkoğlu (two years, $23 million remaining), Al Harrington (three years, over $22 million remaining), Glen Davis (two years, $23 million remaining) and Jameer Nelson (three years, over $25 million remaining) should all be considered on the trade block, as Orlando's rebuilding project does not need numerous pricy veterans sticking around.
The problem, though, is that there may be few teams interested in acquiring any of these players.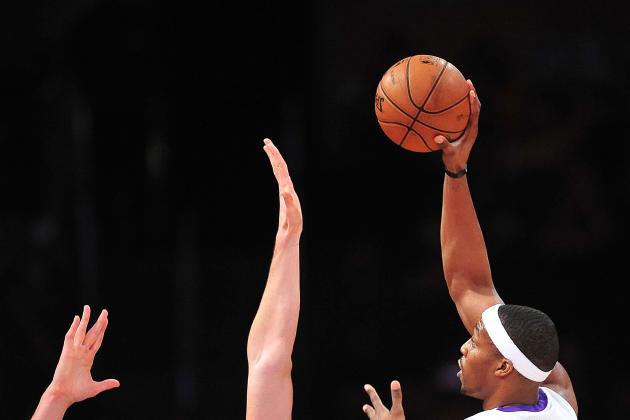 Gary A. Vasquez-USA TODAY Sports
Nikola Vučević
Due to the absence of Dwight Howard and the injuries sustained to both Hedo Türkoğlu and Jameer Nelson earlier in the season, the Orlando Magic have experimented with many different lineups featuring their young talent.
Simply put, their effectiveness has been impressive, as coach Jacque Vaughn has allowed the young talent to make an easy translation.
Instead of stashing away their prospects, the franchise has allowed the head coach to grant his rookies and sophomores extended minutes in the rotation, allowing the franchise, media and fans to start forming their own opinions about these fresh faces.
As for me, I have been quite impressed.
E'Twaun Moore showed the NBA world that despite having a scoring mentality, the former Purdue star could manipulate his playing style to better suit the point guard position. Nikola Vučević is averaging nearly 10 points and nine boards per contest, which is no small feat considering he saw limited action last year with the Philadelphia 76ers.
As for DeQuan Jones, Moe Harkless and Andrew Nicholson, each have had their fair share of struggles, but it is easy to see the potential in this threesome. Firmly implanted in the game plan, all three of these rookies have shown flashes of brilliance.
While no prospect blows the community out the water, there is no denying a solid core is starting to form in Orlando.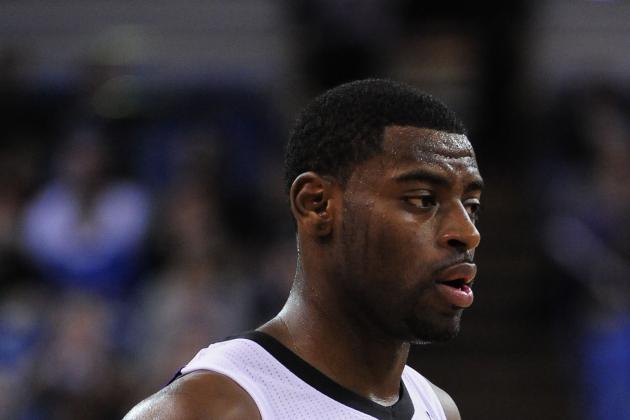 Kyle Terada-USA TODAY Sports
Tyreke Evans
What a fall from grace for this former Memphis star.
From earning Rookie of the Year honors due to averaging 20 points, five boards and five assist in his first professional season, to most likely not receiving an extension from the Sacramento Kings only two years later, Tyreke Evans has failed to live up to the hype that his play in his first year placed on him.
Nevertheless, Evans does still show flashes of his former self, and I truly believe that he is still capable of becoming a franchise cornerstone. Few players in this league have the versatility to play all three perimeter positions.
At 6'6" with exceptional court vision and eye-popping athleticism, this 23-year-old has the ability to do almost anything on the court, which will make him a hot commodity next summer, regardless of his recent struggles.
Don't expect this promising young man to receive a maximum deal, but a contract around four years $40 million is definitely not out of the question.
The Magic should jump on board, if that truly is the price needed to acquire Evans' services.
As for the rookie big man, this upcoming draft class is chalk full of talent at the power forward and center spots. Nerlens Noel, Cody Zeller, Rudy Gobert, Alex Len, Isaiah Austin and Mason Plumlee provide a solid selection for the Magic to choose from in the lottery.
While Noel is the best bet to pair up with Nikola Vučević, any of these guys would be a step in the right direction in solidifying the big man rotation.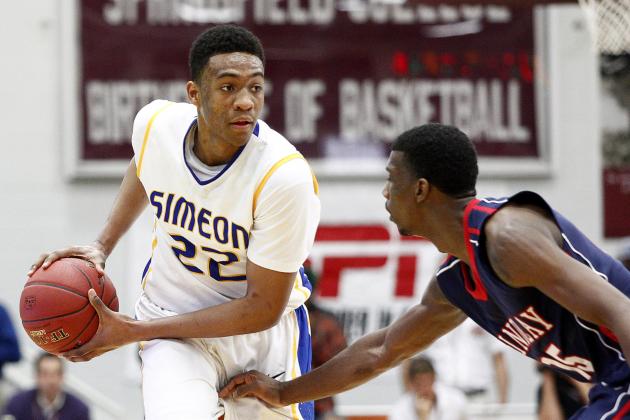 Mark L. Baer-USA TODAY Sports
Jabari Parker
The 2014 draft class is shaping up to be one of the most talented in recent memory. Forwards Julius Randle, Noah Vonleh and Aaron Gordon, along with guards James Young, Aaron Harrison and Andrew Harrison are some of the main names the NBA community should start tracking right now.
However, the top two talents of this class are some of the top prospects of the past decade. Small forwards Andrew Wiggins of Huntington Prep and Jabari Parker of Simeon Career Academy are absolutely dominating the high school level.
By signing Tyreke Evans, the Orlando Magic could take a chance on either of them. The versatility of the Sacramento Kings guard will allow him to mesh with both the sharpshooting Parker or the aggressive Wiggins.
Even if Evans doesn't develop into a superstar for the Magic, there is a solid chance one of these two guys do, leaving only one question to be asked: Dwight Howard, who?