Ranking the Top 20 Free Agents the Minnesota Vikings Should Look at in 2013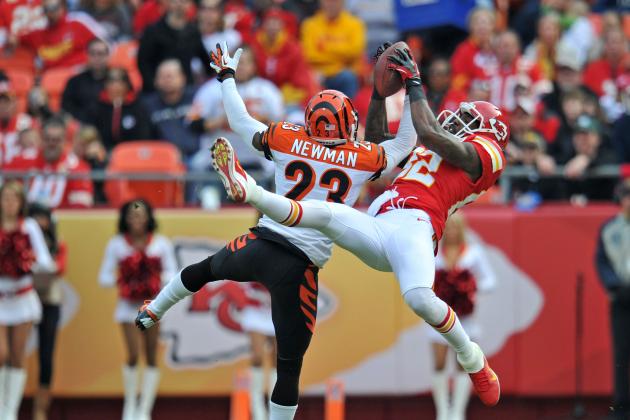 Peter Aiken/Getty Images

The Minnesota Vikings are in need of serious free-agent help come the 2013 offseason, and there are a number of enticing players available on the open market.
With the 2012 season winding down, the Vikings' playoff chances are looking dimmer by the day. So they'll need to start looking ahead in order to compete in a very tough NFC North in 2013.
The "Needs Book" on the Vikings is long, but there's no question that Minnesota will want to take a look at bolstering four critical positions—wide receiver, guard, linebacker and defensive tackle—either through the draft or free agency. While it wouldn't be advisable to fill all of these positions through the free agent market, this team's surprising return to relevance this season should encourage the young squad to make effective moves during free agency.
Beyond those four positions, the Vikings may also want to take a look at what's available in the tight end market, if they can safely get rid of John Carlson.
There are a number of good players that nominally fit these positions, but schematic and positional requirements have either moved them around in the rankings or have left them off the list entirely. Free agents Anthony Spencer and Dwight Freeney, for example, are clearly top-of-the-line defenders, but do not fit what the Vikings need in their 4-3 system.
That's not to say that players coming from 3-4 systems are not good fits for the front seven, but two-gap defensive linemen and 3-4 outside linebackers will have limited value for the Vikings.
Organized by value, some players might be placed higher or lower based on age, priority and potential contract demands.
The list starts off by trying to poach a backup from a divisional rival.
Begin Slideshow

»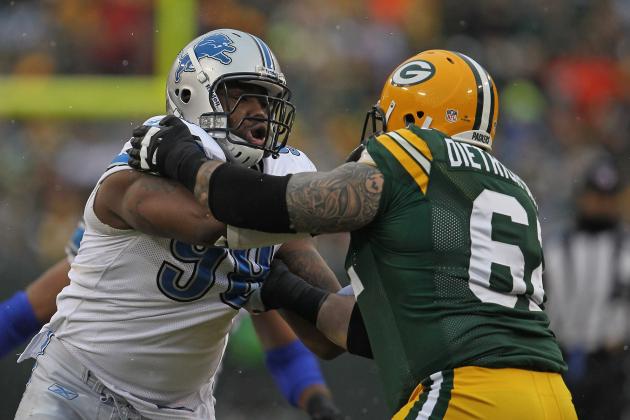 Jonathan Daniel/Getty Images

Evan Dietrich-Smith was perhaps unfairly put into the spotlight after an injured Packers offensive line pushed him into service. Since then, he's been the target of criticism from Packers fans.
This ignores the productive effort that Dietrich-Smith has put in at center and left guard, only having one bad game in his duties as a backup. Unfortunately, that game was broadcast the same week the Vikings were on a bye and the Bears had a high-profile Monday night game against the 49ers.
In that game against the Lions in Week 11, Dietrich-Smith put on a clinic of what not to do against some of the more powerful defensive tackles in the league, all while being broadcast throughout the Midwest.
Other than that, however, he's shown excellent strength and agility. He's been a good pass-protector and a vicious run-blocker—something that the Packers' revolving door at running back hasn't been able to take advantage of.
He has good intuition and can peel off double-teams well to make blocks on the second level, a critical skill in the Vikings' run-blocking system. His communication with linemen he hasn't practiced with or knows well is impressive, and he has a good understanding of complex blocking schemes, having both called and executed them in his time with Green Bay.
Dietrich-Smith's play outside of Week 11 is a true indicator of his ability. He should come cheaply, given that he's sitting behind two Pro Bowl-caliber guards on the depth chart and may want to shop his services for a starting position come this offseason.
Jonathan Daniel/Getty Images

The Vikings have one of the best defensive tackles in the NFL in Kevin Williams, so it might seem odd that they would target another pass-rushing interior linemen in free agency.
But with Williams' cap number looming—a prohibitive $8 million a year for the next several years—and his age (32) creating potential issues, the Vikings might want to invest in a young pass-rusher who exhibits some of the same physical dominance as Williams.
At age 26, Henry Melton could take over the role of a three-technique pass-rusher for the next several years, if the Vikings find a way to reduce Williams' cap hit or a way for other teams to pick up the contract like they could when they waived Steve Hutchinson.
Melton's production has been overshadowed by a strong defensive line in Chicago, but it hasn't gone unnoticed by the detailed eyes at Pro Football Focus. Ranked as the fourth-most disruptive pass-rusher and the best run-stopper at his position, Melton's physical dominance is a huge asset.
A quick defender with remarkable burst, he would complement one of the only positive assets the Vikings have in their nose tackles—a rush off the line that would be unparalleled in the league.
Given Melton's likely contract demands and almost definite disdain at potentially splitting time with a future Hall of Famer, Melton should not be a high priority target for the Vikings. He would command much more attention (and money) from any number of 4-3 teams looking for a quick one-gap pass-rusher. He may end up as the most dominant player at his position very soon and could expect to be paid like one.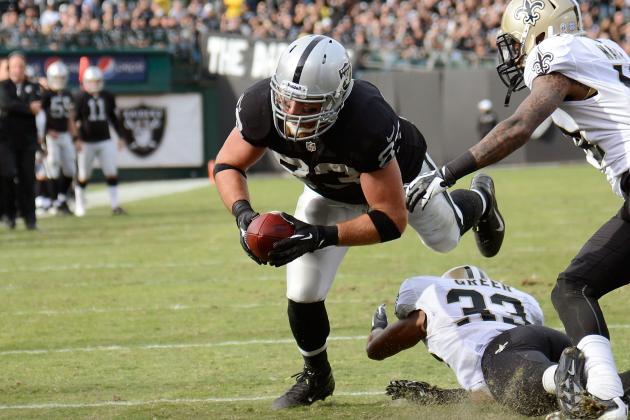 Thearon W. Henderson/Getty Images

Passionate fantasy football owners might recognize Brandon Myers as a breakout waiver-wire pickup from halfway through the season. There's good evidence that Myers is a solid receiving option who simply hadn't had a chance to shine.
This season, he's only had two games with fewer than 40 receiving yards and four games with more than 60. That type of consistency comes from a good understanding of route options within the offense and a willingness to drive for extra yards.
There is substantial criticism that many of his yards this year have come from garbage time, and it's a legitimate worry. He has, however, performed against some of the better tacklers in the league. Myers has forced eight missed tackles (the fourth most in the league for tight ends) against the best tackling teams in the NFL, including Denver, San Diego and Baltimore.
His ability to shed tackles as well as find space should mean he's more than a fantasy savior—he can be a legitimate option in the NFL.
Unfortunately, the Vikings' contract situation with John Carlson might prevent them from looking for a receiving tight end. Further, Myers' late arrival on the scene—he's 27 years old—might be enough to keep him off the team's radar.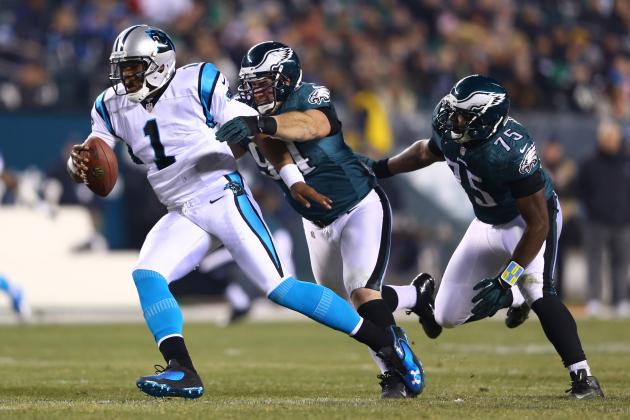 Al Bello/Getty Images

Like Melton, Derek Landri's play has gone unnoticed this season largely due to the performance of those around him on the defensive line. Unfortunately for him, he's a member of a subpar defense that hides his ability, not part of a dominant pass rush.
Both defensive tackles in the Eagles' scheme play inside, and Landri does not have the frame to play another position, making him a backup or replacement for Kevin Williams. Like Melton, his issues signing a contract may revolve around playing time, and the Vikings would be hard-pressed to convince a starter that he would get legitimate playing time playing alongside a legendary defender.
Like Melton, Landri is extremely strong, although he does not have the elite speed the Chicago defensive tackle displays. Still, his speed is above average for a player at his position and he makes up for any deficit by reading plays better than Melton. He can find the ball-carrier and could turn out to be a superior run defender in a different system, if given a chance.
Landri would come cheaper than Melton, given that he's coming off a poor year, and the Vikings could find themselves in a place to stage a turnaround for Landri.
His age (29) is a good reason the Vikings might be scared off, and he doesn't represent the type of player who would spearhead a playoff run. So if his contract demands put him in a spot where he takes up more cap space than some comparable younger players, he'll find himself playing for a team well outside of Minneapolis.
Still, he's a top-10 player at his position and could be worth a look if the team wants to find a way to replace Williams. If they feel Landri can have the same longevity as Williams, they may well pull the trigger.
Thomas B. Shea/Getty Images

Vance Walker won't sell any jerseys, but his reliability shouldn't be undersold. He might not pop out on the stat sheet—he's only been on the field for the Falcons in obvious passing situations and only produced 12 pressures on 210 snaps—but he could be a more than serviceable backup groomed to replace Kevin Williams, something the Vikings may not see in Christian Ballard.
Walker put on weight since joining the league without losing his speed, and he's more than made up for the injury concerns that saw him fall to the seventh round of the 2009 draft. An intuitive defender, Walker has the ability to read plays and make stops in the run game while engaged in pass-rushing duties.
Walker has recently shown enough to the Falcons to take over starting duties after Peria Jerry's injuries forced him to take a more dominant role in the defense. He's performed well, but might not have enough flash to attract bigger dollars.
The Georgia Tech graduate would offer teams more upside than proven talent. But his reliability would make him an excellent backup if his potential doesn't pan out. At 25, that gives the Vikings more than enough time to take a chance on him, with low risk and high reward.
He may not make an instant impact, but even Geno Atkins started out as a backup. Walker's low contract demands, young age and big upside all make him a free agency bargain.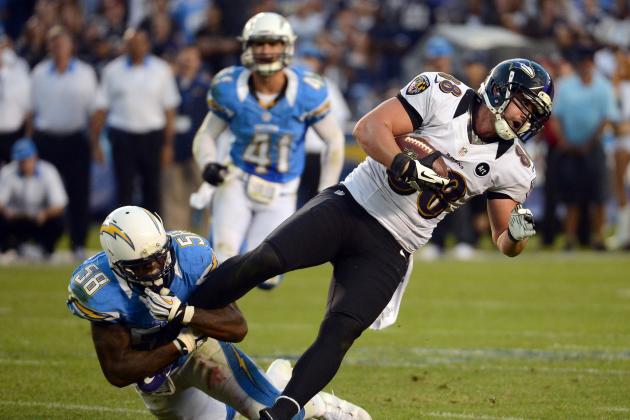 Harry How/Getty Images

Dennis Pitta's name might not excite football fans across the country, but this established tight end is far better than his statistics or name recognition might indicate.
Not only a clear upgrade over John Carlson as a receiver, Pitta isn't near the liability at run-blocking that Myers or Carlson are. He has some work to do as a blocker, but is a full package as a receiver.
With reliable hands and good size—6'4" with rangy arms—Pitta's catch radius could help a struggling or young quarterback move the chains. Pitta also has excellent route-running skills and can create more separation than Minnesota's celebrated tight end Kyle Rudolph, even if he can't make the same circus catches.
In an offense that likes to throw to tight ends, Pitta has yet to break 500 yards receiving. That doesn't mean he doesn't have the skills or ability to get more, but it does mean he can be effective while splitting duties with other ends.
His contract demands shouldn't be too high given his limited production, so the Vikings should be able to snag him if they can also find a way to offload Carlson.
Pitta's abilities far exceed his production, and while he might not ever be an elite tight end, he would be the perfect complement to an offense looking for ways to create as many mismatches on the field as possible.
The biggest problem in attracting Pitta is that he's a restricted free agent. So he could require the Vikings to pay more to persuade the Ravens not to match the offer sheet.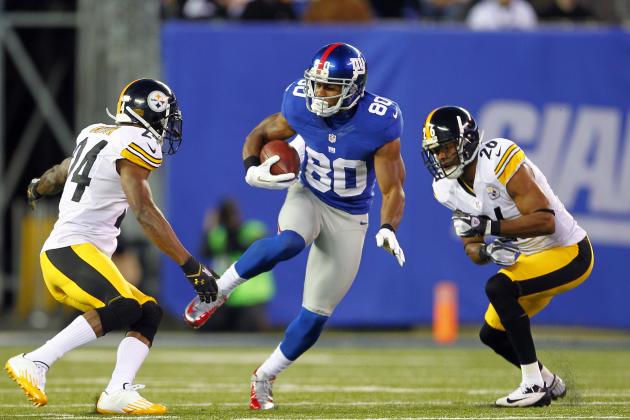 Rich Schultz/Getty Images

With two excellent slot receivers already on the roster—Percy Harvin and Jarius Wright—it seems odd that the Vikings would want to target Victor Cruz, another smaller slot receiver.
Still, Cruz provides something that Wright and Harvin aren't known to do on a consistent basis. He's a deep threat.
While it's true that most of Cruz's deep routes have come out of the slot, he has excelled lined up at every receiver position, running a variety of routes.
His big-play capability would complement Harvin's reliability and dynamic ability from anywhere on the field, and the size mismatch has yet to bother him. Cruz has the ability to come down with the ball in heavy traffic, which is critical for a receiver who might be targeted several times on deep routes.
Cruz's fluidity when running routes, along with his precision, timing and preternatural ability to create space works well with his ability to make plays out of thin air. The addition of Cruz to the offense would make it much more explosive, despite the confusion in roles this would seemingly cause.
The headline-grabbing sensation might want to improve his reliability or strength as a run-blocker to be a more complete receiver, but he's already shown that he can run every route.
Cruz will probably create more value (and therefore pull in more money) from teams needing a third option in the slot. But the Vikings should at least look into the type of playmaking ability Cruz could provide.
There's a good chance other teams will find him more useful, however, so a bidding war may be inadvisable.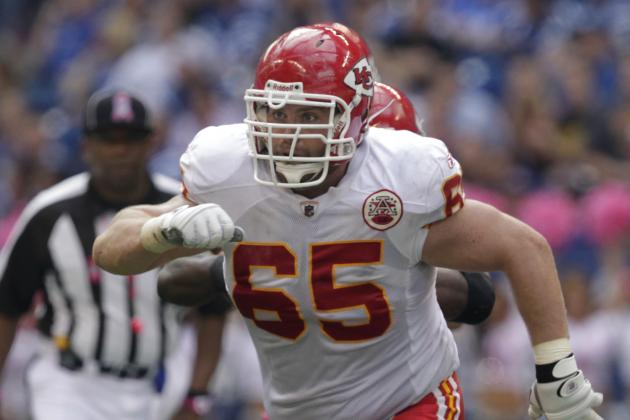 John Sommers II/Getty Images

It's hard to think of a member of the Kansas City Chiefs offense striking fear into opponents, but make no mistakes: Lilja is incredibly good.
Over the past four years, Lilja has only allowed six sacks despite playing more than 4,050 snaps. In that same time, he has only allowed an astonishingly few 24 hits.
What's even more impressive is that Lilja is much better known for his run-blocking prowess than his pass blocking. Excellent technique more than makes up for the fact that he's undersized and potentially underpowered, and he rarely finds himself in a situation where he can't find the right leverage.
He can slide his feet well in the pocket, although he still is somewhat of a liability when pulling, and can usually move defenders when needed.
Lilja benefits from help from a center more than most good guards, but his excellent communication, technique and intuition will allow him to make good plays in the running and passing game. Rarely overwhelmed in one-on-one coverage, it is sometimes clear that Lilja's strength is a liability. But he still rarely allows the pocket to collapse.
Like all good linemen, he understands protection schemes, but would have to adjust to Minnesota's system, one that might demand more of him than he could necessarily deliver. Still, his light frame could end up being an asset, as Minnesota has traditionally rolled out with undersized guards and valued agility and fundamentals more than strength.
With clear problems at right and left guard, Minnesota will want to shore up an interior that has helped contribute to its chaotic pocket. Even one addition could make it one of the best lines in the league, with Matt Kalil and John Sullivan leading the charge.
Only Lilja's age—31—and his size hold him back. The Vikings might not want to look at him because of this. But a quiet signing in the offseason could do much more to improve the Vikings' chances than a big one, especially with a player as underrated as Lilja.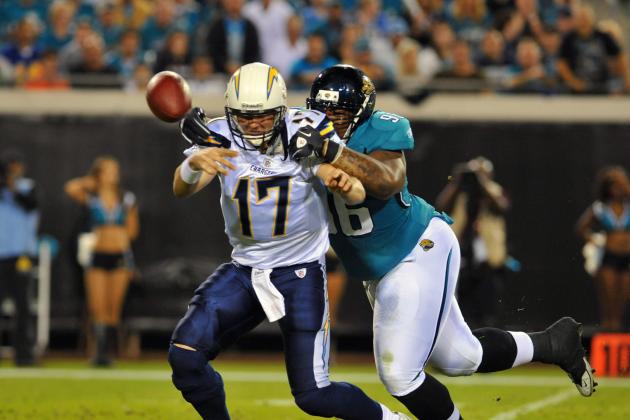 Al Messerschmidt/Getty Images

Terrance Knighton could be overrated as a nose tackle, but he far exceeds the ability of Letroy Guion or Fred Evans at the position. Overrated players can still be very good.
An inconsistent 2010 gave way to a quiet 2011, and it wasn't until this season that Knighton really evolved as a true nose tackle. He possesses the ability to control the point of attack off double-teams, and could provide a much needed plug in the Vikings' defense to redirect runners and occupy multiple pass protectors.
He can be a penetrating tackle that rips through gaps, but needs more speed to complement his exciting burst off the line. He doesn't have an extraordinary menu of pass-rushing moves, but has enough strength to deal with most linemen in the league.
A punishing tackler, Knighton's ability to read the play fits with his ability to bring down the ball-carrier. That he tends to get lost in pursuit and attacks with poor angles will always limit his game, however.
Knighton's name recognition and reputation within the Jaguars organization could make him hard to pry out of Florida, but the Vikings still stand a chance at providing a reasonable offer that could attract him to Minnesota.
He stands to be a clear upgrade at the nose tackle position and could be the most important piece in the Vikings' Tampa Two puzzle.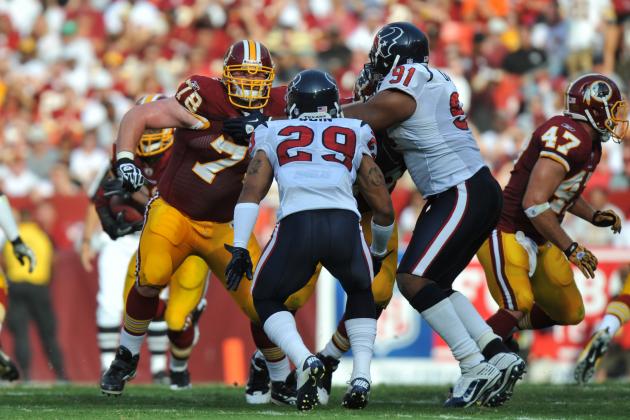 Larry French/Getty Images

Kory Lichtensteiger might be familiar to some Vikings fans, who may recall his brief stint with them in 2009. Lasting for less than a month in Minnesota, he needed to make up for an abysmal start to his career.
With an anterior cruciate ligament injury in 2011, it looked like that may be impossible for the young guard. He missed all of the 2012 preseason, but still managed to capture the starting left guard job in the season opener for the Washington Redskins.
At age 27 and with one injury already in his past, he may not look like a bargain signing. His play this year, on the other hand, has paved the way for another contract in his near future. Nowhere near the type of splash signings that Carl Nicks or Ben Grubbs were last year, the solid guard has a steady future if he can regain the ability he had to block rushers that he had earlier in his career.
Lichtensteiger has already improved as a pass-blocker. His feet have become quicker despite a lengthy respite after surgery.
By no means the best guard in the NFLy, Lichtensteiger still represents an above-average option to replace the wildly inconsistent Brandon Fusco or the largely disappointing Charlie Johnson. Injury concerns should drive down his contract demands, and he could end up as a great value fit for the Vikings.
He already knows the basics of the Vikings' system—both because of his brief time there and his extensive work with Mike Shanahan—and could prove to be the final element of an already good offensive line.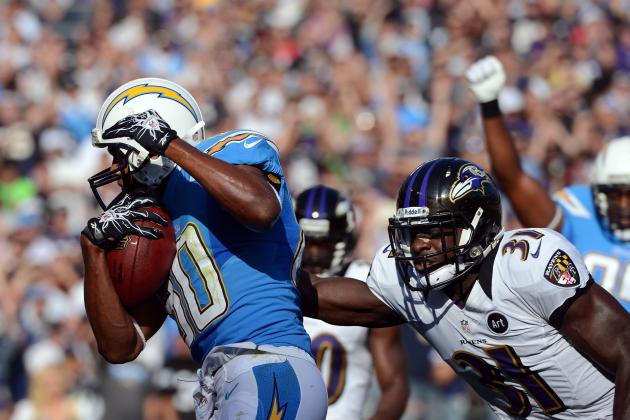 Donald Miralle/Getty Images

The Vikings have been lacking a deep threat for quite some time, and the injury to Greg Childs—along with the disappointing play of Jerome Simpson—has struck the team particularly hard.
While it is easy to blame either the limited offensive play-calling of Bill Musgrave or the conservative playing style of Christian Ponder, fans should also be well aware that the Vikings simply lack receivers who can make plays deep down the field.
As one of the most explosive players in the NFL, Floyd could remedy that. Despite going undrafted, the combination of a 6'5" frame and 4.4 speed in the 40-yard dash has allowed him to thrive even when his quarterback has been struggling.
It's true that having Vincent Jackson on his team last year allowed him to post one of the five best ratings in yards-per-pass-route, but he's proven that he can hold his own this year.
He is one of only 15 players who provide a greater than 100 passer rating when thrown to, and he ranks fifth in yards per target. This comes from reliable hands and the ability to create separation downfield, a combination of skills Vikings players have lacked for ages. He's on pace for 1,000 receiving yards despite getting limited help from Robert Meachem and an injured Vincent Brown.
His speed, precise route-running and reliable hands could provide the Vikings with sorely needed talent out deep. His limited ability to create yards after the catch or beat pressure off the line of scrimmage shouldn't be a big problem for a team that already excels in those areas.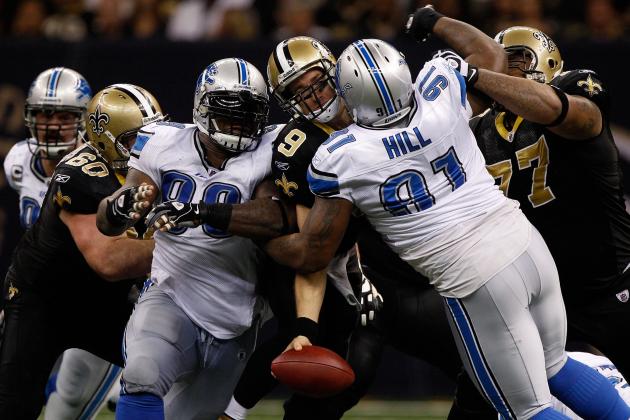 Chris Graythen/Getty Images

It may not be good that a backup nose tackle on a losing team presents a clear upgrade over the starter that the Vikings have, but Sammie Lee Hill is a young, underrated defensive monster.
At 329 pounds, Hill's speed is surprising. With a quick first step, he could be one of the most disruptive defensive tackles in the league. At age 26, he still has significant time to develop, too.
It's no shame to play behind Nick Fairley, who could be one of the best defensive tackles in the league. Certainly, Hill could be considered one of the five best 4-3 nose tackles in the NFL, well above the much more highly recognized Terrance Knighton.
Hill's massive size is complemented well by his strength. He can easily dominate double-teams when getting good leverage off the snap. While he doesn't always display the best intuition when defending against the run, his ability to occupy run-blockers would be an asset to a Vikings team that is well-known for stopping the run.
Given his strength, it would be difficult for interior linemen to peel off him and make plays on the second level. So he should be able to affect the run game without being able to shed blocks—one of his primary weaknesses.
The Lions' backup doesn't have the greatest form when tackling, often relying on his strength to overcome technique weaknesses, but he still provides much more as an overall package at nose tackle than nearly any other nose tackle in the free agency market—and certainly more than the Vikings have.
He is the second-highest graded 4-3 nose tackle in Pro Football Focus' pass-rusher productivity rating, which takes into account hits and hurries as well as sacks. Despite logging no sacks this season, Hill has been effective at pressuring the quarterback. He would be a great pickup for the Vikings, who should come substantially cheaper than many less skilled tackles on the market.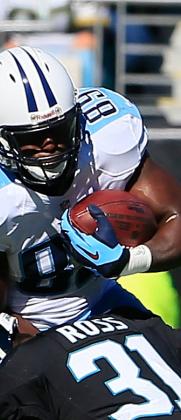 Sam Greenwood/Getty Images

If the Vikings are looking for a receiving tight end, they could do a lot worse than signing Jared Cook. Underwhelming in an offense with a rotating quarterback and a de-emphasis on his receiving capability, Cook still puts up somewhat impressive numbers.
On pace for more than 1,000 yards, Cook's numbers are made all the more impressive when knowing that he's only been targeted 74 times this season. With the second-highest yards per catch among tight ends, Cook would provide many of the same skills John Carlson was purported to have, but with much more payoff.
Cook does an excellent job running routes off the line of scrimmage when lined up with the rest of the offensive line. He can also execute the shorter routes with precision and sit in zones on intermediate and long routes. His nose for space is something Carlson never displayed and his reliable hands provide an excellent outlet option alongside Kyle Rudolph.
At 6'5" and with a lengthy frame, Cook provides a good option over the middle that should enable playmakers on the edge to find themselves with more room. The third-round pick has already outplayed his projections and, at 25 years of age, still has more to show.
His poor strength makes him a less than ideal choice when run-blocking, but he's got a good instinct for leverage that has helped him out more than once. The Vikings were able to turn around Rudolph's run-blocking and may be able to do the same with Cook.
The premium on tight ends that the NFL has created might create far too large a market for a tight end of Cook's ability. But low name recognition and the availability of several tight ends in the 2013 free-agent class might make Cook's contract demands much more palatable to the Vikings. A Cook and Rudolph tandem would be difficult to stop, especially in the red zone.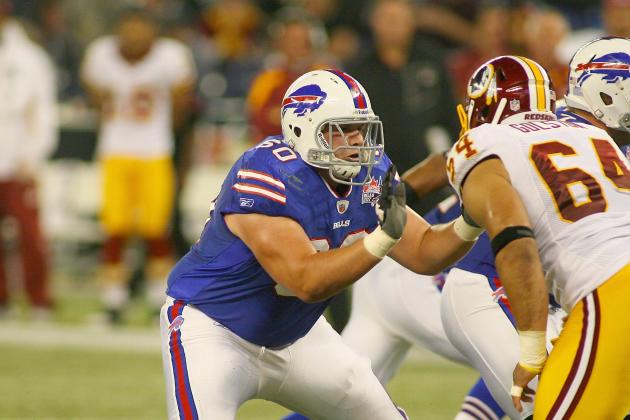 Rick Stewart/Getty Images

Another restricted free agent, Kraig Urbik may be available to the Vikings because of Buffalo's problems with the salary and the fact that several of their best players are hitting free agency in the coming year.
Urbik may be the most underrated linemen in the league. He was one of only five guards to allow no sacks while starting eight games in 2011, and is the only one to allow no quarterback hits as well.
He dropped off a little bit in 2012, having allowed two sacks, but still is a dominant pass protector for the Bills. He has much more work to do in the run game in order to be a great all-around guard, but is already better than Brandon Fusco or Charlie Johnson at creating holes for his running backs.
Twice in two years he's been asked to fill in at center after injuries, and both times he's availed himself well.
The Bills' hybrid zone/man-blocking scheme is extremely complex, but lines up well with the Vikings increasingly difficult-to-learn combination system. Urbik's ability to understand several running schemes as well as multiple protection schemes would be extremely valuable.
He needs to be stronger at the point of attack, but provides far more consistency than either of the starting guards for the Vikings in run-blocking. As a pass-blocker, he is nearly unsurpassed among the free agent guards on the market. Again, this market is weaker for interior linemen than last year, but Urbik would be a gem.
His low name recognition and the Bills' cap troubles could create an attractive price for Urbik that the Vikings would be foolish to ignore.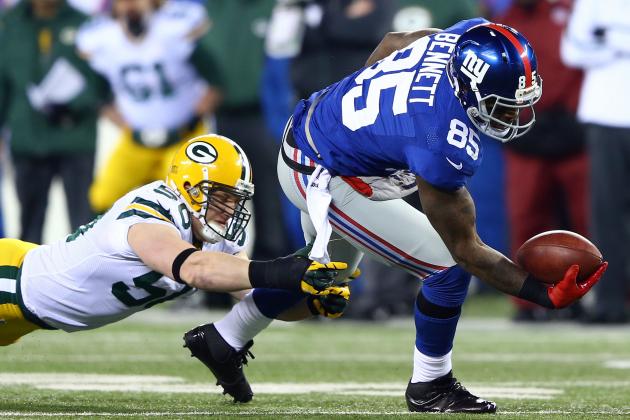 Al Bello/Getty Images

Once again a tight end more recognizable to fantasy football owners than most anyone else, Bennett's arrival on the scene as a playmaker comes as a bit of a surprise to some. Naturally, our very own Matt Miller was ahead of the curve on predicting his success, and it is true that his fundamentals shine.
Clearly the most complete tight end of the 2013 free-agent class, Bennett was overlooked in Dallas both in his contributions as a receiver and blocker. While a well-rounded tight end like Jason Witten can allow evaluators to overlook backups, Bennett was a steal for the New York Giants, who were able to ride the Black Unicorn to several wins this year.
Bennett has fantastic size and has long contributed in the run game as a blocker. With good strength and a solid understanding of the basics of blocking, Bennett can push defensive ends and even linebackers off the point of attack and move some of the best defenders in the league around. More than that, Bennett's abilities as a pass-blocker is hard to ignore.
His lateral agility is evident both when running routes and when sliding to protect the quarterback from edge rushers. His only poor game was against Dallas, a team that knew him well, and he has yet to put up a poor overall performance, even when he didn't shine in the box score.
Grabbing Bennett would be a real coup, but it would be hard for the Vikings to put together an offer package that could compete with some of the other competitors in the league. Bennett easily has the potential to be one of the top five tight ends in the league (after taking into account the importance of blocking), and at age 25, he has a lot of years to prove it.
The Giants may regret only offering him a contract for one year, as he would be a perfect fit for many teams, the Vikings included.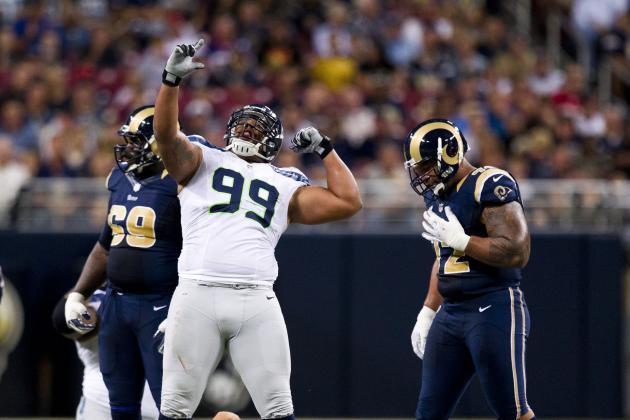 David Welker/Getty Images

Playing for one of the best defenses in the country, Alan Branch is finally getting the recognition that he deserves. While a disappointment with Arizona, Branch's massive frame works well with his speed in the one-gap system that Seattle uses.
One of the few dominant nose tackles on the list that doesn't have elite burst off the line, Branch's pursuit speed, instincts, variety of pass-rushing moves and overall strength more than make up for what is at the end of the day a sometimes overrated skill. Given that Branch can shed blockers with the best of them, he constantly poses a threat to quarterbacks.
His one sack this season shouldn't convince fans to diminish his accomplishments, as he consistently collapses the pocket and creates muddy situations for opposing passers.
More than that, he shines as a run defender who can quickly diagnose plays and beat double-teams. With a great top-end speed for someone his size, Branch can engage in pursuit of some of the best running backs in the league. With good tackling technique and a well-developed ability to read the play on the field, Branch is clearly the best 4-3 defensive tackle available in free agency.
While Seattle would love to keep Branch, its depth might make him less valuable there. Combined with the drop-off in production from 2011 to 2012, the Vikings might be able to generate an offer within their limits that would allow them to grab Branch, who would be an instant upgrade at nose tackle.
Still, his name recognition on a now well-known defense may end up driving him out of the market for the Vikings. He's on the older side of what the Vikings may be looking for at 27, and that could be the final bit that pushes him out of reach for the currently frugal Vikings, who are looking to build long-term success.
However, one of the better nose tackles in the league could well be worth paying a little more.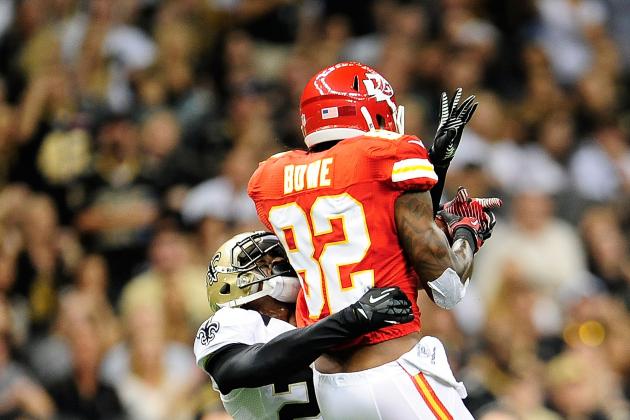 Stacy Revere/Getty Images

Subject to trade rumors and speculation this season, Dwayne Bowe might finally see himself leaving Kansas City after the franchise tag kept him there a year longer than he might have preferred.
Bowe is clearly one of the most athletically talented receivers available on the market and headlines a receiver class that could be just as competitive as 2012's.
Unlike several other deep threats, Bowe has shown he can excel in nearly any role, having caught passes on nearly every route, including screens. As a receiver who can move the chains or create explosive plays from anywhere on the field, only his reliability limits him.
The former LSU standout is well-known for dropping passes and occasionally being lazy, but the production he provides week in and week out is more than enough to overlook those issues. His agility is above average, but it is his reaction to the ball in the air that makes him more fascinating than anything else.
Bowe is blessed with a nearly perfect ability to track the ball in the air and respond to it, sometimes performing incredible athletic feats, like circus catches inevitably replayed on ESPN. Unfortunately, he'll too often worry about what happens after the catch than completing the process, frustrating fans on relatively easy throws.
With good strength and as a reliable blocker, Bowe provides a lot to the Vikings, especially with his ability to create space, even against faster cornerbacks. The Vikings may end up wanting to pay a premium for a player like Bowe, who could be a difference-maker. But they probably should only do so if they're confident Christian Ponder can feed Bowe the ball.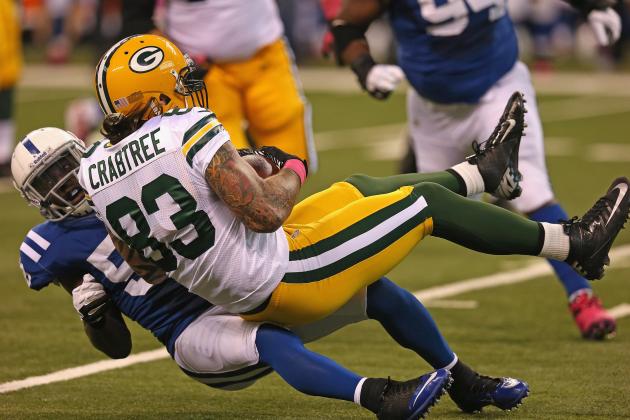 Jonathan Daniel/Getty Images

Moise Fokou's presence on this list is more a commentary on the available linebackers than it is his phenomenal performance.
While it is true that Fokou is undervalued and underrated, it is mostly his likely contract demands and perceived worth that place him this highly on the list. The Vikings are in desperate need for a middle linebacker and Fokou fits the bill perfectly.
The other linebackers on the market, including Nick Roach and Dannell Ellerbe, already do something the Vikings have no need for (Roach is a strongside linebacker, like Greenway) or are not fits for the system (Ellerbe is a good inside linebacker for a 3-4, but is not very capable in coverage).
Others do not provide much value above their replacements. There is little evidence that weakside linebacker Justin Durant could outperform Erin Henderson, even though Henderson is coming away with a worse year than he might like.
In an otherwise weak year for middle linebackers, Fokou's unheralded performance alongside Jerrell Freeman should secure him another contract, although not the type of contract that would stop the presses.
Despite only recording 26 solo tackles and 12 assisted tackles, Fokou has shown that he has a nose for the ball and can flow to where the action is. While he definitely has trouble shedding blocks, his tackling form and ability to hit are valuable. More than that, his play in coverage should be respected, taking good angles against opposing running backs and tight ends, all while generating leverage.
Fokou is used to operating in a system that demands man coverage, so his skills in zones need to be tested before signing. Nevertheless, his speed has consistently kept receiving threats underneath him—a critical demand of the Vikings' system—and he's more than capable both at defending the run and the pass.
Fokou is a part-time player with full-time skill, enough to replace more than half the linebackers in the league, Jasper Brinkley included. A small, limited contract would be more than worth its weight in gold if the Vikings were thinking about going after a linebacker in free agency.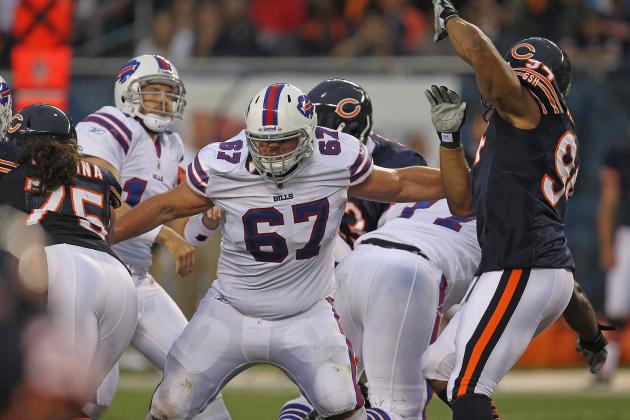 Jonathan Daniel/Getty Images

Andy Levitre could prove to be the best player in the free agency market today, and any team that signs him will have to pay him quite a bit of money.
Levitre is the model of efficiency, with nearly perfect technique in the pass-blocking game and an improving run game. He wears his size well and is hard to topple. The Bill sits low to the ground while still moving his feet quickly enough to deal with pass-rushers of every breed.
He slides well and also pulls off excellently in screens, making him more than a base-level guard on run plays, although there are slight issues with locking onto defenders. He can play in zone systems or man-blocking systems, although he is admittedly better as a man blocker who may need to find his defender laterally instead of vertically.
That he and Urbik are hitting the market at the same time could be a big problem for the Buffalo Bills, as they may form the best guard tandem in the NFL, with only New Orleans and Cincinnati providing them with a run for their money.
The simplest way to evaluate Levitre is simply to say that he'll do what's asked of him. If he needs to roll out on a screen, he can perform with the best of them. If the Vikings need him to assign protections, pick up blitzers, trap defensive tackles or pull out on a power play, he can perform with the best of them.
Even his relative weaknesses are strengths compared to the rest of the league, with an excellent intuition for peeling off defenders, an above-average ability to hit defenders on the second level and a strong base that allows him to control the point of attack.
Nearly any team would be doing themselves a favor signing Levitre, and it would be hard to overpay him. The Vikings, in desperate need of interior protection and consistency, are better buyers than most.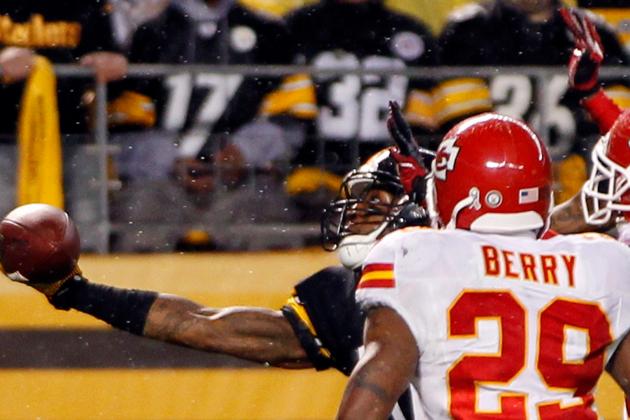 Gregory Shamus/Getty Images

Mike Wallace is easily the most coveted free agent on the market, and if the Steelers cannot secure a contract with him, Wallace will find a team in the NFL willing to offer an extraordinary sum for his services.
While Wallace is a restricted free agent, and therefore subject to a matching offer by the Steelers, it's likely that the highest bidder will simply grab his contract.
Wallace is known as a speed demon, and it's true that there are fewer players faster than him in the NFL. He offers much, much more than that, however.
His initial acceleration off the line, his lateral agility and his hip movement all combine with straight-line speed to make him one of the league's most elusive receivers. Along with an ability to avoid press coverage by sliding off cornerback jams at the line of scrimmage, Wallace can avoid tackles after the catch and create additional yardage.
As a deep threat, Wallace is nearly unparalleled, but he can also work out of the slot or work catches over the middle. In fact, Wallace has lined up in the slot on nearly 15 percent of his snaps, and his route running in short spaces is something to be admired.
Because he's not the tallest receiver available at 6'0", Wallace generally relies on his elite speed and incredible ability to react to a thrown ball in the air, making adjustments with his body that maintain his stride and give him additional yardage.
Unfortunately for him, but perhaps fortuitous for other teams, Wallace has been having a down year characterized by high profile drops. Despite a rotating quarterbacking corps, however, Wallace's drop rate compared to catchable balls thrown is not terribly poor among primary receivers, ranking alongside Andre Johnson and Julio Jones for dropped passes per catchable attempt.
It's clear Wallace has lost some of his negotiating clout, but he still will be very expensive. Teams know what they saw in 2011 and are sure that they will see it again. The Vikings need a player like Wallace in the worst way, and he would open up an offense afraid to pass downfield. Receiver separation has been a problem for the Vikings all year, but the addition of Wallace should remedy that problem in no time.
Signing Wallace would be one of the best moves the Vikings could make to immediately compete in the division.