Texas A&M Football: 2013 Recruiting Class Makes Aggies Legit BCS Contenders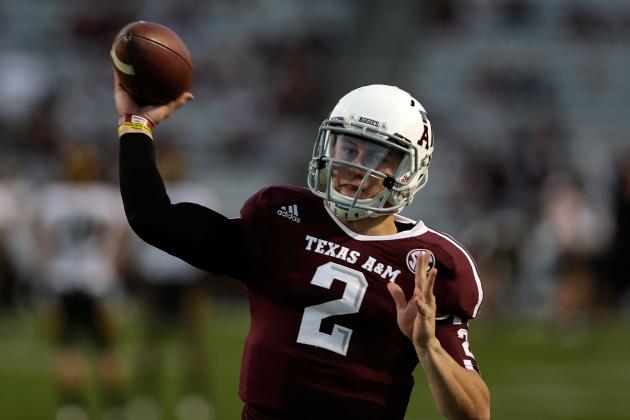 Scott Halleran/Getty Images

The Texas A&M football team is currently ranked No. 9 in the BCS Poll and will finish the season ranked in the top 10 if it defeats Oklahoma in the Cotton Bowl. With the talent coming to Aggieland in the 2013 recruiting class, the Aggies will be legitimate BCS title contenders in 2013.
As with anything else in college football, nothing is set in stone. Arkansas entered the 2012 offseason as a national title contender, and one famous motorcycle ride later, became an also-ran in the Southeastern Conference.
The Aggies will have to weather a trio of juniors considering the NFL draft while keeping their coaching staff from being poached by rival programs. They also have to deal with the inevitable last-second decommits that tend to plague programs close to signing day.
With the talent returning and the large number of players joining the program in this class, Texas A&M should make a serious run at the national title. This is a look at why the Aggies are primed for a run at the BCS title game.
Begin Slideshow

»
The biggest threat to the success of the 2013 season for the Texas A&M team is the NFL draft. The Aggies currently have three juniors predicted to be drafted in the first round if they enter the draft early.
Some mock drafts have defensive end Damontre Moore, left tackle Luke Joeckel and right tackle Jake Matthews going in the top 10 of the first round.
It will be tough for all three juniors to turn down first-round money. If the Aggies are able to retain two of the three juniors, then that should be considered a success. Joeckel and Matthews both have brothers on the A&M team.
Matthews may want to return to play on the same offensive line as his brother, Mike Matthews, who will be the starting center for A&M in 2013. Playing one last season with their brothers may be enough to keep the two offensive linemen to return for a shot at the national title.
If A&M head coach Kevin Sumlin can convince all three of his All-SEC juniors to return for their senior year, it will be a tremendous boost to the Aggies' chances at winning a national title.
Texas A&M will lose one senior starter and one backup from its defensive line to graduation. Spencer Nealy and Jonathan Mathis will be gone from an already thin depth chart.
The Aggies have five defensive linemen committed in the 2013 class. Jordan Points, Kerrick Huggins, Isaiah Golden and Hardreck Walker project to be interior defensive linemen for the Aggies.
Texas A&M fans should expect at least two from that group to see extended action in 2013. Huggins, Golden and Walker are all over 280 lbs right now. They all possess the size to hold up in the trenches against Southeastern Conference offensive lines right now.
Points is currently listed at 255 lbs. He should be around 270 by the time he arrives on campus in August. He has the frame to add weight easily and should play defensive tackle for the Aggies at somewhere around 290 lbs.
The Aggies had very poor depth during the 2012 season, particularly on defense. If you add the incoming defensive tackles to freshman Alonzo Jackson and redshirt freshman Polo Mankainiu, the Aggies should have much better depth on the defensive line in 2013 than they did in 2012.
Texas A&M was very lucky with injuries in 2012. It cannot count on that luck two years in a row. The improved depth will help the Ags sustain a championship run.
The 2013 recruiting class is stacked with offensive skill position talent. Sumlin and his staff have done a great job of gaining the commits of dynamic playmakers like Laquvionte Gonzales.
The 5'10", 160-pound athlete from Cedar Hill (TX) High School is one of the most explosive football players in the nation. He should see immediate playing time at the slot wide receiver position vacated by Ryan Swope's graduation.
In addition to Gonzales, the Aggies are bringing in a trio of 6'3" wide receivers in Quincy Adeboyejo, Kyrion Parker and JaQuay Williams. You can line up any of those three opposite from A&M receiver Mike Evans, and you will have a size matchup on both sides of the field.
A&M offensive coordinator excels at spreading the field out and getting the ball into the hands of his playmakers in space. The 2013 class gives Kingsbury a nice group of options to choose from.
One of the more interesting commitments in the 2013 class is that of junior college tight end Cameron Clear from Arizona Western Community College. The Ags run a spread offense and do not have a traditional tight end position.
Sumlin and Kingsbury used their tight ends as blockers our of the backfield, especially when they were in the red zone. With senior tight end Michael Lamothe graduating, the Ags needed another strong blocker to help out the running game.
Clear is a 6'6", 260-pound athlete who is a devastating blocker. He was originally recruited to Tennessee out of high school to play offensive tackle. As a freshman at Tennessee, he played tight end and was used mostly as a blocker. He did have one reception for four yards in 2011.
He was suspended from the program before his sophomore year because of an arrest. Clear went to junior college and will now head to Aggieland to give A&M quarterback Johnny Manziel a huge receiving target.
He will arrive in College Station in January and will participate in spring practice at A&M.
Sumlin and his staff have wasted little time attempting to address weaknesses in the program with junior college players. In addition to Clear, the Ags hold commits from Kenny Flowers and Jeremiah Stuckey.
Flowers is a linebacker from Hutchinson (KS) Community College. He will immediately compete for one of the starting linebacker positions vacated by Sean Porter and Jonathan Stewart. Expect Flowers to get a serious look at Porter's outside linebacker position.
Stuckey is an offensive tackle from the City College of San Francisco. He is an insurance policy in case Joeckel or Matthews enter the NFL draft. If both juniors return for their senior years, then Stuckey will offer the Ags some depth at offensive tackle.
All three junior college commits will be at A&M to participate in spring practice.
The secondary was the weakness of the 2012 Texas A&M football team. The Ags have allowed 248 yards passing per game. To address a secondary that has been inconsistent, the A&M coaching staff is bringing in five defensive back recruits.
in Noel Ellis and Tavares Garner, the Aggies have two very highly thought of cover corners entering their program in 2013. They are also bringing in three big safeties who have the size to play in the SEC right away.
Victor Davis, Kameron Miles and Jonathan Wiggins are all at least 6'1" tall and 180 lbs. They will help ease the loss of senior safety Steven Terrell to graduation. Part-time starter cornerback Dustin Harris is also graduating.
The influx of defensive backs to the A&M program should improve the secondary's play on the field.