Preaching Panic or Patience with Aging Boston Celtics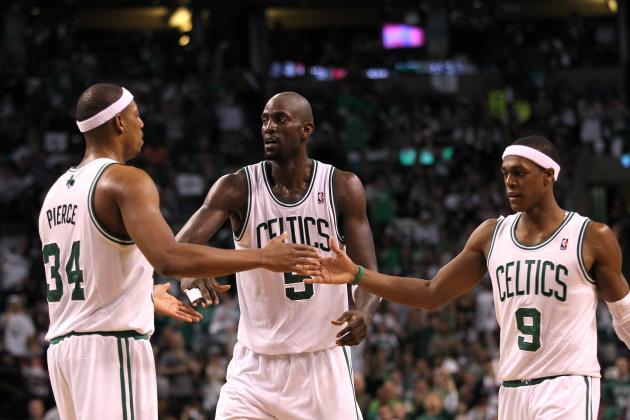 Jim Rogash/Getty Images

The Boston Celtics' sluggish start has resulted in a 9-8 start, but the coaching staff does not appear concerned. In a report by Chris Forsberg of ESPNBoston.com, assistant coach Armond Hill declares that the team is "looking good" after performing well in two games without star point guard Rajon Rondo, and the team's seemingly bright future is discussed.
Even though the season is just a month old, the Celtics can do anything but coast and expect to make the playoffs as they have in years past. The Eastern Conference landscape has changed, and aging Boston is far from the championship-winning squad they were in 2008. Still, the coaching staff remains patient even as the team prepares to play most of December on the road.
Boston can agree to be patient in certain regards, particularly the slow start of star scorer Paul Pierce, but must show more urgency in addressing the team's weak interior defense. No matter how optimistic the coaching staff is, there are some issues that are not going to go away simply because team management wishes it so. The fact is that the Boston Celtics have real flaws this year, and they must be addressed one by one.
Begin Slideshow

»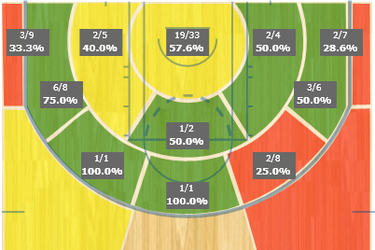 shot charts courtesy of nba.com
The Celtics brought Lee in to replace Ray Allen, but he has yet to fill the large shoes left by his predecessor. Lee struggled with his jump shot to start the season, and has only shot 24 percent from long range.
Team management can breathe a sigh of relief now that Lee seems to have finally started to turn things around. His field goal percentage is up to 46, and he is settling back into his usual role of bench pest and shooter.
Yes, it can be argued that $21.5 million over four years was too much for Boston GM Danny Ainge to spend on Lee, but the man's overall skills on the court are a good fit for the Celtics. His shot chart may not suggest it, but he is actually a decent three-point shot and can do some fine work above the rim. He can also play good defense, which is always welcome in head coach Doc Rivers' system.
Fans should thus not be too worried about Lee. Once he is back in his regular role for good and not trying to carry the team with scoring, the Celtics can start working towards improving for the rest of the season.
Verdict: Patience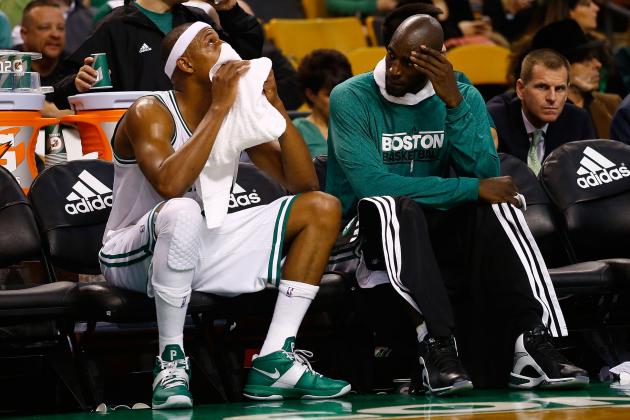 Jared Wickerham/Getty Images

One of the Celtics' biggest issues is that two of the team's best players are getting up there in years. Paul Pierce, though effective, is 35 years old and not the same scoring threat he was in the prime of his career. Kevin Garnett is still a tough defender, but is 36 and has fought the injury bug ever since coming to Boston.
The greater problem here is that Doc Rivers has young talent on his roster, namely Jeff Green and rookie Jared Sullinger, but refuses to expand their roles on both offense and defense. Seeing as how Green has averaged 13.6 points per game for his career and has scored 27 points over Boston's last two games, giving him more touches or just a few more minutes per game could make a tremendous difference.
It is highly unlikely that will happen. Rivers' system calls for the veterans to carry the team, and the odds of him pulling a Gregg Popovich and slowly incorporating the young reserves is even more unlikely.
Boston is thus destined to be an old team, and that's going to come back to bite them if a turnaround does not happen soon.
Verdict: Panic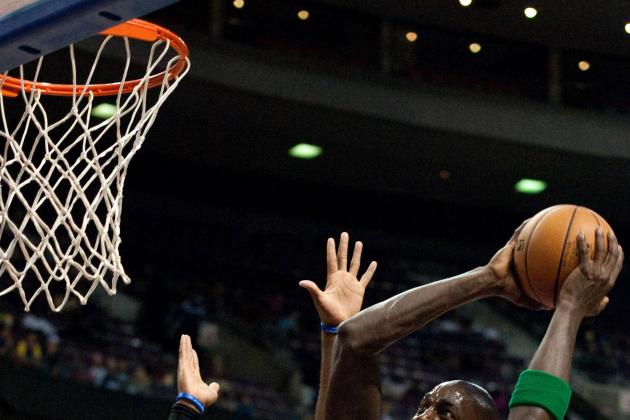 Tim Fuller-USA TODAY Sports

The Celtics' greatest struggle has been in the paint, and the team is currently the worst rebounding squad in the NBA. Boston averages just 37.4 rebounds per game, and Kevin Garnett leads the pack at 7.4 per contest. His age has really shown under the basket this season, particularly since he averaged 8.2 rebounds last year.
Again, here is an issue that can be solved with a simple tweak of the lineup. Doc Rivers has a fine young big man in the making on his bench, this time in the form of rookie Jared Sullinger. The team's first-round pick averaged 9.7 boards per game at Ohio State, so why is he only averaging just over 18 minutes per game?
Sullinger also has good size at 6'9", 260 pounds, and can become a fine big man as he develops his low post game. Boston has a seeming solution to their rebounding problem right in front of them, but are not using him for some reason or another.
That isn't to say that Sullinger is the sole answer to the Celtics' rebounding troubles. As Garnett's body continues to age, Brandon Bass must step up his effort in the paint and Rivers must be willing to give more minutes to Chris Wilcox.
The point is that apart from obvious parties needing to step up, Boston has the tools to fix its rebounding woes. Sadly, because Rivers' system is so reliable on the frontcourt starters, this is an issue that won't be a quick fix.
Verdict: Panic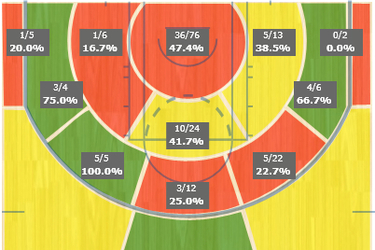 shot charts courtesy of nba.com
Paul Pierce is the Celtics' go-to guy on offense, and he has done a decent job this season. He is averaging 19.2 points per game, and his shooting 39.5 percent from long range. As a whole, however, his scoring has been less consistent than usual.
As can be seen from his shot chart, a majority of his attempts are coming either in the restricted area or behind the three-point line. His mid-range jumper has not been as consistent, and thus he has shot just 42 percent from the field. That's just a bit off from his career mark of 45 percent.
Some fans may look at Pierce's struggles with his jumper as a sign of his age, and it very well might be that. Still, he is a conscientious player and will keep at his mid-range game until the shots start to fall. He knows how important he is to the Celtics, and he is of little use to them if his offensive game comes to the point where he is only taking shots from one of two areas.
It may take a little more time for it to get on track, but Pierce's shooting game is not in any danger of leaving him any time soon. With patience, he will look like his usual self in no time.
Verdict: Patience
Jared Wickerham/Getty Images

As Forsberg noted in his article, Doc Rivers and his staff do not appear overly concerned with the team's 9-8 start, and this is a grave mistake on their end. Boston currently stands fourth in the Atlantic Division, and would be the No. 7 seed in the Eastern Conference were the season to end today.
On top of that, this year's Eastern Conference is far different than those in recent years. Not only are the rival New York Knicks playing some great basketball, but the Brooklyn Nets are coming into their own as an up-and-coming team. The Philadelphia 76ers have also improved and played well despite the lack of center Andrew Bynum, and are going to continue to play hard and prove that they can be a perennial contender.
Most important of all is that the Miami Heat are still as dangerous as ever. They have showed no signs of slowing down despite struggling on defense, and they are playing like they are ready to win a second consecutive championship.
The sad truth is that as great as they have played the past few years, the aging Celtics are starting to fade into the background. Rivers may have faith in his men and believe that they can turn things around, but a long playoff run isn't going to be handed to Boston on a silver platter as it has been in recent years.
In 2012-13, the Celtics will need to work hard for what they desire and not let their status as a regular contender make them cocky. Their record this season has shown that they are indeed mortal and unless immediate changes are made over the season, be it a lineup shuffle or a trade, their age will catch up with them and the season will end in disappointment.
Verdict: Panic