The Arizona Cardinals have surrendered the most sacks in the NFL this season. Most—looking only at season-long numbers—will say that makes them football's worst current unit.
They would be wrong.
It's true: The team has given up a league-high 47 sacks according to ProFootballFocus. Thirty-seven of those have come from the offensive line—nine more than any other group of offensive hogs.
But over the last five games, the line has improved and has become one of the best pass-blocking units in the NFL.
This chart shows a game-by-game breakdown of the line's performance. You can see the decrease in total quarterback pressures allowed and the increase in QB drop-backs per pressure allowed.
NFL rank reflects the line's placement among other NFL teams in terms of QB drop-backs per pressure allowed (all stats gathered by PFF).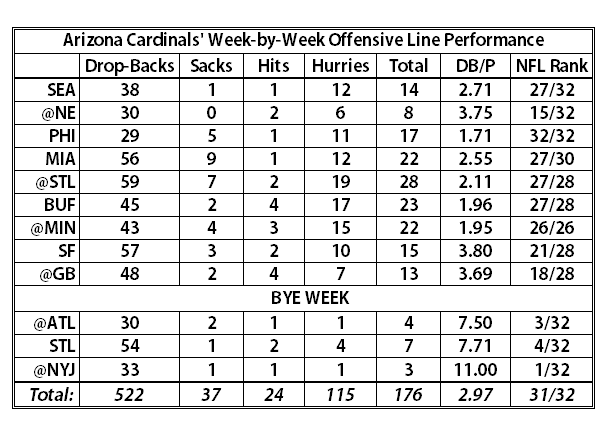 Yet, the team continues to lose despite the improvement of what was the weakest group on the roster.
The defense is playing well; the line has been great since the bye week. There have been open lanes through which running backs can run, only they have not hit them consistently enough of late—Beanie Wells, especially.
The Cardinals' struggling run game is part of the offensive problem, yes. But the quarterbacks have not been good enough to make the line's improvement pay off.
If you did not see the Week 13 game against the New York Jets, allow these statistics to tell you just how bad rookie starter Ryan Lindley was:
The offense committed zero penalties
The offensive line was charged with one of two sacks surrendered
Rookie Bobby

Massie

was the sixth-highest-rated right tackle for the week (per

PFF

)
Despite good protection and no costly penalties to ruin drives, these statistics are what dominated post-game articles:
0-for-15 on third downs
Five first downs—one via penalty

Lindley

: 10-of-31 for 72 yards and one interception
Twenty-three of

Lindley

's passing yards came on his first passing play of the game
2.32 yards per pass attempt—third-lowest in franchise history (since 1960)
21:52 time of possession—lowest since 23-7 loss in San Francisco, Week 11, 2011
Ten three-and-outs, 11 possessions with no first downs
The offensive line was the best pass-blocking unit in football last week, yet the team was able to muster only two Jay Feely field goals. If not for turnovers created by the defense, it would have been just one field goal. Safety Kerry Rhodes' forced fumble recovered by linebacker Daryl Washington led to the second of Feely's field goals—the offense began the drive already within the kicker's range.
Despite the improved protection, coach Ken Whisenhunt blamed his offensive line for Lindley's first-half struggles in New York. Lindley was not sacked in the first half.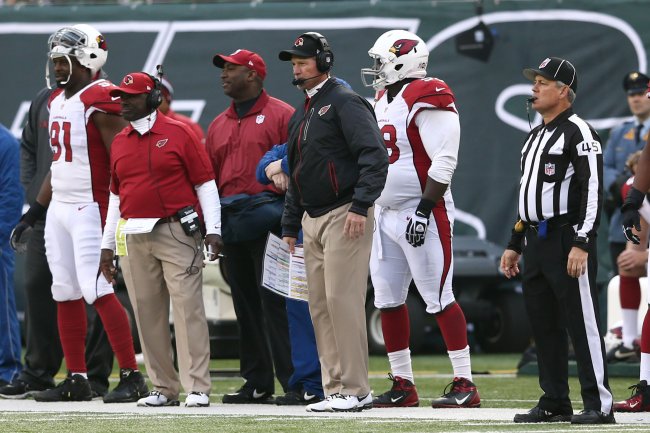 Debby Wong-USA TODAY Sports
Here is the full quote from Laura Okmin of the Fox broadcast team, provided at the beginning of the third quarter:
Ken Whisenhunt said, 'What we saw the first half was a young quarterback struggling versus a lot of looks.' Coaches went in at halftime and wanted to take a look at what he is doing comfortably so they can keep doing that. He said the big thing was, 'We want to make sure the protections are right.'
The coach used the excuse that his quarterback was struggling because he is young and inexperienced against a good defense. Then, he placed blame for those struggles on an offensive line that, by the end of the game, had surrendered one sack, one QB hit and one hurry.
The next day during his weekly press conference, Whisenhunt said the following (via Darren Urban of AZCardinals.com):
We talked about it (pulling Lindley for Skelton) in the course of the game. But when you play a team that gives you a multitude of different looks and how it is being communicated, at the point where you have to make that (QB) change, you have to understand, is it because the guy in there is not playing well? Because you are going to lose a lot of what you have gone through in the first parts of the game as far as understanding the protections and where the sights are and where the checks are.
Let me pull all that together for you: Whisenhunt was afraid of losing what the offense had gone through in the first half by pulling Lindley and inserting Skelton. He was worried Skelton couldn't do what Lindley had done with the offense, that all momentum they had gained would be lost.
What would they have lost?
Lindley was 6-of-20 for 48 yards and an interception in the first half of the Jets game. His passer rating was 18.8. The offense was 0-for-9 on third downs.
Whisenhunt was afraid of losing that?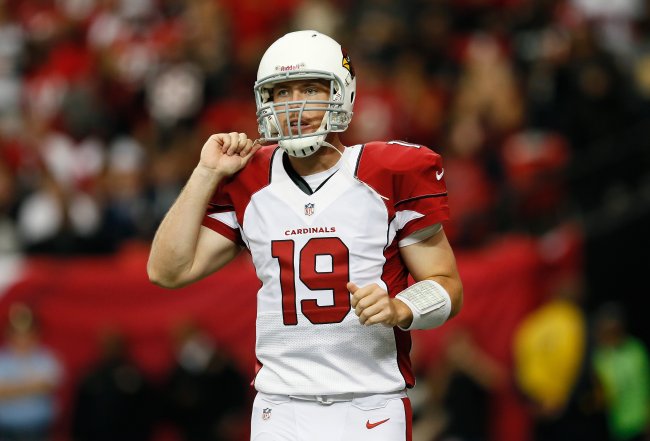 Kevin C. Cox/Getty Images
Before being pulled in Atlanta, Skelton was 2-of-7 for six yards and had a passer rating of 39.6. The offense was 0-for-4 on third downs. Not so different a situation, right?
We're in the business of winning games. We're going to make changes if we feel like that gives us a better chance to win going forward, and that's what we said we were going to do. … If you're going to hold other guys on the team accountable, you have to hold every position (accountable). It's not 'Every position but the quarterback.'
That is a quote from the post-game presser in Atlanta (via Urban), the game during which Lindley took over for Skelton following his miserable first quarter.
Whisenhunt's accountability rule doesn't apply to Lindley, however.
If Whisenhunt is, indeed, in the business of winning games, what he considers the "best chance to win" is demented and flawed.
Yes, quarterback is the biggest issue facing the Cardinals right now. Whisenhunt has not named a starter for the Seattle game as of yet, and that only means he is buying time before he names Lindley the starter with some speech attached to the press conference stating how "we are in this to win games, and right now we feel Lindley gives us the best chance to win."
It's the same line he has been regurgitating all season. We heard it when he named Skelton the season-opening starter over Kevin Kolb. We heard it again when Kolb remained the starter after Skelton had recovered from the ankle sprain he suffered against Seattle in Week 1.
Now we are hearing it again—week after week when the media asks him whom his starter will be.
They know Lindley is not ready for NFL action. It's a shame Whisenhunt does not. He is costing the franchise victories. But is that a blessing in disguise? With the playoffs all but an afterthought, draft position could now be most important.
Is there any chance Ken Whisenhunt saves his job this season?
Is Whisenhunt doing the franchise one last favor before doing us all a favor and cleaning out his office?
If and when Kolb is ready to return, you have to believe he will be the starter. It is quite obvious the head coach has zero faith in Skelton as a quarterback. He was asked directly Monday whether that was the case, and in typical Whisenhunt fashion, he said, "I wouldn't say I lost confidence in John's ability."
Then what is it about Skelton that made him pull the trigger after what amounted to a typical slow start from his starter?
The world may never know.