Miami Football: Handing out the Hurricanes' Post-Season Awards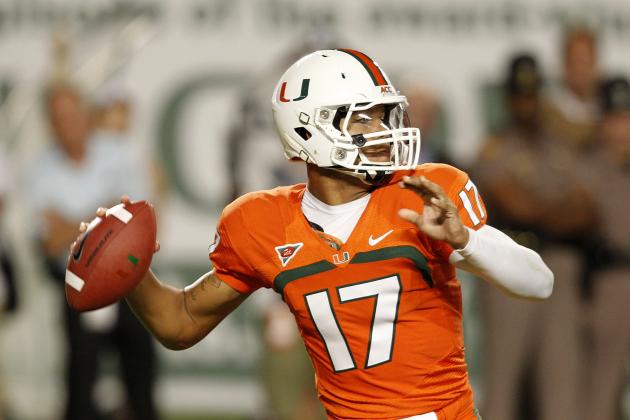 Joel Auerbach/Getty Images

For the second-straight season I am providing everyone with my annual football awards from the Miami Hurricanes 2012 season. As stated in last year's article, I am not able to hand out any awards to scout player's as I do not attend any practices.
Overall there are plenty of awards to hand out, some surprising and some no-brainers.
Read on to see who won what!
List to official 2011 winners.
Begin Slideshow

»
How could I go against a guy that smiles every time he enters a room? James was not only a stud-running back, but perhaps one of the nicest guys in the country.
Never did he brag or talk about himself, it was always about the team and winning football games. The media adored him and should have as he was the epitome of how every athlete should condone themselves.
You could tell the media loved him and he drew attention with his charming personality and witty sense of humor.
James will truly be missed.
2011 official winner: Laron Byrd
There were a lot of players that I could have given this award to; Eddie Johnson, Denzel Perryman and Seantrel Henderson all made tremendous hits all season long, but after much deliberation I had to give it to true freshman Deon Bush.
Last year I chose Perryman becuase of the countless number of hard hits he had throughout the season—same can be said for Bush this season.
Perryman was close in becoming my choice for the second consecutive year, but missed a few games and struggled at times with an injury. He still made bone-crushing hits but wasn't consistent enough for me.
Bush missed a couple games due to an injury as well, but there wasn't one game that he played in that he didn't make at least one brutal hit on an opposing player.
I know people don't like to compare current players to past players, but Bush honestly reminds me of Ed Reed.
Let's hope he ends up with a similar career.
2011 official winner: Harland Gunn
Is there really any doubt who the newcomer of the year would be? I will give you a hint—he first name is Duke.
There were a lot of a good choices for this award including the Deon Bush from the previous slide, but let's be honest—Duke Johnson didn't just come in and have a good season, he ended up with one of the best season's in the history of the program.
Duke broke broke Clinton Portis' school rushing record for freshmen, ending the season with 947 yards. He also finished with 2,060 all-prupose yards, second-most in program history and most by any Hurricane freshman.
He was just as good in the return game ending with a Miami single-season high of 892 kick return yards and two touchdowns.
Duke was voted on to the second-team All-ACC team at running back and specialist as well as voted on to the third-team All-American team as an all-purpose runner by CBSSports.com.
Did I mention this one was a no-brainer? Well, it was.
2011 official winner: Denzel Perryman

Who else could I have given it to on special team besides Duke Johnson?
Duke was a monster as a returner ending the season with an all-time Hurricane record 892 kick return yards and two touchdowns.
He also finished No. 3 in the country in kick off return average with a mind-boggling 33.04 yards per return.
2011 official winner: Andrew Swasey and Jake Wieclaw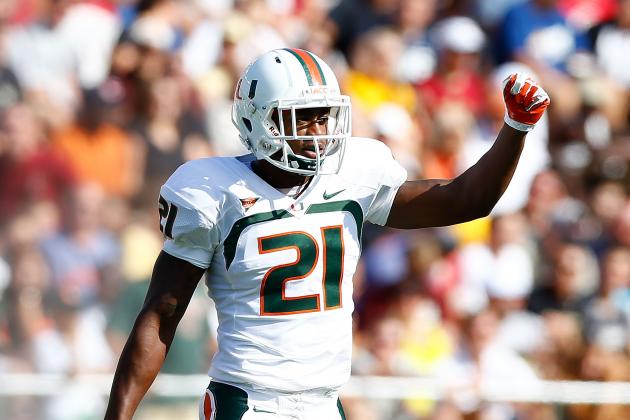 Jared Wickerham/Getty Images

This one was a toss-up between Phillip Dorsett and Brandon McGee. Statistically, Dorsett had the better numbers going from 14 receptions in 2011 to 58 this season, but I am going to give the award to McGee.
I know that a lot of you probably have other choices to win this award but I can't stop and think about how poorly McGee played the last three years at Miami.
After an OK freshman season I had high hopes for him and he did nothing but be overrated. This year you can't say that about him.
McGee didn't have eye-popping numbers but it was because not that many team's through his way. He had a tremendous season and kept the best opposing receivers at bay—for the most part.
He won't be an All-American, but McGee showed me what I wanted to see for the last three years—consistency and good coverage skills.
Better late than never.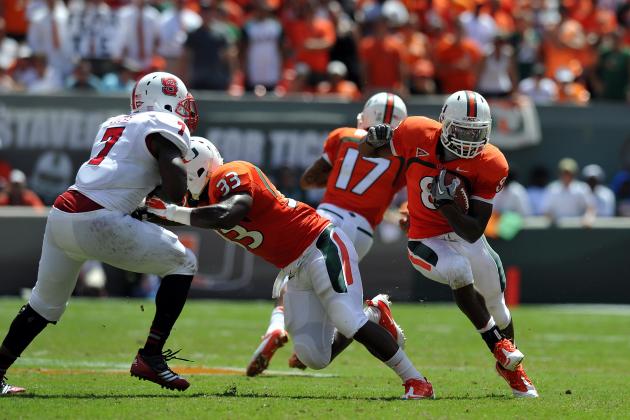 Steve Mitchell-USA TODAY Sports

I know many of you are expecting Duke Johnson in this slide and you would be half right. I am adding Stephen Morris to be the co-MVP of the team based on the same reason why Duke is here—record-setting season.
I won't bore you with the statistics regarding Duke—just go back a few slides if you need a refresher—instead I will bore you with Morris' numbers.
Morris finished the season with 3,415 yards of total offense, the most in school history. His 3,345 yards passing ranked fifth in school history while his attempts (421) and completions (245) are first and second respectively.
Morris also broke the all-time ACC record for most passing yards in a game when he threw for 566 against North Carolina State. He finished the season with three games in which he threw for over 400 yards.
Morris, along with Duke, made the biggest difference on the team so it's only right that they share the award.