Knicks Show off Depth, Prove They Can Play with the Champion Heat in 112-92 Win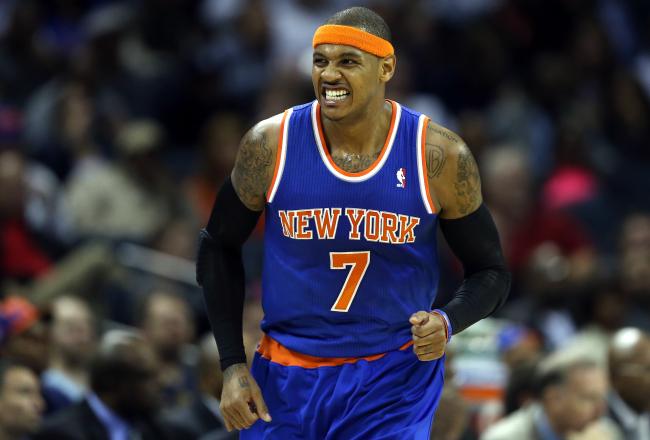 Without Carmelo Anthony, the Knicks blew out the Miami Heat by 20 once again
Streeter Lecka/Getty Images
If you were doubting whether anyone in the Eastern Conference can compete with the Miami Heat, especially with Derrick Rose still out for Chicago, it's time to open your eyes.
There is a new sheriff in town, and it's the New York Knicks.
The Knicks, always in the news—whether good or bad—made their city forget about the damage inflicted by Hurricane Sandy for just one night in a 104-84 opening-night victory at Madison Square Garden over the reigning NBA champions.
On Thursday night, they went into South Beach, where the Heat hadn't lost this year, and laid another beating on LeBron James and company by a score of 112-92.
It was the most lopsided loss of Miami's "Big Three Era" in which the entire trio of LeBron James, Dwyane Wade and Chris Bosh were all playing.
LeBron scored 31 points and came within one assist of recording his second straight triple-double. Bosh and Wade combined to shoot 6-of-25 from the floor for a total of 25 points.
Perhaps what made this victory even more impressive was the fact that the Knicks won without Carmelo Anthony, who suffered a finger laceration and decided to play it safe.
This proved not to be a problem because the Knicks were able to bury the Heat with a three-pointer barrage led by Raymond Felton (27 points, 7 assists, 6-of-10 from three-point range) and Steve Novak (18 points, 4-of-9 from three-point range), along with killer defense from Jason Kidd (+31) and Tyson Chandler (+23, 9 rebounds).
After being tied at 53 at halftime, the Knicks jumped out to a 10-point lead after the third and stepped on Miami's throat in the fourth, holding the Heat to just 12 points in the final period.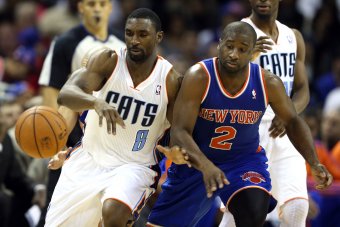 Streeter Lecka/Getty Images
In this blowout victory, the Knicks proved that they are deep, they are for real and that Miami is not invincible. There is no doubt that the Heat now have company in the East, and it is not the Bulls, it's not the Celtics, it's not the 76ers, it's not the Pacers, and it's not even the Brooklyn Nets—it is the New York Knicks.
Miami has been exposed. It has little size, which will be a problem against teams like Memphis, San Antonio, New York and both Los Angeles teams. Wade also looks banged up and is clearly on the decline.
Still, any team with LeBron James is not a team to be underestimated. He is unquestionably the best player on the planet, but he looked like the only player on the Heat who cared at all during this embarrassment. James is going to be a favorite for the MVP award yet again because he will carry his team as always.
Still, they may have met their match in the New York Knicks, and these Knicks are not going away anytime soon.
First off, their formula for success is simple: a commitment to playing defense, as well as sharing the basketball to create and knock down shots. The Knicks are third in the NBA in three-point-shooting percentage and are the best at preventing turnovers while being the fourth-ranked team in terms of creating them.
Overall, the Knicks have the fourth-highest-scoring offense in the NBA, without Amar'e Stoudemire, and the eighth-best defense in the league, without Iman Shumpert and Marcus Camby.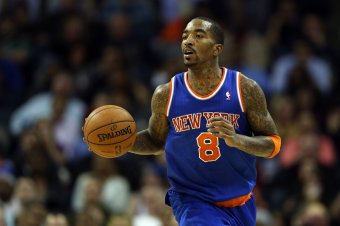 Streeter Lecka/Getty Images
Carmelo Anthony, who has been committed to playing defense like never before, all while continuing to be a beast offensively, has led the way. He is scoring 26.4 points per game and shooting just under 44 percent from three. His field-goal percentage and rebounding numbers are in line with his career norms.
Many of the Knicks' offseason moves have exceeded expectations so far. For instance, Jason Kidd has played some excellent ball while sharing the ball-handling duties with Raymond Felton, who is clearly motivated after returning to New York.
Ronnie Brewer has played very well since coming over from Chicago, and he has filled the perimeter defensive role that they lost in Iman Shumpert.
The Knicks also have plenty of size to match almost anyone. Tyson Chandler has been the usual defensive anchor, and the addition of Rasheed Wallace has reignited his hard defensive play. Also, keep in mind that the Knicks are missing the rebounding presence of Marcus Camby and the inside scoring of Amar'e Stoudemire.
The Knicks have the ninth-highest-scoring bench in the NBA, and this can improve once all three come back.
Don't think the Knicks have played an easier schedule, either. They already beat both Miami and Philadelphia twice and scored some huge comeback wins in San Antonio and Charlotte. New York has been successful despite a heavy road schedule in the early going, having played 11 away games to the tune of a 7-4 record. The Knicks are also perfect at home.
The only question that remains is: When he returns from injury, can Stoudemire fit well with this red-hot roster and reestablish himself as one of the elite power forwards in the league? Also, one has to wonder if the rebounding—currently tied for fourth worst in the league—can improve enough to keep the team in the game whenever shots do not fall.
How will the Knicks do in a playoff series against Miami?
Personally, I think the Knicks need to take it easy with both Amar'e and Shumpert, and have them come off the bench at first. They should slowly work them back into the rotation until they are finally ready to start and play significant minutes.
Once they can, they will officially establish themselves as one of the elite teams in the NBA and as legitimate contenders for the NBA title. At the very least, they will be a tough matchup for the Miami Heat.
Nobody is questioning the Knicks' talent. They can do a lot of things and do it well. Fitting Amar'e together with 'Melo will be the key, and they will see big-time results if this can happen.
But even if it cannot, they have already shown that they can hang with the Miami Heat due to their definite size advantage and ability to knock down shots in bunches while also defending well.
So if these two teams end up meeting in the playoffs again, don't expect such a rout of a series like last year. Both teams are much different, but the Knicks have improved a lot, and they are indeed for real.
This article is
What is the duplicate article?
Why is this article offensive?
Where is this article plagiarized from?
Why is this article poorly edited?

New York Knicks: Like this team?