3 Positive Lessons the Detroit Lions Can Take Out of the 2012 Season
Gregory Shamus/Getty Images
When reflecting on the Detroit Lions 2012 season, it's almost impossible to not be frustrated. After earning a playoff berth last season for the first time since 1999, the Lions were expected to take the next step to becoming elite. All they've done is regress and squander their hopes on playoff contention.
There's always a little bit of light hidden in every tunnel. Throughout all the struggles of the season, there are still a few bright spots of promise for Detroit's future. Here are three positives to take away from the Lions 2012 season.
1. Promising Rookies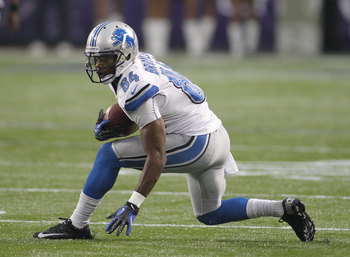 Andy King/Getty Images
The Lions have a young core of talented players, including their top three rookies. Lineman Riley Reiff, receiver Ryan Broyles and cornerback Bill Bentley have displayed a respectable amount of promise for the future.
Reiff has mostly been used in special offensive packages as an extra blocker on run plays. It helped elevate the production of running backs Mikel Leshoure and Joique Bell. He also started at left tackle for veteran Jeff Backus on Thanksgiving against the Houston Texans. Backus' franchise record of 186 consecutive games as a starter was snapped due to a hamstring injury. Reiff filled in and showed he can handle the responsibility as the anchor of the offensive line.
Bentley has had an up and down season filled with shoulder injuries and concussions. The Lions put their rookie corner on the injured reserve in early November after injuring his shoulder. Bentley injured his shoulder against the Oakland Raiders in preseason action and at Philadelphia in Week 6 against the Eagles.
Bentley also went through growing pains as he struggled in coverage with penalties. There were bright spots however, as Bentley showed he's a sure-tackler and has enough speed to keep strides with receivers.
The most impressive rookie has to be Ryan Broyles. With an injured Nate Burleson on the sideline, and troubled receiver Titus Young being a detriment to the team, Broyles has stood out with his opportunities. He is a crisp route runner who has a knack for getting open and separating from defenders.
The Oklahoma product unfortunately is done for the season after injuring his knee against the Indianapolis Colts. His return next season should only be promising and could potentially be a breakout season.
2. What Madden Curse?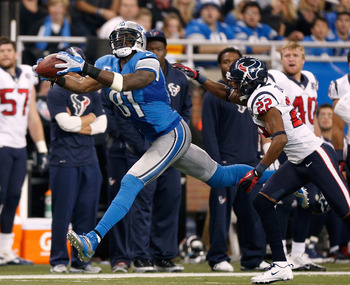 Gregory Shamus/Getty Images
If you aren't sure of anything else with the Detroit Lions, turn to Megatron for answers.
After gracing the 2013 Madden cover, the dreaded Madden Curse was all the conversation on Calvin Johnson's upcoming season. After a slow start with a low number of touchdowns, Johnson has dominated every aspect as the NFL's best wide receiver.
Through 12 games, Johnson has caught 86 passes for 1,428 yards. Megatron started the season on a slow roll with only one touchdown through the first eight games. He now has a touchdown in each of his last four games.
Johnson isn't only silencing the Madden Curse conversation, he's putting up record numbers in the process. He tied an NFL record of five straight games of 125 yards or more. He is also currently on pace to shatter legend Jerry Rice's single season record of 1,848 yards.
After signing his monster extension this offseason, Johnson will continue his high production as a Detroit Lion for the next seven years. As long as quarterback Matthew Stafford stays healthy, look for many more record setting seasons for Johnson.
3. Potential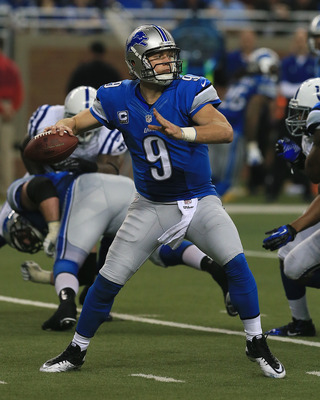 Dave Reginek/Getty Images
Through almost every loss, it's been frustrating watching the Lions beat themselves more-so than their opponents. Elite teams can't negate their victories with foolish penalties and mental mistakes from players or coaches.
Detroit hasn't lost a game by a bigger margin than ten points, which was a close game at Minnesota. The Lions have been in every game, but have set themselves up to fail with the inability to close games out, or take advantage of their opportunities. Detroit leads the league in dropped passes and lost to Houston after a major mistake by Jim Schwartz, among many other problematic occurrences.
But again, it's pleasing to see the talent and potential is there.
Matthew Stafford and Calvin Johnson still make up one of the most dangerous tandems in the NFL. Mikel Leshoure is a talented power-back the Lions can use for the future. And the rookies have contributed at a respectable rate.
The Lions need to solidify their offensive line and need to fill lots of holes on defense. But more importantly, Detroit lacks major leadership from their players and coaches. Once the Lions can find a commander to carry them through adversity and help keep this team disciplined, that will take them further than their future draft picks.
Keep Reading

Detroit Lions: Like this team?