5 People We'd Rather See in the Monday Night Football Booth Than Jon Gruden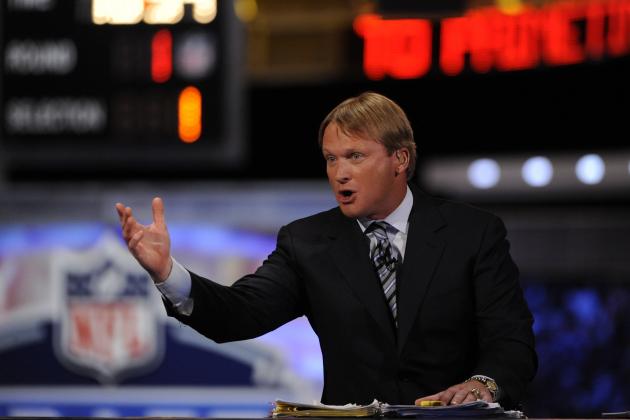 Howard Smith-USA TODAY Sports

ESPN's Monday Night Football analyst isn't everyone's cup of tea in the broadcast booth.
The former head coach of the Tampa Bay Buccaneers and Oakland Raiders (who used to cook at Hooters in the 80s) has his many fans and detractors.
Some people love his genuine enthusiasm for the game, while others tend to scoff at his effusive praise for the quarterbacks. His tendency to become immersed in cliche talk also annoys some, but that's the product of a business that practically runs on cliches.
While Gruden is locked up on ESPN for a while, every year around November and December he becomes the top candidate for just about any NFL and college opening available, especially high profile college jobs in the south. While two years ago it was the University of Miami rumored to be his landing spot, this season it's the University of Tennessee.
In both cases Gruden wound up turning down any overtures, but due to his relatively young age (he will be 50 at the start of the college and professional season next year) and his experience as a Super Bowl—winning coach, the cycle of teams and their fans clamoring for Chuckie will likely continue as long as their favorite college football program or NFL team needs a new head coach.
Of course, some people would like to see Jon Gruden replaced no matter what. Here's a list of some of the analysts that Gruden's detractors would rather see in the booth on Monday Night Football.
Begin Slideshow

»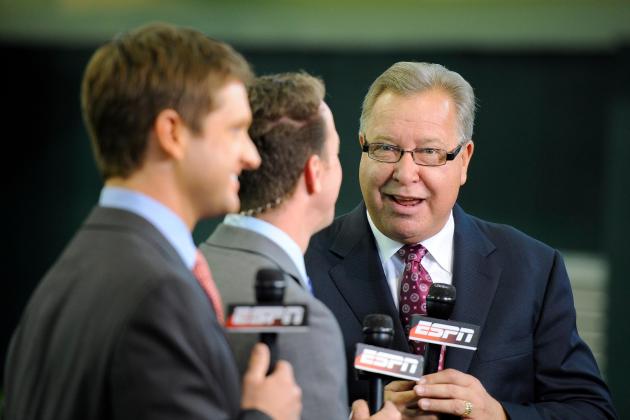 Jerome Miron-USA TODAY Sports

It would be ironic if Ron Jaworski wound up replacing Gruden in the booth on Monday Night Football considering that the two already worked together from 2009-2011.
For three seasons the two often found themselves on opposite ends of the argument, as Gruden would look at what happened through the eyes of a coach while Jaworski looked at it as of a player. At times the two would also trip over themselves to get a word in edge-wise, which is difficult considering they only have so much time to speak and both are fairly long-winded.
On his own, however, Jaworski works just fine in the broadcast booth. In addition to his days as a player, Jaworski tends to get a bit more inside information than Gruden has ever been able to. I can understand why Jaworski would get more of that insider edge (if you are a head coach in the National Football League, would you give insider information to someone you might be coaching against next season?), but it does make for better analysis.
Jaworski's main problem is that he can come off a bit too dry at times in his analysis, as many people notice during his appearances on SportsCenter and other related shows. But the analysis he could bring to the table on Monday Nights does enhance the broadcast in the same way that Cris Collinsworth's analysis makes Sunday Night Football informative.
The Star-Ledger-USA TODAY Sports

There's a good chance that Rex Ryan will be a free agent next season, and because of that I will put him on this list.
I don't have to tell you how entertaining it is to listen to Rex Ryan speak. Sure he's brash and maybe talks when he shouldn't, but that's what we like about him.
What Ryan brings to the table is he's relateable in a way that many NFL analysts are not. He may be a former defensive coordinator who (next season) could be a former head coach, but his personality makes him easy to relate to for the audience.
Ryan could be a lot more like John Madden than Jon Gruden; on television his plain-spoken, shoot- from-the-hip attitude will add a lot to the telecast. With his experiences growing up around the NFL, Ryan could also provide a perspective to the game that not too many analysts could.
I'm sure if I proposed this trade to New York Jets fans, they would accept it: just give Jon Gruden to the New York Jets, and in exchange ESPN gets Rex Ryan. Who would say no at this point (other than Gruden, of course)? It almost seems like destiny for Rex Ryan to become football's answer to Charles Barkley.
Hey, speaking of Barkley...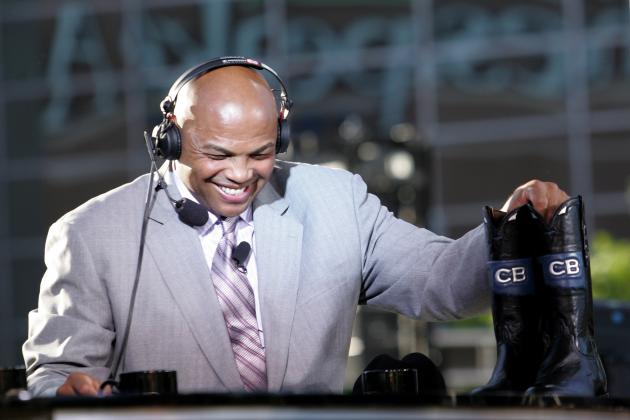 Brett Deering/Getty Images

Charles Barkley anywhere on television works.
Is he a basketball guy? Yes. But unlike other basketball guys, just putting Barkley near a microphone makes for good television.
Monday Night Football would be no exception. He's opinionated and doesn't care if you agree with him or not. One thing he does know is effort, or lack thereof. If he sees someone out there on the field that isn't carrying his weight, Barkley won't be afraid to challenge the guy on it. At the same time, he's just far enough removed from football that he will sound a bit more authentic and fan-like.
Let's face it: Other former NFL players seem to get their cues in the broadcast booth from years of hearing NFL coachspeak and adjust their analysis accordingly. We see this on FOX with Troy Aikman and on CBS with Phil Simms. Even guys I've mentioned before on this list like Ron Jaworski tend to fall into this trap. You speak a lot of words without really saying anything, and it adds nothing to the broadcast.
This is a problem that Barkley wouldn't have. Considering he hasn't been afraid to challenge players in his own sport, he will have no problem telling us what he feels in the broadcast booth and be a breath of fresh air.
On top of that—and even though the NFL frowns on this—there would still be a good chance that Sir Charles placed a wager on that evening's game. That would make for good television as well.
Remember the last time Monday Night Football thought it was a good idea to bring on a comedian?
I don't want to go on a rant here, but I do remember when they tried that little experiment. It was filled with so many obscure references that they even set up a separate web page to explain everything that he said. At times, watching a Monday Night Football broadcast with Dennis Miller was as painful as going to a medieval barber with a severe case of gangrene.
With that said, it doesn't mean a comedian can't work in the booth. Jimmy Kimmel works pretty well when he pops in from time to time on the show, but he's not who I'm suggesting; rather, his former Man Show co-host Adam Carolla seems better equipped for the job.
Full disclosure: Carolla is a hero to me. He's one of the funniest personalities and while his jokes are at times a bit mean-spirited, there's also a small bit of truth in them. His books are great reads, and his podcast is always worth a listen.
He'd bring not only the timing of a good comedian, but also the knowledge of someone who played football growing up. Carolla was recruited out of high school by California State Polytechnic University-Pomona (who has since disbanded their football program).
Carolla wound up not going to college, but instead worked menial jobs as a construction worker and boxing instructor before meeting Jimmy Kimmel, which would propel his career to new heights.
The rest is history. If you want to know why Carolla would be perfect for Monday Night Football, just listen to the video where he discusses his Pop Warner playing days, or check out when he guests on Bill Simmons' podcast. Carolla not only has the humor, but also enough chops as a football analyst to be an entertaining reason to watch on Monday Nights.
Information on Carolla's football career and life courtesy of his autobiography entited "In 50 Years We'll All Be Chicks."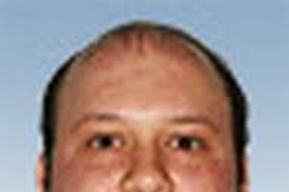 courtesy Grantland.com
No matter what the sport, the trend has been to use the method of pairing a play-by-play caller with a retired athlete and just talk about the action on the field.
However, statistical analysis is a major part of every sport. General managers use this to determine who to draft, sign, cut, or trade. Fans use it to gauge a player's effectiveness. Statistics must always be used in context; however, what's a better context than what you see in front of you.
This is why ESPN giving Grantland.com's Bill Barnwell a shot in the booth would be a major game-changer for how sporting events are televised. Barnwell is a master of using statistics to paint a story of what happened, and has been since he started with FootballOutsiders.com.
Since he joined ESPN's Grantland, he has become one of three major must-reads on the site along with Jonah Keri and Zach Lowe in terms of how they analyze their respective sports for the site.
Barnwell would not only provide stats for the situation, but also his own wit and humor to the proceedings. This is a chance ESPN should take, at the very least as a third announcer with Tirico and Gruden.