Chicago Bulls Players Making the Strongest Case for More Minutes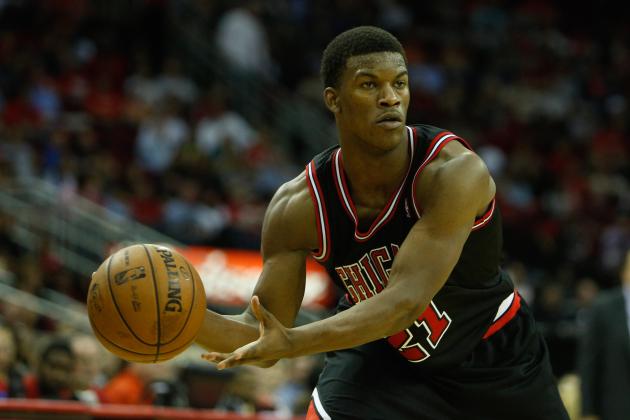 Thomas Campbell-USA TODAY Sports
Jimmy Butler has raised eyebrows throughout the season.
The 2012-13 Chicago Bulls have different chemistry than the past couple seasons, and as a result, it's taking time to evaluate which members should carry the bulk of the minutes.
In recent games, certain players have been specifically making their case to log more minutes. They've done this through through eye-opening performances as well as showing increased comfort with their teammates.
The rotation for the Bulls is always subject to change on a given night. Coach Tom Thibodeau is not afraid to bench his starters if the bench players are in a groove.
Bulls fans have witnessed this plenty of times when it comes to Taj Gibson and Carlos Boozer. Gibson, a bench player, often plays the majority of the fourth quarter while Boozer cheers from the sidelines.
With this in view, which players should steadily begin to receive more playing time? Which players are impressing Coach Thibs and will likely become integral members of this Bulls squad?
Here we unpack these players and how they have much to be eager about as the season progresses.
*Stats used in this slideshow were as of December 6, 2012.
Begin Slideshow

»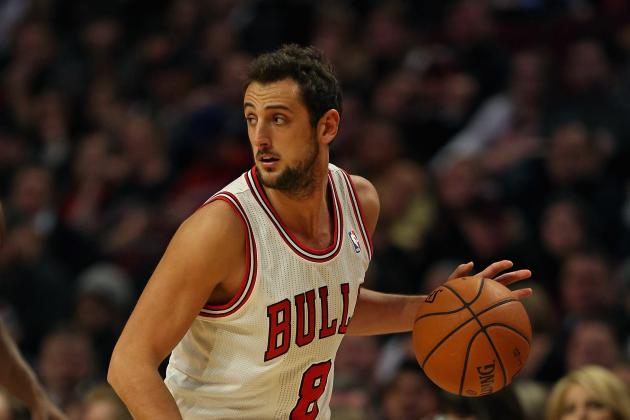 Jonathan Daniel/Getty Images
Belinelli is averaging 6.2 PPG on the season.
Newcomer Marco Belinelli got off to a rather slow start earlier this season, but he's picked things up as of late.
Due to Richard Hamilton's injury, Belinelli has had the opportunity to showcase his abilities as a starter the past couple games.
He didn't do anything special in his first start, notching six points and three rebounds in a loss to the Indiana Pacers.
However, his second start on Wednesday was intriguing for Bulls fans. He tallied a season-high 23 points while playing a hefty 40 minutes. His scoring output reveals the offensive potency that's in his arsenal, and his minutes played unveil that he's gained the trust of Coach Thibodeau.
Therefore, we can expect Belinelli to remain a steady contributor throughout this season, whether as a starter or off the bench.
Even after Hamilton returns, Belinelli has successfully made his case of why he should receive his fair share of minutes. His offensive punch is needed on a team that is lacking in scoring weapons.
By no means will Belinelli become one of the team's leading scorers, but he should certainly not become a player who gets lost on the bench. He brings versatility on the offensive end and he should be significantly utilized throughout 2012-13.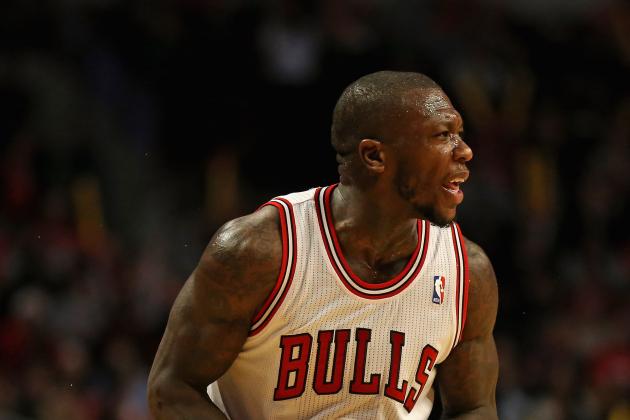 Jonathan Daniel/Getty Images
Robinson is averaging 11.4 PPG in just 20.6 minutes per outing.
We're not even through 20 games this season, and Bulls fans are already growing accustomed to seeing either "Good Nate" or "Bad Nate."
We actually witnessed both the other night in the Bulls loss to the Pacers.
Robinson led a Chicago comeback in the fourth quarter, helping them earn a late lead. But questionable shot selection and a couple silly late-game decisions handed the game right back to Indiana.
This is typical Nate Rob. He can be a valuable asset, but he's also going to drive fans crazy at times.
Despite his inconsistency, the reality is that he's currently their best playmaker. He can create for himself off the dribble and also set up his teammates. Because of this, he needs to see more than just 20.6 minutes per game.
The following statistic is very telling. According to Real GM Sports, Robinson is currently averaging 19.77 points per 36 minutes.
This is a higher output than some premier scoring weapons, such as Monta Ellis of the Milwaukee Bucks, Stephen Curry of the Golden State Warriors and rookie sensation Damian Lillard of the Portland Trail Blazers.
Robinson's also contributing nearly six assists per 36 minutes.
What's more, he's shooting the ball at a percentage that no one should gripe about: 45.3 percent.
All of this exclaims that Robinson has value to this team and should be playing more minutes. Kirk Hinrich is a better defender, but the Bulls are in dire need of a playmaker with Derrick Rose sidelined and Nate Rob best fulfills this.
We all know he's going to have good and bad stretches, but Bulls fans need to learn to live with the bad stretches for now. The good stretches are sorely needed at the moment, and his minutes should thus increase to around 25-30 per game.
He's simply able to provide offense firepower that is otherwise lacking, and the Bulls must give him the freedom to be their spark plug.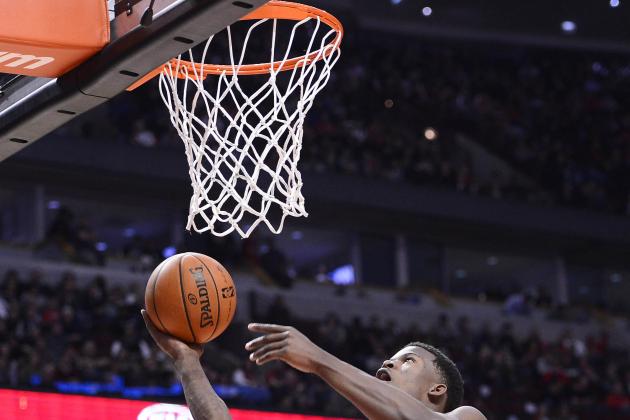 Mike DiNovo-USA TODAY Sports
Butler is averaging 5.2 PPG with an impressive 51.7 % FG percentage.
Jimmy Butler is a perfect fit in Coach Thibodeau's rigorous defensive system. Butler is developing into a marquee defender who can guard multiple positions, and this has been on display numerous occasions this season.
Because of this, he fills the void left by former Bull Ronnie Brewer, who is now with the New York Knicks. Butler is a very similar player all-around. Plus, he's younger and has much greater upside.
His upside is currently being witnessed on the offensive end. He appears more confident in his jumper, as his shooting percentage rests at a phenomenal 51.7 percent.
Granted, plenty of those buckets have come in transition or off slashes, but he has still made a plethora of mid-range jumpers that at least beckon the respect of the defense.
Overall, his game is rounding into form nicely and he's the type of player that can make game-changing plays. He comes up with steals leading to breakaway dunks. He crashes the offensive glass relentlessly and creates second chance opportunities.
And his effort always appears stellar and his attitude is unchanging.
All of these intangibles point to why his minutes should increase. He's currently on the floor 16.7 minutes per outing, but it's time for that number to eclipse 20.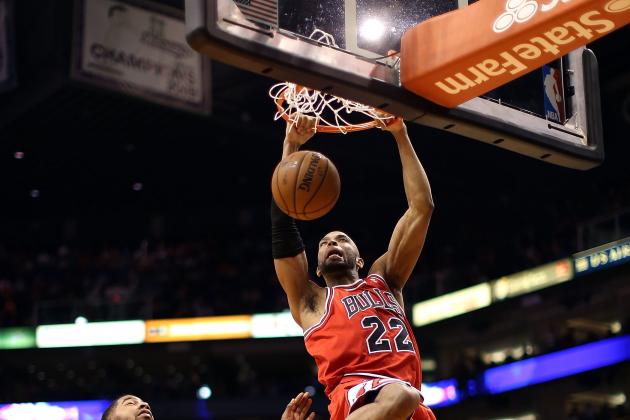 Christian Petersen/Getty Images
Gibson has always been a force near the rim.
Taj Gibson seems to be the obvious choice to put on this list, but I honestly wrestled with whether or not to include him.
In the end, my conclusion obviously gave him the nod, but his play doesn't argue for his minutes to increase substantially.
Gibson's performance thus far has been disappointing. He's shooting a dismal 41.8 percent from the field, and his scoring and rebounding numbers are slightly down from last season while his minutes are about the same.
Overall, it seems like Gibson has reached his ceiling. He's a quality defender and rebounder, and he can also score when he's near the basket. Beyond that, his game is limited.
Therefore, his name being included in this article is not to advocate for him to be in the starting lineup. He doesn't bring enough to the table offensively to insert him ahead of Carlos Boozer.
However, Gibson's length and athleticism enable him to also play the five position, which we've seen some this season.
We now need to see more of it. Quite frankly, there's no sense in the Bulls playing Nazr Mohammed any minutes (unless numerous big men are in foul trouble).
The Bulls should simply eliminate the approximately six minutes per game that Mohammed is receiving. They should just rotate Gibson, Joakim Noah and Carlos Boozer in their frontcourt.
If they did this consistently, it could enable Gibson to tally a few more minutes per game and perhaps help him establish more of a rhythm. Maybe this is what he needs for his game to really begin to reach new heights.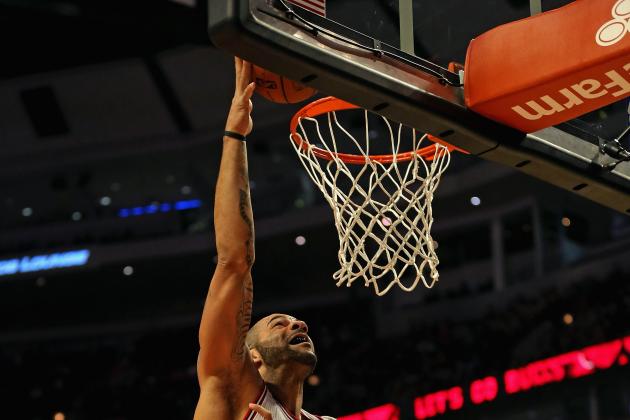 Jonathan Daniel/Getty Images
Boozer is averaging 13.5 PPG on the season.
Here's a curve ball.
The oft-criticized Carlos Boozer is by no means a fan favorite, but his performance thus far has been adequate.
While he's not the defender and shot blocker that Gibson is, Boozer does have a quiet way of rebounding exceptionally well. This season, he's averaging 9.9 rebounds per game.
According to Real GM Sports, his rebounding tally rests at 11.99 boards per 36 minutes.
This is enough to rank him ahead of some elite rebounders, such as the Los Angeles Lakers' Dwight Howard, the San Antonio Spurs' Tim Duncan and Utah Jazz big man Al Jefferson.
It's safe to say that there's nothing to complain about in regards to Boozer's production on the boards.
Further, his offense, while frustrating at times, is sufficient and the Bulls desperately need it. Bulls fans must grasp that he's never going to be consistently dominant, but he's still more than capable of chipping in 15 PPG.
Right now, Boozer is a double-double machine, cranking out eight double-doubles in the last 10 games. This alone reveals that he's doing some things right and should therefore receive more than 29.7 minutes per outing.
Similar to Gibson, his minutes shouldn't increase drastically, but they should creep towards 33-35 minutes per game.
What's more, perhaps a minutes increase for both Gibson and Boozer could enable Joakim Noah to rest a few more minutes each game. Noah's currently second in the league in minutes per game (only trailing teammate Luol Deng).
If Noah continues playing at this rate, it wouldn't be shocking if his body wears down as the season unfolds. This concern is yet another reason why a minutes increase for both Gibson and Boozer makes plenty of sense in the Windy City.
Boozer, in particular, is a key ingredient to Chicago's success this season, and the Bulls must trust him and hope his production is reminiscent of his Utah days.