Outback Bowl 2013: South Carolina vs Michigan, TV Info, Predictions and More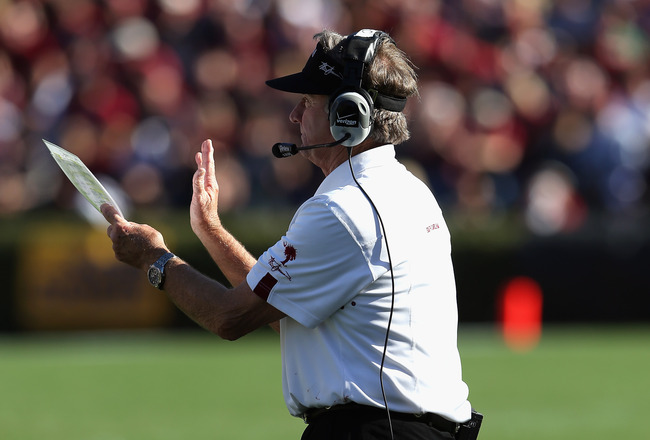 Now the winningest coach in South Carolina history, Steve Spurrier goes for back-to-back 11 win seasons versus Michigan in the Outback Bowl.
Streeter Lecka/Getty Images
New Year's Day brings an intriguing matchup as the No. 10 South Carolina Gamecocks and the No. 18 Michigan Wolverines head down to Tampa, Florida for the Outback Bowl in a game showcasing two of the most recognizable stars in college football.
Denard Robinson's senior season might not have gone the way he wanted in terms of a Big 10 Championship for Michigan or the Heisman Trophy for himself, but he is still the focus of the Wolverines, accounting for 2,509 yards in 2012. He will certainly be looking to finish his career on a high note against the Gamecocks.
And for the Gamecocks, Jadeveon Clowney has made his presence on the national stage as one of college football's most standout and fearsome defensive ends. The sophomore's 13 sacks puts him third in the country in that category, and he has found himself on the shortlist for the Lombardi, Nagurski, and Hendricks Awards this season along with First Team All-American honors. Without a doubt, Clowney's presence will be at the foremost of Michigan's focus in keeping the Gamecocks' 12th ranked defense at bay.
On the coaching end, Steve Spurrier has the opportunity to get South Carolina to its second consecutive season at 11 wins and build toward what could be a season of even more promise in 2013 while Brady Hoke, like Robinson, looks to salvage what has been a disappointing season with his second bowl game victory in as many years with the Wolverines.
Find out everything you need to know about the meeting between Gamecocks and the Wolverines in this complete game preview.
Game Day Info
Al Messerschmidt/Getty Images
Where: Raymond James Stadium, Tampa, FL
When: January 1, 2013, 1:00 PM ET
TV: ESPN
Radio: 107.5 WNKT-FM, SC
Spread: South Carolina -6
Key Storylines: South Carolina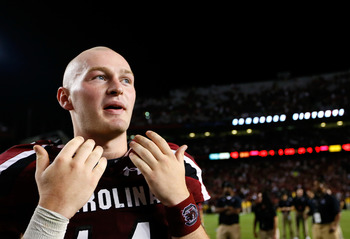 Kevin C. Cox/Getty Images
After finishing the 2012 regular season with a 10-2 record, the Gamecocks look to finish the year off with back-to-back 11-win seasons for the first time in school history.
A whirlwind of events from October 6h to October 27th saw the Gamecocks go from walloping No. 5 Georgia to rise up to No. 3 themselves in the polls, then drop back-to-back road games to No. 9 LSU and No. 2 Florida, and then lose All-American running back Marcus Lattimore to another season-ending knee injury against Tennessee.
However, since the two losses to the Tigers and the Gators, the Gamecocks have won four games in a row, including their fourth consecutive victory over in-state rival Clemson.
Players: Will Steve Spurrier start Connor Shaw? Shaw was left out of the Clemson game with a nagging foot injury, and sophomore backup Dylan Thompson literally took the ball and ran with it but certainly threw for a lot more to the tune of 310 yards and three touchdowns. Spurrier commented after the Clemson game that Shaw should be ready for the bowl game, but in the end, you never can tell with the Ball Coach.
Key Storylines: Michigan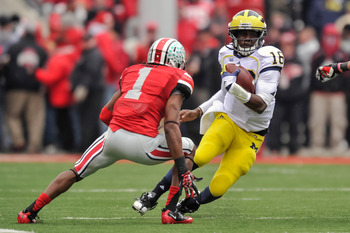 Jamie Sabau/Getty Images
Coming off a thrilling Sugar Bowl victory against Virginia Tech a year ago, the Wolverines were a preseason No. 8 team that had all the promise of being in the National Championship hunt.
But on the national stage in week one against Alabama, the Wolverines were demolished 41-14 and in Week Four lost a heartbreaker to the Crimson Tide's opponent in the BCS National Championship Game, Notre Dame, 13-6.
As mentioned in the intro, Denard Robinson has struggled in the passing game this season with only 1,319 yards, nine touchdowns and nine interceptions. Granted, Robinson has also battled injury throughout the season, but he has also been left to be the sole playmaker at times for Michigan which has allowed good defenses to key in on him and stop the Wolverines altogether.
What will be interesting to see for Michigan is if they choose to start junior Devin Gardner as they did against Ohio State and other games this season at quarterback and use Robinson primarily and singularly as a running threat.
Gardner has been pretty solid in the position, posting 1,005 yards and completing 63 percent of his passes.
Depth Chart: South Carolina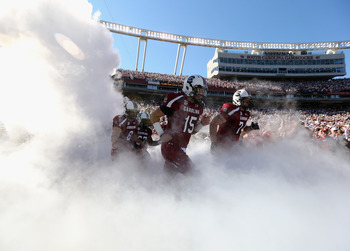 Streeter Lecka/Getty Images
Offense
QB Connor Shaw, Dylan Thompson
RB Kenny Miles, Mike Davis
WR Ace Sanders, D.L. Moore, Bruce Ellington, Damiere Byrd
TE Justice Cunningham, Rory Anderson, Jerell Adams
OT Corey Robinson, Brandon Shell, Cody Gibson
OG A.J. Cann, Ronald Patrick, Will Sport, Kaleb Broome
C T.J. Johnson, Kyle Harris, Travis Ford
Defense
DE Jadeveon ClowneyDevin Taylor, Aldrick Fordham, Gerald Dixon, Chaz Sutton
DT Byron Jerideau, Kelcy Quarles, Gerald Dixon Jr., J.T. Surratt, Phillip Dukes
LB Shaq Wilson, Reginald Bowens, DeVonte Holloman, Quin Smith, Cedrick Cooper
CB Victor Hampton, Jimmy Legree, Akeem Auguste, Ahmad Christian
S D.J. Swearinger, Brison Williams, Jared Shaw
Depth Chart: Michigan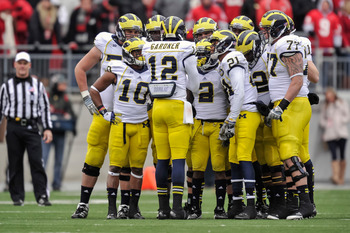 Jamie Sabau/Getty Images
Offense
QB Denard Robinson/Devin Gardner
RB Thomas Rawls, Vincent Smith
FB Stephen Hopkins, Joe Kerridge
WR Roy Roundtree, Jeremy Gallon, Devin Gardner, Drew Dileo
TE Mike Kwiatowski, Devin Funchess
OT Taylor Lewan, Michael Schofield, Erik Magnuson, Erik Gunderson
OF Ricky Barnum, Patrick Omameh, Joey Burzynski, Kyle Kalis
C Elliott Mealer, Jack Miller
Defense
DE Frank Clark, Craig Roh, Brennen Beyer, Keith Heitzman
DT Will Campbell, Quinton Washington, Jibreel Black, Ondre Pipkins
LB Kenny Demens, Desmond Morgan, Jake Ryan, Joe Bolden, James Ross III, Cameron Gordon
CB J.T. Floyd, Raymon Taylor, Courtney Avery, Delonte Hollowell
S Jordan Kovacs, Thomas Gordon, Marvin Robinson, Jarrod Wilson
Key Player for South Carolina: Kenny Miles
Streeter Lecka/Getty Images
Kenny Miles did it last year, and he's doing it again this year.
After Marcus Lattimore was carted off the field against Tennessee, the senior running back became critical in filling the void in the Gamecocks' running game, despite only generating 245 yards on the ground in his last four games.
Miles' importance goes beyond the numbers, though. As a veteran leader on the Gamecocks, his steady play in the backfield keeps opposing defenses honest and allows Connor Shaw to be the dual-threat of passer/runner he is capable of being.
That was the case a year ago in the Capital One Bowl when Miles rushed for 67 yards against Nebraska, while Shaw chipped in with 42 as well. The Gamecocks' steady play on the ground allowed Shaw to open up in the passing game, racking up 230 yards and two touchdowns in South Carolina's 20-13 victory.
For Shaw to be successful again this bowl season (if he is, indeed, the starter), Miles' production in the running game will be critical to keeping eight men out of the box and keying in on Shaw as a runner.
Key Player for Michigan: Denard Robinson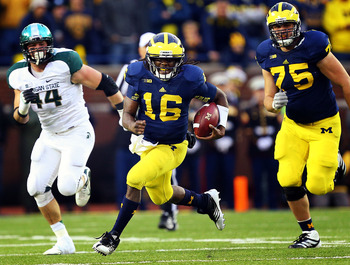 Mike Carter-US PRESSWIRE
Despite a disappointing 2012, Denard Robinson has had an amazing career at Michigan and despite not achieving Heisman Trophy status has one final game to leave his mark on college football.
Despite the passing struggles Robinson has had in 2012, his big-play ability with his 4.32 speed on the ground makes him so incredibly dangerous in the open field. (1,166 yards rushing on the year)
With the injury he suffered against Nebraska creating an interesting situation where Robinson has been utilized as a "slash" player in all positions, Michigan might be in an even better situation since wherever he goes on the field, South Carolina will certainly have to key-in on him.
As Miles opens up possibilities for Shaw in the Gamecocks' offense, accounting for Robinson can do the same for Devin Gardner in the Wolverine's passing game, which could create the big plays that Michigan has been known to create.
Key Matchup: South Carolina Offense vs. Michigan Defense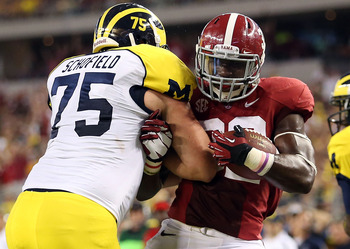 Ronald Martinez/Getty Images
The last time Michigan faced an SEC offense, they were blown out of the game early.
That was week one against Alabama when the Wolverines found themselves down 31-0 with 4:31 left in the second quarter.
South Carolina might not be Alabama, but they have been explosive on offense themselves in 2012, especially when they matched up against Georgia back in October.
The Gamecocks ran up 21 points by halftime against the Bulldogs and all but had taken their cross-state rival out of the game.
For Michigan to be successful on New Year's Day, they will have to avoid the same fate they had against the Crimson Tide. The Gamecocks average 229 yards in the passing game and can still be steady in the running game with 142 yards.
Michigan has been strong in defending the pass this season, but not so much against the run, which is where the Crimson Tide burned them in the first game of the season.
Even if the Gamecocks are not able to break a big one like Alabama did, a consistent running attack can at least open up the passing game for Shaw or Thompson downfield.
South Carolina Wins If…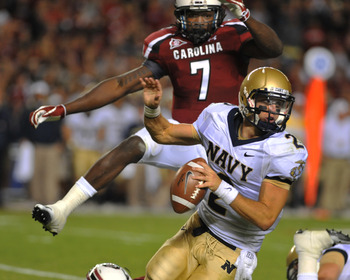 Al Messerschmidt/Getty Images
They are able to run the football and don't turn the ball over. That sounds very clichéd, but in South Carolina's losses against LSU and Florida, the Gamecocks were unable to run the football and turned the ball over.
On defense, if Jadeveon Clowney has the kind of day he had against Clemson, the Wolverines will be in trouble. The Tigers never adjusted to the All-American, which led to 4.5 sacks for the Gamecocks and a containment of a very high-octane Clemson offense.
If Michigan is to have any consistency on offense, they will need to adjust their blocking to take into account number seven. Failure to do so puts the advantage to the Gamecocks.
Michigan Wins If…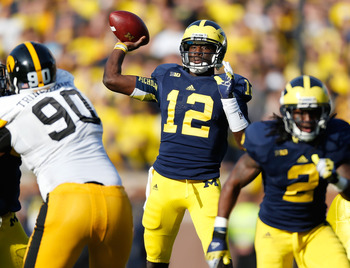 Gregory Shamus/Getty Images
They hit the big plays early.
South Carolina blew themselves up early when they went down to the Swamp on October 20th. Three early turnovers turned into 21 points for the Gators, and the Gamecocks were shell-shocked for the rest of the game.
The Wolverines aren't too dissimilar to the Gamecocks on offense, needing to strike the balance in running and passing the ball to be successful.
But credit must be given to their spectacular athletes. The aforementioned Denard Robinson can be a team so many different ways as this year has shown from him being moved around.
Against Iowa, Devin Gardner accounted for six touchdowns through the air and on the ground. If the junior gets time and space, he can be as lethal as Robinson to the Gamecocks.
But getting back to the big plays: if Brady Hoke rolls the dice early and take some shots downfield or calls Robinson on some draw plays, the Wolverines can catch the Gamecocks off guard early and lay the path to victory.
Prediction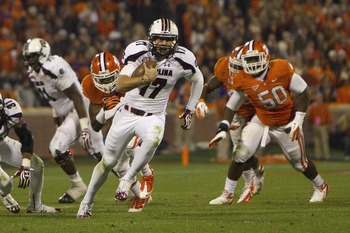 Joshua S. Kelly-US PRESSWIRE
A year ago in the Capital One Bowl, South Carolina matched up well against the Big 10 in Nebraska's defense and was able to put 30 points on the board while only holding the Cornhuskers to 13 points.
But this is no doubt going to be a close game as both teams are reliable and stingy on defense (Michigan is ranked 11th, South Carolina 12th).
Ultimately where this game will be decided is how well South Carolina runs the football, and between Kenny Miles, Mike Davis, and either quarterback Shaw or Thompson, they will wear down the Wolverine defense and either break off some big runs or open up opportunity in the play action to get the ball to Ace Sanders and Bruce Ellington.
And with Jadeveon Clowney leading a defense of mostly seniors, the Gamecocks will be too much for Michigan to handle on offense.
I certainly don't think they will blow out the Wolverines like Alabama did, but I think South Carolina wins convincingly as they did last year against the Cornhuskers.
South Carolina 31, Michigan 17
Keep Reading

South Carolina Football: Like this team?