5 Reasons the Boston Celtics Won't Be Winning an NBA Title in 2012-2013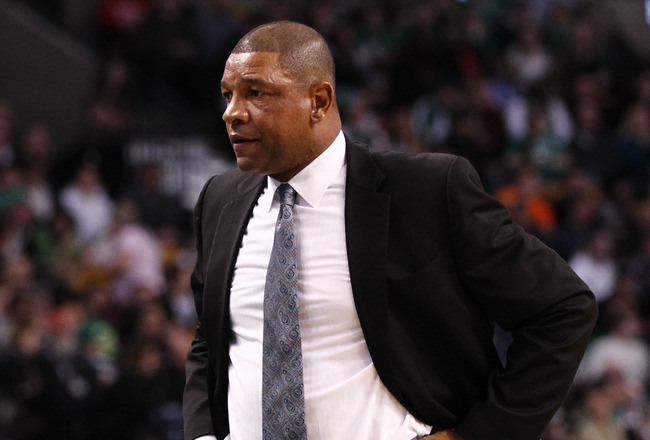 Last year, Rivers took his team as far as they're going to go for a while.
Mark L. Baer-US PRESSWIRE
It came down to one game.
One game to decide another NBA Finals appearance for Doc Rivers and his core group of veteran stars. And hell, if they found a way to overcome all of the adversity, the injuries, the naysayers to that point, who's to say that the Leprechauns and four-leaf clovers that have adorned this franchise with such good graces for over half a century couldn't squeeze out one more minor miracle against the Thunder?
Well, as we know now, that one game, in the conference finals against the Heat, did not go Boston's way.
And this year, it won't even be that close.
Yes, it will have to be a new era of Celtics stars sometime in the future to make a run at its 18th title. The following slides are reasons why you'll have to settle for St. Patty's Day to see a parade in Boston next year…
No. 1: Father Time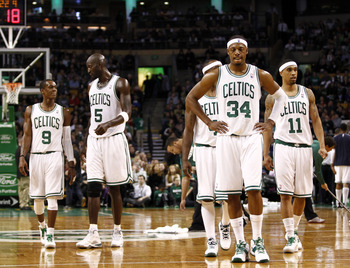 There are a lot of miles tread in this picture.
Mark L. Baer-US PRESSWIRE
It's a fact of life: Age eventually catches up with all of us.
Three Celtics starters—Paul Pierce, Kevin Garnett and Jason Terry—are over 35. That's typically not a recipe for success. The former two are in the tail end of their Hall of Fame careers and have experienced a steady decline in minutes played.
Fresh off a grueling postseason that saw them play 20 total games in three rounds, it's fair to question whether they'll have enough in the tank to go even deeper than that this time around. And remember, there are 16 more games to deal with in the regular season alone!
No. 2: A Ray of Hope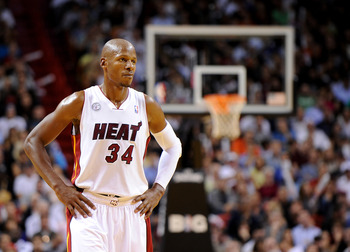 Boston's loss has been Miami's gain with Allen.
Steve Mitchell-US PRESSWIRE
Yes, he can also see his retirement party looming on the horizon. Yes, he and Rajon Rondo didn't always get along.
Say what you want about Ray Allen, but he is a winner. And he is clutch when it counts. And his departure to the sun and sands of Miami hurts this team—it may even come back to bite them in a showdown rematch, come playoff time.
So far, with a surprisingly impressive start to the year, he sure does look hell-bent on making that happen.
No. 3: The Heat Is on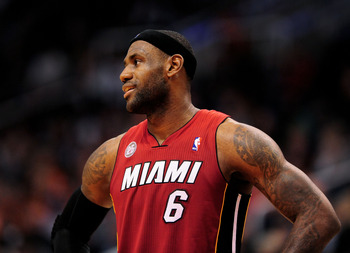 The Celtics overtaking the Heat? Not if King James has any say.
Jennifer Stewart-US PRESSWIRE
Speaking of Miami—you know, those defending champions—well, they will certainly have something to say about Boston's run for a title.
Remember, LeBron and friends promised a handful more trophies to their fans. With a core group remaining intact from last season, plus the additions of a rejuvenated Allen and handy bench piece Rashard Lewis, the odds are likely that it will happen.
No. 4: A "Big" Problem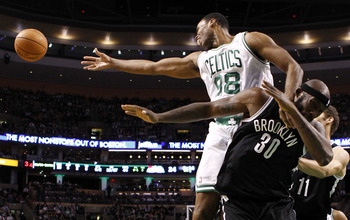 This is Jason Collins. He's 34, has scored a total of four points all season and is currently the only true center on Boston's active roster.
Mark L. Baer-US PRESSWIRE
Let's have fun with numbers.
Currently, the Celtics do not have a player averaging more than 7.4 rebounds a game. In fact, they're averaging less than 40 rebounds as a team, placing them in the bottom half of the league. They have no one averaging at least a block per game. Frankly, they don't have a legitimate center on the roster.
All of the aforementioned points are typically not conducive to a championship team. Unless Boston can acquire a big post presence, especially on the defensive end (did someone say "Fab Melo?" No? Okay. Just checking.), they could have a "big" problem on their hands.
No. 5: The Great Atlantic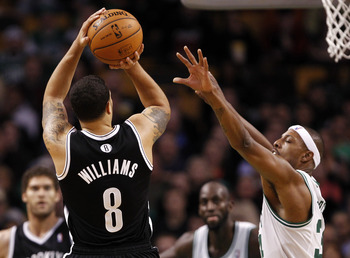 Deron Williams reigning jumpers over the Celts may be a common image this season.
Mark L. Baer-US PRESSWIRE
Before setting their sights south for a conference finals rematch, the Celtics may want to first take care of the competition in their own backyard.
The Knicks, Nets and Sixers all made significant improvements in the offseason. In fact, all find themselves ahead of Boston in the Atlantic Division standings.
Facing any one of those teams in a first-round matchup will be an excruciating challenge and, if they do survive, may leave them too beaten and battered to overcome future rounds.
Keep Reading

Boston Celtics: Like this team?