Heisman Watch 2012: Grading Top Contenders' Entire Season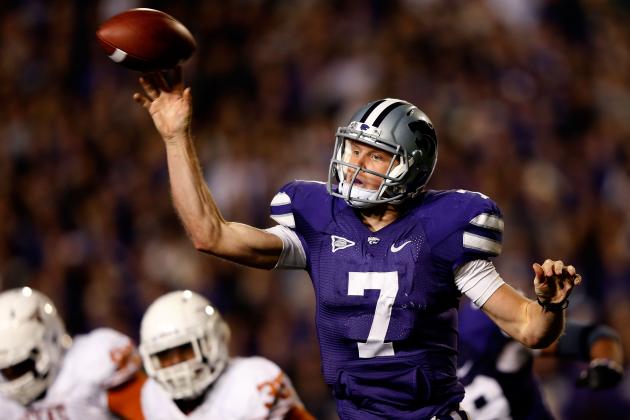 Jamie Squire/Getty Images

Because Johnny Manziel is likely to win the Heisman doesn't necessarily mean he'll have the highest graded season compared to the other candidates.
With Manti Te'o, Marqise Lee, Braxton Miller and Collin Klein all putting up solid numbers and being the lifeline of every team they play for, each player should receive just as high of a grade for their pure value.
And though Klein and Manziel are a huge topic of debate for best quarterback in the nation, Lee and Te'o are undoubtedly the best at their position.
It's report card time for the Heisman candidates. Grading strictly off of the production each Heisman candidate had, who's to say Lee and Te'o don't deserve the best grades of all?
Will Johnny Football have the best grade, or will Klein, Lee or Te'o top the freshman?
Begin Slideshow

»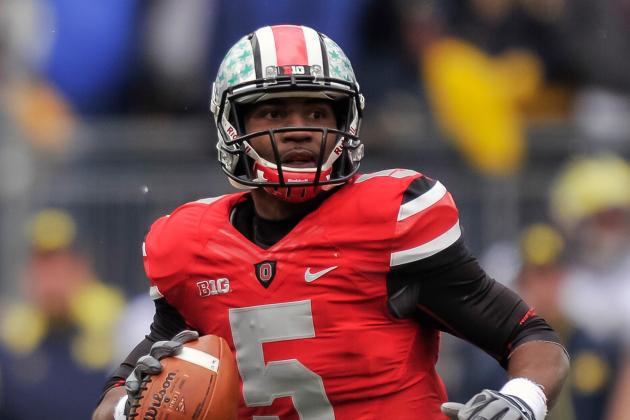 Jamie Sabau/Getty Images

Grade: B+
No disrespect to Miller, but Klein and Manziel have made Miller's contributions look miniscule.
Miller led Ohio State to an undefeated season, as well as put up solid numbers, but come on, his numbers are in the shadow of Manziel's.
Miller has 2,039 passing yards, 1,271 rushing yards and 28 total touchdowns with six interceptions. Disputing and criticizing those numbers should be a crime.
But when they're matched up against the legend that is Johnny Football, they come up short. Manziel has 3,419 passing yards, 1,181 rushing yards and 43 total touchdowns with eight interceptions.
Still, though, you have to give credit to Miller for his leadership, toughness (battling through injuries) and overall skill. It's been a season to remember for Miller and the Buckeyes.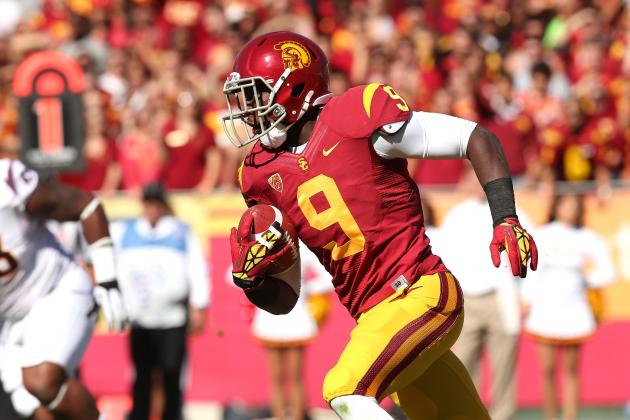 Stephen Dunn/Getty Images

Grade: A
Lee just might be the best player in all of college football.
Unfortunately for him, the wins just were not there. Truthfully, that's not Lee's fault, but when it comes to winning a Heisman, it's just as much a team award as it is a player award.
In order for a player to win the Heisman, his team needs to be credible and he has to have signature wins under his belt. Surprisingly, Lee does not have that at USC, and that's what will keep him from winning the award.
But if you're judging Lee strictly off of his performance this year, he undoubtedly deserves an A. Lee's 1,680 receiving yards is second in the nation, and he has 14 touchdowns to go along with it. That's with Robert Woods holding down the opposite side.
Lee is an explosive player on the outside, and any time he touches the ball, he's a threat to take it to the house.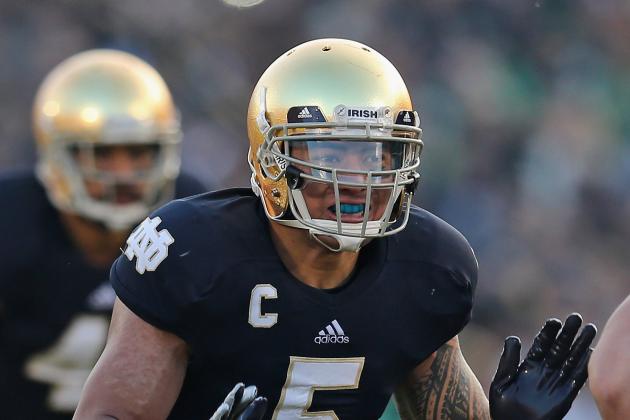 Jonathan Daniel/Getty Images

Grade: A-
If you're voting off of sentimental value, Te'o should get your vote.
He is the face of an undefeated Notre Dame team, he's overcome tragedy this season, and he's one of the best defensive players in the nation. But really, if you're judging off of sentimental value, you should not get a vote. This award should go to the most outstanding player in college football, and Te'o is not it.
His numbers reflect that. If it weren't for his seven interceptions, Te'o would not be in this conversation right now because his other numbers are mediocre at best. He only has 5.5 tackles for loss to go along with his 103 total tackles for Heaven's sake.
In fact, a strong argument could be made that LSU's Tyrann Mathieu had a better season last year, but Te'o is getting more love from the media because he plays at Notre Dame and has overcome losses off the field.
Though most of his numbers are average for a linebacker, Te'o still gets an A- for being the lifeline of this unbelievably strong Irish defense and for his interceptions.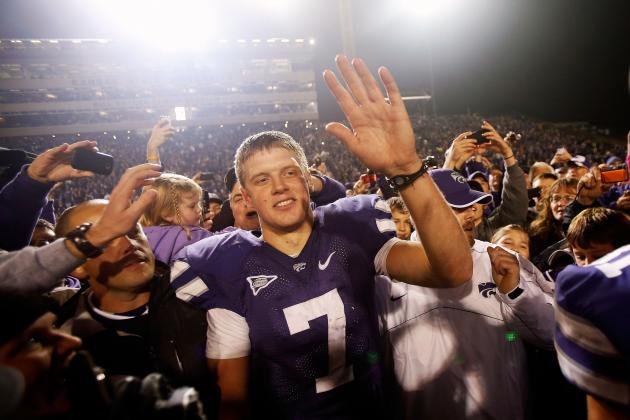 Jamie Squire/Getty Images

Grade: A
It's amazing that one game could hurt one player as bad as the Baylor game hurt Optimus Klein.
The Heisman was Klein's to lose, and going against a defense that allows 38 points and 514 yards per game, Klein threw three interceptions, accounted for 325 yards and scored 24 points.
For that reason alone, his grade has been hurt significantly. But the rest of Klein's extraordinary season helped make up for it.
Klein finished the season with 2,490 passing yards, 890 rushing yards and 37 total touchdowns with seven interceptions.
Kansas State lived and died with Klein, and seeing as though the Wildcats are going to a BCS bowl game, how could I award Klein with anything less than an A?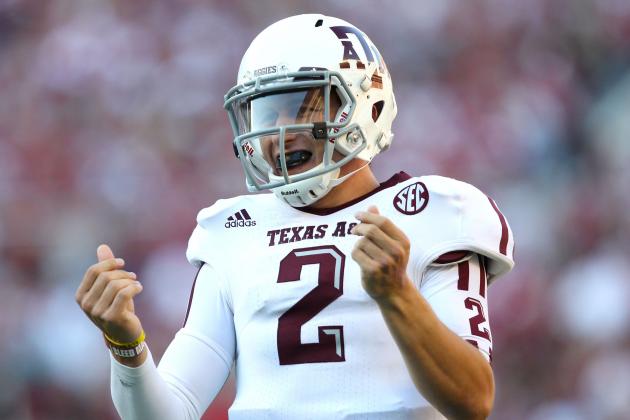 Mike Zarrilli/Getty Images

Grade: A+
For those that are critical of Manziel winning the Heisman, shame on you. Take a step back and look at what he's accomplished despite facing some pretty hefty challenges.
Before the season, who envisioned Texas A&M winning 10 games in its inaugural SEC season? Keep those hands up.
Okay, of those who predicted that 10-2 season, who envisioned the Aggies would march into Bryant-Denny Stadium and upset Alabama? Keep those hands held high.
All right, last but not least—who believed the Aggies freshman quarterback Manziel would pass both Tim Tebow and Cam Newton in total yards? No hands left remaining? Figures.
Look, the reason Texas A&M's season was such a success was because of the talent and athletic abilities of Johnny Football. His 4,600 total yards and 43 touchdowns speak for itself, and the fact that he posted those numbers in a league that prides itself on its defensive play makes it that more remarkable.