Tampa Bay Rays: Evan Longoria's Contract Extension Is a Win for Everyone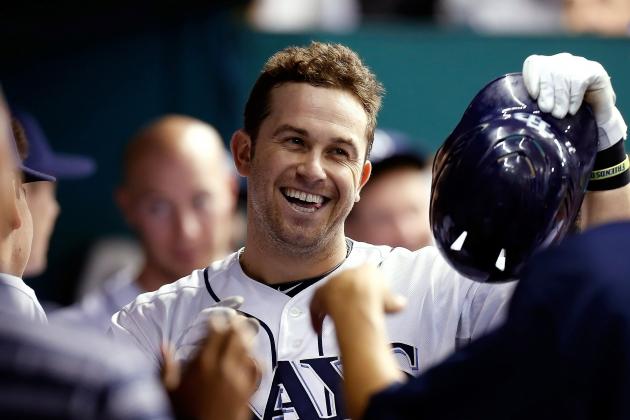 J. Meric/Getty Images

Evan Longoria and the Tampa Bay Rays agreed to a 10-year contract extension (six years guaranteed) worth $100 million earlier this week. The deal will keep Longoria with the Rays through the 2022 season with a team option for 2023.
The Rays drafted Longoria with the third overall pick in 2006 and he was the first player selected by owner Stu Sternberg and GM Andrew Friedman. Via the New York Daily News:
"We drafted Evan in 2006 with the belief that he and the organization would grow with each other and together accomplish great things," said Rays Principal Owner Stuart Sternberg. "That is why the Rays and Evan signed a long-term contract in 2008, and it is why we are extending our commitments today. Evan has clearly become a cornerstone player and a fixture in our organization. We are proud of what we have accomplished these past seven years, and I expect the best is yet to come."
For a team that has sustained recent success with financial constraints, it's a big deal for the team to be able to secure its superstar and face of the franchise for years to come.
Here are the four biggest winners in Longoria's new deal.
Begin Slideshow

»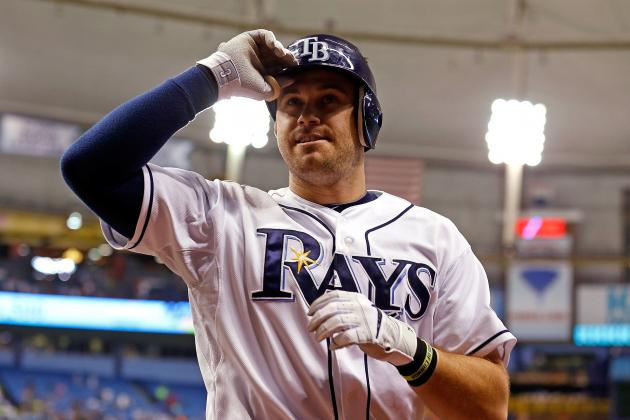 J. Meric/Getty Images

Evan Longoria is a winner for multiple reasons.
Obviously, anytime a player signs a $100 million contract extension they are a winner. Longoria, though, signed the extension following an injury-shortened season where he only played in 74 games.
The deal also comes just days after he had surgery on his hamstring, although he is expected to be ready for spring training.
The deal provides Longoria financial security in case he gets injured or doesn't perform to expectations. By signing the extension now, he won't have to worry about missing out on a big contract. There is the risk that if he returns to his normal level of production that the deal could end up paying him less than his true value.
There are plenty of cautionary tales out there of players that never saw a big pay day and former teammates that left Tampa Bay only to find the grass isn't greener in the other dugout.
It also provides Longoria the opportunity to be a legend.
The Rays are a young franchise without any franchise legends. If Longoria becomes the first great player to play the majority of his career in Tampa Bay, he could leave a lasting impact on the franchise, which, as he told Marc Topkin from the Tampa Bay Times, seems to be important to him.

"Guys now are few and far between playing their whole careers in places," Longoria said. "It has been important to me to kind of put roots down in one place and be in one place for a long time."
The new deal is slated to do just that, keep him in Tampa Bay for a long time.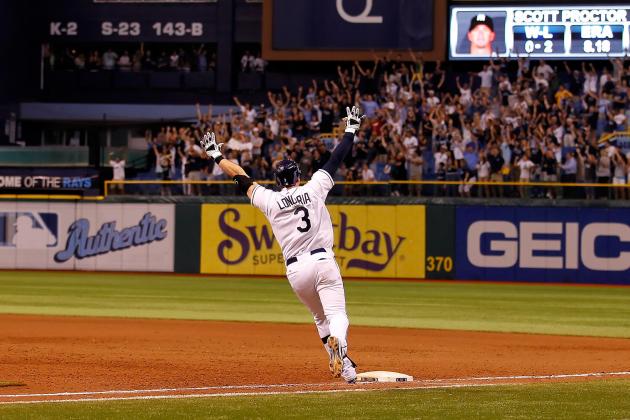 J. Meric/Getty Images

The Tampa Bay Rays are winners for figuring out how to lock down Longoria through 2022 with a club option for 2023.
Keeping the three-time American League All-Star and two-time Gold Glove third baseman is critical to the Rays' strategy of winning through pitching and defense. It also provides a cornerstone for the team to build around for years to come.
Even though Longoria only played in 74 games in 2012, he had a .289 batting average with 17 home runs, 55 RBI a .369 on-base percentage and a .527 slugging percentage.
If he can perform as expected, it will be a steal for the Rays and their fans who will not have to worry about losing their superstar to free agency. If he falters, the contract makes him their biggest trade asset since he is locked down through 2022.
Hard to find a way the deal is a loss for the Rays.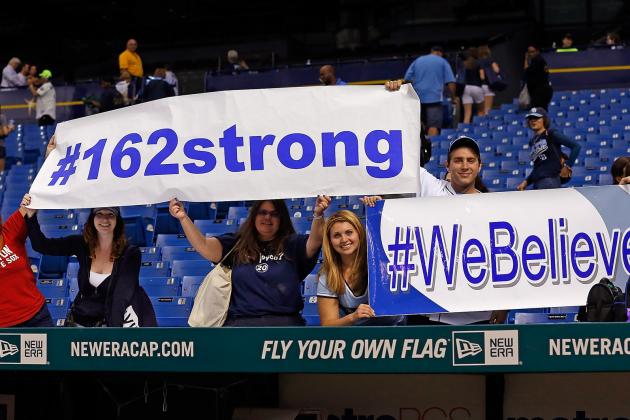 J. Meric/Getty Images

The Tampa Bay Rays fans have had to endure the loss of key players annually since the team became competitive in 2008.
They have seen the players including Carl Crawford, Carlos Pena, Rafael Soriano and now B.J. Upton leave because the Rays couldn't afford to retain them on the roster.
It's fitting that Longoria is the first superstar the team has signed to a large long-term deal. His iconic game-winning home run in Game 162 of the 2011 season is the greatest moment in franchise history and one of the greatest moments in baseball history.
That singular game inspired the franchise and its fans and will leave long-lasting effects throughout the Tampa Bay area long after Longoria's career is over.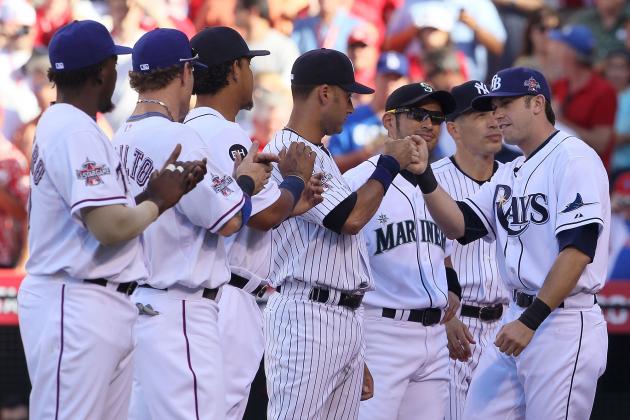 Jeff Gross/Getty Images

Major League Baseball is probably the biggest winner of all.
It's important for the league to have its top-tier talent spread out to as many teams as possible and not just on the rosters of the New York Yankees, Boston Red Sox and other large-market teams financed with lucrative television deals.
With Longoria staying in Tampa, it gives hope to not only the Rays and their fans, but to every team in baseball that if you draft and develop a talented player, it isn't a foregone conclusion that he will depart as soon as he is eligible for free agency.
That is a win for everyone.
Jamal Wilburg is a Featured Columnist for Bleacher Report. Unless otherwise noted, all quotes obtained first hand from official Tampa Bay Rays News Release.

Like him on Facebook, follow him on Twitter or visit his website.