5 Warning Signs Oklahoma City Thunder Won't Repeat as Western Conference Champs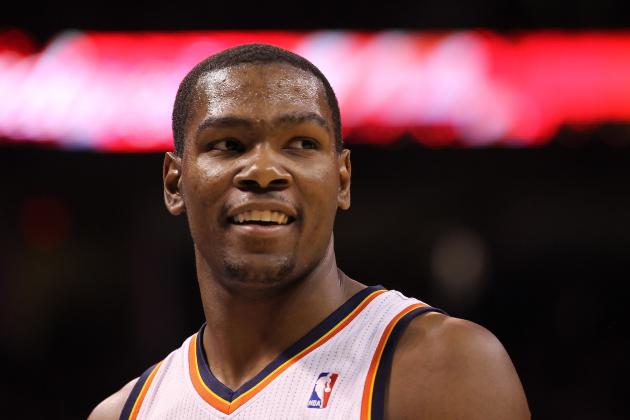 It's not all smiles in Oklahoma City right now.
Teams of the Western Conference, rejoice—there have already been a few warning signs that the Oklahoma City Thunder won't repeat as the Western Conference Champions.
Don't roll out the championship banners just yet, though. The Thunder remain the most complete team in the Western Conference, and they should still be considered the favorite to return to the Finals.
But the Thunder have a few issues—things that, if not corrected, could very well derail their trip back to the Finals. But that doesn't meant that they can't be corrected.
There are some potential juggernauts in the Western Conference, teams like the San Antonio Spurs, Memphis Grizzlies and (despite the Los Angeles Lakers' struggles) both Los Angeles teams. If Oklahoma City wants to come out on top, it's going to have to work on a few things.
And here they are:
All stats are accurate as of 11/30/2012
Begin Slideshow

»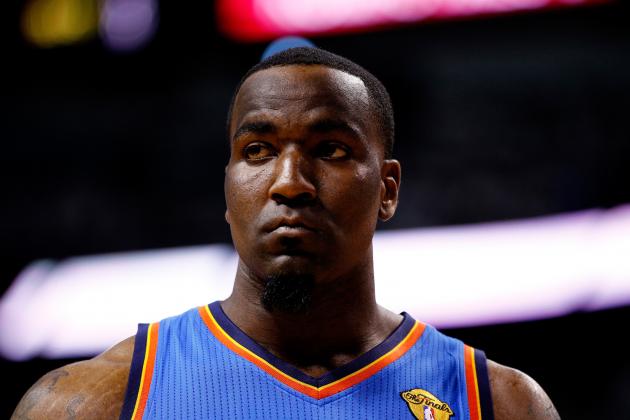 Perkins just hasn't been the same player that he was in Boston.
Oklahoma City Thunder center Kendrick Perkins inspires some pretty divided opinions, and for good reason.
On one hand, Perk brings toughness to the Thunder and clogs the paint. He sets bone-crushing screens, plays outstanding man-to-man post defense and serves as a good mentor to Serge Ibaka.
On the other hand, Perk is no longer the rebounder he was in Boston and has a brutal offensive game. His one elite skill is only truly essential against a handful of NBA teams, and he gets absolutely murdered when other teams choose to go small—a troubling thought considering the direction that the league is going.
Some might suggest that Hasheem Thabeet get more minutes at center, but at the rate Thabeet fouls (7.6 fouls per 36 minutes), it just doesn't seem realistic.
If Scott Brooks used Perkins more situationally, the Thunder would be in better shape. But he's always shown to be partial to Perk. For example, Perk averaged almost 25 minutes per game against the Miami Heat in the Finals last year, a series he had virtually no business playing in.
Thanks to LeBron James, Miami is the absolute king of smallball, and Perkins just can't keep up with a team like that.
It's not like the Thunder could counter Miami's speed by posting Perkins up on the other end. He can really hurt the Thunder if he gets too many minutes against the wrong team.
So that's the problem. And unless Thunder general manager Sam Presti makes a move for a big at the trade deadline (not at all out of the question), it's one that the Oklahoma City is going to have to wrestle with for the rest of the season.
This isn't a total indictment of Perk—he could more than prove his worth if the Thunder end up in a playoff matchup with the Los Angeles Lakers or the Memphis Grizzlies.
But in other matchups (the Denver Nuggets and Los Angeles Clippers come to mind), Perkins doesn't have much of a role.
Eric Maynor has to improve his play off of the bench.
The Oklahoma City Thunder bench, even after the departure of James Harden, was supposed to be a strength this season.
There were some question marks going into the season (Hasheem Thabeet), but Kevin Martin's arrival and Eric Maynor's return were supposed to smooth everything over. Well, they haven't. At all.
Not everything has been bad—Hasheem Thabeet has looked shockingly good, Kevin Martin has been his usual efficient self and Nick Collison has been Nick Collison.
But things haven't been great for the unit because, and this hurts to say, Maynor has been awful to start the season. Seriously, he's been bad to the point that it's hard to believe that Reggie Jackson hasn't already taken his place in the rotation.
Here's the problem: The Thunder's bench unit needs a shot creator. Thabeet, Collison and even Martin (to a lesser extent) are best when someone is setting them up. Martin's a knockdown spot-up shooter, and Collison and Thabeet are both strong finishers around the basket.
But they need someone to give them those opportunities. And so far it hasn't been Maynor. In fact, since his strong 2010-11 campaign, Maynor has been looking to shoot more and dish less.
His usage rate (percentage of plays used by a player) has risen from 16.5 percent in 2010-11 to 19.9 percent this season, whereas his assist rate has dropped from 30.3 percent in 2010-11 to just 23 percent this season (via Basketball-Reference).
That wouldn't be that big of a problem except that he's shooting the ball horribly.
Head coach Scott Brooks has responded to this trend by staggering his rotations and playing Kevin Durant much more with the second unit.
Durant is now playing nearly 40 minutes per game, a career high and an average that would be even higher if not for a few Thunder blowouts. Durant is young, but 40 minutes per game isn't ideal.
It could be that Maynor is just going to take more time to recover from last season's injury, but if not, the Thunder are going to have to adjust.
Whether that means replacing Maynor with Reggie Jackson or giving Martin more ball-handling duties remains to be seen, but it's hard to imagine that this level of bench play can elevate the Thunder through the playoffs.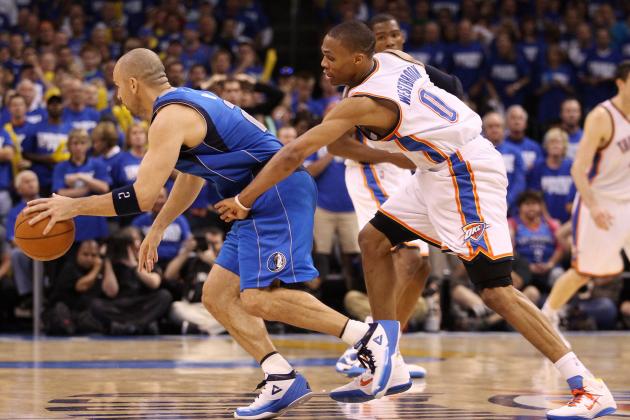 Gambling for steals often gets the Thunder in trouble.
This one's pretty frustrating. On paper, the Oklahoma City Thunder should easily be one of the best defensive teams in the league.
They have the league's top shot-blocker in Serge Ibaka, an elite post defender in Kendrick Perkins, a top-shelf perimeter defender in Thabo Sefolosha and two freak athletes in Kevin Durant and Russell Westbrook (whose athleticism might deserve its own article).
Throw in one of the league's best pick-and-roll defenders in Nick Collison and another great shot-blocker in Hasheem Thabeet, and you're looking at an excellent defensive team.
And a lot of the time, the Thunder are an excellent defensive team. They rank third overall in opponent field goal percentage, holding teams to just 42.7 percent shooting.
When they throttled the surprisingly decent Charlotte Bobcats 114-69, SB Nation's Joshua Priemski wrote:
Their defense looked better than I've seen it in a long time. It's not like the Bobcats were missing good looks. The Bobcats struggled to find any openings. If someone found a hole in the defense, the Thunder rotated perfectly and cut off all passing angles. Quite simply, the Bobcats were heaving up prayers at the end of the shot clock.
And that's the thing—when they're locked in, the Thunder can suffocate teams on the defensive end. Which is why the inconsistent defense is so maddening.
After giving up 100 points just once in the first eight games, they gave up 100 in four of their next eight games.
The team's inconsistency on defense stems from a lack of discipline at times. They give up far too many extra possessions off of offensive rebounds (187, the seventh-highest total in the league), usually because of a failure to box out or overzealous attempts to block shots.
The team also tends to gamble for steals far too often or simply lose focus on their man off of the ball (best exemplified by Westbrook's defense on Tony Parker here).
It's not that the Thunder shouldn't try to block shots or be active in the passing lanes—of course they should.
But they have to realize when it's better to back off and box out their man rather than go for a highlight-reel block or to force a bad shot at the end of the shot clock instead of rolling the dice on a risky steal attempt.
And so far this season, they've been inconsistent at best in that category.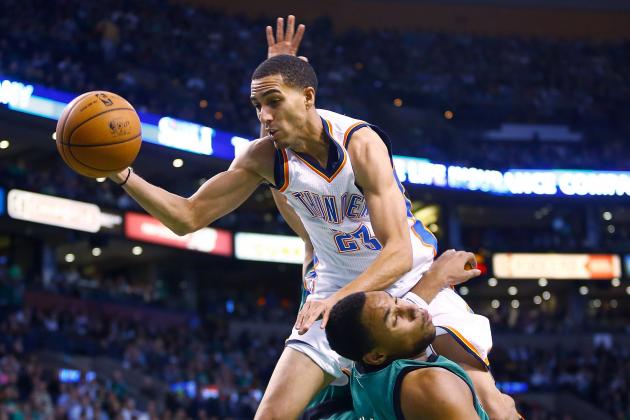 Kevin Martin's role with the Thunder moving forward is something to watch.
Kevin Martin has been great this year, and this is going to be a totally pessimistic view of where he is with the team right now. But it merits mentioning.
The chemistry, or rather the level of trust, between the team and Martin is nowhere near where it needs to be by the end of the year.
Obviously, there are still 66 games left in the season for that to change. But if it doesn't, the Oklahoma City Thunder could have a rough time getting out of the Western Conference.
The strange thing about Russell Westbrook and (to a lesser extent) Kevin Durant, the clear alpha-dogs on the team, is that it doesn't seem like they're all that quick to trust on the basketball court.
The Thunder offense has run with machine-like efficiency so far this season, due in part to the fact that Durant and Westbrook are setting up teammates, most notably Serge Ibaka and Thabo Sefolosha, more than ever.
It's the reason that the Thunder's best five-man lineup this season in terms of plus-minus has actually been the starting lineup, a lineup that looks pretty brutal on paper.
But if you think about it, it took until last year's playoffs until Durant and Westbrook were really setting up Ibaka, and until this year they seemed uncomfortable setting up Sefolosha.
Heck, it took until last year's playoffs until James Harden was even allowed to touch the ball in crunch time. And we're seeing the same thing with Martin this season. Martin has been absurdly efficient this season and has fit right into the Thunder offense.
Yet, it's clear that the chemistry between him, Durant and particularly Westbrook, isn't there yet (and no, it's not because Westbrook is selfish).
Too many times this season, Martin has stood open in the corner, hands on his hips, as he's summarily ignored by the ball-handler. This doesn't happen all of the time (the guy has canned the fourth-most three-pointers in the game this year), but it happens often enough to be a little concerned.
It's not a lack of vision—those exact same passes are all being made to Sefolosha. It just doesn't seem like there's an established connection between the team and Martin yet.
Unlike Harden, Martin needs to be set up to be at his most effective, so it's crucial that that chemistry further develop over the course of the season.
There are still plenty of games to go this season and plenty of time for the Thunder to get it all together. But how Kevin Martin is utilized in the Oklahoma City offense moving forward is worth keeping an eye on.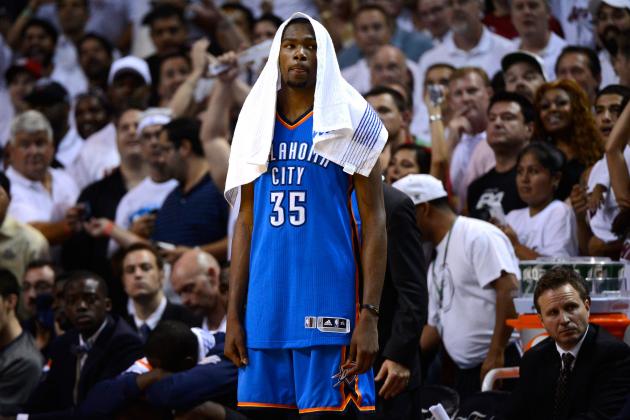 You know who hates turnovers? Kevin Durant, that's who.
Much like the lazy defense, the Oklahoma City Thunder's propensity to turn the ball over has been a frustrating problem.
Last season, the Thunder turned the ball over a league-leading 16.3 times per game, which ended up being an average of 2.1 times more than their opponent did.
But in last season's playoffs, they turned the ball over just 11.6 times, an average of 2.6 times less than their opponent did per game.
Thunder fans were hoping that the sudden and drastic postseason improvement was there to stay—the sign of a wiser, more mature team. Unfortunately, that doesn't seem to be the case.
Oklahoma City has reverted right back to last year's regular season form. They're now turning the ball over 16.6 times, 2.5 times worse than their opponent.
Now, some of these turnovers can be explained away.
Durant is taking on a much bigger role as a playmaker this season and should be able to cut down on his 3.6 turnovers per game by the end of the year. The Thunder also have to adjust to having Kevin Martin rather than James Harden in the lineup, and as they get more comfortable with Martin's tendencies, they should be able to keep hold of the ball a little better.
That doesn't mean that there's no reason for concern, though. There's absolutely no way the Thunder would have gotten past the San Antonio Spurs in last season's Western Conference Finals if they turned the ball over to the extent that they did in the regular season.
So if last year's miraculous postseason improvement really was just a fluke, the Thunder have to get better at taking care of the ball in a hurry.