San Francisco Giants: 5 Reasons They Can Win It All in 2013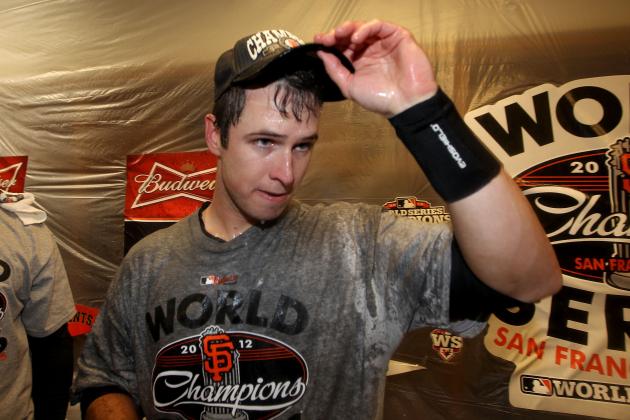 Hubris can be dangerous.
Most sufferers fail to realize they are in the grips of of over-confidence until their team comes crashing down around them. On the other hand, fans of clubs mired in epic slumps are quick to point out the smugness of others. The San Francisco faithful are now at risk, given that the Giants have just won their second World Series title in three seasons. Go back to 2006, and there are approximately zero people who saw this happening.
So why then, in the wake of such good fortune, should we push our luck by prognosticating in November about their chances for a third title?
Well, because they have a legitimate chance to win one.
A myriad of factors play into San Francisco's title chances in the upcoming season, but here are five concrete reasons why you might want to book your spot on Market St. early.
Begin Slideshow

»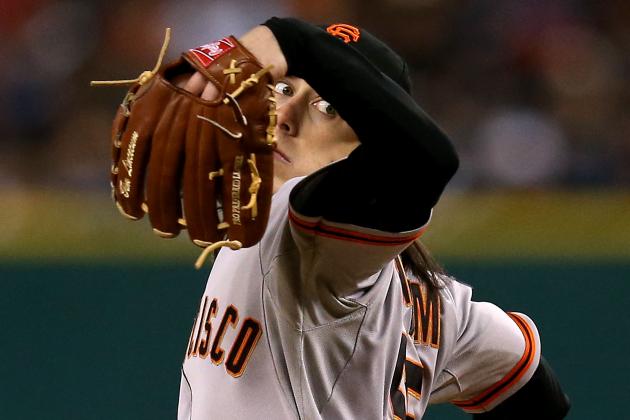 The 2012 regular season ended with a downturn for many of the Giants' starting pitchers. Tim Lincecum's troubles were well-documented. Ryan Vogelsong had been in the hunt for a Cy Young before the All-Star break thing, but was rapidly falling back to earth. Madison Bumgarner seemed lost at the mound. Even Matt Cain was under-performing, three months after a historic perfect game on June 13.
Then the playoffs happened.
The playoffs are an outlier when it comes to data. It would be foolish, for example, to cite Lincecum's impressive turns in the bullpen throughout the postseason and say he is "cured" of whatever was ailing him.
Still, there were encouraging signs from all five of the Giants starters, the type of signs that, should they accurately portend how they'll pitch in 2013, mean very good things for San Francisco.
This is a team that came back from two elimination series to win the World Series, thanks to stellar performances from all five of their starting arms. Let's hope the momentum carries into the new year.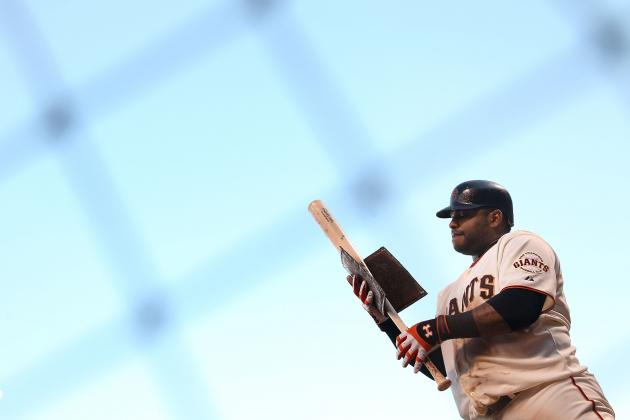 When Pablo Sandoval went down with his second broken hamate in as many seasons, the real loss wasn't the time he'd be off the field. Rather, the more significant concern was the lengthy recovery time most players need before the power returns to their wrist and swing.
Pablo Sandoval hit 12 home runs in 2012, down from 23 in 2011. Going into the playoffs, the expectations of what the Panda could do with his bat were mixed.
Then he hit six home runs in the postseason, including three in Game 1 of the World Series.
As previously acknowledged, players do crazy things in the rush of October baseball. Albert Pujols also hit three home runs in a World Series game just a year ago, and we all know that didn't translate into any immediate burst of power.
One big difference? Everyone knew Pujols would snap out of it. With Sandoval, there was never a guarantee.
Now that the Panda appears to have his hefty swing back, look out. With a 3-4-5 of Sandoval, Buster Posey and Hunter Pence, there's not a single team that will take San Francisco for granted in 2013.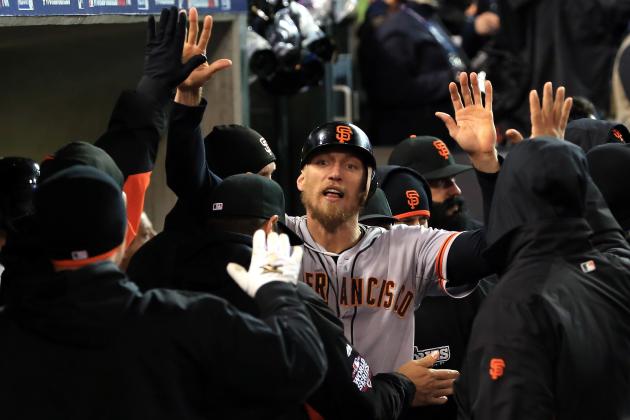 While the speeches he made may have been Pence's biggest contribution to the San Francisco Giants' 2012 playoff run, he's supposedly a pretty good player too.
The numbers say as much: he's had 90-plus RBI for three straight seasons, and at least 20 home runs in the same span. Any guy that can give you 20 HR/90 RBI is a welcome sight, even if he does look a little like a lizard.
When Pence came to the Giants at the trade deadline, he brought his bat but not his swat. The RBI were there, but the home runs seemingly dried up the moment he stepped on the grass at AT&T Park. Now, with half a season of play and an extra month of games to acclimate, the time is ripe for Pence to break out and have himself a career year.
After all, unless the Giants sign him to an extension (which it seems they will not), this may be Pence's free-agency audition.
And we all know that players bring it when their next contract awaits them in the offseason.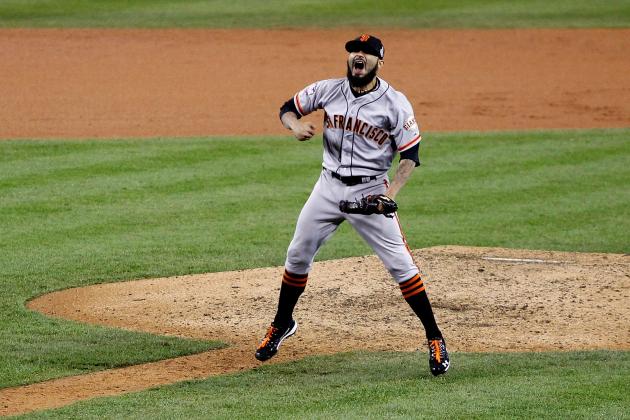 If you think back really hard, you may remember that Brian Wilson actually pitched for the Giants last season. Sure, it was only for two games, but hey, that counts.
Unfortunately for San Francisco, there were 160 more games left on the schedule when Wilson bowed out with a right elbow injury that eventually led to the second Tommy John surgery of his career, and a missed season.
For 2012, Bruce Bochy played closer chemist, mixing a dash of Javier Lopez with a pinch of Santiago Casilla and a hint of Sergio Romo. The cobbled-together closer-by-committee crew got the job done. As the postseason came into the picture, Romo emerged as the go-to guy for tense situations. I remember almost spontaneously combusting when this happened.
The Giants may re-sign Wilson on a sweetheart, one-year deal, or they may let him find another team. In either case, he won't be the starting closer come April. While Bruce Bochy has yet to confirm that Sergio Romo is his man, we can look forward to a much smaller committee closing out games in 2013.
The certainty and reliability of Romo, and possibly Casilla, will give confidence to San Francisco's starting rotation and middle relievers. And when those guys are confident, look out.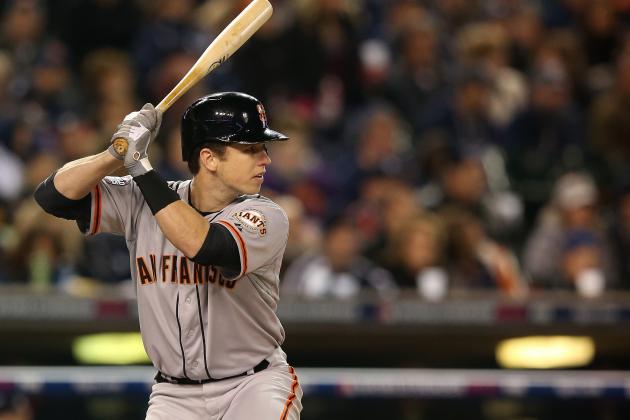 While my thoughts on our rotation, Sandoval's swing, Pence's resurgence and Romo's role are all, at least in part, speculative, there is nothing hypothetical about the caliber of baseball being played by Buster Posey.
In 2012, he won a World Series ring, hit a grand slam in an elimination Game 5 of the NLDS, caught a perfect game, lead the MLB with a .336 batting average and received the following awards/honors: National League MVP, National League Comeback Player of the Year, Willie Mac Award and the National League Hank Aaron Award.
Not bad, considering Posey suffered a potentially career-ending injury in May of 2011.
Buster Posey is the life-blood of this San Francisco Giants team. He is the face of the franchise, its most talented player and a big reason why his team won it all this season.
Plain and simple, the best reason why the Giants may win another World Series next year is that they'll have Buster Posey on their roster.
We never lost the faith Buster. Now let's do it again.