5 More UFC Fighters with Wicked Kick Knockouts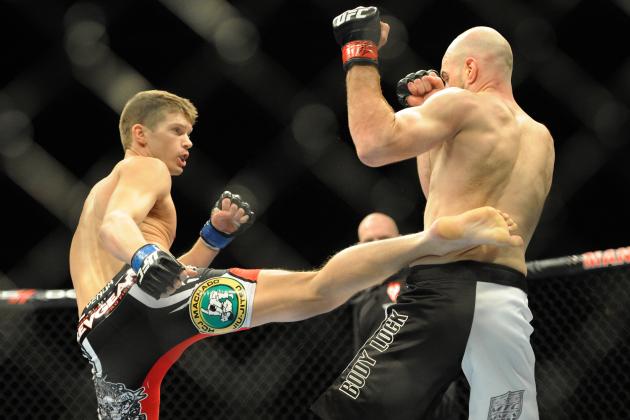 Knockouts are one of the most exciting parts of MMA.
They are exciting because you never know when one will occur. It is that suspense that makes MMA so interesting and thrilling to watch.
What makes it even better is when the knockout is done through some kind of a kick. Flashy or not, they are effective and deadly.
Here are five more UFC fighters with awesome kick knockouts.
Begin Slideshow

»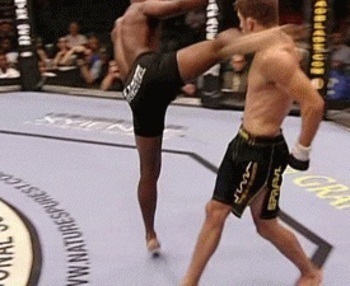 Yves Edwards had one of the nastiest head-kicks I've seen in the UFC against Josh Thomson back at UFC 49.
Edwards took the back of Thomson and as Thomson turned to face him, he delivered what I can best describe as a flying head-kick.
It has been on highlight reels for years and for good reason.
Poor Josh Thomson never even saw it coming.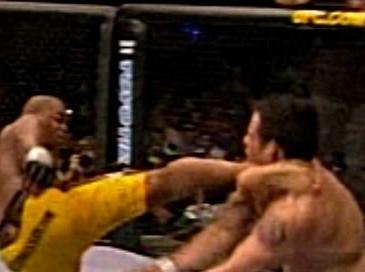 Photo courtesy of mma.blogspot.com
Despite Rashad Evans having strong wrestling, many people forget his striking is top-notch as well.
At UFC Fight Night 8, Evans demonstrated just how good his striking was, when he viciously knocked out Sean Salmon with a head-kick.
It's a brutal knockout to watch, because as soon as Salmon gets hit, he collapses in a heap on the canvas.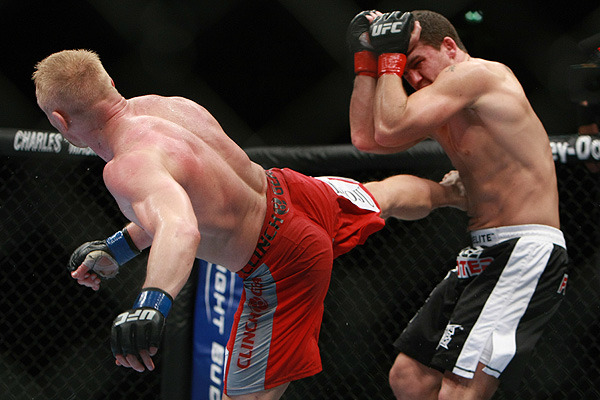 Photo courtesy of urdirt.com
Featherweight kickboxer Dennis Siver is known for his killer spinning back-kicks.
He's used them to great effect in his past fights. In the UFC he has two finishes by spinning back-kick against Nate Mohr and Paul Kelly.
Siver generates a lot of power when he uses that kick and he does it better than anyone in the UFC.
Plus liver kicks are straight-up brutal.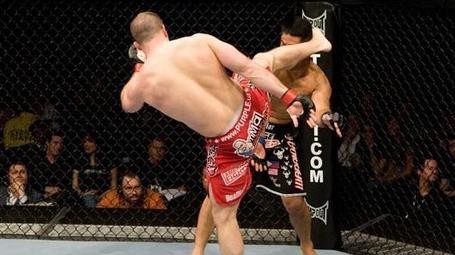 Photo courtesy of examiner.com
Matt Hamill is usually known for his smothering wrestling game but against Mark Munoz, fans saw a huge head-kick.
Hamill backed Munoz up to the fence and threw a few strikes to keep him covered up. And then the massive head-kick came out of nowhere.
No wind up or anything. Hamill threw the kick, it connected, and it was lights out for Munoz.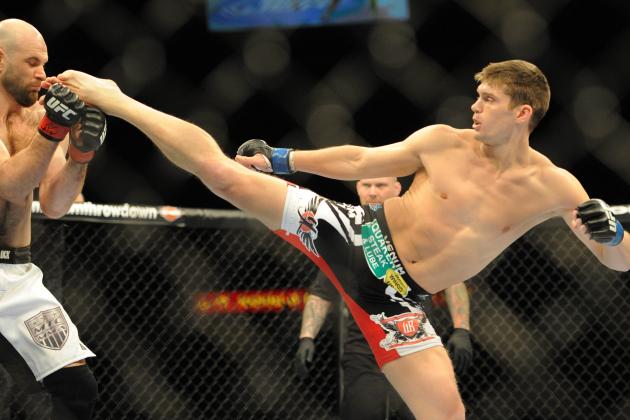 Stephen "Wonderboy" Thompson's UFC debut couldn't have gone better.
After feeling out Dan Sttitgen with his striking, the former kickboxer and Kempo karate black belt landed a deceptive head-kick that ended Stittgen's night.
Thompson has top-notch striking that is a problem for any opponent he faces. His head-kick KO will be on highlight reels for years.
Hopefully there are many more to beautiful kicks to come.
Here is a link to the first installment of this series.
http://bleacherreport.com/articles/1423019-5-ufc-fighters-with-wicked-kick-knockouts
Tweet me @FuscoNation16.