5 Overlooked Contributions from the Miami Heat's Hot Start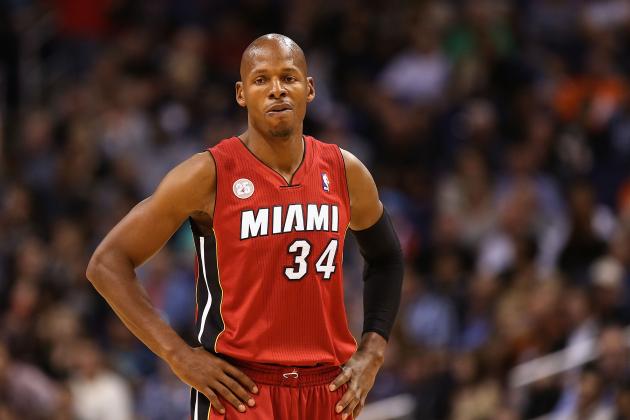 The Miami Heat have gotten off to a hot start; no pun intended. They've now jumped out to an 11-3 start despite some minor injuries to multiple starters.
This is to be expected of the defending champs considering the team's combination of talent, experience and will to win.
Although the Heat expect consistent production from each guy on the roster no matter how many minutes they play, Miami has gotten key production from some guys whose contributions are repeatedly overlooked.
But this shall persist no longer because I'm here to bring those shadowed contributors to the light! Click next whenever you're ready to be enlightened.
Begin Slideshow

»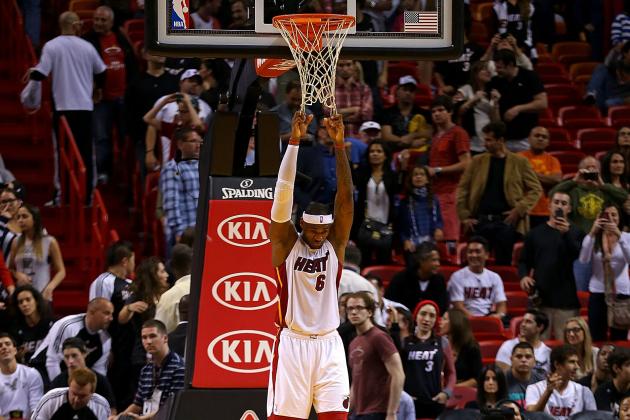 I wouldn't exactly say LeBron's contributions are overlooked, but it's clear we've come to adapt to the amazing play we see from him every day.
James is one of the most unique players the league has ever seen. This season, he's averaging a mere 25.2 points, 6.5 assists and 8.9 rebounds a game.
He's stepped more into the playmaking role for Miami and has thrived in it. What this 6'8", 250-pound monster does on the floor is nothing to be taken lightly.
Again, he's right there at the top of the list for those in consideration for the MVP.
Of course, it's early in the season, but with how easy this production is looking for LeBron this season, his numbers will likely get better as the season progresses and the team builds chemistry.
The point is, just because someone does something impressive consistently doesn't make it anymore impressive. Appreciate the greatness we are witnessing.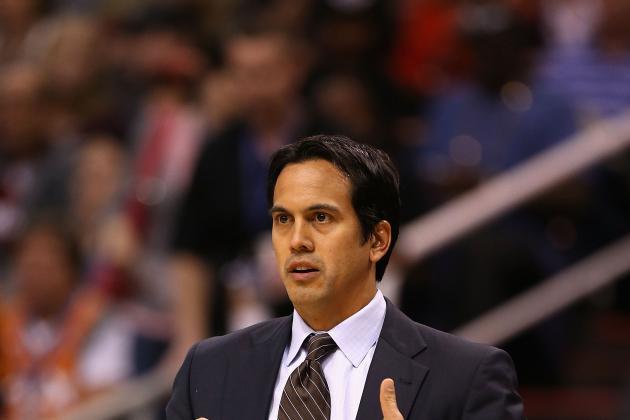 Despite what you may think, it's not easy to coach a team filled with so much talent.
We have seen Spoelstra come a long way since he first took on this super project in 2010.
Clearly he's got a much better handle on the situation he's got on his hands. He is handling his personnel very well, as he deals with multiple egos from both current and ex-superstars.
Now that Spo has got that oh-so-elusive championship underneath his belt, his decisions are no longer questions as often as they would have been two years ago.
Just like the championship lifted pressure off LeBron's shoulders, it did the same for Spoelstra. He's out there looking more comfortable in his skin and confident in his play-calling and is now considered one of the most respected coaches in the league.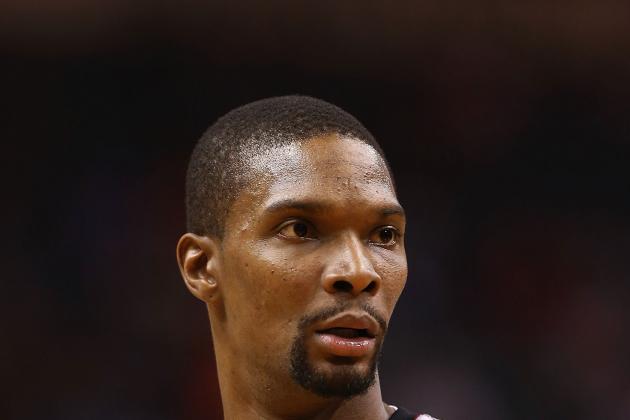 Chris Bosh has been a monster for the Miami Heat this year. The numbers he's putting up this year do not do him justice.
Although he's averaging 20.2 points and 8.1 rebounds, he's had awesome games for the Heat this season, including an 18-rebound performance against the Cleveland Cavaliers.
This season, Miami has asked Bosh to play a lot more center and be the force inside that this team greatly needs. He's done that and more.
Night in and night out, Bosh has a mismatch and rarely does he not abuse it. Still able to stretch the floor with his smooth jumper, he's done a great job of finishing inside the paint, while also protecting the rim on the other end of the floor for the Heat.
You really couldn't ask for anything more from Bosh, who's well on his way to being an All-Star.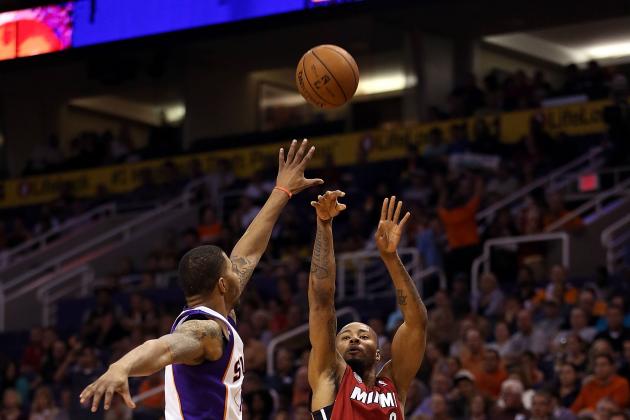 There was a lot of doubt surrounding Rashard Lewis when he signed with the Heat. His signing was overshadowed by that of Ray Allen, and many wrote him off as an overpaid veteran well past his point of consistent production.
Nevertheless, Lewis has quietly found his niche in Miami, providing solid minutes for the defending champs off the bench.
Lewis is not a guy who needs the ball in his hand to be productive. He's shooting 53 percent from behind the three-point line; that's something you've got to respect.
He's come a long way from playing just 15 games last year with the Wizards. Call me crazy, but I think he'd much rather be playing alongside LeBron James than Bradley Beal.
Look for continued improvement from Lewis all season long as he continues to earn more minutes.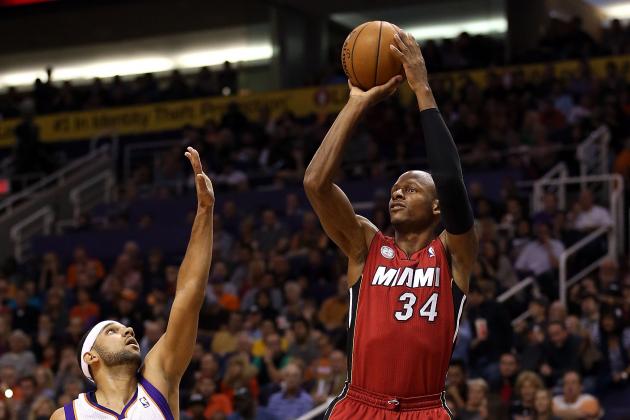 Ray Allen is arguably the greatest shooter of all-time, so you knew once Pat Riley paired him with two of the greatest slashers in the game today, Wade and James, good things would happen.
Well, good things are happening, and the potential for great things is definitely there.
In just 14 games, we've seen Allen hit multiple big shots for Miami and also watched as he almost single handedly beat the Cavaliers scoring the Heat's last seven points in a come-from-behind victory.
With Wade fighting the injury bug, Allen has already played his fair share of important minutes for Coach Spoelstra.
So then, why is Allen's contribution considered overlooked? Because we still haven't seen just how important he will be to this team, and we won't be able to until come playoff time, when Allen really thrives.
They key for the Heat is to keep Allen healthy all season long so he's available to be out on the floor when he's needed most.