Seattle vs Chicago: 7 Keys to Victory for Bears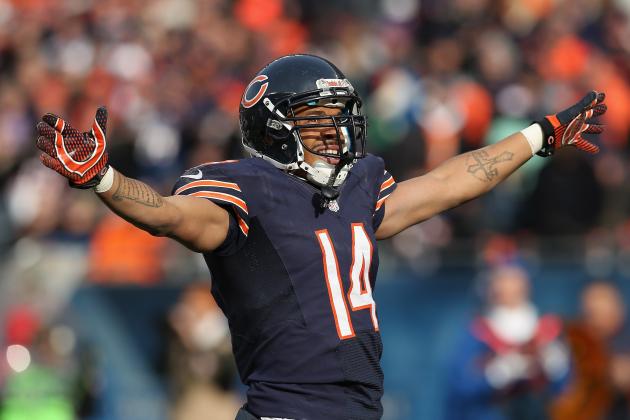 The next five games will define the entire 2012 season for the Chicago Bears.
With games against Seattle, Minnesota, Green Bay, Arizona and Detroit, it is definitely going to be an interesting end to the season, with three of the final five games for the Bears being within the division and two of those three divisional games being on the road.
Before we get ahead of ourselves, though, there is a game in Chicago this weekend featuring the NFC North-leading Chicago Bears (8-3) against the Seattle Seahawks (6-5) who currently hold the last playoff spot in the NFC.
For the Bears, this game is going to mean a lot. With so many questions surrounding the health of a lot of players, the Bears are going to have to stay focused and let a lot of guys stay off the field and get healthy, meaning that there will be some noticeable missing faces from the starting lineup for Chicago this weekend.
For the Seahawks, a win means that they would improve to 7-5 on the season and be right in the mix of things with Green Bay or Chicago for the fifth spot in the playoffs.
There are seven things that the Bears need to do to ensure a victory and move to 9-3 on the season.
Begin Slideshow

»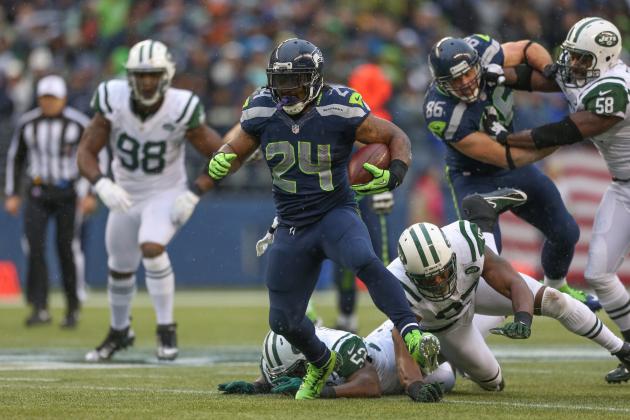 One hundred and twenty may seem like a very random number, but let's take a look at the stats for Marshawn Lynch this season.
In games where Lynch rushes for over 100 yards, the Seahawks are 3-3. In games where Lynch rushes for 120 yards or more, though, the team is 3-0. Those 20 extra yards don't seem so random now, do they?
The Bears are eighth in the league right now in rush yards allowed per game, allowing opponents to run the ball for just 96.9 yards per game this season, about three yards away from 100 per game and 23 yards away from that magic 120-yard mark Seattle will be looking for.
While it may sound simple, it is the biggest thing that the Bears can do to ensure victory for themselves on Sunday afternoon. Hold Lynch to under that magic number, and the victory shouldn't be too far out of reach for the Bears.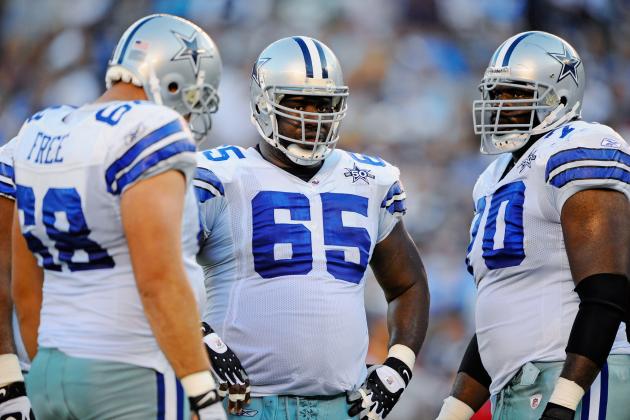 The man in the middle of that picture is none other than five-time Pro-Bowler Andre Gurode, and he is going to play a huge part in the role of offensive line for the Bears the rest of the season.
This may look like a great signing on the outside, but once looked at in depth, there are a lot of questions surrounding Gurode and the entire line for Chicago.
You may remember Gurode as the player that had his neck stomped on by Albert Haynesworth, resulting in 30 stitches for Gurode, but after that, he was chosen to five straight Pro Bowls from 2006-2010. Every one of those Pro Bowl selections, however, came when Gurode was playing the center position.
Center is one of the few positions the Bears haven't had to worry much about in recent memory, with Olin Kruetz holding the spot for 12 years and Roberto Garza taking over for him once he left.
When Gurode played under Bill Parcells in Dallas, Parcells tried to move Gurode from center to guard, a move that resulted in the benching of Gurode, and he was only named a starter again when Parcells admitted his mistake and put Gurode back at the guard position.
Gurode isn't the only player in question on the line for Sunday; in fact, there is so much confusion that as of today, the team still has no definite plan as to who will start or even play what position, according to Lovie Smith and Mike Tice. Tice was even quoted as jokingly suggesting that he come out of retirement and suit up on the line for Chicago.
Regardless of who is playing and at what position, the Bears will struggle on the line. The key is for them to act like they know what they are doing and block with all that they have for whoever is running or passing the football.
This game will definitely be a learning experience for the Bears, and if they can make it through this game, that's one game under the belt for experience of some of these players.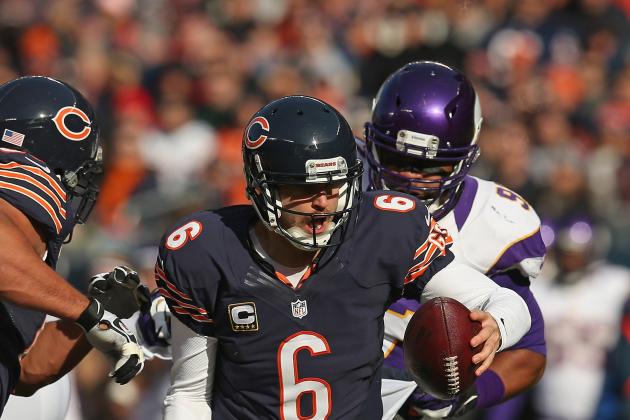 Even after he came back from injury with his cool new mustache and gunslinging attitude, Jay Cutler is still not an indestructible human being.
Cutler got knocked out after 10 games last season because he was running out of the pocket and, while sticking his hand out to break his fall, injured his hand and required season-ending surgery on it.
This season, Cutler was knocked out (thankfully, not for the entire season) after being hit while running outside the pocket once again, and ended up on the receiving end of his fourth NFL concussion, and keep in mind nobody is really sure how many he had before getting to the NFL.
With all of the injuries sustained last weekend, that last thing that Chicago needs is to see Jason Campbell under center again calling the shots with Cutler on the sideline because of yet another injury he has taken.
Cutler is a great quarterback, and fans love seeing him run outside the pocket and keep plays alive, it's what makes watching him play so exciting and why fans love having him on the team.
He cannot, however, continue refusing to slide, taking unnecessary hits and risking further injury to his head, hand or any other part of his body.
Running and getting plays is great, but there has to be a point when Lovie, Tice, Bates or someone has to sit Cutler down and tell him how much he means to this team and how much he is risking when he refuses to slide and takes hit after hit on his body.
I think it's safe to say that all Bears fans want to see Cutler do well and help the Bears win a Super Bowl, and the only way for him to do that is to be safe and not risk hit after hit when he is outside of the pocket.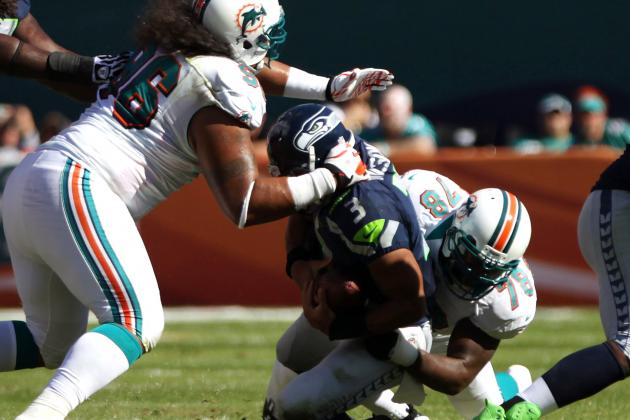 In his team's five losses this season, Wilson has thrown six interceptions. In his team's six wins, he has thrown just two.
Clearly, getting pressure and forcing Wilson to make throws is the X-factor in the current season for Seattle. When he gets rattled and scared, he will try to run away and keep the play alive by forcing the ball into places where it has no business being.
When pressure is applied, players like Tim Jennings love to pounce. Jennings already has a career-high eight interceptions on the season, his previous season high being just two, which he has gotten three times.
Jennings seems to fair pretty well in this game if his defensive line gets pressure because regardless of how well he has done in his wins this season, his team loses when he makes mistakes and turns the ball over.
Getting pressure and making Wilson uncomfortable is definitely one of the biggest keys to this game. If players like Peppers, Idonije, McClellin and others on the line can keep Wilson looking over his shoulder and force him to be uncomfortable in and out of the pocket all game, Jennings and the secondary will benefit from it.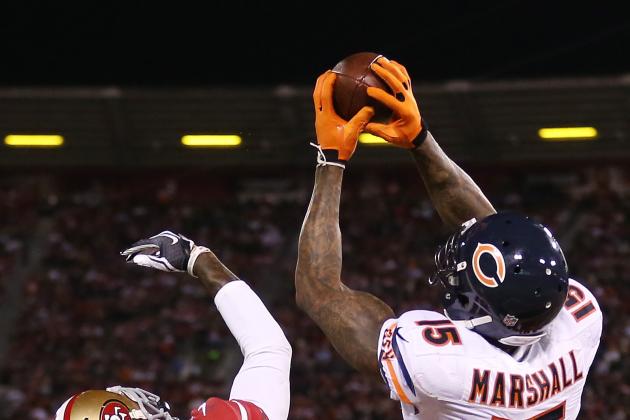 With his 92 receiving yards last weekend against Minnesota, Brandon Marshall became the first Bears player since Marty Booker in 2003 to catch for over 1,000 yards in a single season.
Marshall is clearly Cutler's go-to guy, having caught 81 passes for 1,017 yards and eight touchdowns already this season.
Being such a big target has worked to Marshall's advantage because the receiver has caught a pass of 20-plus yards in seven of his 11 games this season.
That number could be bigger, however, and this weekend, the Bears shouldn't be afraid to go for the big pass and wow the crowd with another 45-plus yard bomb like he did against the Houston Texans.
We all know that Cutler has a cannon for an arm, and we also know that when Marshall is in single and even sometimes double coverage, it's like a fly flying right into a big strip of fly paper. Marshall's hands will stick to that ball, and he will somehow end up making some sort of ridiculous grab that makes the entire city of Chicago erupt with cheers and applause being heard miles away.
That being said, the Bears should try and take some chances with him this weekend. Send Marshall out long, surprise the unsuspecting Seahawks with a 50-yard bomb on first down, anything to mix it up on offense and keep the defense guessing all game long.
It may not work the first time, but that doesn't mean to stop trying. Throw the ball to Marshall enough times with Jay Cutler's arm strength, and there's a good chance that at least one time, the duo will connect for yet another touchdown, putting the Bears ahead by even more and possibly putting the game away before Seattle even gets a chance to respond.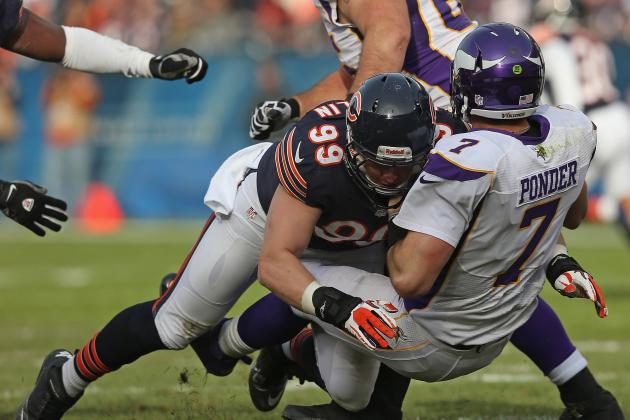 The Chicago Bears have one of the best defensive units in the entire league, sixth-best in pass yards allowed and eighth-best in rush yards.
One of the reasons that the Bears have been so good is because they have the ability to scare teams from anywhere on the field. If an opponent is rushing it, players like Peppers, McClellin, Idonije, Melton and others on the line can penetrate and get a stop.
Even if it's not the line, the linebackers also play a huge role in getting tackles, led by Brian Urlacher and Lance Briggs.
In the secondary, chances are Tim Jennings is going to jump in front of someone and make in interception, and if he doesn't, Charles Tillman will come running over to punch that football out of the opponent's hands, bone-chipped foot or not.
The point is that the defense can scare opponents from all over the field, and that's why they have been so successful. Keep the mixed packages coming, giving starters some time off and letting the backups get some time on the field. They've shown all season long that the reserve players can come in and get work done, players like Shea McClellin who has three sacks and 11 tackles on the season.
If Chicago doesn't want to risk further injury to Briggs, Tillman or anyone else who is hurting, all it has to do is throw mixed packages at Seattle. Not only will it give its starters a chance to rest, but it will also confuse the Seahawks, and ultimately help it win the game.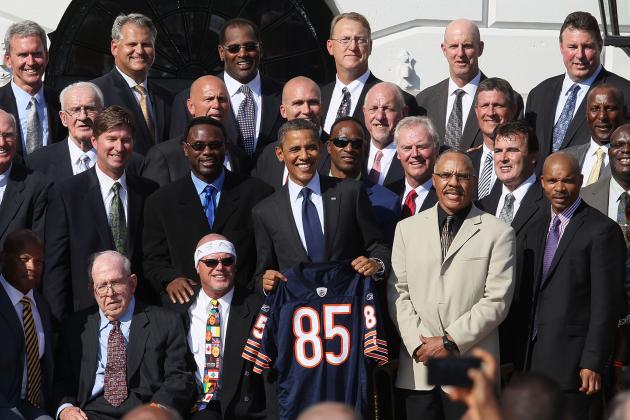 I know the Bears are all waiting to be the next team from Chicago to go to the White House, like the guys in this picture, and meet their most powerful fan in the world, but they have to take things a little slower than that.
In order to win the Super Bowl, the Bears need to make the playoffs. In order to do that, they need to win more football games in the regular season. In order to do that, the Bears are going to have to beat the Seattle Seahawks at home this weekend, a game that would be devastating for the Bears to lose.
This game is just as important to the Bears as any this season, with the Packers right on the heels of them in the divisional standings and the Vikings not far behind them.
It may be easy to get caught up in the scheme of things and overlook a game or two and focus on the Vikings or the Packers, but in order to make it there and still have the upper hand, the Bears are going to have to win the games that they're supposed to win, this being one of them.
The road to the Super Bowl happens one game at a time and is built slowly but surely. Just as the old saying goes "Rome was not built overnight," the 85 Bears didn't just wake up one morning and decide they were going to be Super Bowl champions. They had to work for it, just like the Giants did last season and the Packers did the season before that.
It's easy to say, but the Bears really have to focus on Seattle and Seattle alone this weekend. After all, it has been said that good things do come to those who wait.