NASCAR Sprint Cup: 7 Signs Jimmie Johnson's Dominance Is over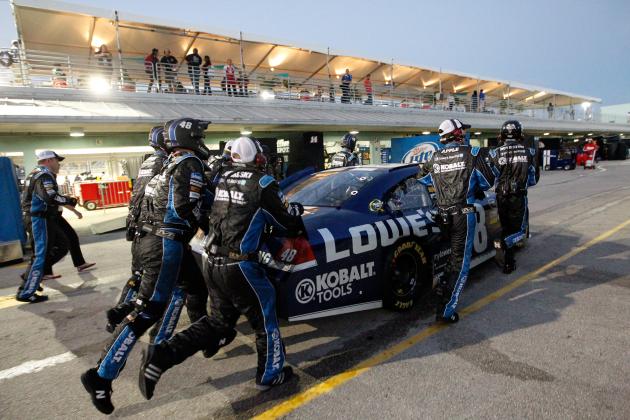 Sorry, Jimmie Johnson fans, but it's time to face facts: your guy's run is over.
Coming into the penultimate round of this year's Chase for the Sprint Cup at Phoenix, Johnson had the series points lead by seven over Brad Keselowski. With both teams functioning at a high level, everything appeared set for Johnson to claim his sixth title, albeit by a close margin.
After a shredded tire, loose lug nut, and mechanical failure, Johnson would drop to third in the final two races.
Sure, Johnson, crew chief Chad Knaus, and the rest of their Hendrick Motorsports team will be back for 2013 and beyond. But there are plenty of reasons to suggest that this team might have peaked.
Here are a few of them:
Begin Slideshow

»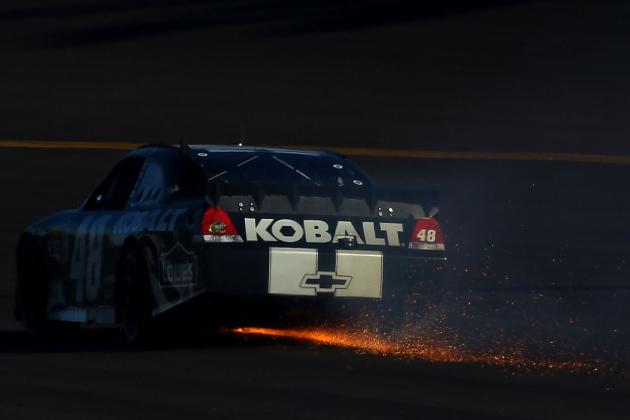 Like we just said, Phoenix and Homestead weren't too kind to Johnson and Team 48. That blown tire at Phoenix led to a massive swing in the standings, putting Keselowski on top going into Homestead by a comfortable 20-point margin.
Then, despite leading as Keselowski struggled there, Johnson's crew missed a lug nut on a late pit stop before a rear gear failure ended the dream for good.
It was the biggest meltdown since Denny Hamlin lost the title to Johnson in 2010. Hamlin won at Texas that year before giving up points in a race he should have won at Phoenix and spinning at Homestead.
Ever since, he hasn't been quite the same, lagging in last year's Chase and losing grasp of the front at Martinsville this year.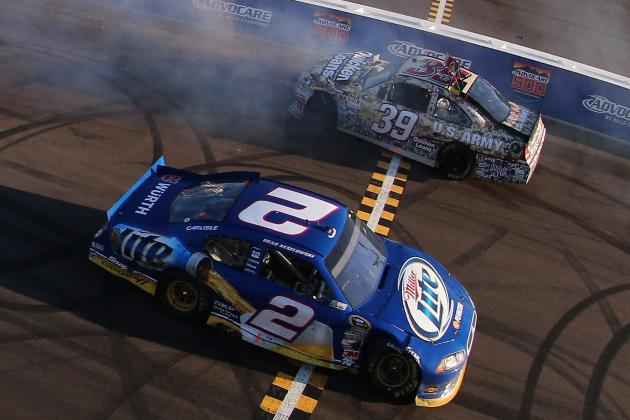 The metaphorical horseshoe that Johnson carried for five years seems to have planted itself firmly in the No. 2 team's pit.
Keselowski notably dodged trouble in many races this season, including the major wreck at Bristol in March that claimed Kasey Kahne, Carl Edwards, and Kyle Busch; only taking minor hits in the major last-lap accidents at Talladega and Phoenix; and getting by everything thrown his way at Kansas, including driving through a wreck between Busch and Ryan Newman.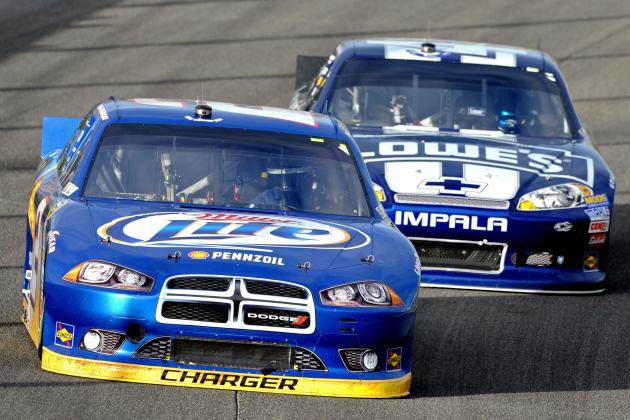 Keselowski was the first driver, since Johnson in 2009, to win a Chase title who also would have won the championship without the Chase format. In fact, Johnson would only have two championships under the old format, in 2006 and 2009, rather than the five in a row that he actually has.
Yes, Johnson is usually strong throughout the season, and would've been a top-five driver in every case where he won a Chase title. But the point is, he can be beat, both over the course of the season and in the final 10 races.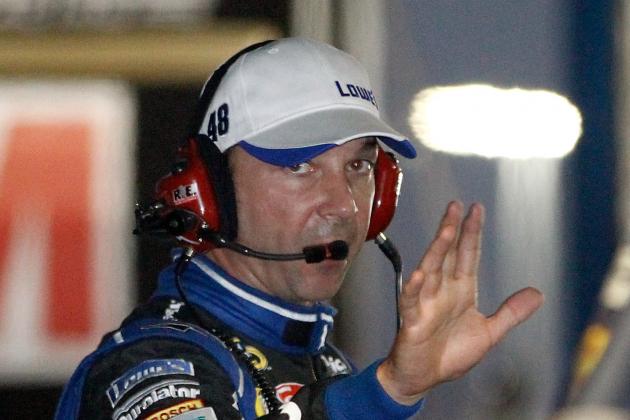 One has to wonder just how much more innovation Chad Knaus can get away with after years of trying to skirt NASCAR regulations. At the beginning of this season, Knaus received a six-week suspension and earned the No. 48 team a 25-point penalty for attempting to run unapproved C-posts at the Daytona 500.
While those penalties were eventually overturned, Knaus' $100,000 fine remained, a sign that NASCAR has had enough of his attempts to work around the rules, which include incidents at Daytona in 2006 and Sonoma in 2007.
With a completely new car debuting next season, NASCAR will be on the lookout for anybody who gets too creative with the new regulations, and that most likely means Knaus.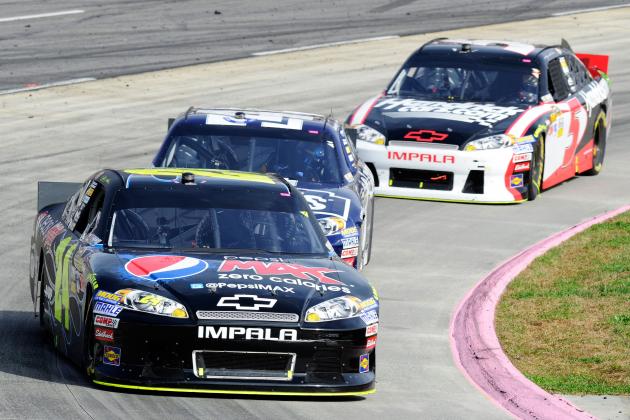 Only twice has an organization of four cars or more put all of its teams in the Chase: then-Roush Racing in 2005, and Hendrick Motorsports this year.
Counting the cars it provides to Stewart-Haas Racing, it actually had five in the Chase this year; none of them emerged victorious, as was the case for Roush in 2005.
But trying to give all of its cars an equal shot at the championship has turned out to be a detriment. It wasn't until Dale Earnhardt Jr.'s concussion took him out of the title hunt that Johnson began gaining ground on Keselowski in the Chase, eventually overtaking him at Martinsville.
Hendrick's goal isn't to have one car lag behind and do research and development work, though—it's to put all four cars in the Chase every year.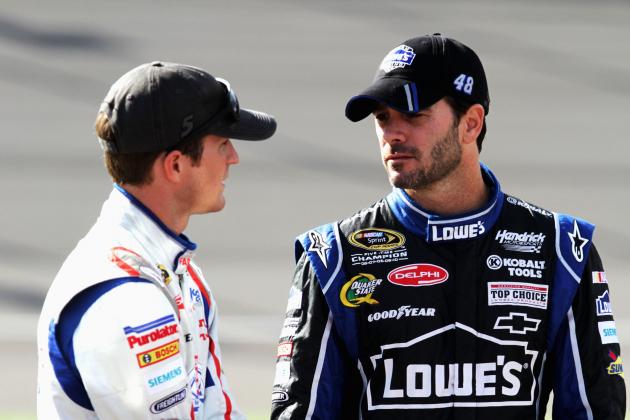 In his first year with Hendrick Motorsports, Kasey Kahne finished fourth in points, by far the best result of his career. It was only Kahne's third Chase appearance after missing it the previous two seasons while driving for Richard Petty Motorsports and Team Red Bull.
Kahne posted two wins, matched a career high with 19 top-10s, and set a new career best with a 12.9 average finish.
In short, the 32-year-old Kahne is the future of Hendrick Motorsports.
After one year of getting acclimated to the team, he should be poised for a legitimate championship run in 2013 or 2014. That could mean problems for Johnson if Kahne asserts himself as the team's number one driver and best title threat.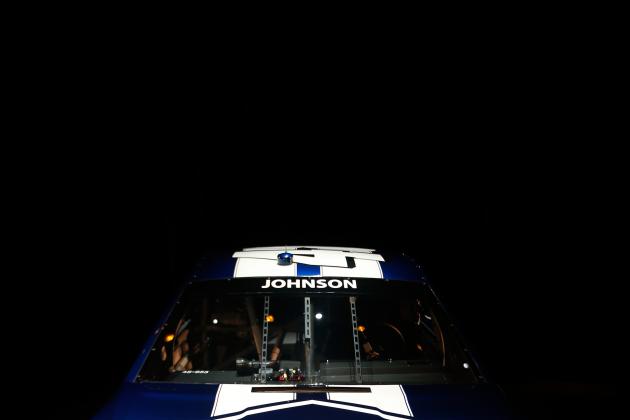 This one could be the real killer for Johnson. The homogenized Car of Tomorrow with which Johnson perfected his craft at the Sprint Cup level is gone, in favor of the Generation Six car that features significant differences between manufacturers.
That particular car proved the perfect fit for Johnson, who never had quite the same level of performance at any other level of stock car racing; remember, he only won a single race in Nationwide.
A fitting comparison would be to Michael Schumacher, whose performance dropped off after his fifth consecutive Formula 1 title in 2004. Schumacher, like Johnson, had an off year the first year after his title, and then lost a close battle for the championship two years later.
While Schumacher took three years off and came back to a lesser team, it was clear that other drivers had surpassed his talent by adapting better to new regulations. With a new car for the 2013 season, the same fate could befall Johnson.
For more from Christopher Leone, follow @christopherlion on Twitter.