2013 Hall of Fame Ballot: Why Mike Piazza Is a New York Mets Hall of Famer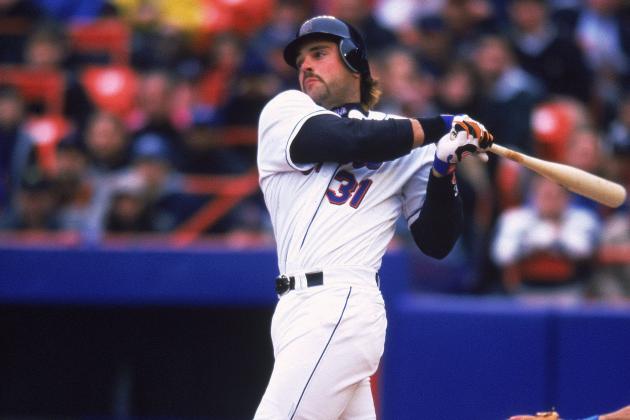 To say he means a lot to the organization, prior generations of fans, and the history of the team is a "terrific" understatement to say the least. Not only did he receive the highest ever percentage of votes in 1992 when he was elected into the National Baseball Hall of Fame, but Tom Seaver is also the only player whose bronzed cap dons the Mets logo.
Hopefully that will change in 2013.
Because just like my mother passed down old pictures and stories of the great Tom Seaver to me, I am fully prepared to do that with my future children with photos and memories of Mike Piazza.
With the Hall of Fame ballots being released this week, Piazza became an official candidate to join Seaver in Cooperstown. And while it's no question to anyone in Queens what team's cap he should be wearing, ultimately it is up to the hall itself.
Many Mets fans forget (or if they're like me they choose to ignore) that he won the NL Rookie of the Year with his original team, the Los Angeles Dodgers, who he was also a five time all-star with and won five silver sluggers with.
So while I fully believe that Piazza will not only be inducted into the Hall of Fame in his first year of eligibility, I also believe that he will become the second member of the Mets to have his plaque in the gallery.
______________
Follow Laura Ludlum on Twitter: @BrownEyedNJGirl
Begin Slideshow

»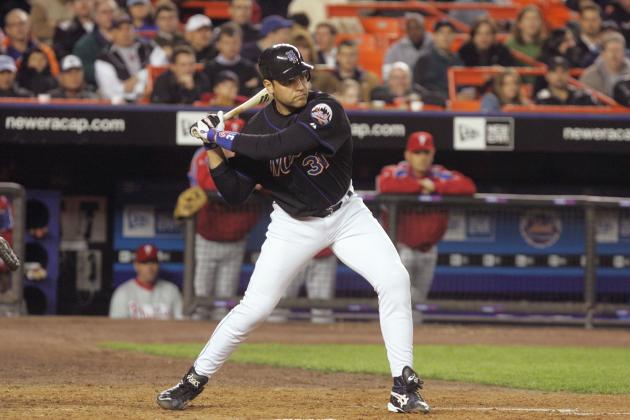 Mike Piazza appears on the Mets all-time record list with most home runs in a season (right-hander) with 40 in 1999, most grand slams in a season with three in 2000, Most RBIs with 124 in 1999, and highest slugging percentage with .614 in 2000.
He also has the most home runs ever as a catcher with 396. 220 of his history making home runs were hit during his time with the Amazin's.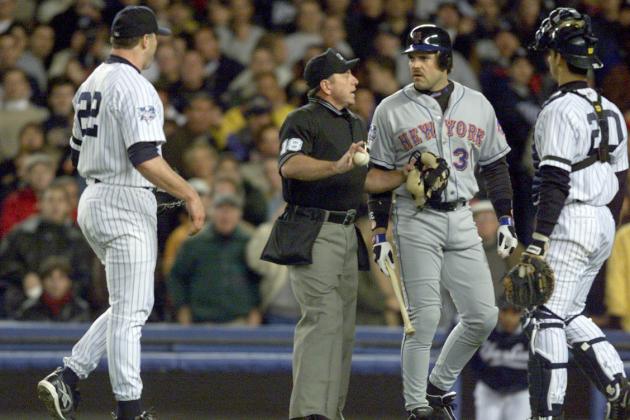 Piazza led the Mets to their only back to back playoff appearances in history in 1999 and 2000. They missed three consecutive years by one game in 1998.
In 2000 the Mets made it all the way to the World Series. They may have lost to the New York Yankees 4-1, but Piazza's bizarre incident with Roger Clemens will always make a good footnote in the history books.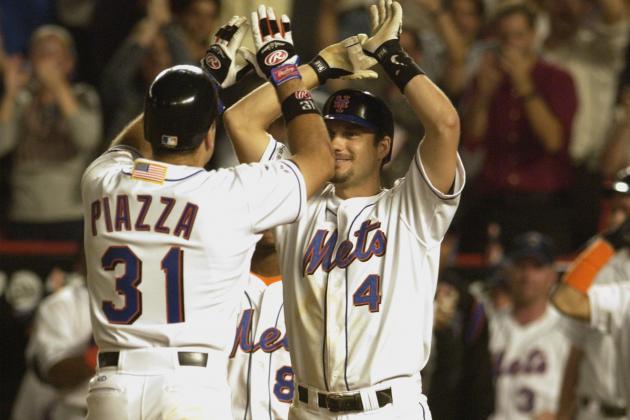 Of course those who believe firmly in statistics will tell me this argument in null and void, but let me remind you that the members of the BBWAA, the members of the Hall of Fame, as well as you and I are all human beings. The human element will always be a variable in what could be considered a clear cut situation.
There is no denying that Piazza single handedly brought New York back to life with his home run to put the Mets on top of their rival Atlanta Braves in what was the first game in the city after the September 11 attacks. To some this is the moment that began the healing process. To write this home run off as just one of his career 427 is a gross misrepresentation.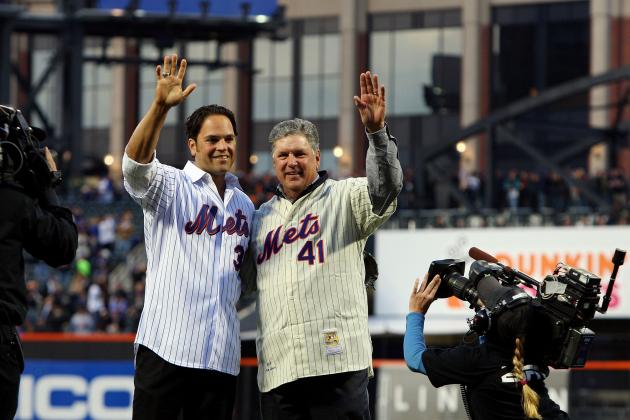 There is no doubt that Mike Piazza's role as a New York Met is greater than a Dodger in terms of being a face of the franchise. I can say this because I am a Mets fan, but the Mets don't have a ton of history, which you can see for yourself since you're reading an article that's lobbying for their second ever Hall of Fame player.
There is a reason Piazza was asked to come back for the one and ten year anniversaries of September 11. There is a reason why he closed Shea Stadium and opened Citi Field with Tom Seaver. There is a reason that he was named to the all time Mets team as the starting catcher.
He was, still is, and always will be beloved in New York. In a city where cheers turn to boos in a matter of one at bat, Piazza walked away as one of the most appreciated players this franchise saw.
He is definitely a New York Met.