Another night, another perplexing performance by the Los Angeles Lakers, and another appeal for patience as Steve Nash (a.k.a. Gatsby) spends the night in street clothes.
When the Lakers win, there's not a peep to be heard about the Hall of Fame point guard who Mitch Kupchak finagled from the Phoenix Suns on the Fourth of July. When they lose, it's "withhold your judgment for now, this team isn't all together yet."
Which isn't exactly inaccurate. Nash has played all of 50 regular-season minutes in Purple and Gold, just under 43 minutes of which were spent with L.A.'s ideal starting lineup (i.e. with Kobe Bryant, Pau Gasol, Dwight Howard and Metta World Peace).
And all of which came under the thumb of Mike Brown, who has since been replaced by Mike D'Antoni, alongside whom Nash enjoyed so much success with the Phoenix Suns.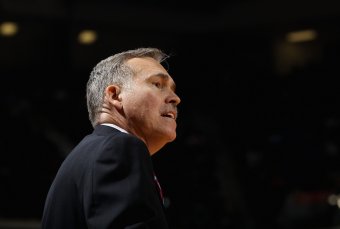 The thinking goes, then, that Nash will be some sort of savior for these Lakers once his fractured fibula heals up. He'll have the Lakers offense humming, since he knows D'Antoni's offense like the back of his hand. He'll allow Kobe to be the efficient slasher he was at the outset, since he'll be the one handling the ball and creating for others. He'll inject energy back into the lifeless Pau Gasol, playing beautiful basketball music along the way. He'll partner with Dwight to form the most potent pick-and-roll combination in the NBA.
Heck, he might even fashion a useful second unit out of the likes of Jordan Hill, Antawn Jamison and Jodie Meeks, who've essentially taken turns showing up to the arena thus far.
That's a lot to ask of or expect from a 38-year-old who hasn't played basketball since colliding with Portland Trail Blazers rookie Damian Lillard on Halloween (and won't be back for at least another week). Mike D'Antoni, of all people, should know that.
Yet, it's D'Antoni who, after Tuesday night's sloppy loss to the Indiana Pacers, seemed most prepared to pin his hopes to the return of the two-time MVP (via Kevin Ding of the Orange County Register):
D'Antoni on many things being solved by Nash and Blake returning to health: "I'm banking on that."

— KEVIN DING (@KevinDing) November 28, 2012
Apparently, D'Antoni thinks the Nash he'll have at his disposal in LA will be the same Nash who ran Seven Seconds or Less to perfection.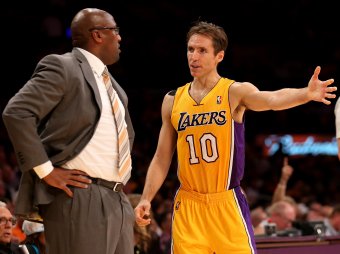 In which case, he may well wind up the most disappointed of all. Nash looked out of sorts throughout the Lakers preseason and was hardly more coherent in the game-and-a-half he played prior to the injury. He came off as uncomfortable with the ball in his hands and even more so without it.
Admittedly, the sample size was small and came amid the widespread confusion of Mike Brown's Princeton offense. The circumstances should suit Steve much better once he returns, if only because they're more familiar to him.
The system will be the same, but there's always the chance that Nash won't be. D'Antoni or no, these Lakers don't have the same combination of sweet-shooting wings and young, mobile bigs with which Nash thrived over the years in Phoenix.
Not that he's not adaptable or smart enough to figure it out. Chances are, he will if his body allows him to do so.
But the Lakers can't afford to build Nash up as the next hero of the day. They've tried that stunt with Kobe for most of this season and have sunk more often than not. Bryant's 40 points against the Indiana Pacers on Tuesday night marked the sixth time this season he has scored 30 or more and the fifth time the Lakers have lost with him doing so.
If the Lakers are going to succeed this season, it'll have to be as a team, not as a seemingly never-ending series of singular efforts by one big name or another. They've shown that they can be good (if not great) when they play as a cohesive unit, as they did during a 115-89 annihilation of the Dallas Mavericks this past Saturday.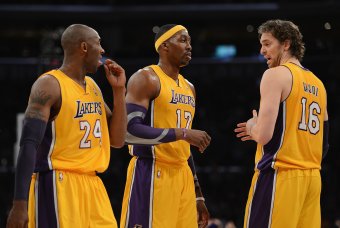 Nash was brought in not to be the linchpin of a struggling squad, but rather the icing on an already-tasty cake.
A core of Kobe, Gasol and Dwight should be enough for this or any team to win consistently and play a respectable brand of basketball. Throw Nash into the mix, and they should be great.
But the former grouping and its accompaniments have been inconsistent, if not maddeningly so. One night, they can score with the best of 'em but are helpless to stop the opposition from doing the same. The next, they're playing stifling defense but can't hit the broad side of a barn on the other end. Only rarely have they put two and two together on the same night.
Is Nash really the one to weave it all into an attractive patchwork? Is it really a good idea for a talented-but-top-heavy team to heap its title hopes onto a guy who's best suited to playing 30 minutes a game and has trouble staying in front of his own shadow?
Even Gasol seems to understand that Nash is not a panacea for LA's problems. As he told Mike Bresnahan of the Los Angeles Times, "He's a great point guard and he's familiar with the system and the coach, so he will definitely help. He won't solve everything but he will have a positive impact for sure."
Will Steve Nash cure the Lakers' offensive woes?
Yes, Nash would be a clear upgrade over Darius Morris in the starting lineup. That's a given, and would be for a significant swath of point guards in the NBA today.
Nonetheless, it would behoove the Lakers to get their act together while they await good word from long-time trainer Gary Vitti. They've already wasted what should have been an easy start to the season. Despite playing 10 of 15 games at home, the Lakers have but seven wins to show for their efforts.
And it's not as though the schedule is about to get any friendlier. Nine of their 14 dates in December will be away from the Staples Center, including road games against the Oklahoma City Thunder, the New York Knicks and the Denver Nuggets.
The rest of the Western Conference won't be waiting up for the Lakers to figure it out. The Memphis Grizzlies, the San Antonio Spurs and the Thunder have staked out spots atop the standings. The Golden State Warriors, the Los Angeles Clippers, the Nuggets, the Utah Jazz and the Houston Rockets are currently hovering around the muddled middle. The Minnesota Timberwolves, with Kevin Love back and Ricky Rubio nearing his season debut, will be in that mix before long.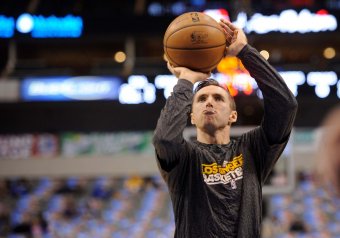 In the meantime, it seems, the Lakers will take their lumps and pray that Nash can heal them. The season is still young and the Purple and Gold have already panicked enough. There's no need for every basketball fan in LA to channel Chicken Little when, indeed, the team remains incomplete.
But a sense of urgency couldn't hurt, could it? Better a push now than a helpless feeling later if/when Nash turns out to be something less than a knight in shining armor.
Another day, another reason to wait, another opportunity to wonder.