Texans vs. Tennessee Titans: 7 Keys to the Game for Houston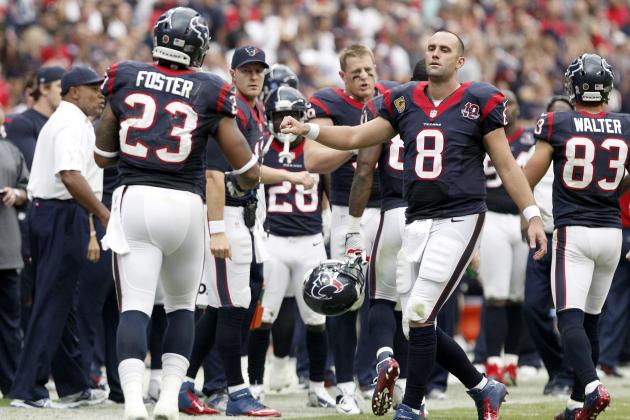 Thomas B. Shea/Getty Images

Houston Texans games have been like a theme park ride for fans in recent weeks. The roller coaster continues Week 13 on the road against the 4-7 Tennessee Titans.
Houston (10-1) is coming off of season defining back-to-back overtime wins that have it in position to clinch a playoff berth this Sunday in Tennessee.
The No. 1 team in the AFC has shown signs of vulnerability, but the team keeps trucking along, winning games in a variety of ways. Fans hope this trend continues on the road this weekend against a divisional rival.
Here are seven keys to Week 13's showdown with the Tennessee Titans.
Begin Slideshow

»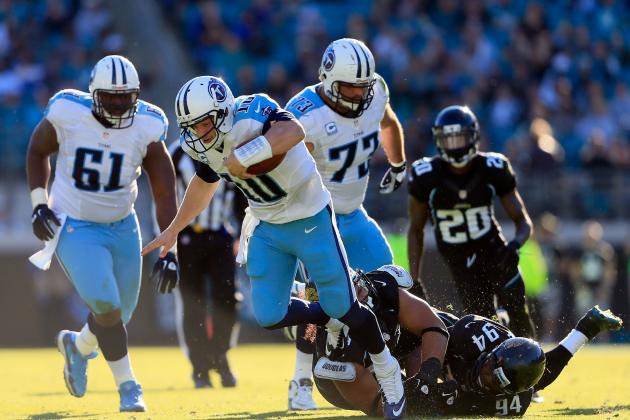 Sam Greenwood/Getty Images

The Tennessee Titans offense is firmly in the hands of second-year quarterback Jake Locker. Making just the seventh start of his career, the No. 8 overall pick from the 2011 draft will look to exploit a struggling Houston Texans pass rush.
Wade Phillips will face a level of uncertainty preparing for Tennessee's passing offense this week. The Titans fired offensive coordinator Chris Palmer on Monday, and new coordinator Dowell Loggains will make his debut this Sunday.
Tennessee threw the ball 40 times last week compared to 29 runs. Will this pass-to-run ratio continue in Week 13?
Given the success teams have had throwing against Houston recently, a pass-heavy game plan makes sense. The Texans currently rank 17th in the NFL in passing yards against and second in rushing yards against.
The Titans will likely look to air it out until Houston's defense can give offensive coordinators a reason to fear its pass rush.
In Week 12, the Detroit Lions had a ridiculous pass-to-run ratio of 61:23 and managed to put up 31 points on Houston's defense. The Jacksonville Jaguars dropped back 35 times the previous week and scored 37 points.
Pass-happy game plans have led to big scoring days for Houston's opponents. Expect the Titans to follow this blueprint with Jake Locker in Week 13.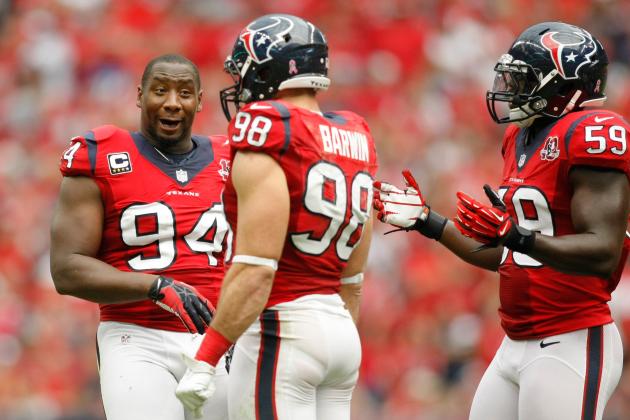 Brett Davis-US PRESSWIRE

Sometime after the Week 8 bye, the Houston Texans' pass rush disappeared and hasn't been seen since.
Strangely enough, the team has a four-game winning streak since the bye, but it hasn't been a comfortable winning streak due to the lack of pressure from Houston's four-man front.
Houston sent more four-man pressure in the first half of the Detroit Lions game than the second half. The results? Detroit scored 21 first-half points and 10 points between the second half and overtime. Amping up the pressure with more blitzes made Matt Stafford less comfortable in the pocket.
The Texans have found success manufacturing pressure with a variety of blitzes this season. Houston's defensive backs Glover Quin and Danieal Manning have been terrific when asked to blitz. Inside linebacker Darryl Sharpton has the explosive first step to be a threat blitzing.
If the Texans are going to have success against Locker and the Titans, they'll need to find a way to get into Tennessee's backfield. Expect a premium to be put on disrupting Locker.
Texans fans have been calling for a pass rush for weeks now, and if it's going to come, it'll likely have to come from a blitz-heavy game plan.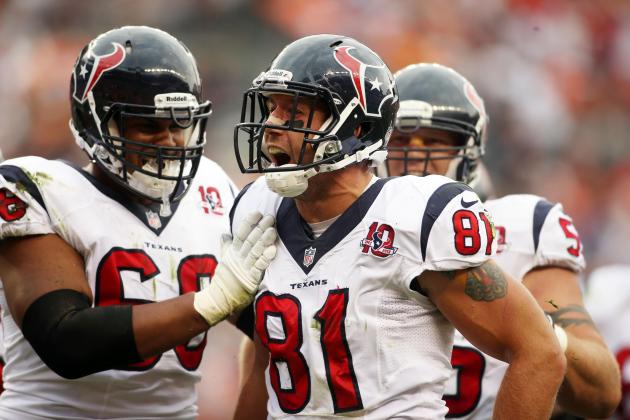 Chris Humphreys-US PRESSWIRE

There's a strong possibility that starting right tackle Derek Newton could miss this week's game, thrusting swing tackle Ryan Harris into the starting lineup. Newton and Harris have been rotating for much of the season. The two tackles have split the snaps nearly evenly in recent weeks.
Neither tackle has been great or even above-average this year. Both have shown flashes of playing at a high level, but it's clearly a point of weakness on Houston's offense.
The Texans could operate in two ways. Gary Kubiak could hand all of the right tackle snaps to Ryan Harris. He could also play Harris' replacement at swing tackle, Andrew Gardner, and slot him into the right tackle rotation.
Neither scenario would come as a surprise. Regardless of who is playing right tackle, Kubiak needs to give the player help throughout the game. It isn't that difficult to hide a right tackle if you have good enough tight ends and backs to take the pressure off. The Texans do.
Through 12 weeks, Kubiak has done an exceptional job nursing his less-than-stellar right tackles through a slew of tough matchups. The Texans' right tackle problem would be more glaring if they were running any other style of offense. Houston is as creative as it gets in the NFL with protections, whether it's with play action, screens or moving the pocket.
Careful play-calling has also played a key part in helping out Houston's right tackles. This would explain Kubiak's tendency to call halfback draws on 3rd-and-long. Some call it conservative, others call it keeping your quarterback from getting drilled.
The Texans have schemed around their right tackle situation all season. They'll have their biggest test this week, as they'll be starting a right tackle who wasn't even on the roster for much of training camp.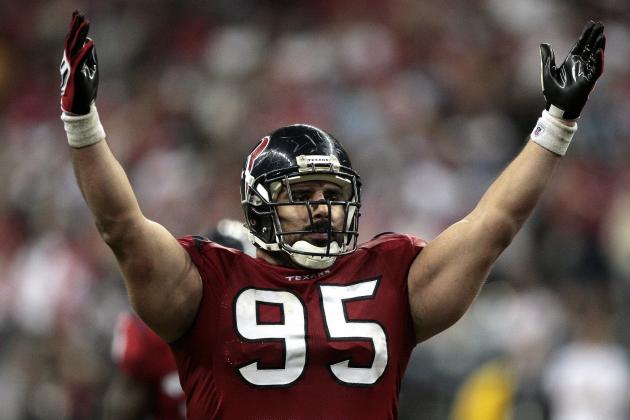 The Houston Texans will see the return of a couple key pieces to the puzzle this Sunday. Shaun Cody and Tim Dobbins are expected to play Week 13 after missing significant time.
Cody's presence at nose tackle has been missed the most, and his return is timely. They'll need his stout play against the run, as Houston's defense will face an improved Titans rushing attack. Tennessee's running game has improved this year with Chris Johnson returning to his pre-2011 productive form.
After an off-year in 2011, Johnson has bounced back and the Titans are starting to feed him the football. He's had 20 or more rushes in three of his past four games. His 4.9 yards per carry is the most he's had in a season since he rushed for over 2,000 yards in 2008.
The Texans have been vulnerable up the middle without Cody. His return, along with Dobbins at inside linebacker, should give Houston's run defense a much-needed boost.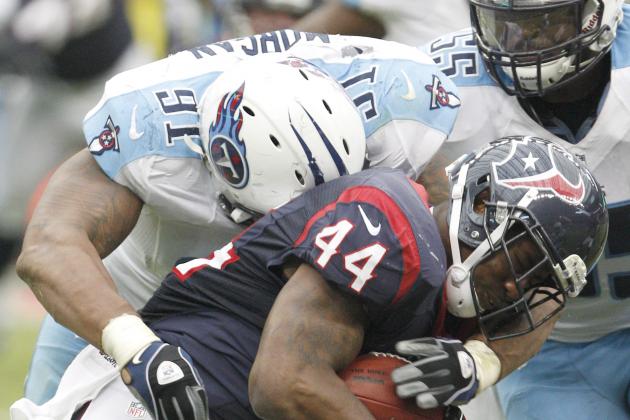 Ben Tate will also return this week after missing significant time, but his role is much less defined at this point. Justin Forsett has done an outstanding job in Tate's place as the No. 2 running back. He gives the Texans more flexibility in the passing game than Tate, and he doesn't get nicked up nearly as much.
However, Tate brings a tough, bruising style of running that's rare in the NFL. He adds a level of physicality to Houston's running game that complements Arian Foster well.
It's easy to forget how productive he's been in this system (5.1 career yards per carry) since being drafted in the second round in 2010. The Texans have only been able to get 218 career carries out of Tate since then.
Could the Texans move to a three-man running back rotation? It makes sense as the season winds down. Foster could use the reduction in workload, and the Texans need to get more out of their second-round investment in Tate.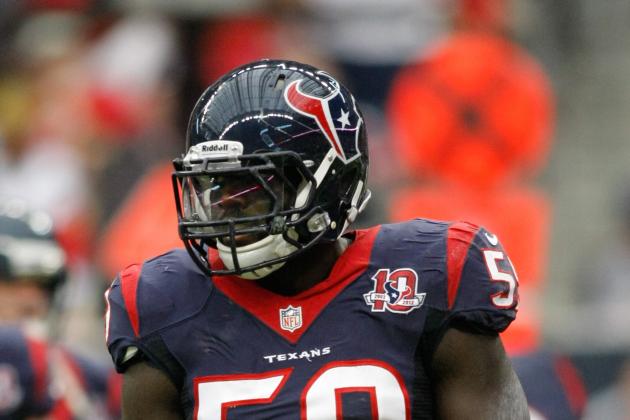 Whitney Mercilus will make his first career start this week in place of the injured Brooks Reed. Mercilus will fill in at right outside linebacker with Connor Barwin moving to the left side.
Houston's first-round pick from this year's draft has shown flashes as a pass-rusher. The Texans will finally see what the rookie can do with full-time snaps.
The defensive staff likely has concerns over how the young linebacker will hold up in the running game. He'll see a higher volume of run plays in this game than ever before in his brief NFL career. Tennessee's running game will likely target Mercilus' side of the defense.
There will be a lot on the rookie's plate in this first game. Houston's pass rush has been looking for a boost, and all eyes will be on Mercilus when Locker drops back. Mercilus' skills as a pass-rusher are what made him the 26th overall pick in the 2012 draft.
Fans shouldn't expect him to be the savior, but they shouldn't expect a major drop-off from Reed either.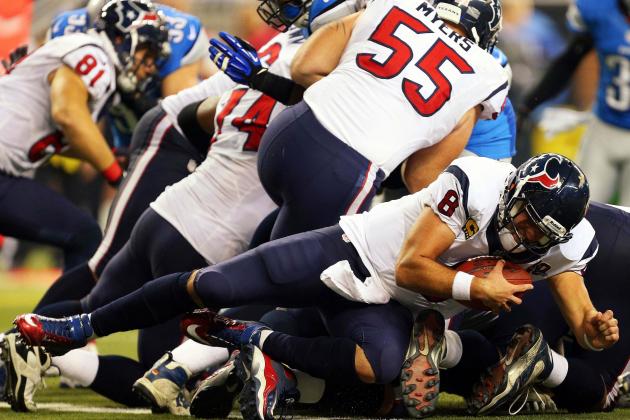 The Houston Texans are 5-0 on the road this year. Houston's dominance on the road is what has most fans thinking about a Super Bowl berth. No other team in the AFC has fewer than two road losses.
The Texans have shown the ability to win in all environments. Whether it's in the rain in Chicago or a thousand miles up in the sky in Denver, the Texans have brought their show on the road and left with a victory.
Week 13's matchup with the Titans marks the second of three straight road games for the Texans. When the schedule first came out, it looked as if this could be the most brutal stretch of Houston's 2012 season. No one thought for a second about a perfect road record, but it's a possibility at this point.
The Texans' road schedule rounds out with a trip to New England next week, and then Indianapolis to face Andrew Luck's Colts the last week of the season.