The Cincinnati Bengals' Week 12 blowout of the Oakland Raiders marked their third straight win as well as the second time this season they have strung together a chain of three victories. It also propelled them to a 6-5 record, which has them on the cusp of snagging a wild-card playoff berth.
While there are five games left in the season in which anything can happen, the Bengals seem to have put behind them the mistakes that led to the four-game losing streak that preceded this current spate of wins.
As long as they don't reverse course, this should lead to their second straight playoff appearance.
Here are the two biggest areas the Bengals need to focus on in Week 13 to pick up yet another win and stay on the path to the playoffs they've forged over the last three weeks.
Keeping Andy Dalton Protected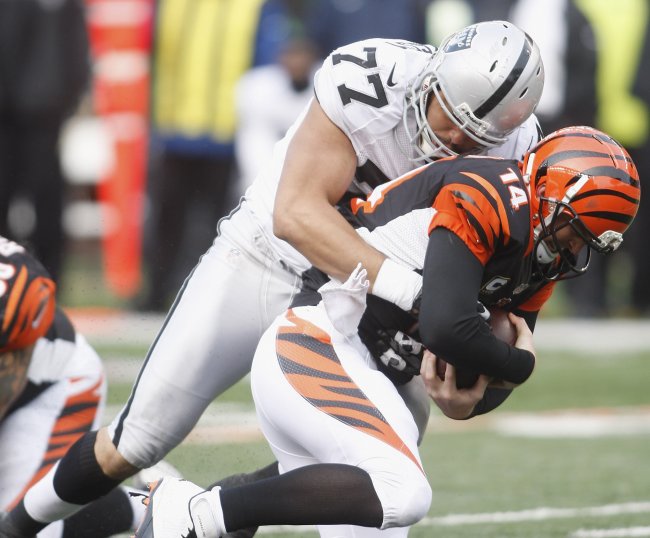 John Grieshop/Getty Images
In the Bengals' three-game win streak, quarterback Andy Dalton has been sacked a total of four times. The increased protection he's been given from his offensive line has directly related to the fact that they've managed those three wins, and it needs to continue into Week 13 and beyond.
The success or failure of Cincinnati's offense rests on Dalton's arm. Most obviously, this is because the Bengals have centered their offense around their quarterback and his receiving targets. If Dalton cannot connect with A.J. Green, Mohamed Sanu or Jermaine Gresham, then the scoring dries up.
His passing under pressure has improved over the weeks—he's now completing 50 percent of his pressured passes—but when he has faced the pass rush repeatedly in the past, it has left him flustered, prone to interceptions and errant throws.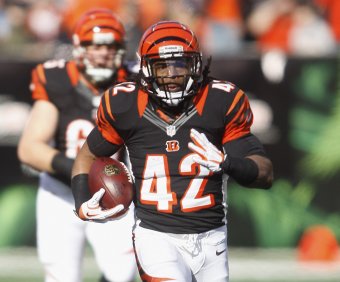 John Grieshop/Getty Images
Further, Dalton's passing is also one reason why the Bengals have had such an uptick in run production over the last two weeks. Defenses assume that the Bengals still cannot run the ball well and they're playing deeper to stave off scoring shots to Green and Dalton's other receivers, leaving them susceptible to big gains up front by running backs BenJarvus Green-Ellis and Cedric Peerman.
If Dalton's passing dips, defenses will be less afraid of him, causing them to play shorter and have better success defending the run.
While it appears that the Bengals' much-shuffled offensive line has finally settled down, resulting in fewer hits on Dalton and better running out of the backs, it still needs to be wary of opposing pass-rushers ruining its day. This Sunday, the Bengals take on the San Diego Chargers, who had a field day with the Baltimore Ravens' offensive line last week, sacking quarterback Joe Flacco five times.
In fact, the pass rush is one of the few things the Chargers have going for them at the moment and they will likely rely heavily on it to keep the newly high-scoring Bengals defense off the field.
Presently, the Bengals are an extremely balanced offense primarily because Dalton's being forced into making fewer mistakes. If this ceases, the Bengals will again be in danger of stacking up losses rather than wins.
No Holding Back on Defense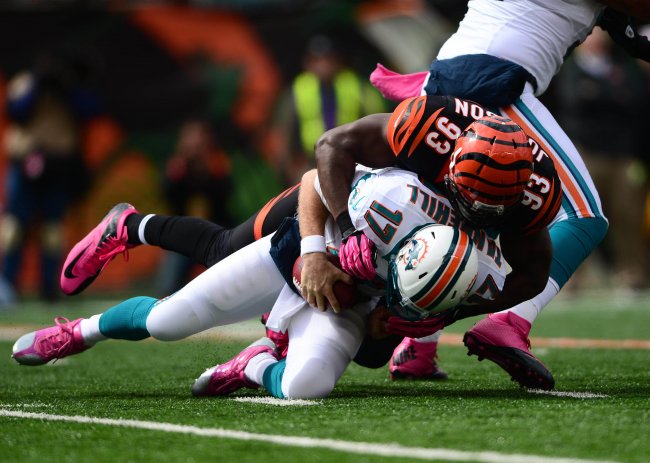 Andrew Weber-US PRESSWIRE
Even if the Chargers' pass rush (or the pressure of any defense the Bengals have ahead of them) does manage to shake Dalton and slow down the Bengals' run game, their chances to continue winning games aren't dashed.
They'll just need to continue bringing the pressure on opposing quarterbacks as they have all season.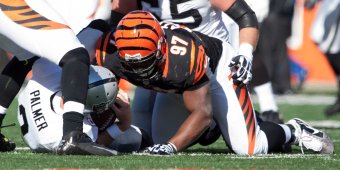 Rob Leifheit-US PRESSWIRE
The Bengals have one of the best defensive fronts in the NFL presently, even though more attention is being paid Green and the offense. It is led by defensive tackle Geno Atkins, who has 10 sacks, 10 quarterback hits and 31 quarterback hurries, making him the very best at his position by a long shot.
Those 10 sacks have contributed to the Bengals' total of 37 on the season (or 35, by ESPN's count) and are a major reason why they've managed to hold their last three opponents to a total of just 29 points. It's also how they can defeat the Chargers and any of the other teams on their remaining schedule even if their offense has a dip in production.
Last week, the Baltimore Ravens sacked Chargers quarterback Philip Rivers six times, while prior to that they had just 19 on the year. San Diego has one of the worst offensive lines in the league, allowing a total of 141 pressures—24 sacks, 14 hits and 103 hurries—so far this season.
The Bengals should be more than capable of taking advantage of this porous line and keeping Rivers from making any significant gains in the passing game.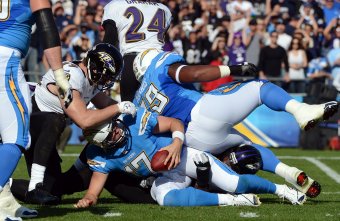 Donald Miralle/Getty Images
Cincinnati's secondary, while adept at shutting down the deep passing games of teams like the New York Giants, isn't incredibly productive in the turnover department, with just eight interceptions on the year. Still, Cincinnati is a top-10 team in passing yards allowed through the first 12 weeks, and that's all on its defensive line.
As we head into the decisive final few weeks of the season, teams need to focus more on winning games in the trenches.
If the Bengals can maintain protection of Dalton while their defensive line continues to get their hands on opposing quarterbacks, it shouldn't be all that hard for the Bengals to pick up their fourth consecutive win this Sunday and get one step closer to a wild-card berth in the playoffs.