Green Bay Packers Must Learn from New York Giants Loss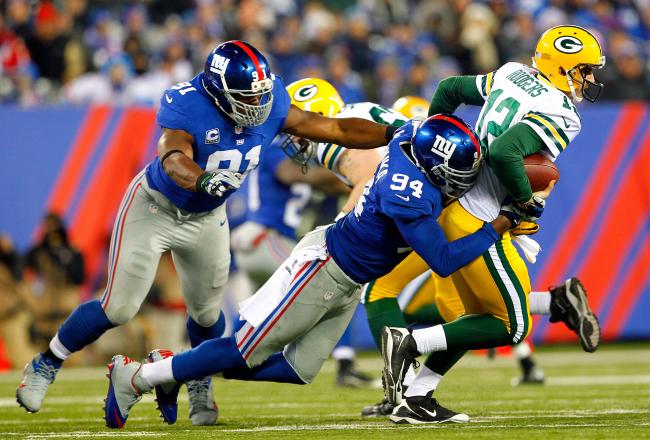 Rich Schultz/Getty Images
Very rarely does an NFL team completely no-show in any given game.
Sometimes the quarterback may have a bad game, the kicker might miss a field goal or two or the defense might get ripped apart by a hot opposing quarterback.
But every facet of a team's roster taking the day off? That's a rare occurrence for even some of the worst teams.
Yet, that basically happened to the Green Bay Packers Sunday night against the New York Giants.
Aaron Rodgers struggled to find open receivers and turned the ball over twice. The offensive line couldn't block for him. Wide receivers dropped passes. The running game couldn't get going. The defense was torched by both Eli Manning and the New York running game. Mike McCarthy was outcoached. Mason Crosby's funk continued. Even the incredibly consistent Tim Masthay had a very unimpressive night.
Perhaps the only bright spot was Dezman Moses, who again submitted a strong performance while filling in for Clay Matthews.
Still, the entire game was one the team would likely want to forget.
But forgetting the game should be the last thing McCarthy and his players should do. Rather, they should take this kick in the you-know-what and turn it into a positive. That is, use it as a learning tool and motivation.
This loss could be a wake-up call much like the Colts game was earlier this year.
Although the Packers already experienced two losses before that Week 5 matchup, it was the Indianapolis defeat that sent a message. The San Francisco 49ers have been one of the best teams over the past two years, and really, Green Bay was robbed of victory in Seattle.
But when the Packers blew a 21-3 halftime lead to the worst team from 2011 and a rookie quarterback, the message was sent. It was time to kick it up another notch.
Green Bay went on to deliver the Houston Texans their only loss of the year so far in dominating fashion to begin a five-game winning streak.
Although Sunday night's defeat was to a better team, the blowout was just as embarrassing as the loss to Indianapolis, if not more.
With only five games remaining and the race for the NFC North and Wild Card lead very much alive, hopefully this loss will provide a wake-up call for the final stretch of the schedule.
But maybe more importantly, Rodgers, McCarthy and the rest of the leaders of this team need to learn from this loss to improve for the remainder of the season.
After Rodgers hooked up with Jordy Nelson for a 61-yard touchdown score, the Giants played the two-high safeties look that has bothered Green Bay ever since the Kansas City loss last year.
This time was no different. If you take away that touchdown pass, Rodgers only threw for 158 yards while playing catch-up basically the whole game.
Defenses have adjusted to contain Green Bay's high-powered offense. It's about time McCarthy readjusted to them. He's got plenty of film now on defenses shutting down his offense. If he's the offensive genius everyone thinks he is, he must figure out a way to beat the two-high safeties.
But that doesn't fall just on the shoulders of McCarthy. Rodgers also must figure out a way to produce like he did last year. While it may be unreasonable to demand a repeat of arguably the greatest quarterbacking season ever, a little more consistency would go a long way in bringing the offense back to its 2011 form.
Of course, the return of Greg Jennings this and upcoming weeks will help that happen. Rodgers and his bevy of top-tier wide receivers, when fully healthy, can mask just about any other deficiency Green Bay may have.
It worked all but twice last year, and it should help get the offense fully back on track this season.
But first things first. Examine the mistakes and weaknesses and learn from them.
I trust this team can do it. McCarthy really is a great coach, and Rodgers is one of the most competitive guys in the NFL.
I'm sure they're already mapping out numerous game plans to combat the two-high safeties.
All that's left is the application and correct execution.
This article is
What is the duplicate article?
Why is this article offensive?
Where is this article plagiarized from?
Why is this article poorly edited?

Green Bay Packers: Like this team?