Alex Smith: What Should Alex Smith Do After the Season?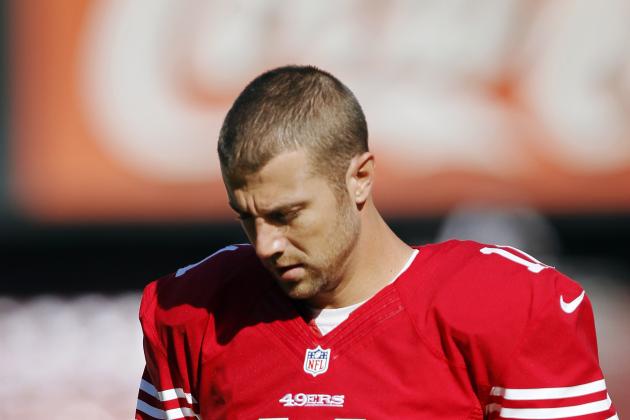 Brian Bahr/Getty Images
Alex Smith
Alex Smith has lost his job to Colin Kaepernick and barring injury or regression with Kaepernick, it's probably not coming back. With Kaepernick, the 49ers have a young, dynamic, and athletic quarterback that can extend plays and throw the long-ball, whereas with Smith, the 49ers have an older, conventional, and limited quarterback with a history of injuries. That doesn't mean that Smith's NFL career is over, far from it actually. So let's explore Smith's best options going forward.
Begin Slideshow

»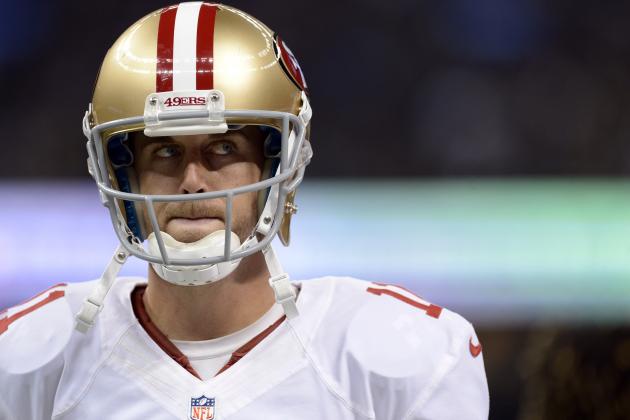 John David Mercer-US PRESSWIRE
Alex Smith
The 49ers are up against the salary cap and cannot afford to pay Alex Smith $8 million per year to be a backup. With that said, if Alex Smith is open to returning next year at a reduced salary, he should be welcome back with open arms.
At this juncture in his career, Smith has more to gain by sticking with coach Jim Harbaugh than by going elsewhere. After all, his best football has come under the tutelage of Harbaugh and going somewhere else may not bode well for his career.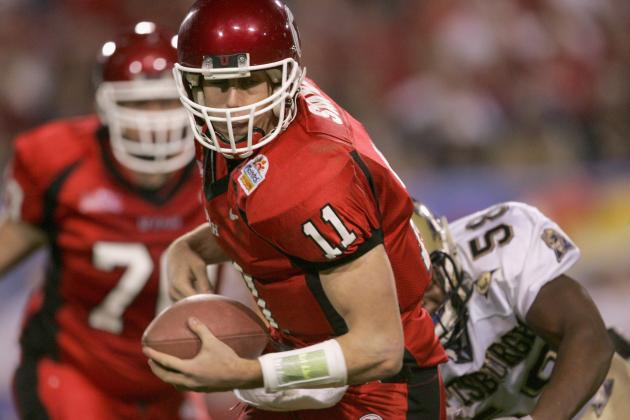 Jeff Gross/Getty Images
Alex Smith
Alex Smith flirted with the Miami Dolphins this past offseason during free agency but ultimately decided to return to the 49ers on a team-friendly three-year deal, knowing full well that Jim Harbaugh had his replacement in mind.
So if Smith wants to play elsewhere next year, he can request to be traded to another team. The other possibility is that if the 49ers cut Smith at the end of this season, Smith could pursue employment with other teams on his own.
A bottom-feeder like the Kansas City Chiefs or New York Jets would benefit from having Smith's experience. Smith could also play the role of mentor to a younger quarterback like Andrew Luck of the Indianapolis Colts or Russell Wilson of the Seattle Seahawks. That would probably be less awkward than trying to mentor Colin Kaepernick on his current team.
Kelley L Cox-US PRESSWIRE
Alex Smith
There is no shame in walking away from the hard-hitting world of professional football, especially when one has endured what Alex Smith has. Last season, he was the most sacked quarterback in the National Football League, and for most of his career, he's struggled with injuries, ridicule and demotions.
So maybe it's time to hang up the cleats and pursue something else in life, because Alex Smith really is a smart guy. He graduated in two years from the University of Utah with a degree in Economics and a 3.74 grade point average. A couple of years ago, he indicated he was interested in going to law school.
Financially, Smith has made well during his eight-year NFL career, and there's no reason to think he couldn't find similar success pursuing something else.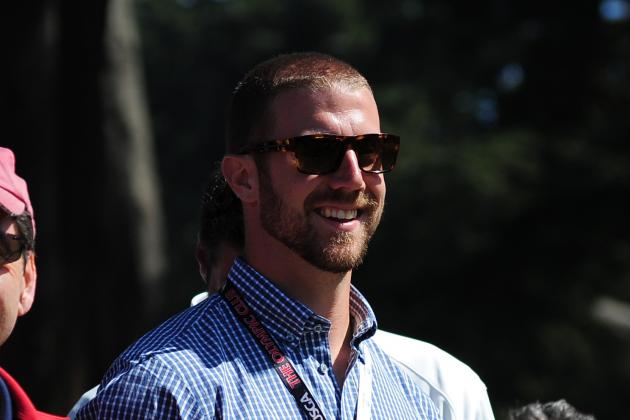 Kyle Terada-US PRESSWIRE
Alex Smith
Believe it or not, Alex Smith has options. Before he lost his starting job, he was on track to finish as one of the highest-rated passers in the league this season. What team wouldn't want an efficient quarterback on their roster?
Smith may not command big money, but so long as he is healthy, he should have a future in the NFL for several years to come.