7 Steps for LA Clippers to Sustain Championship Momentum in 2012-13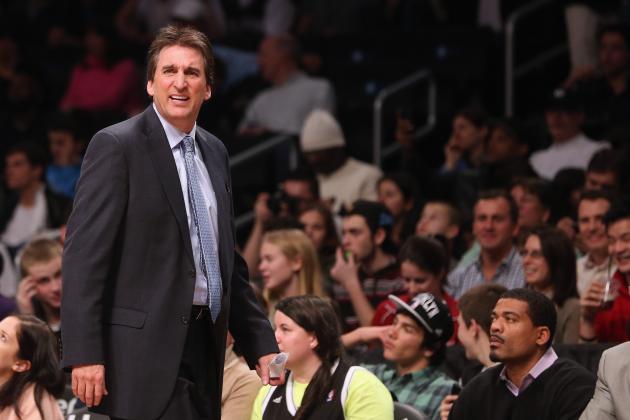 Bruce Bennett/Getty Images

The 2012-13 NBA regular season has been one of impressive measures for one Los Angeles franchise. Surprisingly, it's not the Lakers who we're referring to—it's the Clippers.
With an impressive start behind them, how can the Los Angeles Clippers sustain championship momentum? B/R has the answers.
The Clippers own victories over the Chicago Bulls, Los Angeles Lakers, Memphis Grizzlies, Miami Heat and San Antonio Spurs. In fact, they defeated the Spurs twice before embarking on their current three-game losing streak.
A streak that should not stir panic in Los Angeles.
The Clippers are not only a team of extraordinary depth, but elite talent. With the likes of Chris Paul, Blake Griffin and Jamal Crawford leading the way, this team has become as legitimate a contender as any in the Western Conference.
So how can they maintain this level of play?
Note: All statistics are updated as of 5:00 p.m. EST on November 26th, 2012.
Begin Slideshow

»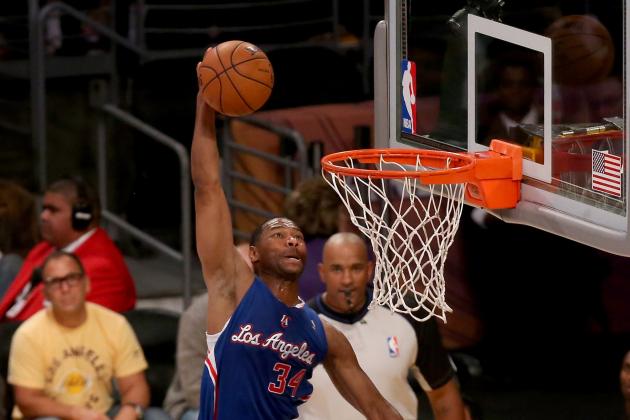 Stephen Dunn/Getty Images

Willie Green is one of the most underrated shooters in the NBA. He's shooting 41.9 percent from beyond the arc for the season, which comes one year removed form his 44.2 percent shooting with the Atlanta Hawks.
The question is, where exactly will Green fit in alongside Chris Paul, Jamal Crawford, Eric Bledsoe and Chauncey Billups? Answering that is the first step to sustaining championship momentum.
At 6'3" and 201 pounds with solid ball-handling ability, Green fits the makeup of a Clippers guard. The fact that he can shoot the lights out is an added bonus, while his activity on defense displays his energy and effort.
With that being said, Green is not the caliber defender that Bledsoe is. Nor is he the quality scorer of a Crawford or Billups.
Green deserves playing time and can provide a scoring spark for the team. Deciding upon his role within the rotation is the first step towards championship legitimacy.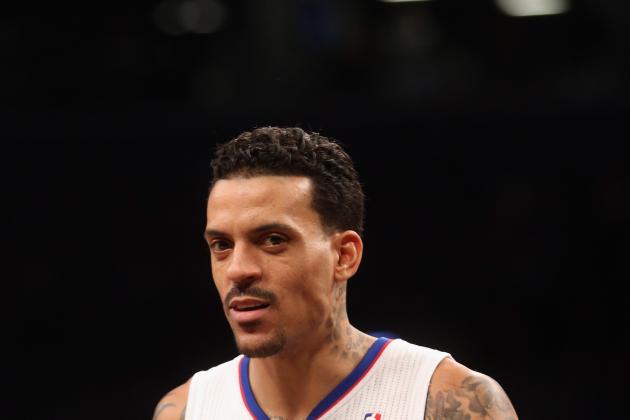 Bruce Bennett/Getty Images

Thus far this season, the Los Angeles Clippers have done an excellent job of dividing playing time at small forward. Matt Barnes has seen 25.8 minutes per game, while Caron Butler sits right behind him at 24.3.
As of November 26th, they're averaging a collective 16.6 points, 7.5 rebounds and 1.8 steals per game. Surprisingly, it's Barnes who has carried the load.
On his own, Barnes has posted averages of 7.9 points, 5.4 rebounds and 1.3 steals per contest. With that being said, it's Butler who is shooting 44.1 percent from beyond the arc and ranking second to Jamal Crawford in three-point field goals per game.
So, why break up the balance when Barnes and Butler work in perfect harmony?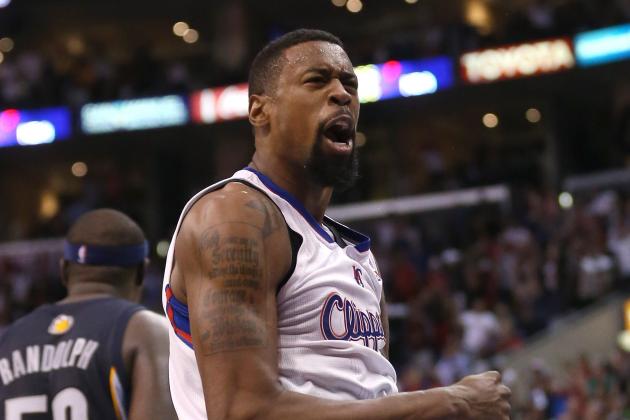 Stephen Dunn/Getty Images

Has there been a more pleasant surprise this season than DeAndre Jordan? Chances are, you won't be able to find one.
As of November 26th, Jordan ranks second in the NBA by shooting 60.6 percent from the floor. Although his free-throw shooting continues to disappoint, Jordan has developed into the top low-post scorer on the roster.
A statement which includes the progress made by Blake Griffin.
Clearly, Griffin is the more prolific scorer, as his career average of 21.4 points per game will display. What Jordan has provided, however, is the back-to-the-basket scorer that the team previously lacked.
Which is why coach Vinny Del Negro must believe in Jordan and grant him more minutes.
When the Clippers look his way, Jordan has responded marvelously by converting over 60 percent of his shot attempts. When they don't, the former Texas A&M Aggies star has no problem rising up and calling his own number. As his team-high 2.9 offensive rebounds per game display.
With Jordan also averaging a team-best 2.1 blocks per game, it's clear that he has found a way to contribute on both ends of the floor. It is evident in the team's overall numbers.
With Jordan on the floor, the Clippers are averaging 107.2 points scored and 101.8 points allowed per 48 minutes. With Jordan on the bench, they're putting up 102.7 points of their own and letting up 104.5 points per 36 minutes.
They're better with him than without him.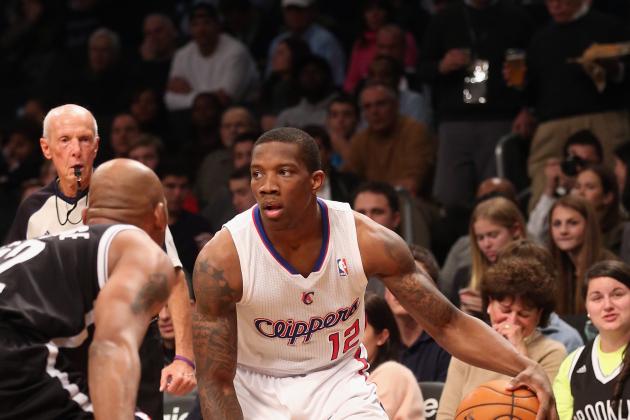 Bruce Bennett/Getty Images

Through their first 13 games, the Los Angeles Clippers have learned one important fact. When Eric Bledsoe and Jamal Crawford are on the floor together, they bring the best out of one another.
Allow the numbers to speak for themselves.
With Bledsoe on the floor, Crawford is averaging 26.6 points per 36 minutes. When Bledsoe is on the bench, however, Crawford is averaging 18.8 per 38, which is a 7.8 points per 36 minutes decline.
As for Bledsoe, he is averaging 20.6 points per 36 minutes of play with Crawford in the game. When Crawford is absent, however, Bledsoe is averaging 13.1 points per 36 minutes.
So, how is it all going down?
With Bledsoe on the floor, 35.1 percent of the shots Crawford is attempting come from in the paint. When he is not on the floor, however, Crawford is attempting just 25.0 percent of his shots from within the paint and is limited as a perimeter scorer.
In other words, the Clippers' most lethal scorer is at his best when Bledsoe is on the floor with him. Does it really need to be spelled out any other way?
The only real question is, where does that leave Willie Green?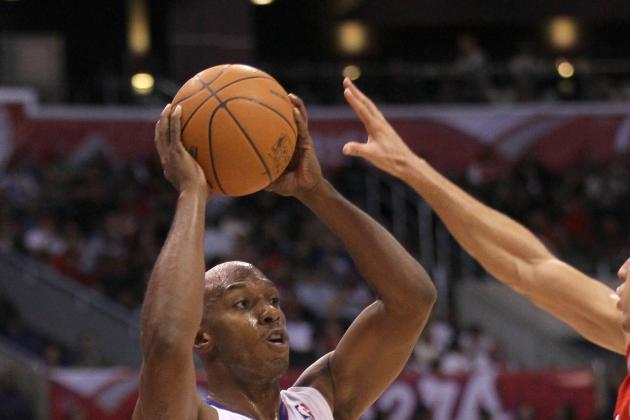 Stephen Dunn/Getty Images

This one is clearly out of the Clippers' control, as Chauncey Billups will return from a torn Achilles tendon, whenever it heals. Any attempt at a rushed return could be disastrous, especially considering Billups is 36 years old.
Once he returns, however, it is all on the coaching staff to incorporate him into the rotation in the proper manner.
With a backcourt that consists of Chris Paul, Jamal Crawford, Eric Bledsoe and Willie Green, it could be difficult to find the proper placement. Crawford is the team's leading scorer and CP3 is considered by many to be the top point guard in the league.
Although Billups' reputation exceeds that of Bledsoe and Green, one cannot discount their contributions. Specifically Bledsoe, whose importance was previously outlined.
With the 2004 NBA Finals MVP expected to return in December, however, the Clippers must begin planning his role (via ESPN Los Angeles). He has the most playoff experience of any player in the backcourt and could pair with Lamar Odom to lead this team through the postseason.
The question is, how will coach Vinny Del Negro work him in?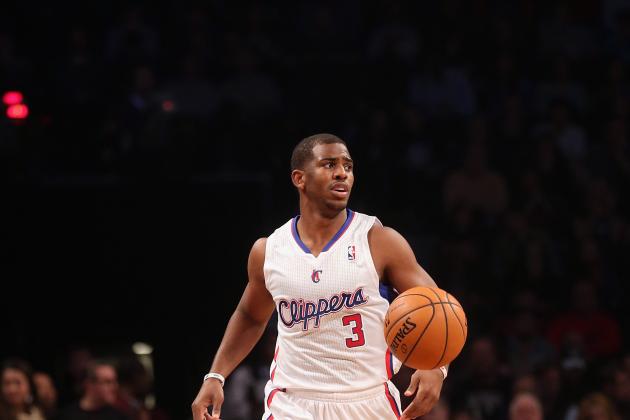 Bruce Bennett/Getty Images

If the Los Angeles Clippers are going to make a run through the postseason, they must not be afraid to trust point guard Chris Paul. He is one of the most dynamic playmakers of this generation and is just as likely to drop 30 points as he is to dish out 15 assists.
Throw in his defensive tenacity with four years as the league-leader in steals, and you have yourself the quintessential "all-around point guard."
With all of this being established, the Clippers cannot allow themselves to fall into the same isolation sets that they did during the 2012 Western Conference Semifinals.
If Paul is struggling against an elite opponent, remember one thing. Jamal Crawford and Chauncey Billups can take the ball and run the show, too.
The sooner this team embraces that, the sooner they'll be able to move past any opponent.
Thus far this season, the team has embraced that truth. Once the lights are on, and the win or go home games begin, however, it is an entirely different story.
You'd be hard-pressed to name five players as consistent as Paul. Just don't pretend that he's the only player on this team known for coming up big with the game on the line.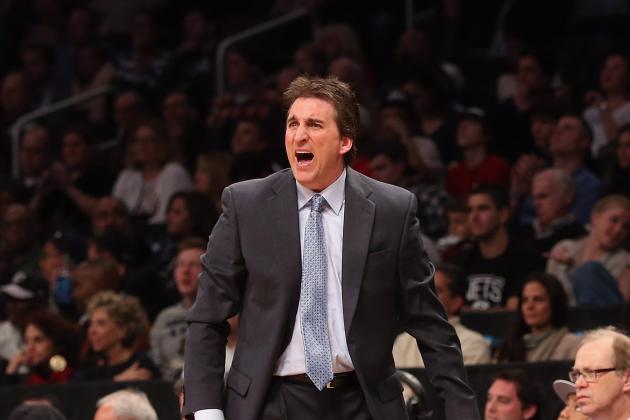 Bruce Bennett/Getty Images

If the Los Angeles Clippers have learned anything from their in-house rival Lakers, it's that inconsistency at head coach will damage team chemistry. It's inevitable and the reason that this is the number one task at hand for the Clippers.
If times get hard and the Clippers begins to lose, the locker room cannot repeat what transpired in 2011-12 (via ESPN Los Angeles). They must trust Vinny Del Negro to right the ship.
Del Negro may not be the most admired man in Los Angeles, but he has done one thing that no coach of the Los Angeles Lakers has for two years running Created a sense of consistency for an L.A. NBA franchise.
This is not to say that the Clippers are better or worse than the Lakers, just to cite what Del Negro deserves respect for: Battling adversity and emerging with the faith of his players.
If the Clippers fans and players lose that belief in Del Negro at any point this season, they could lose their season all together. However, should they remain as a unit and continue to fight until the final zeroes, Del Negro and company will find legitimacy in their championship dreams.
The question is, will they seal the deal and execute come the postseason?