Is Mohamed Sanu the Cincinnati Bengals Best Rookie?
Use your ← → (arrow) keys to browse more stories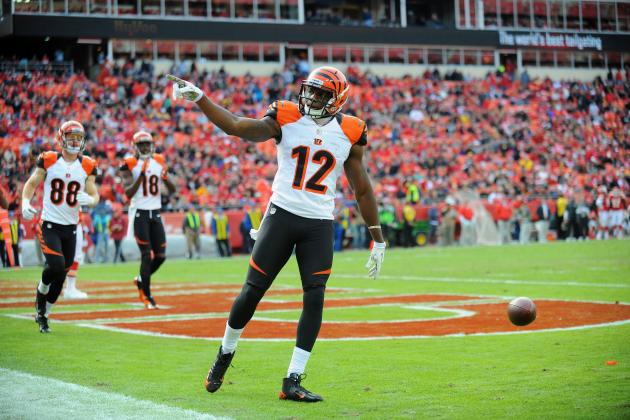 Denny Medley-US PRESSWIRE

The Cincinnati Bengals so far have appeared to land a quality 2012 NFL draft class with a variety of youngsters playing at a high level, but the best among them may be receiver Mohamed Sanu.
Sanu, a Rutgers product whom Cincinnati selected in the third round, didn't start a game until the Bengals' Week 11 matchup against the Kansas City Chiefs.
While he didn't statistically wow anyone, he still came through with an impressive, versatile debut against the Chiefs.
Sanu registered 63 offensive snaps against Kansas City—the same amount as star receiver A.J. Green. But what separates Sanu from Green and other Cincinnati receivers is his versatility. Sanu not only lined up on the outside, he took snaps from the slot, and even from the backfield, where he lined up as a running back.
The amount of snaps Sanu received were primarily a result of injuries at his position, it still shows the coaching staff has a large amount of trust in the rookie.
Sanu's breakout game came the following week when Carson Palmer and the Oakland Raiders visited Cincinnati in Week 12. He caught five passes for 29 yards and two touchdowns, including this gem in the back of the end zone:
What's impressive outside of his stats is the way quarterback Andy Dalton already appears to trust Sanu. The pass Dalton delivered is one he normally throws only to Green. But with Green blanketed by coverage, Dalton went to Sanu.
Sanu delivered.
It goes without saying that Sanu seems poised to have a big impact the rest of the season, but he most certainly isn't the only rookie from this Bengals' draft class turning heads right now.
First-round selection Kevin Zeitler was inserted at right guard at the beginning of the season and hasn't disappointed. In fact, he may have already exceeded expectations. According to ProFootballFocus, the Bengals have a top-five offensive line in the NFL.
Zeitler is a major part of that ranking. He's sound in all areas and has teamed with right tackle Andre Smith to form a ferocious one-two punch on the right side of the line.
Tight end Orson Charles, a fourth-round pick, has worked his way into the rotation, as has fifth-round receiver Marvin Jones. The latter has been productive as part of the rotation at receiver but has had issues staying healthy.
Perhaps the most impressive rookies for the Bengals outside of Sanu have been two undrafted signings—center Trevor Robinson of Notre Dame and linebacker Vontaze Burfict of Arizona State.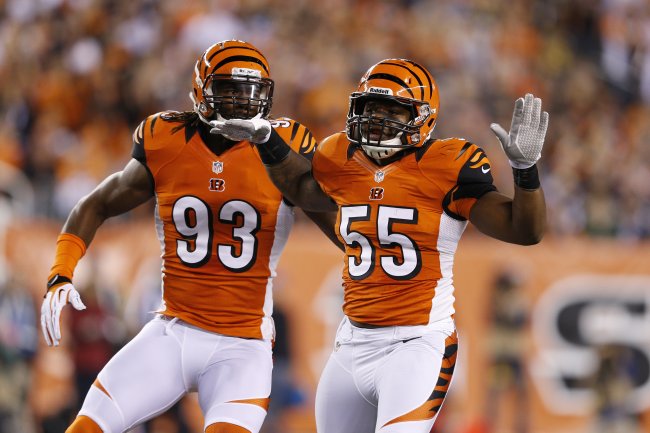 Joe Robbins/Getty Images
Burfict is a well-known story, but it was hard to predict how he would adapt to the NFL. Thanks to a season-ending injury to linebacker Thomas Howard, Burfict was given his shot to start.
He hasn't looked back.
Burfict has been an excellent player for the Bengals and has helped to stabilize a linebacker unit that was seemingly lost without Howard. He has been far from perfect, but considering he was an undrafted free agent, his 76 tackles and one sack are outstanding.
Who do you think is the Bengals' best rookie?
Robinson is the lesser known of the two undrafted free agents who excels at doing the thankless work in the trenches.
Robinson replaced veteran Jeff Faine because the coaching staff saw something in him, and he immediately improved the entire offensive line. He's helped the Bengals to forget the loss of Kyle Cook and may even keep the job once Cook is healthy.
While Robinson and Burfict appear to be starters, and Zeitler undoubtedly is, Sanu appears to have finally answered the Bengals question as to who can play effectively across from Green.
Before Sanu started seeing snaps, there was still a heavy rotation in place at wide receiver. With Sanu taking the majority of the snaps, the Bengals have scored 62 points in the last two weeks. Sanu's presence in the lineup has been a big reason behind the outburst.
Defenses have clearly had a hard time finding an answer for Sanu thanks to his aforementioned versatility. He has lined up as a running back and not only caught passes out of the backfield but taken handoffs as a running back and picked up solid yardage.
Peter Aiken/Getty Images
The way offensive coordinator Jay Gruden is using Sanu so far is eerily similar to how the Minnesota Vikings use Percy Harvin, While Sanu isn't as fast, he's still the new-found wrinkle in the Bengals offense that has allowed the attack to be drastically less one-dimensional.
When a rookie comes in and has a massive impact not only on his position but the offense as a whole, he has to be considered one of the top rookies on the team.
Whether or not you think Sanu is the Bengals best rookie, one thing is clear. Marvin Lewis and Co. continue to excel at picking up outstanding talent and value in drafts. They're building a postseason-caliber team the right way—through the draft.
Sanu is simply the most recent example.