FC Barcelona: 6 Young Guns Who Could Have a Big Impact in the Future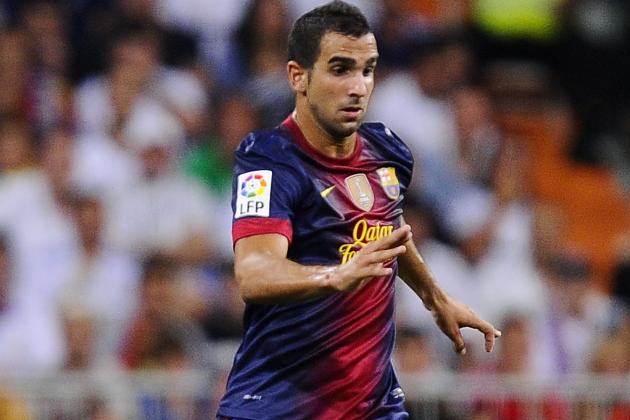 David Ramos/Getty Images

La Masia: FC Barcelona's football academy is famed for bringing some of the brightest and best talents around to the global stage of the game.
The current leaders of La Liga in Spain regularly start matches with 70 percent or more of their lineup having had much of their footballing education within the club.
From goalkeeper Victor Valdes to forward Pedro Rodriguez, and encompassing everybody in between from Cesc Fabregas to Carles Puyol, Andres Iniesta, Xavi Hernandez and Gerard Pique—and that's not to ignore, of course, the star of the show: Leo Messi.
Most recently Martin Montoya has taken big strides towards making himself a first team regular when Dani Alves is absent—playing seven times this season in the league. There are plenty of others hoping to follow in his steps and make themselves the newest fan favourite of the Nou Camp.
Here are the six biggest talents who should be looking to soon break through in a big way.
Begin Slideshow

»
David Ramos/Getty Images

This is a big season for Mexican midfielder Jonathan Dos Santos.
The younger brother of former Barcelona attacker Giovani Dos Santos, he is 22 years of age now and needs to make a big impact on Tito Vilanova during the 2012-13 season to progress quickly into the first team.
Although he has appeared over 20 times for the full side in competitive games, Dos Santos has yet to be called upon regularly by the management and has made only one substitute appearance in La Liga this term.
Nonetheless, he has an excellent range of skills which would lend themselves to most top flight first teams; but this is Barcelona, and something more is required.
Dos Santos has the ability to make a big name for himself at Barça; no doubt about it. But he needs to do everything possible to get the chance he requires to show that. If he gets his chance, perhaps just a couple of league matches, then he could go on to be a genuine challenger for a central midfield spot.
And considering the competition, that is testament to the level of ability he has.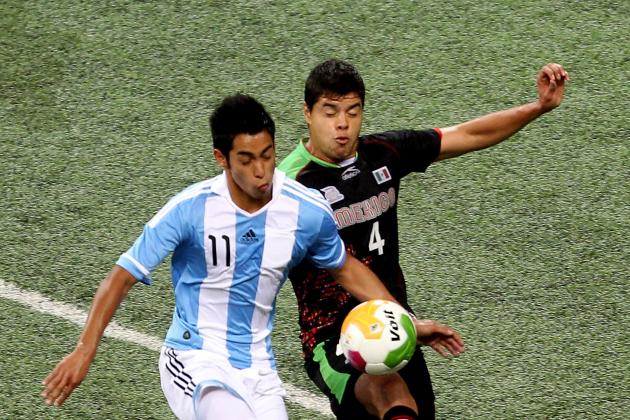 Scott Heavey/Getty Images

Sergio Araujo is spending two seasons on loan with Barcelona, playing for the B team during the present campaign.
The Boca Juniors striker is fast, has an eye for goal and a penchant for the spectacular, but has much work to do to convince the senior staff of the club that he is worthy of a full time, permanent deal.
At 20 years of age Araujo certainly has plenty of time to do just that though, and he is certainly talented enough to justify the "trial period" he has earned so far.
Araujo also has plenty of competition, even at B team level, to earn the right to figure prominently but he has the raw attributes to potentially be molded into a fantastic striker with the coaching he will receive at Barcelona.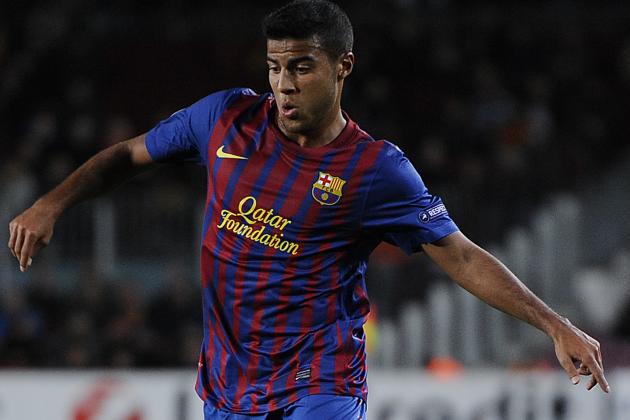 David Ramos/Getty Images

Rafa Alcantara—better known as Rafinha—is another talented midfielder hoping to make the grade at the Nou Camp.
Rafinha has watched his elder brother Thiago Alcantara make the transition from B team player to first team squad regular and hopes to emulate him over the coming seasons.
At just 19 years of age, time is still on his side but his attacking talents have made him stand out already as one of the very best in his age group.
Though he has yet to make his debut in the league, Rafinha has already featured a couple of times for the Barcelona first team. He has also featured for the Barcelona under-17 and -19 teams.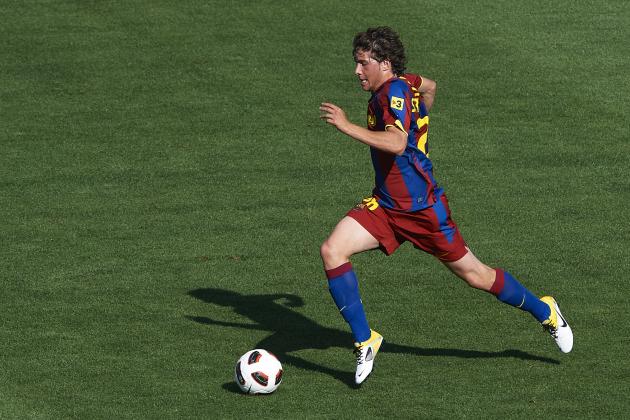 Manuel Queimadelos Alonso/Getty Images

Perhaps the most gifted of Barcelona's youngsters hoping to win a central midfield berth is 20-year-old Sergi Roberto.
He has already featured twice for the first team in La Liga, as well as a pair of appearances in the Champions League—scoring once—and a handful of times in Copa del Rey matches.
Sergi Roberto has not yet been allocated a squad number for the first team, but should Jonathan Dos Santos, for example, fail to make a big enough impression this season then he could well take his place in the senior set up for the 2013-14 campaign.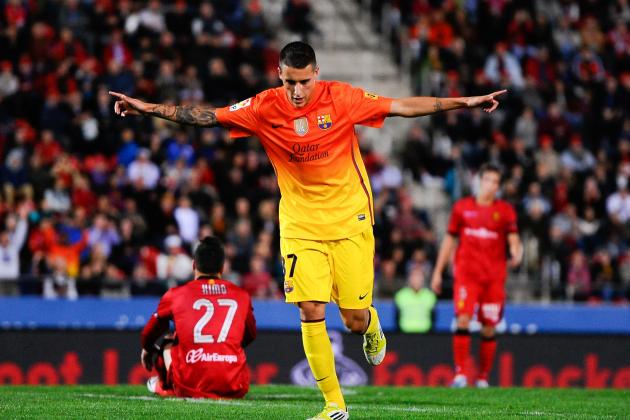 David Ramos/Getty Images

Now one youngster who is already a significant part of the squad, and could feasibly make himself a regular in the starting 11 this very season.
Cristian Tello has scored twice in La Liga this season from his left-sided forward's role and has added a third in the Champions League.
With David Villa recuperating, Andres Iniesta injured and Alexis Sanchez struggling for form, Tello has been handed several opportunities early this season and has made eight appearances in the league so far—more than Alex Song and the same as Iniesta.
Tello has a great chance of being the next regular in the team if he keeps progressing, learning and, importantly, scoring goals.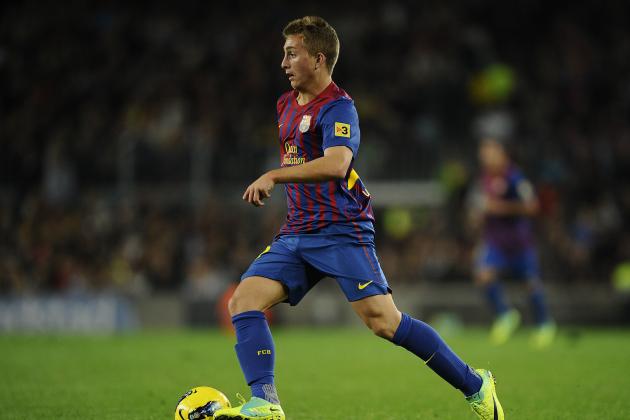 David Ramos/Getty Images

Huge expectations rest on the young and talented shoulders of Gerard Deulofeu.
Though he has just one league appearance to his name in the senior side, it is widely considered that he should be the next great talent to emerge from La Masia, playing either centrally or from the flank in the front three.
His only participation for Barcelona this season has been in the Champions League, but he has scored eight times from seven starts for the B team.
Dribbling ability, confidence, shooting and pace are all key attributes that Deulofeu possesses and if he should hone his mentality into the winning, team-first ethic demanded of all who progress to the Barcelona team then his natural ability should surely see him rise above the competition.
A great future almost certainly awaits Deulofeu.