What We've Learned About the Oklahoma City Thunder After the First Month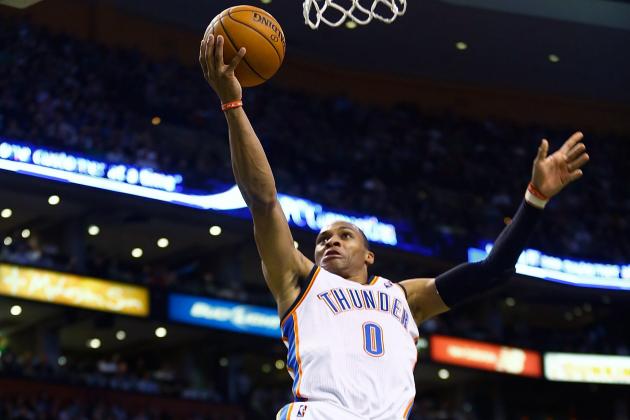 Jared Wickerham/Getty Images

The first month of the 2012-13 NBA season has come and gone, and the Oklahoma City Thunder have played 14 games. Fourteen games to show us exactly what they are made of, who they are and what they will do in the coming months.
The Thunder are a very different-looking group than they were a year ago. James Harden is gone, Kevin Martin has taken his place and Hasheem Thabeet has become a valuable member of any NBA roster. The last month has been a whirlwind, and it is difficult to make sense of.
Some may say that one month and just 14 games is too little to be an adequate sample size for making any judgment about a team. Those people are probably right, but I'm going to do it anyway.
(All stats and figures in this piece are as of November 25.)
Begin Slideshow

»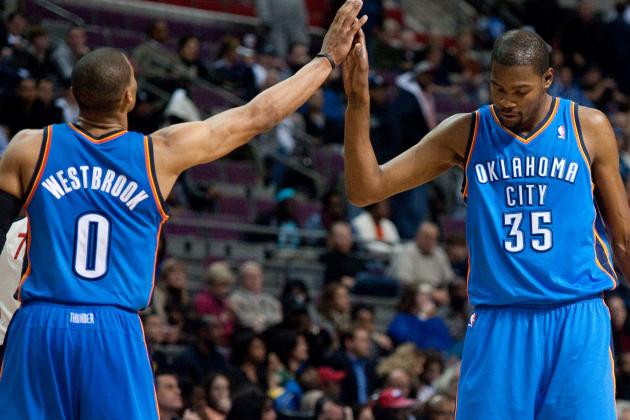 Tim Fuller-US PRESSWIRE

After the trade that sent James Harden to the Houston Rockets, there were a number of people who jumped off the Thunder bandwagon, proclaiming other teams like the Los Angeles Lakers king of the West.
After a month of basketball, the Thunder are still standing, at the top of the Western Conference no less. Granted, the West does look very tough, with good early showings from the Clippers and Memphis. However, the Thunder look just as lethal as anyone else. That fact is in large part due to the play of Kevin Martin, who has filled his role as sixth man very efficiently.
The bandwagon might be running a little lighter than it was one month ago, but the speed at which it barrels through the NBA certainly has not changed.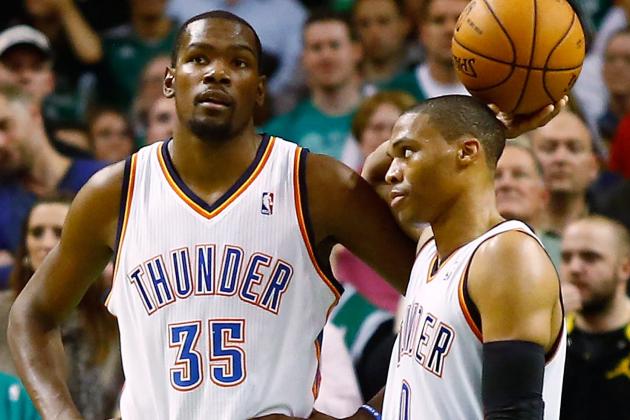 Jared Wickerham/Getty Images

That is not to say there are no problems for this team to work on. They are far from a perfect group. Their youth is still an issue at times, as they struggle with turnovers and beating lesser opponents.
That will come with experience, as will the continually improving chemistry on the roster. The Thunder have at least three rotation player who did not play for them last season, and even more on the bench. As Kevin Martin and the new guys learn to how better play with Kevin Durant and Westbrook, the team as a whole will only improve.
This team is still the young, frustrating that we watched lose to a better, more experienced team in the 2012 NBA Finals. That means that while the potential is still present, the problems are as well.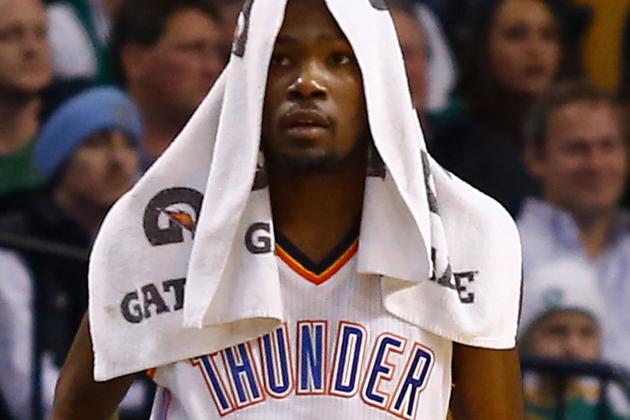 Jared Wickerham/Getty Images

At the beginning of the season, it looked as if Kevin Durant was trying harder than ever to be LeBron James, focusing on filling up the stat sheet in more ways than just scoring.
Even though this effort is great for Durant's long-term development, he is still a scorer first and foremost. Although he appeared to forget that in the early goings, he has embraced it yet again recently.
In the first four games of the season, Durant averaged just 20.8 points per game. In the 10 games since, Durant has averaged 28.8 points per game while keeping his assist and rebound averages fairly intact.
It is great for Durant to diversify his game; every player should. But scoring is his bread and butter, and luckily, he has not forgotten that.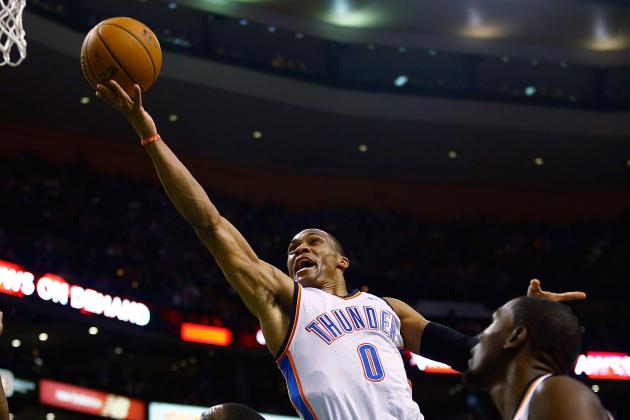 Jared Wickerham/Getty Images

Kevin Durant is still the same player, and his running mate, Russell Westbrook, has not changed much either. He is still the high-flying, emotional, runaway freight train he always has been.
Looking at Westbrook's stats show a player that is just continuing to improve. He is averaging a career-high 8.4 assists per game and a career-low three turnovers per game. While his game is improving in those areas, his scoring average and shooting percentage are down.
When watching Westbrook, it is clear that very little has changed about his style. He still throws up shots he should not, and he still plays very hard. Westbrook's personality is not changing, as evidenced by the past month, so anyone wanting it to should not hold their breath.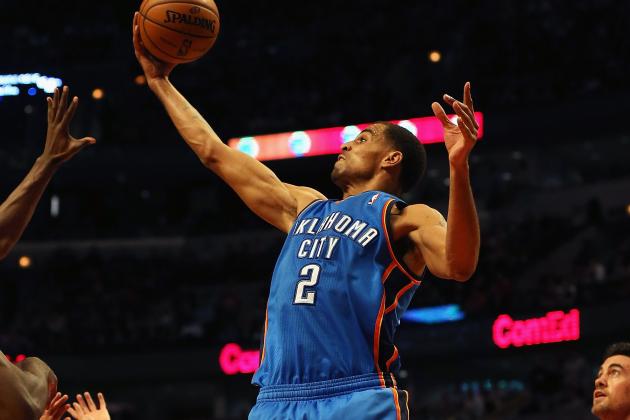 Jonathan Daniel/Getty Images

During the 2010-11 season, Thabo Sefolosha shot 27 percent from three-point range, an abysmal percentage for a starting shooting guard in the NBA. He made significant improvement during the next season, shooting 44 percent. This first month has taught us that Sefolosha is getting even better at knocking down threes, shooting 46 percent.
For a player who, just a few short years ago, could not hit an open jumper to save his life, that is an amazing turnaround, and it is a big reason why Sefolosha continues to be a major contributor for this team.
Why end with this?
Players like Sefolosha separate the contenders from pretenders. Good teams have solid role players who play defense and also work constantly on their game. Sefolosha has clearly been working on his game, as evidenced by the first month of the 2012-13 regular season. That is why this piece ends by giving him some much-deserved, rarely given credit.