Arizona Football: Winners & Losers from the Week 13 Game vs. Arizona State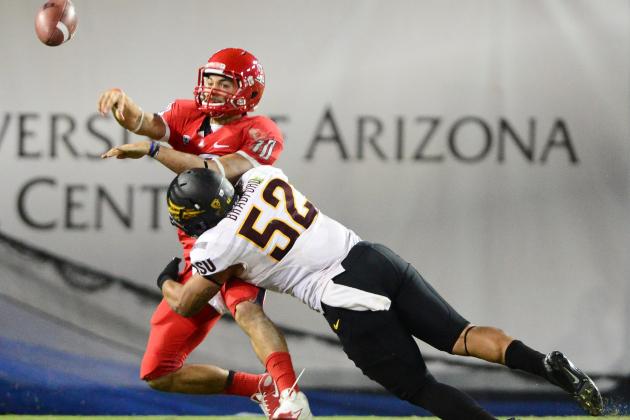 Mark J. Rebilas-US PRESSWIRE
Arizona quarterback Matt Scott turned the ball over four times in the Wildcats' loss.
There are no moral victories to be had when you lose to your rival.
Yes, the Arizona Wildcats won seven games with somewhere between three and five wins worth of talent on its roster.
Yes, the 'Cats are bowl-bound in RichRod's first year at the helm.
And yes, Arizona has spent roughly one third of its season ranked somewhere in the Top 25 of at least one major poll.
But, at least for now, none of that matters.
For the next 12 months, state bragging rights belong to the hated Sun Devils.
And it's a hard pill to swallow.
Arizona Daily Star columnist Greg Hansen writes that while good times await, Wildcats fans must still cope with an excruciating pain:
It was an old and familiar pain; as with most Territorial Cups, the feelings are extreme, a wedding or a funeral, with nothing in between.
The long, slow and lonely walk out of Arizona Stadium was indeed nothing short of funereal.
As has been the case in the past four Territorial Cups, the home fans exited the stadium heads down and hushed while the brave souls who had ventured into enemy territory sang and chanted as one.
For now, Wildcats fans can only hope that next year that trend continues.
Here are the winners and losers in Arizona's 41-34 defeat.
Begin Slideshow

»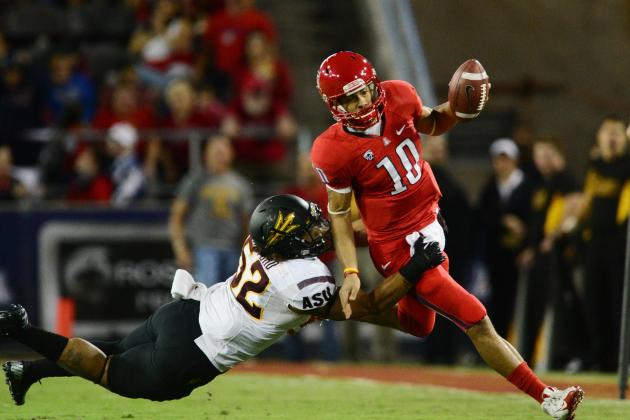 Mark J. Rebilas-US PRESSWIRE
Arizona quarterback Matt Scott
The stage was set for fifth-year senior quarterback Matt Scott to go out with a bang.
However, it wasn't meant to be.
It wasn't only that Scott turned the ball over four times in the biggest game of his Wildcat career, but that one of the four turnovers irreversibly shifted the momentum of the game.
With the Wildcats leading and driving in the fourth quarter, Scott fumbled, setting up the Sun Devils for the game-tying drive.
The Devils never looked back.
This will be looked back upon as the play that reversed both teams' fortunes.
In 2009, Kyle Williams fumbled a punt with just over a minute left, deep in ASU territory, to set up a game-winning field goal by Alex Zendejas.
One year later, Zendejas missed two extra points—one at the end of regulation and one in overtime—thus forever tarnishing his good name.
Last year, with Nick Foles hurt on the sideline, third-string quarterback Bryson Beirne threw a game-winning touchdown pass late in the fourth quarter to Juron Criner. Arizona won 31-27.
And then, on Saturday, Matt Scott fumbled when Arizona had a chance to put the game out of reach.
In rivalry games, outstanding players go from hero to goat just like that. Unfortunately for Matt, this one will sting for a while.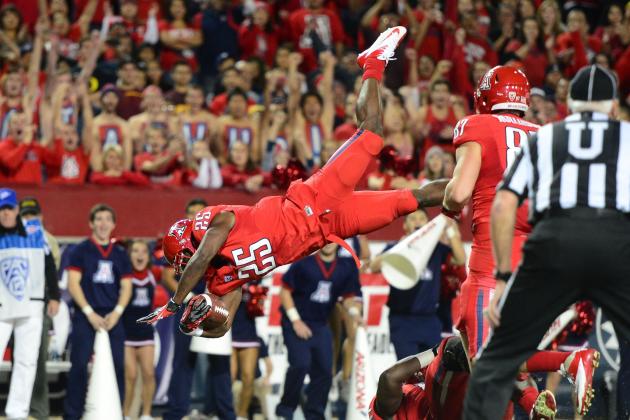 Mark J. Rebilas-US PRESSWIRE

Despite being banged up in the third quarter, Arizona star running back Ka'Deem Carey rushed for 172 yards on 25 carries. He also scored the game's first touchdown.
Unfortunately for Arizona, Rich Rodriguez had to call upon Daniel Jenkins more than he had otherwise planned to in his absence. Jenkins ran 21 times for 78 yards.
Despite the loss, Carey etched his name in U of A history by surpassing Trung Canidate as Arizona's all-time single-season leading rusher. Carey ended the season with 1,757 yards, topping the former Arizona standout by 155 yards.
Good news for Arizona, Carey is only a sophomore.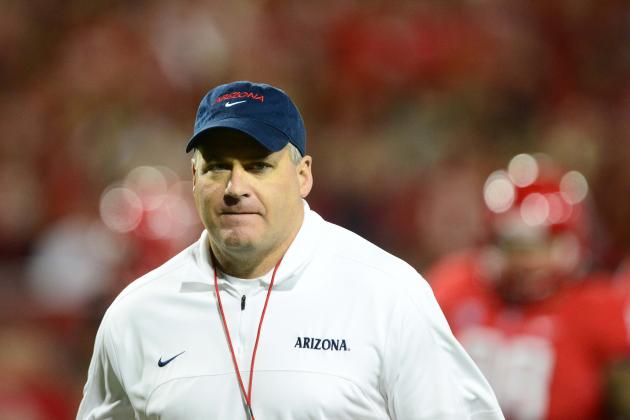 Mark J. Rebilas-US PRESSWIRE

Score it Todd Graham 1, Rich Rodriguez 0.
While Rodriguez is quite the polarizing figure himself, national consensus had it that he was a better hire than ASU's Todd Graham.
Graham, much-maligned for his job-hopping tendencies and cruel breakup methods, got the best of RichRod in his first duel in the desert, fueling questions of whether he was being undersold.
The Arizona State coach, knowing full well how difficult it is to slow down the Wildcats no-huddle spread offense once it gets rolling, brilliantly utilized timeouts on multiple occasions to halt Arizona drives.
Rodriguez, on the other hand, resorted to conservative play calling in the late-third and early-fourth quarters.
Up 27-17, on the last play of the third quarter, Rodriguez called a run play for Daniel Jenkins on third-and-long as opposed to going for the throat. The implication was that Rodriguez was willing to rely on his often-criticized defense to hold down the potent 'Devils offense.
In short, Graham pushed the right buttons. Rodriguez did not.
While RichRod has done a marvelous job with the 2012 'Cats, this game won't sit easy.
Odds are it will not soon be forgotten by Rodriguez, either.
Christian Petersen/Getty Images
Arizona wideout Garic Wharton came through in the clutch for Arizona.
Rivalry games often provide players that otherwise perform limited roles a chance to shine.
Garic Wharton was that guy for Arizona in the Territorial Cup.
Wharton entered the game with one touchdown and 105 yards receiving on the season.
On Saturday, he lead the team with six receptions and 89 yards.
He also caught the go-ahead touchdown from Matt Scott in the third quarter. Scott's laser pass towards the sideline barely eluded the hands of the defender, and Wharton sprinted down the sideline to put the 'Cats ahead 22-17.
His performance was one of the few bright spots in Arizona's passing game.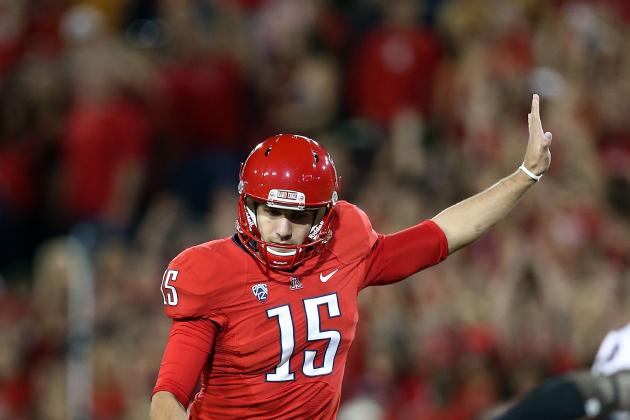 Christian Petersen/Getty Images

After taking a 6-0 lead on a Ka'Deem Carey one-yard touchdown, John Bonano promptly frustrated Wildcat fans by missing an extra point.
Later, with momentum entirely on ASU's side, Kyle Dugandzic's rugby-style punt was blocked deep inside Arizona territory. 27-27 at the time, the Sun Devils quickly capitalized with the go-ahead touchdown just one play later.
The Wildcats would never recover.