Packers vs. Giants: Final Report Card, Player Grades for Green Bay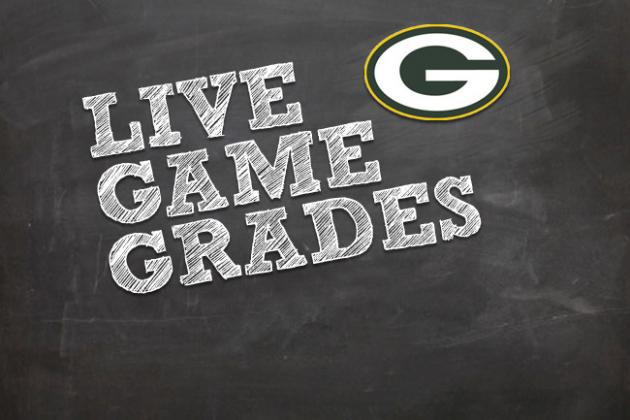 The Green Bay Packers lost to the New York Giants 38-10 in blow-out fashion to fall to 7-4 on the season. The Packers hung with the Giants for half a quarter before getting left in the dust behind a strong performance from the Giants defensive line.
The Packers had a chance to get back into the game late in the second quarter. They had the ball with two minutes left in the half, trailing 24-10 and were getting the kickoff to start the second half. Instead of closing the gap, the Packers fumbled the ball away and the Giants score to take a 31-10 lead into halftime.
Let's take a look at the Packers final post-game grades and evaluations.
Begin Slideshow

»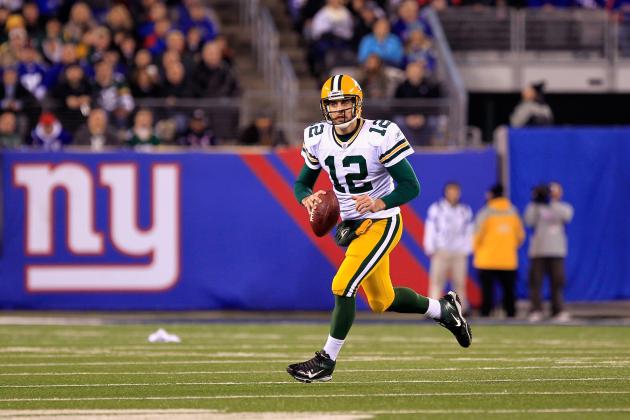 Chris Trotman/Getty Images

Rodgers didn't play a strong game, but he certainly didn't get much help from the rest of his offense. Rodgers spent most the game running for his life and working the short passing game. Often times, he held the ball too long it cost the Packers on numerous sacks. Outside of the long touchdown pass to Jordy Nelson, Rodgers will want to forget about this one and his two turnovers.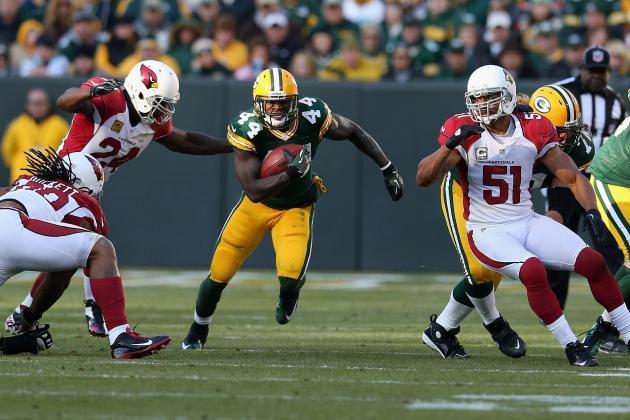 Jonathan Daniel/Getty Images

James Starks–D
Starks had trouble getting going, but hard of that may have been the lack of carries in the first half. He was running the ball better than Alex Green, but Green received two more carries. The Packers need to do a better job of getting Starks carries earlier in the game and into a rhythm.
Alex Green–D-
Green struggled more than Starks, often failing to get extra yardage after contact. While Starks makes sure to fall forward and bounce off impact, Green seemed to get bounced around on initial contact.
John Kuhn–C
It was nice for the Packers to have John Kuhn back, especially in helping out with pass blocking. Without Kuhn offering help to the struggling tackles, the pressure on Aaron Rodgers may have been even worse.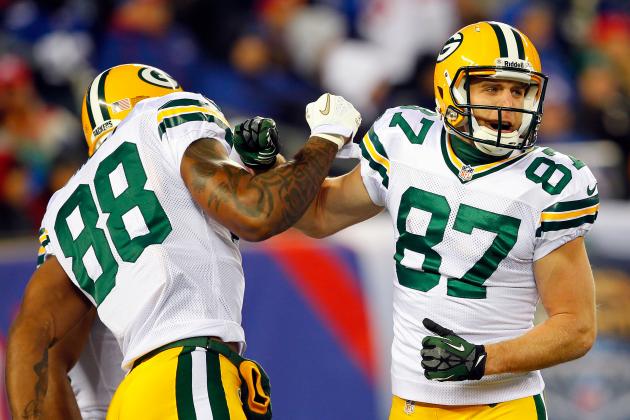 Rich Schultz/Getty Images

Jordy Nelson–B
Nelson got the Packers off to a quick start, but then went on to disappear like the rest of the Packers offense. Part of the reason Nelson was so quiet was because the pressure on Rodgers prevented him from looking downfield. While that hurts, Nelson has to do a better job of getting open quickly.
James Jones–F
Jones wasn't targeted once on the evening. Jones is too good to go whole games without seeing a target. He needs to figure out ways to get open quickly when Rodgers is facing that much pressure.
Randall Cobb–C+
Cobb did a nice job as Rodgers' safety-valve, catching four passes for 39 yards. He probably had as big of an impact on the game that could. That said, to take his game to the next level, Cobb has to start turning this short passes into long gains with his quickness and elusiveness.
Donald Driver, Jarrett Boykin–N/A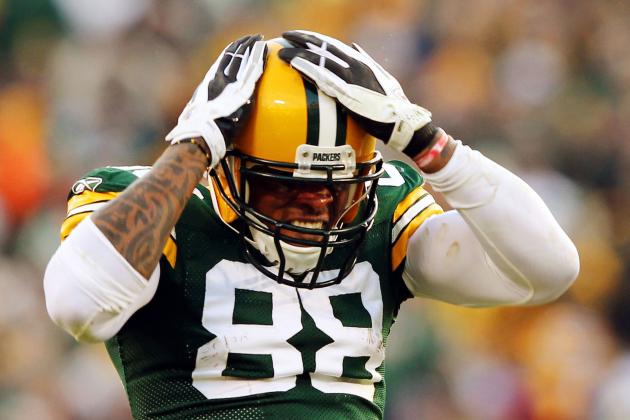 Jamie Squire/Getty Images

Jermichael Finley–B-
Finley had another drop, but was one of the more productive Packers receivers, coming up with three catches for 51 yards. He came up with a huge play in the third quarter, making a diving catch on a tipped pass to avoid an interception. It didn't mean much in the context of the game overall, but it was nice to see a high-effort, smart play from the often, over-criticized Finley.
Tom Crabtree–C-
Crabtree struggled blocking at times and was called for a holding penalty that cost the Packers a first down.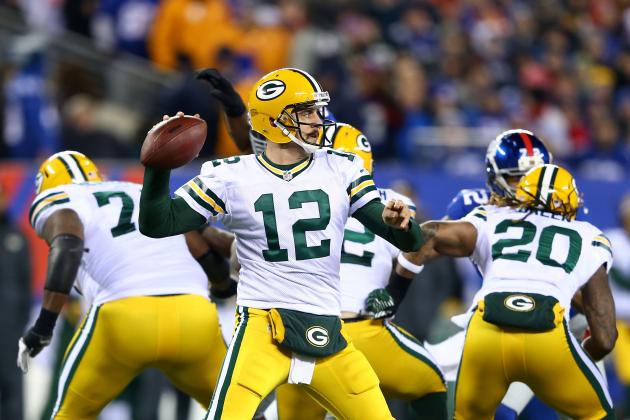 Al Bello/Getty Images

Marshall Newhouse–F
Newhouse struggled all night long and was beat often for sacks or hits of Aaron Rodgers. Luckily for Newhouse, Rodgers' escapability allowed him to avoid some sacks and stay healthy during the blowout. He gave up the sack and fumble late in the second quarter that closed the Packers comeback opportunity.
Evan Dietrich–Smith–D
Dietrich-Smith also struggled and doesn't have the benefit of being a backup anymore. With Bryan Bulaga out for the year, Dietrich-Smith is now a starter and needs to play like one. He didn't tonight, losing his one-on-ones and getting whistled for a holding penalty.
Jeff Saturday–D+
Saturday also struggled as part of a Packers offensive line that gave up a ton of pressure and five sacks. Saturday's protection was very hit or miss on the evening.
Josh Sitton–C-
Sitton had the best performance on the offensive line, but that's not saying much. He was far from perfect, but the other terrible performances made him look good.
T.J. Lang–D
It's easy to feel for T.J. Lang. He was playing pretty good football at left guard before moving to right tackle when Bulaga went down. He struggled mightily tonight and gave up a ton of pressure and sacks. A number of times, Lang's man and Newhouse's man enjoyed a nice meeting on-top of Rodgers.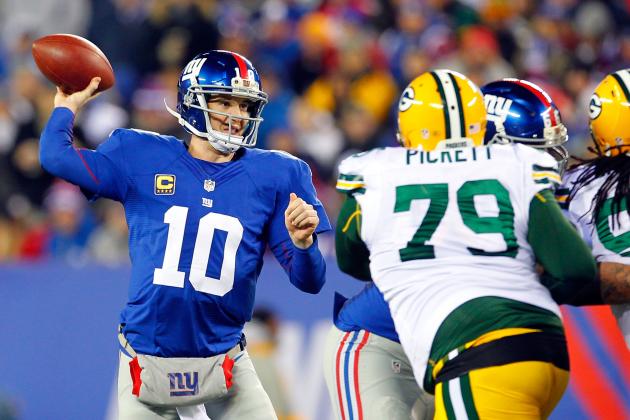 Rich Schultz/Getty Images

B.J. Raji–D+
Raji started the game strongly. On one early play he got pressure to force an Eli Manning incompletion of third down. He fizzled as the game went on and the linebackers continued to get zero pressure.
Mike Neal–F
Neal was very quiet on the evening, even after being mentioned as one of the Packers best pass rushers by the NBC crew. That's not true and it wasn't tonight as Neal failed to get any pressure on the quarterback.
Mike Daniels–F
Daniels was just as quiet, but was whistled for an illegal contact penalty. It didn't look like a good call, but whatever he did, Daniels gave the ref the impression of a penalty. The Packers need more out of their rookie lineman.
Ryan Pickett–C
Pickett played one of the better games on the defensive line, but that isn't saying much either. He helped clog up the middle of the field and forced the Giants to run outside. That wasn't all good as the Packers failed to set the edges without Clay Matthews.
C.J. Wilson–N/A
Wilson was injured early in the game and didn't return. He will be evaluated this week.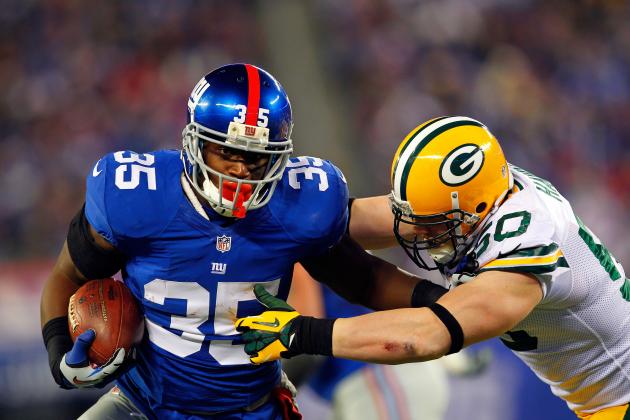 Rich Schultz/Getty Images

A.J. Hawk–C-
Hawk led the team in tackles, but failed to make any big plays. Most of his tackles came after the Giants had already gained yardage. As the leader of the defense, the Packers need Hawk to be making a few plays a game instead of just tackling ball carriers after they run for four or five yards.
Brad Jones–D-
Jones wasn't very good tonight after playing his new inside linebacker position pretty well the last few weeks. He was terrible at finishing his tackles, including one on Bradshaw on the Giants first big play of the game. Jones needs to figure out what went wrong and correct before next week.
Dezman Moses–C-
Moses mostly struggled to get pressure on the quarterback, but did manage to come up with the Packers only sack of the night. Despite not getting much pressure outside of that, Moses stayed fairly active and came up with a pass defensed.
Erik Walden–F
Walden failed to get pressure on the quarterback and struggled mightily as setting the edge in the run game. It was an utter failure for Walden who was taken out of the game and replaced by Frank Zombo.
Frank Zombo–D-
Zombo didn't play much better than Walden, but it was a good opportunity to work him back into game shape. The Packers may need to rely on Zombo down the stretch and any reps he can get are helpful.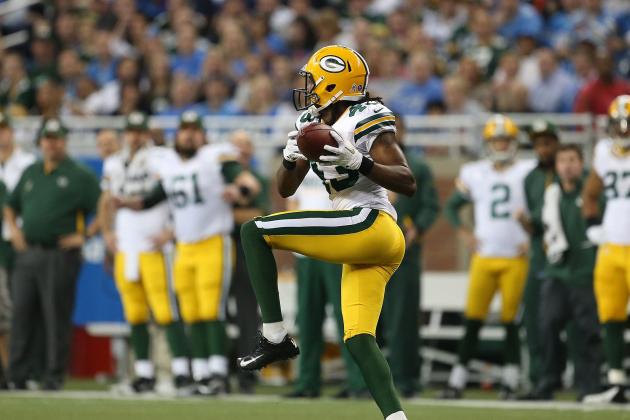 Leon Halip/Getty Images

Tramon Williams–F
Williams struggled to defend the Giants wide receivers and put together a poor effort. This was most exemplified as he wrapped up a receiver following a catch and failed to complete the tackle. The receiver darted through and got a first down he shouldn't have gotten.
Davon House–D
House got the start over Hayward in a surprising move. He covered fairly well at times, but was beaten for a first down and a touchdown in the first quarter.
Morgan Burnett–D
Burnett finished the game with eight total tackles, but much like A.J. Hawk, too many of those tackles came as clean-up duty rather than the player going out and making a play. Burnett was far too quiet for being one of the best players in the secondary.
Casey Hayward–D+
Hayward dropped a would-be interception that proved to be extremely costly. In a 7-7 ballgame, a turnover and possibly a defensive score would given the Packers a ton of momentum in a game where they deflated very soon after that play. Other than that, Hayward wasn't that bad.
Jerron McMillian–F
McMillian capped off the Packers embarrassing performance with an embarrassing hit that drew a penalty for a hit on a defenseless receiver. The hit came long after the game was decided, but that type of play showed how the Packers played all night, with a lack of focus and attention to detail.
M.D. Jennings–D
Jennings was abused by the Giants and partly responsible for the first couple touchdowns. He failed to stay deep on the first and left Davon House in a tough situation as he trailed the wide receiver. Jennings needs to play smarter football and better communicate in the defensive backfield.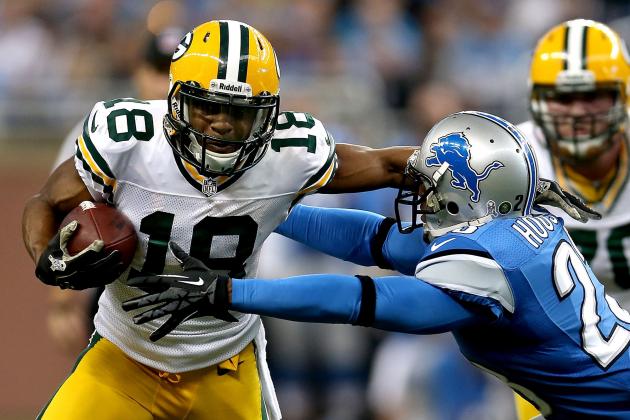 Matthew Stockman/Getty Images

Mason Crosby–C
Crosby missed another kick, but this time a tough field goal from 55-yards. It would have been a difficult kick to make for any kicker and especially one trying to work out of a slump. Crosby did hit his second field goal attempt. While the miss was a little concerning, both kicks came off Crosby's foot well and actually looked like normal kicks.
Tim Masthay–C
Masthay had a very average game punting, finishing with an average of 38.5 yards per punt and a long of 49 yards. That's easily one of Masthay's more disappointing performances of the season, but it didn't really cost the Packers the game.
Randall Cobb–B
Cobb did a nice job returning kicks even though he was unable to break any for long gains. He consistently got the Packers good field position even though they failed to take advantage.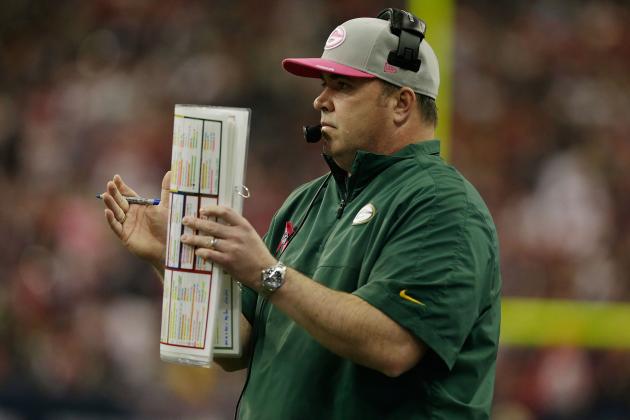 Scott Halleran/Getty Images

Mike McCarthy–F
McCarthy's team looked completely over-matched against the Giants. The Giants had a better game plan, executed better and played more physical. They did have the advantage of coming off a bye week, but this game shouldn't have been tough to get up for following the embarrassment of last January.
Dom Capers–D
Capers couldn't mask the absence of the many missing faces on defense and got ripped apart. His defenses failed to execute. The front seven failed to get any consistent pressure and the defensive backfield lack communication throughout.