Texas A&M Football: 8 Things We Learned from the Aggies' Win Over Missouri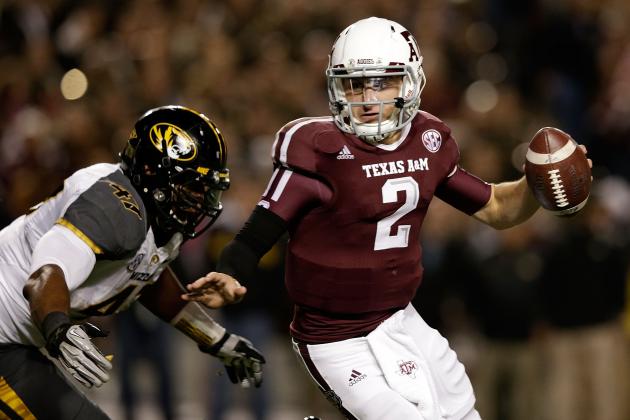 Scott Halleran/Getty Images

Johnny Manziel made another definitive statement in his case for the 2012 Heisman Trophy on Saturday night in College Station, as Texas A&M smashed Missouri 59-29 in a battle of Southeastern Conference newcomers.
The Aggies were in full control from start to finish in College Station, dominating the Tigers on all three sides of the ball.
Johnny Football finished with more than 400 yards of total offense and five total touchdowns—three through the air and two on the ground.
Mizzou fought hard and began to pick up steam in the second half, but it was too little too late from the Tigers, as their inaugural SEC season will end with a 5-7 overall record.
Here is what we can take away from the Aggies' victory over the Tigers.
Begin Slideshow

»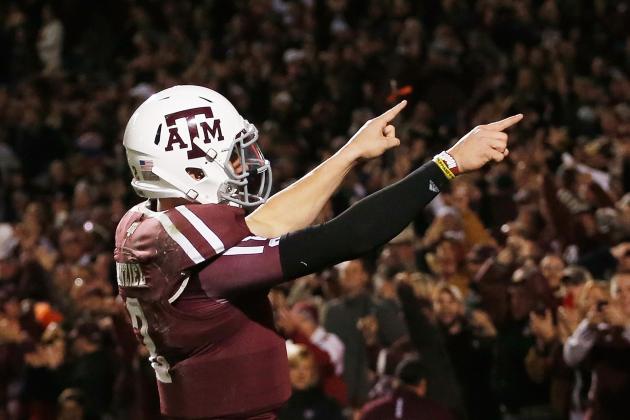 Scott Halleran/Getty Images

Johnny Manziel may be the funnest player to watch in college football.
He had plenty of "Heisman Moments" against Missouri, running circles around the Tiger defense en route to more than 400 yards of total offense and five touchdowns.
That was his fifth game this season with more than 400 yards of total offense, his sixth game with two or more receiving and rushing touchdowns and his 10th multi-touchdown game.
In the contest, he surpassed Heisman Trophy winner Cam Newton for the all-time single-season lead in total yardage.
On the season, he has 3,419 yards, 24 touchdowns and eight interceptions through the air, along with 1,181 yards and 19 touchdowns on the ground.
Statistics aside, TAMU's No. 2 can flat out make plays out of nothing better than any other player in college football.
He's electric, exciting and he should win the Heisman Trophy.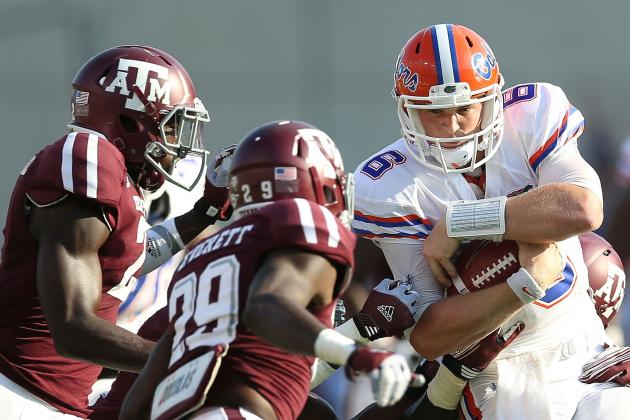 Ronald Martinez/Getty Images

It's a long look back for Texas A&M to realize what could have been.
A loss all the way back in its first game of the season has proven to keep the Aggies out of the SEC title game and play-in game for the national title game.
The loss to Florida in September didn't seem like a huge deal at the time. The team with a freshman quarterback that was new to the SEC was never really expected to be in the mix at season's end.
On that day in its first ever SEC game, A&M held a halftime lead but couldn't hang on to take down Florida.
That win would have been enough to favor the Aggies in a tiebreaker over Alabama atop the SEC West.
A win over LSU would have done the same. However, in that game, the Tigers secured a lead in the second quarter and never did give it up.
Regardless, either one of these wins could have Texas A&M playing for the SEC title and a national title berth.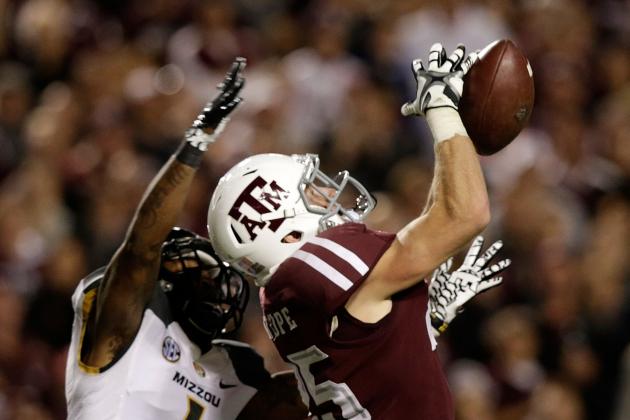 Scott Halleran/Getty Images

Texas A&M won the battle of the SEC newcomers, improving to 10-2 overall and 6-2 in SEC play this season.
Meanwhile, Missouri fell to 5-7 overall and just 2-6 in conference play.
Both teams carried doubts heading into the season. Very few pundits believed that either would finish too far over .500 in their first year in the conference.
Missouri performed close to expectations. The Tigers nearly upset Florida, and if it weren't for a collapse against Syracuse, they'd be bowling next month. Also, if it weren't for injury, who knows how far Mizzou would have gone.
On the other hand, TAMU far surpassed those expectations. The Aggies averaged nearly 45 points per game, topping three ranked teams, including coming through with one of the biggest upsets of the season against Alabama.
In a matter of months, they went from a SEC afterthought to one of the most talked-about teams in college football.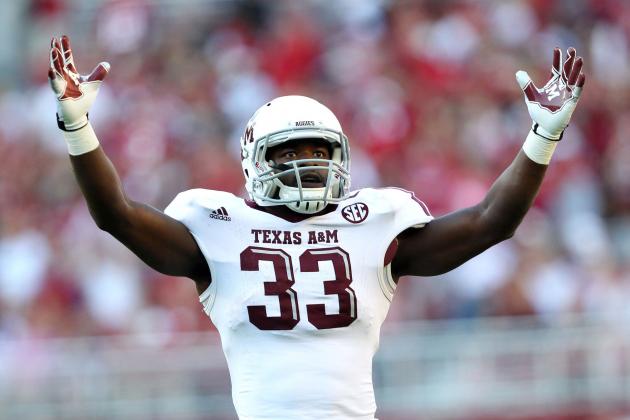 Mike Zarrilli/Getty Images

On senior night, freshman Johnny Manziel stole the headlines. However, it wasn't without some excellent performances by a few seniors.
Running back Christine Michael made his presence felt early, netting 60 yards and a touchdown off of just four carries. At 15 yards per carry, his rushing average was second only to Mizzou punter Trey Barrow, who had one 20-yard rush.
Manziel also targeted a few seniors through the air. Ryan Swope, Kenric McNeal and Uzoma Nwachukwu combined for 12 receptions for 134 yards and two touchdowns in their final game at Kyle Field.
Finally, on defense, senior defensive lineman Spencer Nealy had probably the best game on that side of the ball for either team.
He was an absolute force all night, tallying seven tackles, two for a loss, a pass breakup and a quarterback hurry.
He, and all of these seniors, will be missed in Aggieland next year.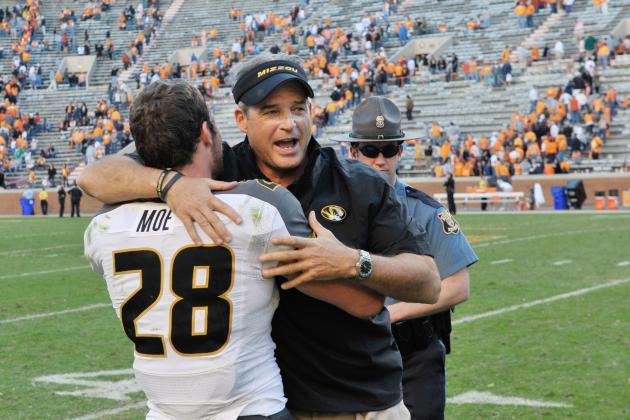 Jim Brown-US PRESSWIRE

This isn't the exit that T.J. Moe and the rest of the Missouri seniors pictured.
At 5-7, the Tigers are finished and will not qualify for a bowl game, meaning the illustrious career of one of college football's most charismatic players is over.
T.J. Moe will now move on from Columbia after netting just two receptions for 26 yards in his final game, both of which came when the contest was all but decided.
This team can certainly point to some injuries as its downfall, but really the Tigers only have themselves to blame for collapsing against a Syracuse squad they should have taken care of.
Regardless, this is not the way Missouri's seniors wanted to finish their careers.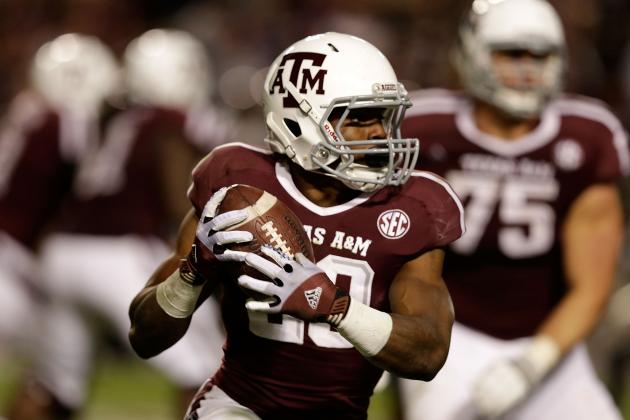 Scott Halleran/Getty Images

If you don't already know it, remember the name Trey Williams.
He'll be sharing the backfield with Johnny Manziel for the next couple of years, and together, they will make up one of the most electric backfield duos in college football.
Tonight, Williams had one of the most explosive plays of the game, a 41-yard run which was the longest run and second-longest play of the night.
The freshman finished with seven carries for 66 yards against Missouri.
That gives him more than 300 yards rushing in his first season. He's already a good back, and he'll only improve going forward.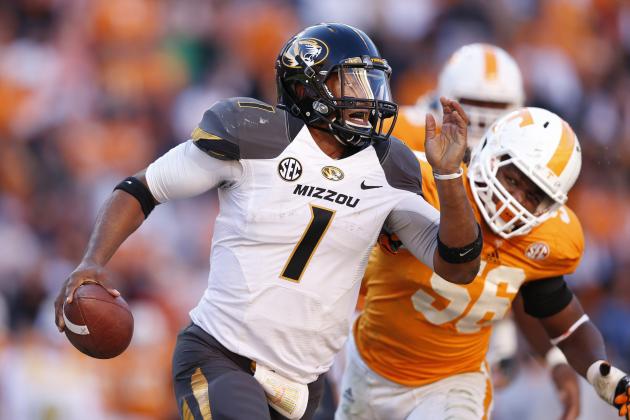 Joe Robbins/Getty Images

Quarterback James Franklin will return for Missouri next season, as will Henry Josey at running back.
Josey alone could have changed the outlook of this season for the Tigers if he were able to play. However, Mizzou will settle to have him back next year.
Returning with these two on the offense will be Dorial Green-Beckham, who is arguably the best freshman wide receiver in the country.
His role will expand, and he should become the go-to receiver with the departure of T.J. Moe.
Defensively, Missouri will return E.J. Gaines, who is one of the most underrated cornerbacks in college football.
Against Texas A&M, he led the team with 10 tackles, one interception and two pass breakups.
With this core of players returning, the Tigers will be competitive yet again in 2013.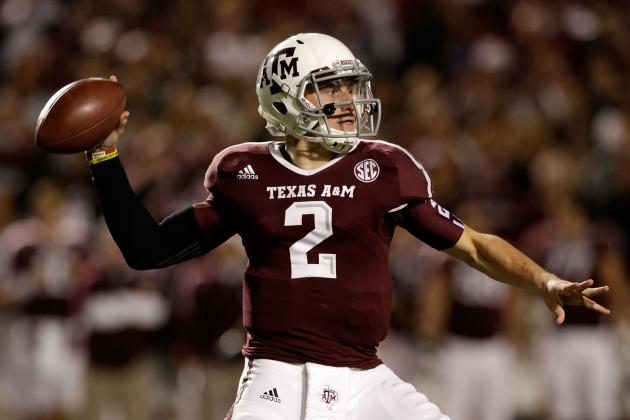 Scott Halleran/Getty Images

We know Johnny Manziel can run, we know he can throw, but his best asset is when he combines those two skills.
No. 2 is at his best when he is running around and finding receivers all over the field.
This allows him to spread the ball to a wealth of players.
Against Missouri, nine different players recorded a reception for the Aggies. Eight of them had multiple receptions.
Three different receivers caught his three touchdown passes, and a freshman, sophomore, junior and senior all registered receptions on the game.
It doesn't matter who you are, if you have hands and you're wearing maroon and white, Manziel will find you, and he will hit you with the football.