Cleveland Cavaliers vs. Miami Heat: Live Score, Results and Game Highlights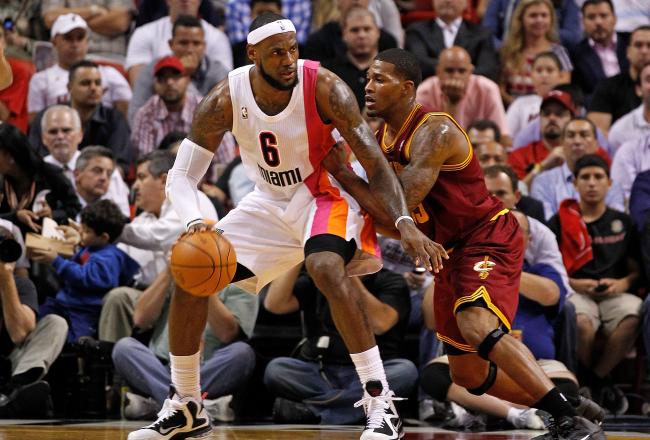 LeBron James backs in Cavaliers SF Alonzo Gee.
Mike Ehrmann/Getty Images
Final - Heat 110, Cavs 108
Ray Allen transformed into Jesus Shuttlesworth down the stretch and it proved too much for the Cleveland Cavaliers to overcome.
Allen hit one critical basket after another and he helped to again prove why Miami went out and added the free agent guard this summer.
For the game, Allen finished 6-11 from the field for 17 points. He went 3-5 from the three-point line and completed his night with a plus/minus of plus two. That number proved to be the difference in the game.
Jeremy Pargo filled in admirably for the injured Kyrie Irving on the Cavs side. He scored 16 points, was a +11 on the night, and is now averaging 19.6 points per game in three starts for the Cavaliers.
But his game tying shot was blocked and the Heat comeback was complete.
LeBron James led all scorers with 30 points to go along with six rebounds and five assists. James posted a plus/minus of +7 on the game.
James is now 7-1 against his former team and a perfect 7-0 at home.
He was supported in the scoring column by Chris Bosh (plus/minus +8) who finished with 23, doing the majority of his damage from the free throw line.
Bosh went to the stripe 13 times and made 11 while adding seven rebounds.
Dion Waiters finished with a plus/minus of -4 with 16 points matched up against Dwyane Wade who finished +9 with 18 himself.
Keys To the Game
Three-Point Shooting: After shooting over 50 percent from three-point range during the first half, the Miami Heat defense stifled the Cavaliers' second half efforts from deep.
Cleveland connected on only three of 12 in the second half from behind the arc. Miami ended up finishing with a higher percentage overall for the game, making nine of the 19 three-point field goals they attempted.
Free Throw Shooting: Both teams shot it well from the free throw line. Miami was just able to convert on five more attempts. The Heat made 29 of 37 attempts while the Cavaliers connected on 24 of 33.
The free throws kept Miami in it during the first half too, despite being out-played early in all phases of the game.
Bench Scoring: The Cavaliers kept this game close because of their second unit. The Cleveland reserves hadn't done much all season, but they did enough tonight to out-score Miami's bench 41-26.
The Cavaliers had eight players finish the game in double figures. Miami only had four. Seventeen of those 26 points were scored by Allen.
Rebounding: Anderson Varejao grabbed a game-high 15 rebounds but his team was still out-done by seven in that category. Miami collected 39 rebounds on the night as compared to 32 for Cleveland.
The Miami Heat move to 10-3 with victory, winning now their last four in a row. The Cavaliers fall to 3-10, having now lost their last two.
End of 3rd - Cavs 79, Heat 77
The Cavaliers cooled off from three-point range in 3rd quarter. They went 0-4 from deep in the period but did enough to cling to the two point lead.
Dwyane Wade came to life in the 3rd period, scoring eight, and has 13 right now. His plus/minus is at +1. James is at -1 with a game-high 25 points.
Omri Casspi has 13 off the bench for Cleveland and Tristan Thompson has 13 as well to lead the Cavaliers.
Halftime - Cavs 59, Heat 48
Six different Cavaliers have hit from three-point range tonight. For the half, Cleveland has connected on 10 three's overall. Miami is 4-11 from three.
LeBron James is -10 on the game with four turnovers to go along with his 11 points. Don't expect the turnovers to continue. If it does, the Cavaliers chances only increase.
Anderson Varejao, the NBA's leading rebounder, has 11 rebounds.
1st quarter - Cavs 29, Heat 26
LeBron James will play host to his former team, the Cleveland Cavaliers, tonight in Miami for the first time since winning an NBA championship last season with the Heat.
The Cavs (3-9) and the Heat (9-3) are trending in opposite directions.
Miami enters having won three straight and four of its last five. Its latest win was a 113-106 decision Wednesday over the Milwaukee Bucks.
Tonight will mark the eighth time LeBron has faced his former team.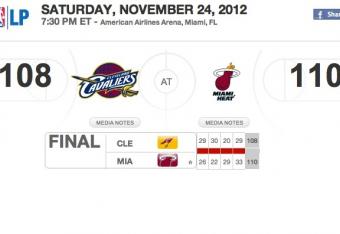 Final - Heat 110, Cavs 108
Too much Ray Allen down the stretch. Heat complete the comeback after being outplayed in all phases for most of the night. That's what happens when in the NBA when the talent's far superior. Very respectable effort by the Cavaliers tonight though, short-handed without Kyrie Irving.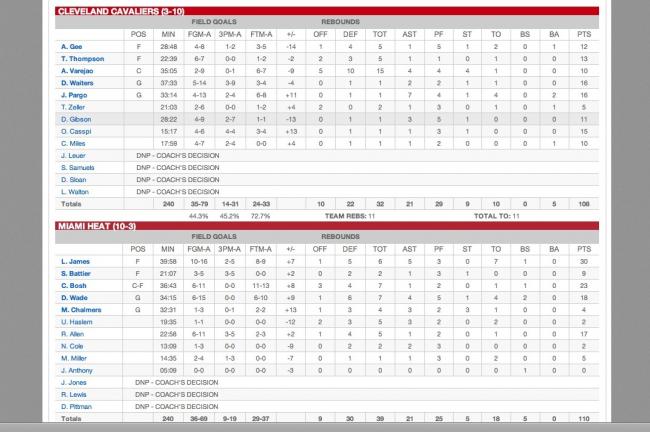 Heat 110, Cavs 108 - 0:03 left in 4th
Pargo's been great tonight. But if he is your team's best option on a game-winning shot attempt against the Heat than you probably aren't going to win.
Heat 109, Cavs 108 - 0:18 left in 4th quarter
Cavs were thinking same way I was. All attention was on LeBron during last trip and Ray Allen made Cavaliers pay with third triple of the night.
Cavs 108, Heat 106 - 0:26 left in 4th quarter
Crazy finish. Should be heavy doses of James here in final seconds to decide this one.
Cavs 108, Heat 106 - 1:32 left in 4th quarter
Allen is shooting 52 percent from three on the season. But the fact that he can still get the basket, like he just did, is wildly under-rated. He's providing huge value for Heat in that department tonight.
Cavs 103, Heat 101 - 2:30 left in 4th quarter
Cavaliers have seven players in double figures (Gee 12, Thompson 13, Varejao 10, Waiters 14, Pargo 16, Casspi 15, Miles 10). Heat have four (James 24, Bosh 23, Wade 18, Allen 10).
Cavs 101, Heat 100 - 3:14 left in 4th quarter
Have to wonder if Heat over did things with Thanksgiving turkey and pie on Thursday. Cavs came in ready to play. Miami appears to have expected Cleveland would lay down.
Cavs 101, Heat 96 - 4:16 left in 4th quarter
Foul situation may prove critical down stretch for both teams.
Wade, Gee both playing with 5 fouls. #Cavs up 98-94, 4:50 left

— Jason Lloyd (@JasonLloydABJ) November 25, 2012
Cavs 94, Heat 92 - 6:00 left in 4th quarter
Wade doesn't look completely healthy. He's laboring now in fourth quarter after nice burst in 3rd.
Cavs 94, Heat 86 - 7:25 left in 4th quarter
Anderson Varejao should be an All-Star this season. He just registered his seventh double-digit rebounding game of the year. The Cavaliers big man has 14 boards to lead everyone in that category tonight.
Cavs 92, Heat 86 - 8:00 left in 4th quarter
Timing on that four-point play by Daniel Gibson couldn't have been better for Cavaliers. Just as LeBron and Wade check back into the game, Booby Gibson makes his biggest play of the season. The type baskets he once knocked down in the 2007 playoffs playing alongside James.
Cavs 89, Heat 83 - 8:26 left in 4th quarter
Cavs might need to do more with this lead as LeBron and Dwyane rest to start fourth. Up six at moment, probably need a mini-run here to extend out to 10 before those two return.
End of 3rd quarter - Cavs 79, Heat 77
LeBron James hit two straight shots to tie things up before C.J. Miles connected on a jumper to take lead into fourth. Two point lead doesn't feel safe, but credit Cleveland for hanging around this long. Didn't see this game being anywhere near as competitive as it's been. Should be a fun finish in Miami.
Cavs 75, Heat 71 - 2:20 left in 3rd quarter
Udonis Haslem hasn't scored in 12 minutes. He does has three rebounds. Rashard Lewis has not played tonight for Heat.
Again, Haslem off the bench first. Rotations definitely different from recent games.

— Ethan J. Skolnick (@EthanJSkolnick) November 25, 2012
Cavs 70, Heat 69 - 3:31 left in 3rd quarter
Hometown crowd coming alive a little bit.
Heat getting back into game. The empty chairs are REALLY getting loud now.

— Ken Carman (@KenCarman) November 25, 2012
Cavs 70, Heat 67 - 4:13 left in 3rd quarter
Shane Battier just headed into Heat locker room. Specific injury details unknown at moment. Battier has six points and three rebounds in 19 minutes.
Cavs 68, Heat 67 - 4:37 left in 3rd quarter
Heat's comeback has coincided with Cavs cooling off from three-point range. After 10-19 first half, Cleveland 0-2 from three in 3rd period.
Cavs 68, Heat 62 - 5:57 left in 3rd quarter
Heat cut lead down to six, big run coming?
Here comes the Heat run.

— rick grayshock (@RickWFNY) November 25, 2012
Cavs 68, Heat 60 - 6:40 left in 3rd quarter
Wade came out of locker room looking more comfortable. Eight points in the third quarter, cutting Cavs lead to single digits for the first time in a while.
Cavs 68, Heat 56 - 8:02 left in 3rd quarter
Tristan Thompson is into double figures for the eighth time this season. Thompson has 11 points and 4 rebounds. He's 5 of 6 from the floor and providing a huge spark inside.
Thompson and LeBron James, for what it's worth, share the same agent.
Cavs 67, Heat 54 - 9:38 left in 3rd quarter
That post-move Wade just drew a foul on is the move Waiters needs to develop. Dwyane getting going here in 2nd half is critical in Heat's comeback chances. He now has 11.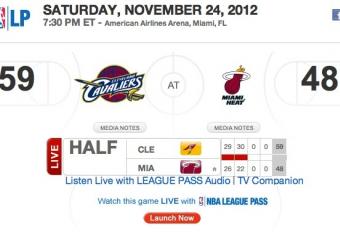 End of second quarter - Cavs 59, Heat 48
The Cavaliers scored the final eight points of the first half to take an 11-point lead into the locker room over the Miami Heat.
The Cavaliers bench has 21 points as compared to nine for the Miami Heat.
Chris Bosh is leading all scorers with 15 points. LeBron James has 11 for Miami as well while Jeremy Pargo is pacing the Cavaliers with 10.
Bosh has a plus/minus of -6. James actually has a game worst plus/minus of -10.
Rookie Dion Waiters is 3-9 from the floor for a plus/minus of +6. Pargo has a game-high number of +14 for the Cavaliers.
Cavs 57, Heat 48 - 1:15 left in 2nd quarter
Jeremy Pargo and Omri Casspi have 19 points between them right now for the Cavaliers. Both players have spent time playing for Maccabi Tel-Aviv as professionals in Israel prior to teaming up in Cleveland.
Cavs 51, Heat 45 - 2:56 left in 2nd quarter
If not for Bosh's work at free throw line, Cavs six point first half lead could be even more.
Chris Bosh 9 of 11 from line; Cavs 3 of 6.

— Ira Winderman (@IraHeatBeat) November 25, 2012
This article is
What is the duplicate article?
Why is this article offensive?
Where is this article plagiarized from?
Why is this article poorly edited?

Cleveland Cavaliers: Like this team?