Oakland Raiders vs. Cincinnati Bengals: Final Game Grades and Player Analysis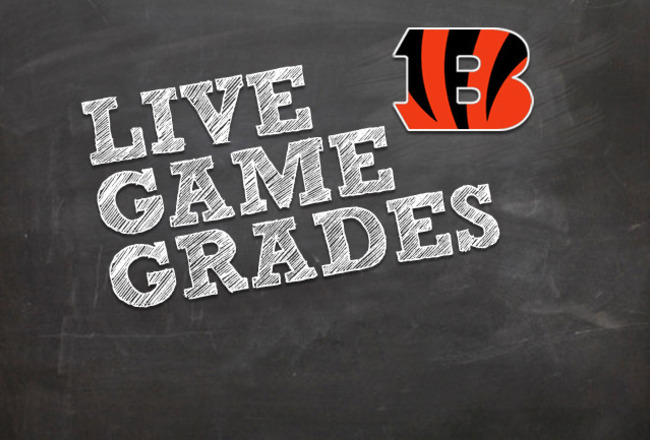 The Cincinnati Bengals (6-5) vs. the Oakland Raiders (3-8) and former Bengals' franchise quarterback Carson Palmer is now final.
This occasion has marked the first time that Palmer returned to Paul Brown Stadium since his departure from the team in early 2011.
Cincinnati stretched their winning streak to three games after their 34-10 beating of the Raiders.
Cincinnati has now won its last three games by over a total of 18 points.
Let's take a look at the Bengals final player grades and game analysis.
Final
Raiders - 10
Bengals - 34
Andy Dalton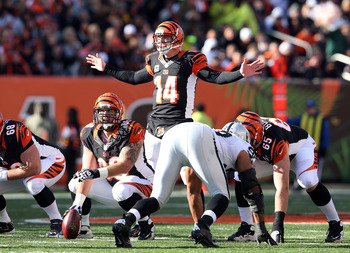 Andy Lyons/Getty Images
Overall Game Grade - B+
Andy Dalton once again showed why the Bengals have not looked back since the departure of Carson Palmer from the organization in early 2011.
Dalton threw another three touchdown passes on Sunday with a third straight game without an interception.
Dalton started the game red-hot as he connected with A.J. Green over the middle for a 44-yard gain. He finished up that drive with a perfectly thrown fade to Mohamed Sanu in the end zone for a 2-yard touchdown.
In the second quarter, Dalton connected with Sanu once again for a 5-yard touchdown pass in the middle of the end zone.
Dalton struggled a little to find his groove in the third quarter as the Bengals offense were forced to go three-and-out by the Raiders defense multiple times in the quarter.
In the fourth quarter, however, Dalton regrouped and threw a perfect deep ball to Green from deep in his own territory to advance the Bengals on to the Oakland side of the field. He capped off the drive with a 7-yard touchdown to Jermaine Gresham.
Since the Bengals' running game was the best it's been all season against the Raiders, Dalton did not have to do much through the air. But when he did, he made it count. Dalton continues to impress late in the season and is making the Bengals a serious contender for postseason action.
Runningbacks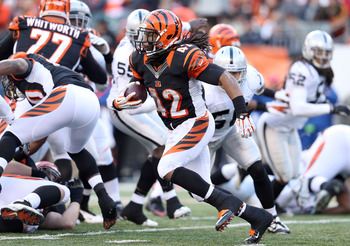 Andy Lyons/Getty Images
BenJarvus Green-Ellis - Overall Game Grade - A+
This is what Bengals fans have been waiting for all season long. BenJarvus Green-Ellis had some monster runs of 49 and 39-yards, respectively.
Green-Ellis was a dominant force on Sunday as he not only was able to break the big runs, but was also able to get the tough yards as he burrowed himself into the end zone early in the game for a 1-yard touchdown run.
Green-Ellis is showing that he can certainly be multidimensional and could finally be starting to hit his stride for the season as he has now gone over the 100-yard mark twice in his last two games. If he can continue this trend, the Bengals offense will be very dangerous in the games to come.
Cedric Peerman - Overall Game Grade - A
Cedric Peerman proved once again today that he is the most dynamic back in the Bengals backfield. He had limited touches once again, but made the most out of them.
His best run came in the second quarter when he had a 31-yard scamper while breaking multiple tackles to set the Bengals up with a 1st-and-goal.
Peerman has proven to the coaching staff that he needs to be more involved with the offense, and it has certainly become noticed as he finds himself obtaining a larger role each week.
Wide Receivers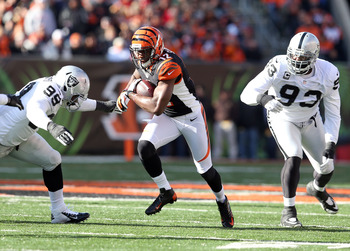 Andy Lyons/Getty Images
A.J. Green - Overall Game Grade - A
A.J. Green did not record a touchdown for the tenth consecutive game this week, which leaves him tied for third in NFL history for such a streak.
Even though he was held without a touchdown, he once again showed his big play ability by catching a short pass over the middle from Dalton and turning it upfield into a 44-yard gain.
Green also showcased his ability to get behind the defense as he caught a deep ball in double coverage late in the game which sustained the Bengals last scoring drive of the game.
Green went over the 100-yard mark against the Raiders and continues to be one of the most dominant wide receivers in the NFL.
Mohamed Sanu - B+
Mohamed Sanu did not put up gaudy receiving numbers like Green, but he made his opportunities count.
Dalton connected with Sanu for two short touchdown passes on the day as Sanu continued to be a reliable target over the middle and in traffic.
Sanu also added a great rush for a first down to his totals which helped sustain a Bengals scoring drive early on in the game.
Sanu has emerged as a legit number two wide receiver opposite Green and will only continue to develop and improve as time goes on.
Tight Ends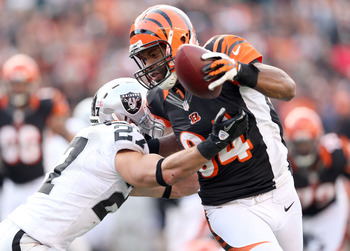 Andy Lyons/Getty Images
Jermaine Gresham - A-
Jermaine Gresham, much like Sanu, showcased his abilities to make great possession catches over the middle in traffic. Gresham did not put up huge numbers, but was very reliable when Dalton needed him.
Dalton and Gresham hooked up for a 7-yard touchdown in the fourth quarter which put the final nail in the coffin for the Raiders.
Greham was used in blocking for a good chunk of the game and did well with the run game, but was called for holding at one point in the game which could have easily stalled the Bengals drive.
Aside from that, Gresham has shown why he was such a threat coming out of college over the last few games and has earned a good amount of trust from his quarterback. He should most certainly become a large factor in this offense as the season continues.
Offensive Line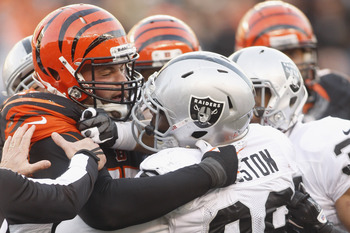 John Grieshop/Getty Images
Offensive Line - Overall Game Grade - A-
The offensive line as a whole played yet another great game against the Raiders on Sunday.
They were in form while run blocking as they opened up gaping holes for Green-Ellis and Peerman. They were a driving force as to why the Bengals had one of the best rushing days the franchise has seen since 2004.
The line was also sturdy in pass protection. They did allow the Raiders to get to Dalton on a few occasions, but some of that was due to some good coverage downfield which forced Dalton to hold the ball too long.
This patchwork offensive line is surpassing every expectation set out for them this season as they continue to improve with each game.
This line is a huge reason why the Bengals offense has taken off to new heights over the past three games.
An honorable mention goes out to left tackle Andrew Whitworth who did not like what he saw late in the fourth quarter and let the Raiders know it. This led to his ejection as well as the ejection of several Raiders, but lit a spark under the Bengals offense which led to yet another touchdown drive on the day.
Defensive Line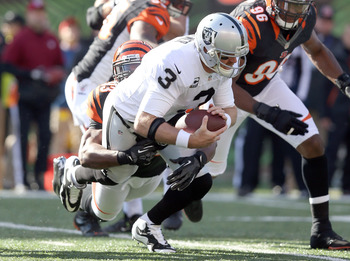 Andy Lyons/Getty Images
Defensive Line - Overall Game Grade - B+
The defensive line stepped up the way that they were supposed to against the Raiders on Sunday. The dynamic "Fisher Price Package" of Carlos Dunlap, Geno Atkins and Michael Johnson was once again dominant.
Atkins recorded a sack early in the game on Palmer and now has 9 for the season. Johnson sacked Palmer one play later forcing a three-and-out early on. Wallace Gilberry also sacked Palmer on Sunday.
Not only did the defensive line record those three sacks, but they were constantly in the face of the Raiders quarterback and forced many errant throws which led to many incompletions and an interception.
The line also came up huge in the running game with Atkins recording 3 tackles, Dunlap 2, Robert Geathers 4 and Johnson 4.
They rendered the Raiders offense virtually useless during the game and allowed the Bengals to get out to an early lead and never look back.
Linebackers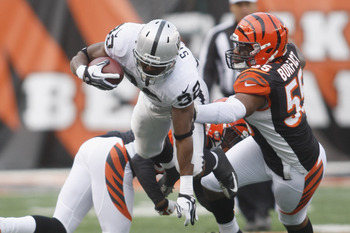 John Grieshop/Getty Images
Vontaze Burfict - Overall Game Grade - A
Vontaze Burfict, the undrafted free agent rookie, led the Bengals in tackles on Sunday with a total of nine.
Burfict was all over the field in both the running game and the passing game as he was once again a solid open-field tackler.
Burfict was a force in holding the Raiders backs to short gains and was also great in coverage as he held his own when dropping back. When Burfict was in coverage he was a sure tackler and never allowed his man to get yards after the catch as he was always seen in perfect position.
Manny Lawson - Overall Game Grade - B+
Manny Lawson has been relatively quiet at linebacker this season and did not put up gaudy numbers today with only two tackles on the day.
However, Lawson was disruptive when it counted. He recorded one of the Bengals four sacks against Palmer and also had a forced fumble to his credit.
Lawson is proving to be a good situational linebacker for the Bengals and brings a solid amount of veteran experience to the corps.
Rey Maualuga - Overall Game Grade - B-
Rey Maualuga had one of his better games this season on Sunday as he recorded six tackles and also recovered a Carson Palmer fumble to give the Bengals offense great field position in the fourth quarter.
Maualuga did a nice job against the run today by staying in his lane and getting off of blocks quickly to help make tackles.
Rey has done a nice job since losing weight this season to help him play faster but needs to improve on wrapping up ball carriers to make solo tackles. At this time it seems as though he still needs help from teammates to bring down a ball carrier.
Secondary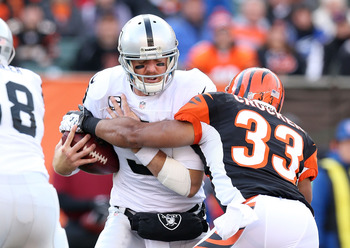 Andy Lyons/Getty Images
Leon Hall and Terence Newman - Overall Game Grade - A
Leon Hall and Terence Newman once again shut the door on opposing wide receivers. They were both able to maintain tight coverage on Oakland's speedy receivers and did not allow any big plays over the top of them.
Both of these players were a huge factor in one of Palmer's worst games of the year as he only threw for a total of 148 yards against them.
The Bengals have been looking for a solid corner to pair with Hall since the departure of Johnathan Joseph to the Texans and just may have found it in the veteran Newman.
Chris Crocker - Overall Game Grade - A
Chris Crocker continues to be johnny-on-the-spot for this Bengals defense as he recorded his third interception of the season since the Bengals brought him back off the street in Week 4.
To go along with his pick, he also recorded six tackles on the day which is good for a tie for second on the Bengals defense.
Many Bengals fans were disgruntled by the re-emergence of Crocker, but he has proven his worth as a veteran and a leader on the field when the Bengals need it most.
Special Teams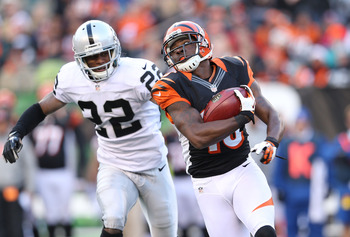 Andy Lyons/Getty Images
Mike Nugent - Overall Game Grade - B-
Mike Nugent started the game off a bit sketchy when he missed a 48-yard field goal attempt. He has not been as clutch recently as he has been in the past.
However, it was great for Nugent to come right back and connect at the end of the first half on a 55-yard field goal. This shows that Nugent has a short memory when it comes to missed field goals which is a great commodity to have in a kicker.
Nugent was 2/3 on field goals for the day and also made all four of his extra point attempts.
Kevin Huber - Overall Game Grade - C-
Kevin Huber showed that inconsistency that many fans are concerned about on Sunday. He had five punts on the day and only averaged 41-yards with a long of 45.
Many of these punts came from deep inside Bengals territory and Huber could not seem to connect solidly with the football which led to some great Raiders field position in the second half of the game.
Huber has been strong of late, but took a step back today. If he wants to remain a starter in the NFL, he needs to figure out how to improve his consistency when punting the football.
Kick Coverage Unit - Overall Game Grade - B+
The Bengals were once again very solid in kick coverage against the Raiders. The seldom allow kick returns to get past the 20-yard line and stuffed returners deep in their own territory on Sunday.
Ever since the Broncos game in which they allowed a 105-yard kickoff return for a touchdown, this unit has clicked and has dominated the field position battle ever since.
Coaching Staff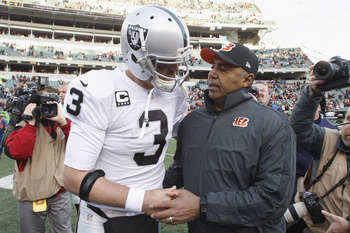 John Grieshop/Getty Images
Coaching Staff - Overall Game Grade - A
When a team demoralizes another to the tune of a 24-point margin of victory, the coaches who get their players ready for the game and draw up specific game plans are to credit.
On the offensive side of the ball, coordinator Jay Gruden masterfully constructed a scheme to which the Raiders could not figure out.
The Bengals had their best rushing day of the season on Sunday collecting well over 200-yards on the ground.
The passing attack was also solid as Dalton threw for another three touchdowns on the day without an interception. Putting up a total of 34 points in a game is generally considered a huge success.
On defense, coordinator Mike Zimmer had his unit ready to go as he constantly confused Carson Palmer to the tune of four sacks and one interception. Palmer had one of his worst games this year as a Raider by only throwing for a total of 148 yards.
The entire coaching staff did exactly what they needed to as they drew up a perfect game plan against the Raiders which let their team dominate from the opening kickoff to the final whistle.
Keep Reading

Cincinnati Bengals: Like this team?