Tennessee Football: 10 Things We Learned from the Vols' Win vs. Kentucky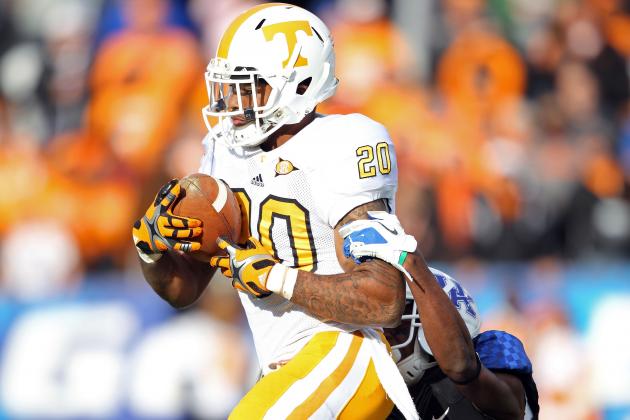 Andy Lyons/Getty Images

Tennessee beat Kentucky 37-17 on Saturday in an embarrassing final game for Kentucky coach Joker Phillips. We learned a lot about Tennessee in this one, while Kentucky is pretty much who we thought it was.
Tennessee now leads the Battle for the Barrel series 74-24-9. With both teams needing new head coaches next year, this was a chance for the players to prove themselves heading into 2013.
Here's what we learned.
Begin Slideshow

»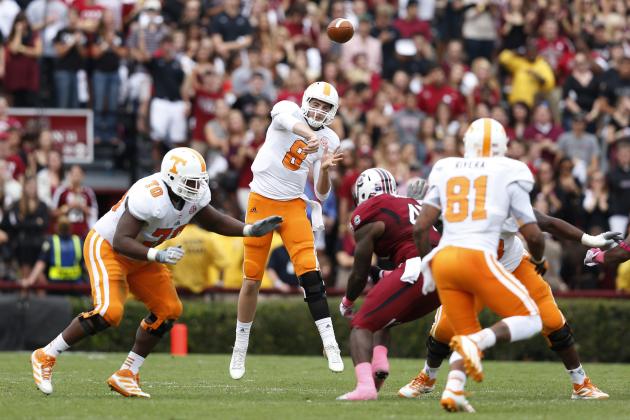 Joe Robbins/Getty Images

Tyler Bray dominated the Kentucky Wildcats. In doing so, he made intelligent throws. Part of why he went 20-of-34 (58.8 percent) for 298 yards and four touchdowns is that he has built excellent chemistry with his receivers.
He made only two bad throws all day that could have been intercepted. On both, wide receiver Cordarrelle Patterson bailed him out.
So if this was the junior quarterback's last game before turning pro, he left on a good note.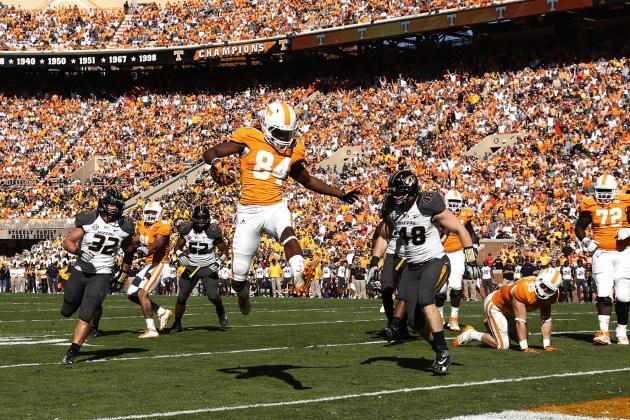 Joe Robbins/Getty Images

When a wide receiver gets triple-teamed all day, you don't expect him to have 88 yards receiving, 38 yards rushing and score a touchdown. But Cordarrelle Patterson did.
The dynamic Patterson can line up in the backfield and was reminiscent of Julio Jones with his play against Kentucky.
He's physical, runs intelligent routes and is a burner. The only knock on Patterson is that he has only played one year of SEC-level ball.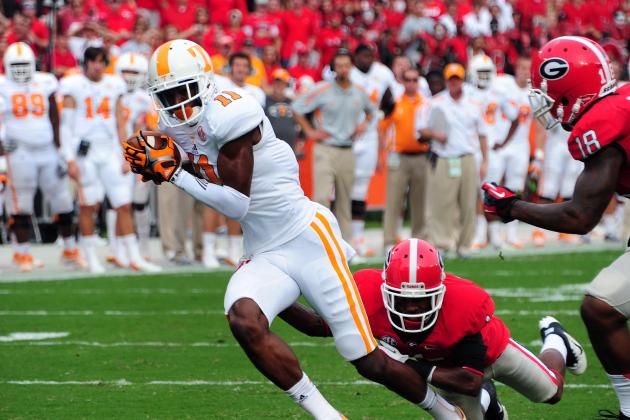 Scott Cunningham/Getty Images

While Cordarrelle Patterson compares to Julio Jones, Justin Hunter is similar to a younger Roddy White. He's physical like Patterson and a good run-blocker. More importantly, he's able to gain separation and burn a defense by willing himself open.
His hands aren't perfect. But on the whole, he's an excellent receiver who will no doubt turn into a No. 1 option in the NFL once he gets there.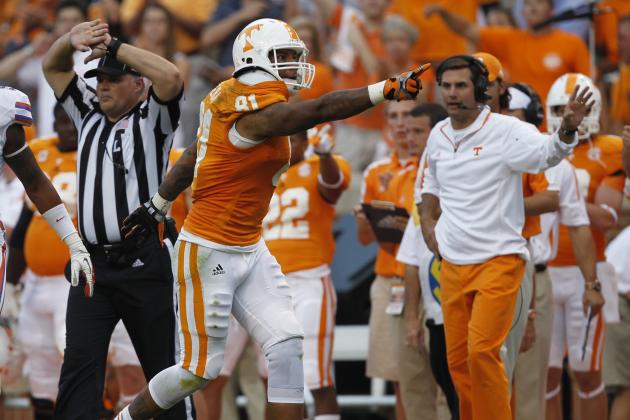 John Sommers II/Getty Images

From what was seen on Saturday, Mychal Rivera is a Jason Witten clone. He's very efficient in his route- running and can block well. His best play wasn't the 29-yard wheel route that he turned into a touchdown. It was his key seal block on the 45-yard run by Marlin Lane.
When a guy can block as well as he runs routes and catches the ball, he becomes a top NFL prospect. Rivera may not get drafted in the first round. But if I were an NFL GM, he'd be not too far from the top of my list at tight end.
Sam Greenwood/Getty Images

Marlin Lane and Rajion Neal are excellent running backs and should be building blocks for the new Tennessee coach. Between the two, they had 19 carries for 128 yards against Kentucky, averaging 6.73 yards per carry.
These two would be even better if they were used in a more effective screen game. Both have big-play speed and could turn the corner on the screens for huge gains.
The new coach should base his offense on getting the ball in the hands of these two.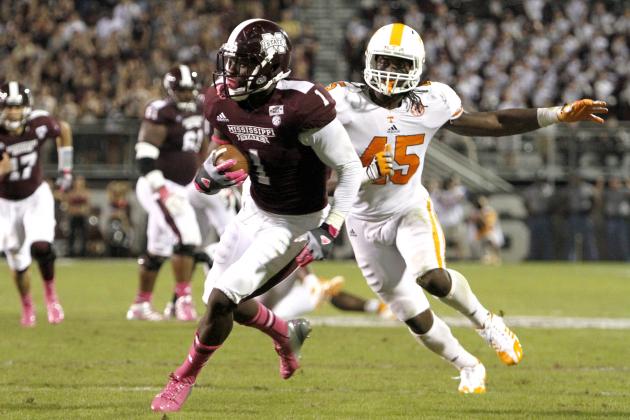 Butch Dill/Getty Images

A.J. Johnson moonlights as a quarterback for goal-line and short-yardage Wildcat packages. However, he's also pretty good at his day job of being a linebacker. He was flying all over the field as a blitzer, in coverage and in the run game against Kentucky.
However, his biggest asset isn't that he's a great linebacker. It's that he can command the respect of either huddle—whether it's the offense or the defense. When he makes his calls, his teammates listen. And when someone messes up, he's right there to help.
Courtesy 247sports.com
When watching the Volunteers on Saturday, they were motivated, played with passion and heart and looked like an aggressive, hungry team. They knew that they had to play their best and gave it their all, crushing the Wildcats in the process.
Under Derek Dooley, this team didn't do that. It could have been due to a rivalry game, or it could be because Jim Chaney knows what he is doing, but Chaney had the team fired up. He also had a great game plan and made the necessary halftime adjustments to win this one handily.
Whatever college program ends up with Chaney on its staff in 2013 will be lucky. He's has the potential to be a great head coach.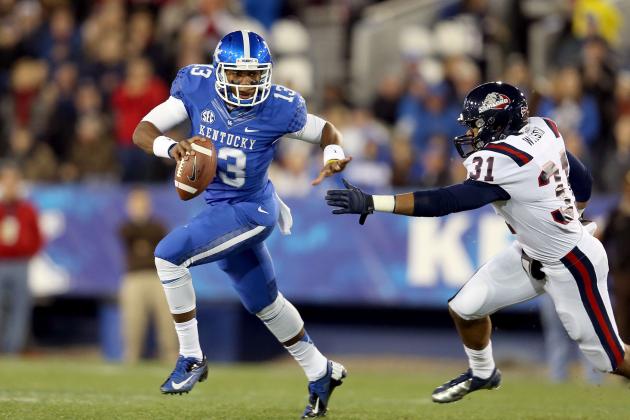 Andy Lyons/Getty Images

His team was overmatched. His offensive line was dominated. However, Kentucky's Jalen Whitlow hung k in there and turned in a great performance for a freshman in a rivalry game with a head coach who had checked out.
He was 29-of-45 (64.4 percent) for 225 yards and a touchdown. He also had nine runs for 31 yards. What's even more impressive is that the 6'2", 202-pound true freshman didn't have a turnover.
He led the Wildcats on their only two scoring drives and proved that he deserves to have a shot as the starting quarterback in 2013. He could easily turn into a top quarterback with minor work on his mechanics work and a lot more reps as a starter.
His next head coach just has to be patient.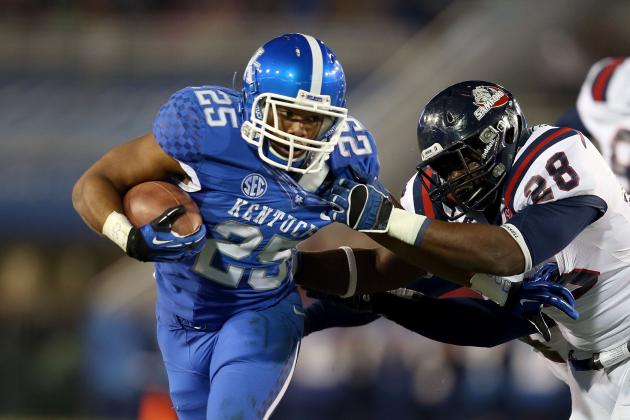 Andy Lyons/Getty Images

Kentucky's Jonathan George is the type of game-breaker every SEC team needs. All he needs is a gap wide enough to scoot through, and he can make guys miss.
Add in his receiving ability, and he could give Kentucky's starting quarterback next season—whether it's Jalen Whitlow, Patrick Towles or Maxwell Smith—a great all-around option in the backfield.
He's reminiscent of Matt Forte, a running back from a smaller school who can carry the load when given the opportunity.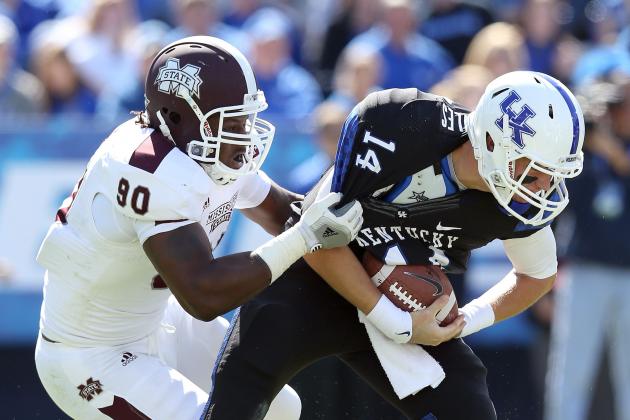 Andy Lyons/Getty Images

Maxwell Smith is just a sophomore, and Jalen Whitlow is just a true freshman. That leaves the 6'5", 243-pound Patrick Towles as a third-string quarterback on a team with three talented options. His best bet for playing time in college would be to transfer.
Options for him should include places like Georgia Tech if it fires Paul Johnson, Tennessee and even the South Carolina. If he doesn't care about playing time, though, he should enjoy his time holding a clipboard and prepare to play once he becomes a redshirt senior.
All stats used are either from ESPN.com or cfbstats.com.
Scott Carasik is a Featured Columnist for Bleacher Report. He covers the Atlanta Falcons, the NFL and NFL Draft. He is also the Falcons analyst at Drafttek, runs the NFL Draft Website ScarDraft.com and hosts Kvetching Draftniks Radio.