Texans vs. Lions: Houston's Biggest Winners and Losers from Week 12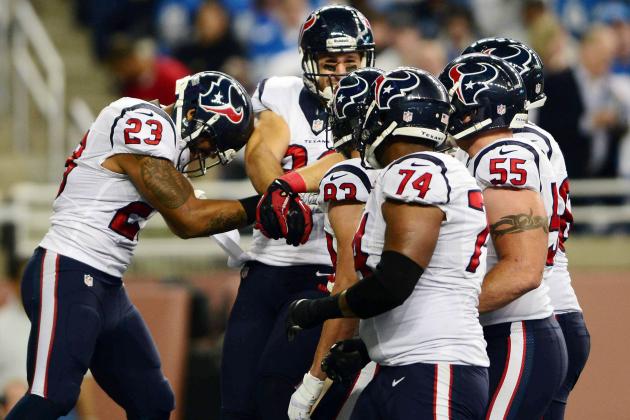 Andrew Weber-US PRESSWIRE

The Houston Texans kicked off Thanksgiving Day in dramatic fashion with a comeback win over the Detroit Lions 34-31 in overtime. The win marks the team's second overtime victory in back-to-back weeks.
Houston hurt itself with poor pass defense and penalties, but managed to hang on for dear life and escape Detroit with a win. The offense quietly kept pace with Matt Stafford and Detroit's explosive passing attack.
The Texans trailed for most of the game and seemed to be one play away from their second loss of the season too often, but the team kept punching back.
Matt Schaub and Andre Johnson pulled their clutch act yet again, connecting on crucial third and fourth downs in the second half and overtime.
A game-tying 97-yard touchdown drive in the fourth quarter keyed the Texans' comeback win. After both teams touched the football multiple times in overtime, the Texans finally put together a back-breaking drive that put them in range for Shayne Graham to kick the game-winning field goal.
Here's a look at a few of the biggest winners and losers from Houston's stunning overtime win over the Lions.
Begin Slideshow

»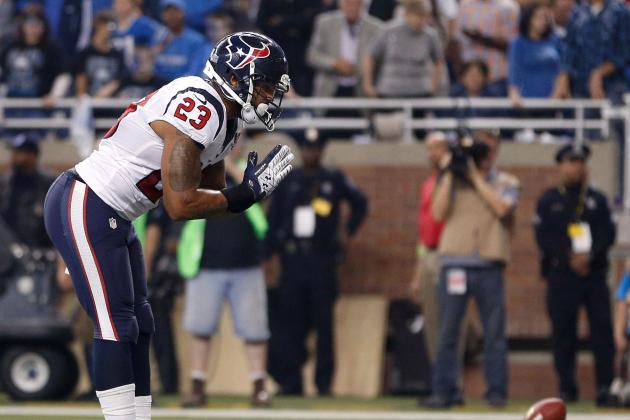 Gregory Shamus/Getty Images

Arian Foster may have had his best day carrying the football this season against an aggressive, attacking Detroit Lions defense.
Foster has seen suspect run-blocking for most of the 2012 season, but the offensive line gave him more room to work with in Week 12. Arian took advantage and delivered 102 yards rushing on 20 carries to go with two touchdowns.
Houston's star running back showed patience throughout the game, allowing blocks to develop downfield before making cuts. Arian's patience allowed him to find generous cutback lanes against Detroit's front seven.
On one particular run to the right side, Foster followed the flow of blocks to the right only to cutback across the face of the defense for a 15-yard gain. This was one of the key plays on Houston's 15-play, 97-yard game-tying touchdown drive in the fourth quarter.
The Texans never went away from Foster despite trailing for most of the game. Arian is one of the few true workhorse backs in the NFL, and he helped carry the Texans to their 10th win of the season in a big way Thursday.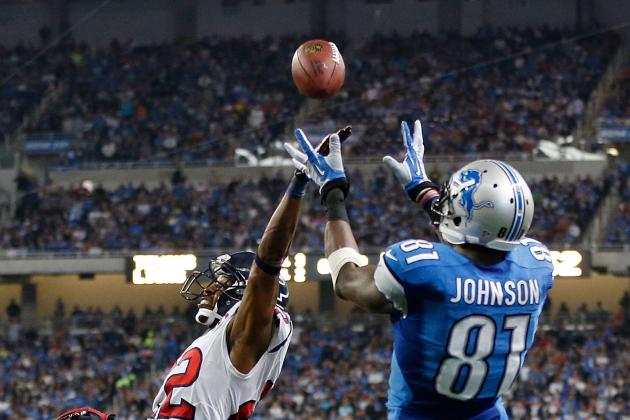 Gregory Shamus/Getty Images

Alan Ball struggled mightily in coverage while trying to replace Johnathan Joseph in the starting lineup. Joseph sat out with a hamstring injury, and his absence proved to be a major blow to Houston's defense.
Ball was toasted by Calvin Johnson on several instances and looked overmatched when asked to cover the Pro Bowler.
Ball also dropped what would've been an easy interception in the end zone in the second quarter. It was a crippling drop because Detroit managed to convert its red-zone trip to a touchdown on a subsequent play.
In fairness to Ball, Detroit has the No. 1 ranked passing offense in the league, and Calvin Johnson is clearly no slouch. He was also filling a role he won't normally be asked to step into, but that's still no excuse.
Wade Phillips will be keeping his fingers crossed for Joseph's return to the lineup.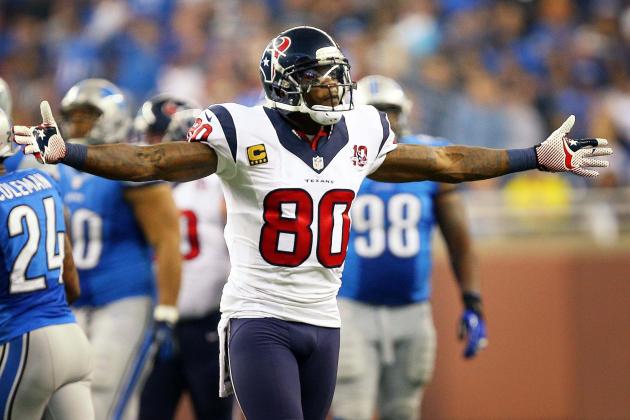 Mike Carter-US PRESSWIRE

Houston's superstar receiver was stellar again Week 12, posting nine catches for 188 yards. Andre Johnson now has 22 catches for 461 yards in the last two weeks.
Johnson's performance was especially impressive because of the clutch catches he made. A fourth-down reception in the fourth quarter allowed the Texans to extend their crucial game-tying drive.
Houston's Pro Bowl receiver has returned to being the focal point of the Texans passing offense. Andre saw six or less targets in four of the first five weeks of the season. In five of the last six weeks, Johnson has seen over 10 targets.
Good things happen to the Houston Texans when Andre Johnson is fed the football. Houston's offense functions at its highest level when No. 80 is a major part of the gameplan.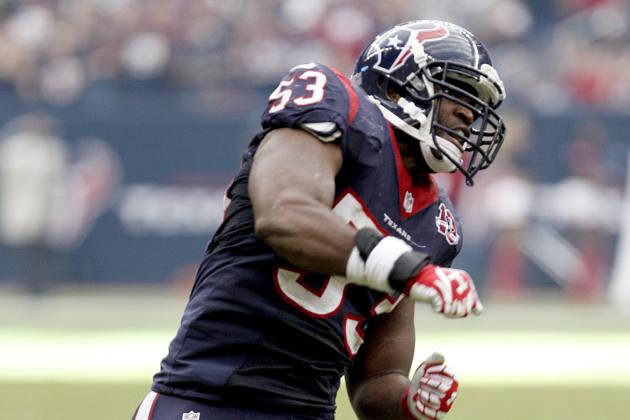 Thomas B. Shea/Getty Images

Bradie James continued to frustrate fans with one of his poorest performances of the season on Thursday. Since being thrust into a bigger role with the loss of Brian Cushing, James hasn't given the Texans what they need from their inside linebackers.
James routinely takes poor angles to the ball carrier, and it's resulted in major gashes against Houston's defense in the run game. The Texans have been soft up the middle since Cushing went down, and their struggles continued against Detroit.
Offensive coordinators have identified Houston's weakness up the middle, and they're attacking it aggressively. Detroit has one of the least explosive rushing attacks in the NFL, but managed to take a fourth-quarter lead off of a 26-yard touchdown run by backup running back Joique Bell. James was the goat on the play, taking a terrible angle that gave him no chance to make the tackle.
The Texans will likely continue to use James in their rotation of inside linebackers out of desperation more than anything. The Texans are thin at the position right now, and it's the weakest position group on the entire team.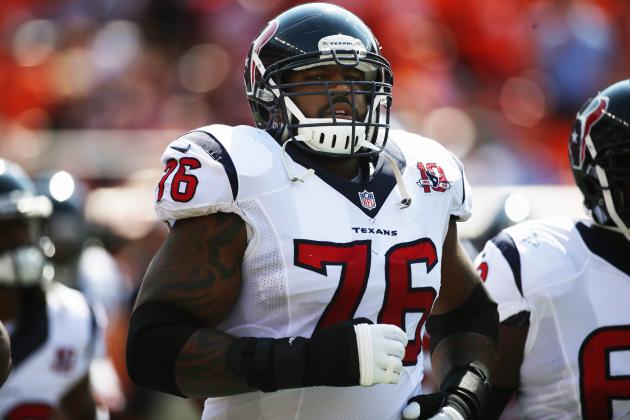 Chris Humphreys-US PRESSWIRE

The Houston Texans' left tackle continued his campaign for the Pro Bowl with another terrific performance against the Detroit Lions. Duane went another game without allowing a sack and showcased his prowess in the run game all Thursday.
On one zone-stretch run play in the second quarter, the Texans ran to Duane's left side. Tight end Garrett Graham had the defensive end sealed, leaving Duane without a man. At the last second, Brown recognized blitzing linebacker DeAndre Levy and peeled back to pick him up.
If Duane hadn't read the zone-stretch play perfectly, the linebacker would've knifed in the backfield and tackled running back Justin Forsett for a three-yard loss. Instead, the block sprung Forsett loose for an eight-yard gain. The play was a perfect example of Duane's mastering of the zone-blocking scheme.
Eight yards isn't a huge gain, but a three-yard loss would've put the Texans offense in a hole. The drive continued on, and Arian Foster finished it off with a touchdown run in the red zone. On Arian's touchdown run, Brown threw two consecutive blocks on Lions defenders, allowing Arian to walk in for a score.
Duane Brown is putting together quite a highlight reel for himself in 2012.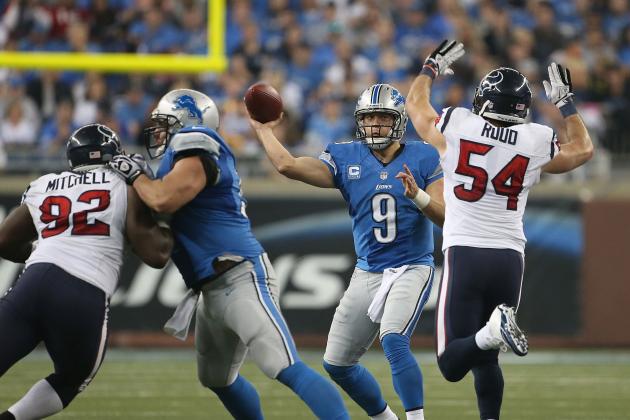 Leon Halip/Getty Images

Houston's four-man rush was M.I.A. yet again, something that's become a theme for this group as the season goes on.
The Texans' main issue has been a lack of pressure off the edges. The Texans aren't busting protections from the outside like they did in 2011, when the defense saw a more consistent pass rush. Nothing about the front four's play Thursday made fans feel any more optimistic about Houston's pass rush going forward.
After outside linebacker Brooks Reed left the game early with a leg injury, Whitney Mercilus replaced him with mostly bleak results. Connor Barwin had another quiet game, and he's approaching free agency now with not much to show for his 2012 season.
Stafford completed 31 passes for 441 yards Thursday, which was easily one of his best games in an up-and-down season. The Texans can plan on quarterbacks continuing to have field days against their defense with poor play from their four-man rush.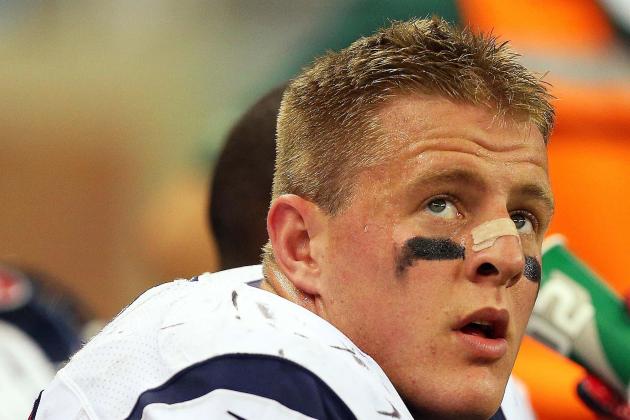 Mike Carter-US PRESSWIRE

On a day where his defense turned in another poor performance, J.J. Watt stood out like a sore thumb. The Texans' star defensive end notched three more sacks (14.5 this season) and added two batted-down passes.
Watt has been a one-man wrecking crew for Houston's defensive line at times, and too often, that was the case against the Lions. Watt made life miserable in particular for Detroit's right tackle Gosder Cherilus.
Wade Phillips added a new wrinkle to the defense and dropped Watt into coverage on more snaps than normal. Watt also lined up at right defensive end early in the game, when he typically lines up on the left.
The Texans haven't shied away from moving Watt around the line to keep defenses from being able to key in on him with double teams. Stunts have also freed Watt up, one of which gave him a free release on Matt Stafford.
Wade Phillips will need to continue to overscheme with Watt as long as his teammates fail to help him create pressure.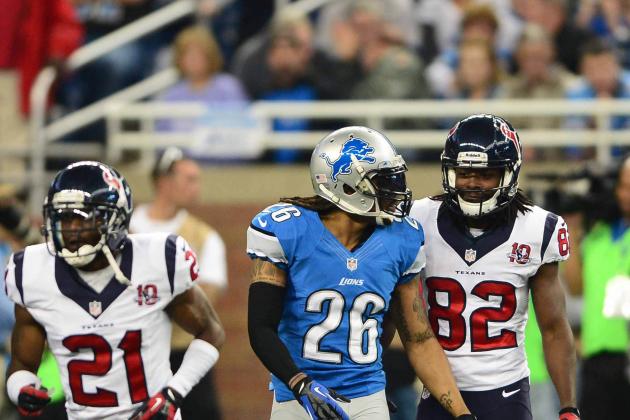 Andrew Weber-US PRESSWIRE

The Houston Texans' lack of in-game discipline led to eight penalties for 65 yards. That's unacceptable for a team with a 10-1 record.
Keshawn Martin's foolish penalty on special teams in the first half was a free 15 yards for Detroit's offense. Derek Newton was called for a false start on Houston's first play of the game. It's penalties like these that show a lack of focus that an elite football team shouldn't play with this late in the season.
The Texans have been penalized more often this year than normal, with some of that being attributed to the new bodies on the right side of the offensive line.
The Texans nearly shot themselves in the foot with undisciplined play Thursday. If the Texans had lost this game, the penalties wouldn't have been so overlooked.
Houston will take the win, but the team's in-game discipline needs to improve for next week's game against the Tennessee Titans.