Most Startling Statistics of the L.A. Lakers' Season so Far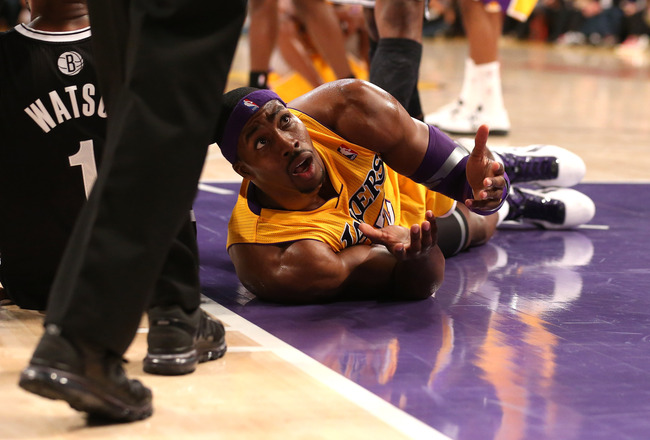 Dwight just heard about his team's startling facts
Stephen Dunn/Getty Images
The season has not gone as planned so far for the Los Angeles Lakers.
Steve Nash has missed all but two games, Mike Brown was fired five games into the season, the team currently doesn't have a record above .500 and the Los Angeles Clippers are atop the Pacific Division.
Is it time to panic? Certainly not, as there's plenty of time for the team to improve.
Is it time to start looking at some of these strange stats? Most definitely.
Read on for the most startling statistics of the season for the Los Angeles Lakers.
Free-Throw Percentage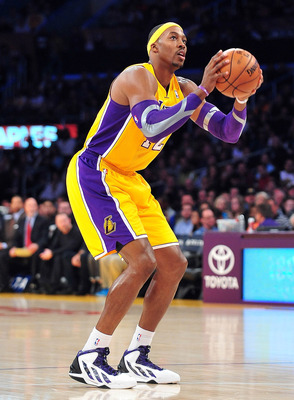 Dwight Howard gets ready to shoot a free throw
Gary A. Vasquez-US PRESSWIRE
Once Dwight Howard was acquired, everyone knew the Los Angeles Lakers would see a dip in free-throw percentage.
However, I'm not sure people expected the team to go from 75.6 percent last season to 67.2 percent this season.
I guess that's what happens when Howard has double-digit free-throw attempts per game and makes 49.2 percent of those shots.
That 8.4 percent team drop has been a huge deterrent to the success of the team and might even have lost a game or two.
The Lakers sit dead last in the NBA in free-throw percentage, but there's really nothing they can do to improve with Howard shooting so many free throws and making so little.
To put Howard's struggles into perspective, the rest of the team has a 76.8 percentage without his numbers included. Yikes!
Bench Points Per Game
Antawn Jamison struggles to score against the much smaller Jarrett Jack of the Golden State Warriors
Jeff Gross/Getty Images
Looking at the Los Angeles Lakers roster, it's pretty clear the team is very top heavy.
That is apparent in minutes per game and even more so in bench points per game, where the Lakers are among the worst in the league with only 20 points off the bench per outing.
Leading the team in scoring off the bench is Jordan Hill with only 6.8 PPG, and he accounts for nearly half of the team's bench scoring.
For a bench that includes shooters Antawn Jamison and Jodie Meeks, you would think they would do at least a little better.
This has to change if the Lakers want any chance of besting the San Antonio Spurs or Los Angeles Clippers come playoff time.
Win/Loss Record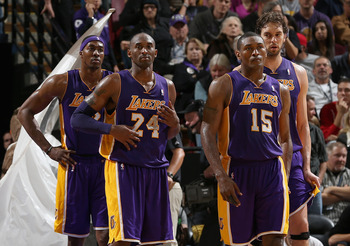 No doubt the Los Angeles Lakers thought their record would be better
Ezra Shaw/Getty Images
This proclaimed title-contending Los Angeles Lakers team has gone 6-6 during the opening part of the season, and has already undergone a coaching change.
Things have not gone as planned. Among the six losses are double-digit losses to the Sacramento Kings and Portland Trail Blazers.
Even without Steve Nash, this L.A. squad simply has too much talent to be losing to the Kings and Trail Blazers.
Stars like Kobe Bryant, Dwight Howard and Pau Gasol are more than capable of taking over these games.
Don't expect this mark to stay at .500 for long, however, as the team has really responded well to new coach Mike D'Antoni and should see its record improve quite a bit.
Keep Reading

Los Angeles Lakers: Like this team?